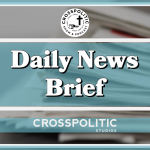 CrossPolitic Daily News Brief for Wednesday July 6h, 2022
FLF Conference Plug:
Folks, our upcoming Fight Laugh Feast Conference is just 4-months away from happening in Knoxville TN, October 6-8! Don't miss beer & psalms, our amazing lineup of speakers which includes George Gilder, Jared Longshore, Pastor Wilson, Dr. Ben Merkle, Pastor Toby, and we can't say yet…also dont miss our awesome vendors, meeting new friends, and stuff for the kids too…like jumpy castles and accidental infant baptisms! Also, did you know, you can save money, by signing up for a Club Membership. So, go to FightLaughFeast.com and sign up for a club membership and then register for the conference with that club discount. We can't wait to fellowship, sing Psalms, and celebrate God's goodness in Knoxville October 6-8. .
476K Migrant Got-Aways Recorded in 2022 So Far
https://www.breitbart.com/border/2022/07/05/exclusive-476k-migrant-got-aways-recorded-in-2022-so-far/
According to Breitbart:
"More than 476,000 migrants eluded apprehension by the Border Patrol this fiscal year, according to a source within Customs and Border Protection. The total already eclipses the 389,000 got-aways from FY2021.
The source says the number, recorded daily, is based on evidence collected by a range of technology systems and aerial drones that capture images. The metric is usually not released by CBP. Historically, the Border Patrol has relied upon traditional sign-cutting techniques to locate and count footprints and other physical evidence left behind at popular migrant crossings. The latter metric has been all but removed from the equation because manpower is redirected to daily migrant care.
The average migrant got-away count, recorded since the fiscal year began in October, remains at roughly 1,700 per day. According to the source, more than 7,000 migrants are arrested by the agency on most days. In some areas, large migrant groups are taxing Border Patrol resources and contributing to the increase in got-aways. As reported by Breitbart Texas, in one Texas border town, 1,772 migrants were apprehended in one day.
In April, DHS Secretary Alejandro Mayorkas testified to members of the House Judiciary Committee that there were more than 389,000 got-aways in FY 2021. At the current pace, the total projected number of got-aways will nearly double last year's count, according to the source.
The source says the situation along the southern border will likely worsen. After a recent Supreme Court ruling, DHS will soon end the Trump era Migrant Protection Protocol program also known as Remain in Mexico. DHS Secretary Mayorkas expressed his approval over the ruling that allows the agency to stop returning migrants to Mexico to await asylum processing."
23 Million California Residents to Receive up to $1,050 in Inflation Relief Funds
https://finance.yahoo.com/news/23-million-california-residents-receive-155218841.html
According to Yahoo:
"On June 30, California approved an inflation relief package — one which will see 23 million residents of the state receive a direct payment of up to $1,050. The $17 billion inflation relief package includes $9.5 billion for tax refunds to help address inflation and offset rising prices.
Governor Gavin newsom and Senate President pro Tempore Toni G. Atkins and Assembly Speaker Anthony Rendon said in a joint statement"
"California's budget addresses the state's most pressing needs, and prioritizes getting dollars back into the pockets of millions of Californians who are grappling with global inflation and rising prices of everything from gas to groceries," "The centerpiece of the agreement, a $17 billion inflation relief package, will offer tax refunds to millions of working Californians. Twenty-three million Californians will benefit from direct payments of up to $1,050. The package will also include a suspension of the state sales tax on diesel, and additional funds to help people pay their rent and utility bills," they added.
The amount of the California inflation relief payments varies depending on the income and dependents in the household, and eligibility is divided into three categories. Payments are expected to be going out to individuals by the end of Oct. 2022 and conclude by the middle of Jan. 2023, according to California's Franchise Tax Board.
Couples filing jointly with an income of $150,000 or less can receive $1,050 with a dependent, and $700 without a dependent. Couples with an income of $150,001 to $250,000 will receive $750 with a dependent and $500 without a dependent.
Couples filing jointly with an income of $250,001 to $500,000 are slated to receive $600 with a dependent and $400 without one.
For heads of households making $150,000 or less, they qualify for $700 with a dependent and $350 without. Those with an income of $150,001 to $250,000 qualify for $500 with a dependent and $250 without. As for those with an income of $250,001 to $500,000, they qualify for $400 with a dependent, and $200 without."
CPI projections, which are low, project that the average household will experience an increase in about $5K of inflated expenses as a result of inflation…but I think it will be more like $15 to $20K.
New York Effectively Nullifies The Supreme Court's Latest Pro-Second Amendment Decision
https://thefederalist.com/2022/07/05/new-york-effectively-nullifies-the-supreme-courts-latest-pro-second-amendment-decision/
According to the Federalist:
"New York Gov. Kathy Hochul ushered in the long Independence Day weekend by signing legislation crafted in response to Supreme Court's recent decision.
he U.S. Supreme Court has made clear that the Second Amendment guarantees law-abiding citizens the right to keep and bear arms for self-defense, both in their homes and in public. On Friday, New York responded that it didn't care.
New York Gov. Kathy Hochul ushered in the long Independence Day weekend on Friday by signing into law legislation crafted in response to the Supreme Court's recent decision in New York State Rifle and Pistol Association, Inc. v. Bruen. Just more than a week earlier, the U.S. Supreme Court in Bruen had declared that New York's prior "may issue" gun licensing scheme, which prohibited individuals from carrying concealed handguns unless they "demonstrate[d] a special need for self-protection distinguishable from that of the general community," violated the Second Amendment. In reaching that conclusion, the high court stressed that the right to "bear arms," by necessity, applies outside the home.
The New York legislature responded by calling an extraordinary session and then passing the bill Hochul signed into law on Friday. That hastily passed statute established detailed regulations governing a citizen's right to obtain a permit to carry a concealed weapon and added restrictive limits to where such concealed weapons could be carried. Both aspects of the New York legislation run headlong into the Supreme Court's analysis in Bruen—and potentially First Amendment jurisprudence.
…
The larger constitutional problem with New York's revised conceal-carry law concerns the state's attempt to, in essence, declare most public spaces "sensitive locations" in which guns cannot be carried even by permitted individuals. Specifically, the statute makes it a felony to carry firearms "in or upon a sensitive location," then provides an exhaustive list of sensitive locations which, because of its constitutional significance, is excerpted in full below:
(a) any place owned or under the control of federal, state or local government, for the purpose of government administration, including courts;
(b) any location providing health, behavioral health, or chemical dependance care or services;
(c) any place of worship or religious observation;
(d) libraries, public playgrounds, public parks, and zoos;
(e) the location of any program licensed, regulated, certified, funded, or approved by the office of children and family services that provides services to children, youth, or young adults, any legally exempt childcare provider; a childcare program for which a permit to operate such program has been issued by the department of health and mental hygiene pursuant to the health code of the city of New York;
(f) nursery schools, preschools, and summer camps;
(g) the location of any program licensed, regulated, certified, operated, or funded by the office for people with developmental disabilities;
(h) the location of any program licensed, regulated, certified, operated, or funded by office of addiction services and supports;
(i) the location of any program licensed, regulated, certified, operated, or funded by the office of mental health;
(j) the location of any program licensed, regulated, certified, operated, or funded by the office of temporary and disability assistance;
(k) homeless shelters, runaway homeless youth shelters, family shelters, shelters for adults, domestic violence shelters, and emergency shelters, and residential programs for victims of domestic violence;
(l) residential settings licensed, certified, regulated, funded, or operated by the department of health;
(m) in or upon any building or grounds, owned or leased, of any educational institutions, colleges and universities, licensed private career schools, school districts, public schools, private schools licensed under article one hundred one of the education law, charter schools, non-public schools, board of cooperative educational services, special act schools, preschool special education programs, private residential or non-residential schools for the education of students with disabilities, and any state-operated or state-supported schools;
(n) any place, conveyance, or vehicle used for public transportation or public transit, subway cars, train cars, buses, ferries, railroad, omnibus, marine or aviation transportation; or any facility used for or in connection with service in the transportation of passengers, airports, train stations, subway and rail stations, and bus terminals;
(o) any establishment issued a license for on-premise consumption pursuant to article four, four-A, five, or six of the alcoholic beverage control law where alcohol is consumed and any establishment licensed under article four of the cannabis law for on-premise consumption;
(p) any place used for the performance, art entertainment, gaming, or sporting events such as theaters, stadiums, racetracks, museums, amusement parks, performance venues, concerts, exhibits, conference centers, banquet halls, and gaming facilities and video lottery terminal facilities as licensed by the gaming commission;
(q) any location being used as a polling place;
(r) any public sidewalk or other public area restricted from general public access for a limited time or special event that has been issued a permit for such time or event by a governmental entity, or subject to specific, heightened law enforcement protection, or has otherwise had such access restricted by a governmental entity, provided such location is identified as such by clear and conspicuous signage;
(s) any gathering of individuals to collectively express their constitutional rights to protest or assemble;
(t) the area commonly known as Times Square, as such area is determined and identified by the city of New York; provided such area shall be clearly and conspicuously identified with signage.
Merely skimming these provisions confirms the breadth of the new law, which leaves New York residents with few public places where they may legally carry a gun for self-defense. That bottom line strikes to the core of the Supreme Court's ruling in Bruen that the Second Amendment guarantees a right for law-abiding, responsible citizens to carry a firearm in public for purposes of self-defense. New York's expansive list of supposedly "sensitive locations" likewise ignores the Supreme Court's analysis in Bruen."
Armored Republic
The Mission of Armored Republic is to Honor Christ by equipping Free Men with Tools of Liberty necessary to preserve God-given rights. In the Armored Republic there is no King but Christ. We are Free Craftsmen. Body Armor is a Tool of Liberty. We create Tools of Liberty. Free men must remain ever vigilant against tyranny wherever it appears. God has given us the tools of liberty needed to defend the rights He bestowed to us. Armored Republic is honored to offer you those Tools. Visit them, at ar500armor.com
After SCOTUS win on EPA case, Patrick Morrisey takes aim at SEC
https://justthenews.com/government/courts-law/satafter-scotus-win-epa-case-wv-ag-patrick-morrisey-takes-aim-sec
According to Just the News
"After the Supreme Court handed him a win on Thursday limiting the authority of the Environmental Protection Agency, West Virginia Republican Attorney General Patrick Morrisey next takes aim at the Biden administration's effort to use its powers to regulate capital markets through the Securities and Exchange Commission to push its environmental agenda.
The Supreme Court on Thursday curtailed the EPA's ability to restrict power plant emissions under the Clean Air Act. Morrisey, who brought the suit on behalf of his coal-dependent state, celebrated the ruling on the John Solomon Reports podcast.
The legal implications of the decision far transcend environmental policy alone, according to the attorney general. "We wanted to say this is really about maintaining the separation of powers, not climate change, because it was about who gets to make the major decisions of the day, not necessarily what those decisions are, but who gets to make it," said Morrisey.
"And the reason that's so important, is because when you have something so fundamental, a vast economic and political significance, you want the people's representatives to make a decision, and to have clear statements, clear lines of delegation to the federal agencies," he added. "And that did not happen here. That's why the court said that it was not going to allow the Clean Power Plan or similar type of regulation to go forward."
Morrisey expressed optimism that the ruling would effectively limit overreach by federal regulators and arm states with a legal basis to challenge similar initiatives in the future. "I think it helps really solidify this major questions doctrine, so that you're gonna be able to limit when the bureaucrats can reach down, seize power, and try to take some one strand of ambiguity and turn it into a major rulemaking with incredible burdens on the American people," he said. "And so I am really gratified that the court resolves it on those grounds, as opposed to just merely some technical grounds."
Rush toward green energy has left US 'incredibly' vulnerable to summer blackouts, expert warns
https://www.foxnews.com/us/rush-green-energy-has-left-us-incredibly-vulnerable-summer-blackouts-expert-warns
Did you know renewable energy is putting the country at risk of power outages this summer? The government's push to renewable energy and away from traditional energy sources is silly.
Daniel Turner, founder and executive director at Power the Future told Fox News that he "think(s) the entire country is incredibly vulnerable, because the entire country is facing a huge energy shortage and I don't think there is any place that is truly safe,", told Fox News.
Turner went on to argue that outages will most likely affect the poor and minority neighborhoods.
"They will choose what neighborhoods go into darkness," Turner said. "Historically, when we have done this, we have chosen poor and usually minority neighborhoods to do that."
Previously planned power outages in states such as California have a history of disproportionately impacting poor neighborhoods, including one instance in 2019 where a poor, mostly Hispanic neighborhood in Sonoma County had its power cut for eight days in October. The deliberate outages not only plunged residents of the area into darkness for days, but the resulting food spoilage strained already tight budgets.
"Even if the electricity doesn't arrive… the bills do," one resident said at the time.
"Look who they shut off. Have you ever seen a Kardashian complain about lack of power, or Silicon Valley… Facebook's headquarters? They're all fine… they're never the ones plunged into darkness," Turner said.
Washington Post says you need to "calm down and back off" regarding inflation:
https://video.foxnews.com/v/6308394937112
Play clip: start to .54 mark
This is the Waterboy with your CrossPolitic Daily News Brief. We appreciate your sharing this news brief with your friends, joining our club, and we hope to see you at our Fight Laugh Feast conference Oct. 6th-8th in Knoxville. You can take all these steps at www.FightLaughFeast.com.