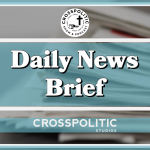 This is Garrison Hardie with your CrossPolitic Daily News Brief for Monday, June 20th, 2022. Here's what you may have missed, over the weekend! On Saturday, game 2 of the Stanley Cup Finals between the Colorado Avalanche, and the Tampa Bay Lightning took place. The Avalanche took game 1, so Tampa Bay really wanted to even up the series as it shifts back to Florida today… and well… here's how it went. If you're a Tampa Bay fan, cover your ears!
Cup Final, Gm2: Lightning @ Avalanche 6/18 | NHL Playoffs 2022
Play 0:48-1:05

Play 2:11-2:27

Play 3:40-3:55

Play 5:15-5:27

Play 6:25-6:35

Play 7:43-7:55

Play 8:15-8:30
https://www.outkick.com/nichushkin-stays-hot-avalanche-take-commanding-2-0-series-lead-over-lightning-in-stanley-cup-final/
What you just heard was the absolute demolition of the Tampa Bay Lightning at the hands of the Colorado Avalanche. The Tampa Bay Lightning came into Game 2 of the 2022 Stanley Cup Final with a plan.
But like Mike Tyson once said, everybody's got a plan until they get punched in the face. Or in this case, an avalanche of seismic proportions. Lightning head coach Jon Cooper said the key to evening up the series at two was weathering the storm in the first 10 minutes from the Colorado Avalanche.
And yet, after those 10 crucial minutes of play inside Ball Arena, Colorado held a 2-0 advantage — just as they did in Game 1. The Avalanche's onslaught started early and never let up, as Colorado defeated Tampa Bay, 7-0, to take an all-important 2-0 series lead. Why's that so important, you ask? Teams leading 2-0 in the Stanley Cup Final are 47-5 all-time.
The touchdown + extra point loss is Tampa Bay's worst in its playoff history, topping the 5-0 defeat against the Toronto Maple Leafs in Round 1 this year and the 6-1 loss to the Philadelphia Flyers back in 1996, the franchise's first ever playoff appearance.
The Avalanche have now scored 11 goals through two games in the series and are 14-2 overall during the playoffs. The seven-goal margin is the largest in a Stanley Cup Final game since 1991, when the Pittsburgh Penguins defeated the Minnesota North Stars, 8-0, in Game 6 of the series.
The series will now shift back to Tampa Bay for Games 3 and 4, with the Lightning looking for any sort of jolt from the Amalie Arena crowd. Puck drop for Game 3 is scheduled for Monday at 8 p.m. ET on ESPN.
Lies, Propaganda, Story Telling, and the Serrated Edge:
This year our national conference is in Knoxville, TN October 6th-8th. The theme of this year's conference is Lies, Propaganda, Storytelling and the Serrated Edge. Satan is the father of lies, and the mother of those lies is a government who has rejected God. We have especially been lied to these last two years, and the COVIDpanic has been one of the central mechanisms that our government has used to lie to us and to grab more power. Because Christians have not been reading their bibles, we are susceptible to lies and weak in our ability to fight these lies. God has given us His word to fight Satan and his lies, and we need to recover all of God's word, its serrated edge and all. Mark your calendars for October 6th-8th, as we fight, laugh and feast with fellowship, beer and Psalms, our amazing lineup of speakers, hanging with our awesome vendors, meeting new friends, and more. Early bird tickets are available now, but will be gone before you know it! Sign up now at flfnetwork.com/knoxville2022
https://www.politico.com/news/2022/06/19/world-swimming-transgender-athletes-00040722
Speaking of lies & Propaganda… let's talk about transgender athletes!
World swimming bans transgender athletes from women's events
World swimming's governing body has effectively banned transgender women from competing in women's events, starting Monday.
FINA members widely adopted a new "gender inclusion policy" on Sunday that only permits swimmers who transitioned before age 12 to compete in women's events. The organization also proposed an "open competition category."
"This is not saying that people are encouraged to transition by the age of 12. It's what the scientists are saying, that if you transition after the start of puberty, you have an advantage, which is unfair," James Pearce, who is the spokesperson for FINA president Husain Al-Musallam, told The Associated Press.
"They're not saying everyone should transition by age 11, that's ridiculous. You can't transition by that age in most countries and hopefully you wouldn't be encouraged to. Basically, what they're saying is that it is not feasible for people who have transitioned to compete without having an advantage."
Pearce confirmed there are currently no transgender women competing in elite levels of swimming.
The World Professional Association for Transgender Health just lowered its recommended minimum age for starting gender transition hormone treatment to 14 and some surgeries to 15 or 17.
FINA's new 24-page policy also includes proposals for a new "open competition" category. The organization said it was setting up "a new working group that will spend the next six months looking at the most effective ways to set up this new category."
Pearce told the AP that the open competition would most likely mean more events, but those details still need to be worked out.
The members voted 71.5% in favor at the organization's extraordinary general congress after hearing presentations from three specialist groups — an athlete group, a science and medicine group and a legal and human rights group — that had been working together to form the policy following recommendations given by the International Olympic Committee last November.
The IOC urged shifting the focus from individual testosterone levels and calling for evidence to prove when a performance advantage existed.
FINA said it recognizes "that some individuals and groups may be uncomfortable with the use of medical and scientific terminology related to sex and sex-linked traits (but) some use of sensitive terminology is needed to be precise about the sex characteristics that justify separate competition categories."
In March, Lia Thomas a man, made history in the United States as the first man to win woman's NCAA swimming championship, the 500-yard freestyle.
The coward, Thomas said last month on ABC's "Good Morning America" that he was aiming to become an Olympic swimmer. He also disputed those who say he has an unfair biological edge that ruins the integrity of women's athletics, saying "trans women are not a threat to women's sports."
The University of Pennsylvania didn't immediately respond to a request for comment from Thomas.
Other sports have also been examining their rules around transgender athletes.
On Thursday, cycling's governing body updated its eligibility rules for transgender athletes with stricter limits that will force riders to wait longer before they can compete.
The International Cycling Union (UCI) increased the transition period on low testosterone to two years, and lowered the maximum accepted level of testosterone. The previous transition period was 12 months but the UCI said recent scientific studies show that "the awaited adaptations in muscle mass and muscle strength/power" among athletes who have made a transition from male to female takes at least two years.
From sports, let's go to entertainment, to infinity and beyond!!!
https://variety.com/2022/film/box-office/box-office-lightyear-disappoints-1235298248/
Pixar's 'Lightyear' Underwhelms With $51 Million Debut as 'Jurassic World' Stays No. 1
To infinity and beyond? Not exactly…
"Lightyear," a spinoff story set in Pixar's "Toy Story" universe, fell short of that boundless milestone in its box office debut, collecting a lackluster $51 million from 4,255 North American theaters. Family audiences, the movie's prime demographic, haven't returned to theaters in full force since the start of the COVID-19 pandemic. Even so, those ticket sales are disappointing for a brand as recognizable as Pixar, the home of "The Incredibles," "Finding Nemo" and "Up." It's particularly problematic given that "Lightyear" cost $200 million to produce and tens of millions more to market.
Heading into the weekend, the Disney film was expected to generate at least $70 million. But its ambitions were thwarted by heightened competition from Universal's behemoth "Jurassic World Dominion" and Paramount's high-flying "Top Gun: Maverick," as well as little intrigue to watch a slightly esoteric origin story about Buzz Lightyear, one that had only a tenuous connection to the four films in the popular kid-friendly franchise. With its wobbly liftoff, "Lightyear" landed in second place, becoming one of the rare Pixar films to not take the top spot at the domestic box office.
Internationally, "Lightyear" earned $34.6 million from 43 markets, taking its global total to $85.6 million. The movie was banned in smaller foreign markets, including Saudi Arabia and the United Arab Emirates, because it depicts a same-sex kiss.
Notably, "Lightyear" is the first Pixar movie to play on the big screen in more than two years — since "Onward" in March 2020. During the pandemic, three of the animation studio's titles — "Soul," "Luca" and "Turning Red" — skipped theaters to land directly on Disney+, leaving some box office analyst to question if consumers have been trained to watch Pixar movies at home. Other industry experts question if Disney is relying too heavily on brand recognition and not enough on execution. It's not that people disliked the movie, which landed an "A-" CinemaScore and 77% on Rotten Tomatoes. But Disney certainly hoped that more ticket buyers would feel compelled to see "Lightyear" in theaters over the weekend.
Believe me, I would have loved to see this movie. I mean, Toy Story was a part of my child-hood growing up, so it really pained me to see the headlines that they were going to force a gay kiss into the movie… based on that, I, and many of the people I've spoken with, refused to see the movie, as I'm sure all of our audience would agree.
Even with a colossal 60% decline, "Jurassic World Dominion" managed to capture the box office crown again in a surprise upset. Universal's prehistoric sequel generated $58.6 million from 4,697 cinemas in its second weekend of release, bringing its domestic total to $259 million.
In third place, "Top Gun: Maverick" keeps flying high with a mammoth $44 million from 4,035 venues in North America, marking a scant 15% drop from last weekend.
You know what those two shows have in common? They just tried to entertain the audience… not educate, or force satanic themes upon us.
Speaking of education…
Classical Conversations
Classical Conversations supports homeschooling parents by cultivating the love of learning through a Christian worldview in fellowship with other families. We provide a classical Christ-centered curriculum, local like-minded communities across the United States and in several countries, and we train parents who are striving to be great classical educators in the home. For more information and to get connected, please visit our website at ClassicalConversations.com. Again that's ClassicalConversations.com.
Finally, let's end today's news brief, with a stroll down on this day in history!
Jaws Theme Song – Play 1:07-1:18
Iconic! Anything directed by the great John Williams is just amazing… On June 20th, 1975, Jaws, a film directed by Steven Spielberg that made countless viewers afraid to go into the water, opens in theaters. The story of a great white shark that terrorizes a New England resort town became an instant blockbuster and the highest-grossing film in movie history until it was bested by 1977's Star Wars. Jaws was nominated for an Academy Award in the Best Picture category and took home three Oscars, for Best Film Editing, Best Original Score and Best Sound. The film, a breakthrough for director Spielberg, then 27 years old, spawned several sequels.
The film starred Roy Scheider as principled police chief Martin Brody, Richard Dreyfuss as a marine biologist named Matt Hooper and Robert Shaw as a grizzled fisherman called Quint. It was set in the fictional beach town of Amity, and based on a best-selling novel, released in 1973, by Peter Benchley. Subsequent water-themed Benchley bestsellers also made it to the big screen, including The Deep (1977).
With a budget of $12 million, Jaws was produced by the team of Richard Zanuck and David Brown, whose later credits include The Verdict (1982), Cocoon (1985) and Driving Miss Daisy (1989). Filming, which took place on Martha's Vineyard, Massachusetts, was plagued by delays and technical difficulties, including malfunctioning mechanical sharks.
Jaws put now-famed director Steven Spielberg on the Hollywood map. Spielberg, largely self-taught in filmmaking, made his major feature-length directorial debut with The Sugarland Express in 1974. The film was critically well-received but a box-office flop. Following the success of Jaws, Spielberg went on to become one of the most influential, iconic directors in the film world, with such epics as Close Encounters of the Third Kind (1977), Raiders of the Lost Ark (1981), ET: the Extra-Terrestrial (1982), Jurassic Park (1993), Schindler's List (1993) and Saving Private Ryan (1998). E.T., Jaws and Jurassic Park rank among the highest-grossing movies of all time.
This has been your CrossPolitic Daily News Brief. If you liked the show, go ahead and hit that share button… or become a club member, as we're starting to put out content only available to CLUB MEMBERS! Also check out our Fight Laugh Feast Magazine at flfnetwork.com/membership, and as always, if you want to talk corporate partnerships, let's talk… email me, at garrison@fightlaughfeast.com. For CrossPolitc News, I'm Garrison Hardie. Have a great day, and Lord bless.