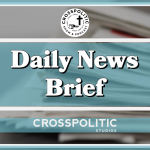 Good Monday everyone, this is Garrison Hardie with your CrossPolitic Daily News Brief, for Monday, June 27th, 2022. Before I dive into the news, here's something I want to remind you of immediately!
Lies, Propaganda, Story Telling, and the Serrated Edge:
This year our national conference is in Knoxville, TN October 6th-8th. The theme of this year's conference is Lies, Propaganda, Storytelling and the Serrated Edge. Satan is the father of lies, and the mother of those lies is a government who has rejected God. We have especially been lied to these last two years, and the COVIDpanic has been one of the central mechanisms that our government has used to lie to us and to grab more power. Because Christians have not been reading their bibles, we are susceptible to lies and weak in our ability to fight these lies. God has given us His word to fight Satan and his lies, and we need to recover all of God's word, its serrated edge and all. Mark your calendars for October 6th-8th, as we fight, laugh and feast with fellowship, beer and Psalms, our amazing lineup of speakers, hanging with our awesome vendors, meeting new friends, and more. Early bird tickets are available now, but will be gone before you know it!.. This Thursday! Sign up now at flfnetwork.com
Now… here's what you may have missed, over the weekend… The Tampa Bay Lightning had done just enough to force a game 6, and last night it came down to the wire:
Stanley Cup Final Game 6: Colorado Avalanche vs. Tampa Bay Lightning | Full Game Highlights -Play 8:31-9:01
The Colorado Avalanche are your new Stanley Cup Champions, after defeating Tampa Bay 2-1 in game 6. I was sort of hoping I'd get to see a 3-peat out of the lightning, but the Avalanche clearly deserved to win this series, so congratulations to them!
https://hotair.com/jazz-shaw/2022/06/27/california-working-on-denying-gun-permits-based-on-ideological-viewpoints-n478907
California working on denying gun permits based on "ideological viewpoints"
The Supreme Court's decision in Bruen on Thursday didn't simply shoot down New York's onerous "good-cause requirement" in the gun permit application process. It set up similar laws in other states for likely revocation. One of those states is California, where they have their own requirement that applicants must show a "good cause" or "special need" before a carry permit is issued. State Attorney General Rob Bonta sent out a letter on Friday to law enforcement and government attorneys noting the change and saying that the state's current "may issue" regime should be able to be converted to a "shall issue" regime with few modifications. So that's good news, right?
Not so fast. As Eugene Volokh points out at Reason, Bonta pivoted from signaling compliance with the new SCOTUS ruling to identifying another way to deny permits to people with no criminal record. He claims that the ruling will not impact the existing requirement for applicants to be able to demonstrate that they are "of good moral character." On that basis, the state can start snooping around to see if you hold any unauthorized opinions or are prone to demonstrate "hatred and racism." And how would they know that? Well, by going through your social media accounts, of course.
Other jurisdictions list the personal characteristics one reasonably expects of candidates for a public-carry license who do not pose a danger to themselves or others. The Riverside County Sheriff's Department's policy, for example, currently provides as follows: "Legal judgments of good moral character can include consideration of honesty, trustworthiness, diligence, reliability, respect for the law, integrity, candor, discretion, observance of fiduciary duty, respect for the rights of others, absence of hatred and racism, fiscal stability, profession-specific criteria such as pledging to honor the constitution and uphold the law, and the absence of criminal conviction." [Emphasis added.]
As a starting point for purposes of investigating an applicant's moral character, many issuing authorities require personal references and/or reference letters. Investigators may personally interview applicants and use the opportunity to gain further insight into the applicant's character. And they may search publicly-available information, including social media accounts, in assessing the applicant's character.
As Volokh goes on to explain, this entire scheme appears to be completely unconstitutional. It's a violation of the First Amendment before we even begin to examine how it would hold up under the Second Amendment. The government is not allowed to restrict your actions or suspend your Constitutional rights based on the viewpoints you express, even if they are unpopular with the current regime.
https://americanmilitarynews.com/2022/06/us-troops-surpass-100000-in-europe
The U.S. military has steadily built up its presence in Europe in the four months since the Russian invasion of Ukraine began. More than 100,000 U.S. troops are in Europe today, compared to around 70,000 around the start of the Russian invasion.
Last week, North Atlantic Treaty Organization (NATO) Secretary-General Jens Stoltenberg said the U.S. "increased the number of U.S. troops in Europe from roughly 70,000 to more than 100,000 over these last months."
In addition to the overall U.S. force size in Europe, Stoltenberg noted there are more than 40,000 troops from various countries under NATO's direct command that are positioned on the eastern edge of the alliance. NATO's force consists of troops from a variety of alliance member nations.
In a May 20 U.S. State Department press briefing, department spokesman Ned Price had confirmed the U.S. plans to maintain an ongoing presence of 100,000 troops in Europe.
While the U.S. presence in Europe has risen in response to Russia, questions remain about whether the U.S. can maintain this presence in the long run. With no plans for the U.S. and NATO to directly intervene in the conflict in Ukraine — beyond providing Ukrainian forces weapons, supplies and training — the missions of U.S. and NATO forces is primarily to ensure the conflict in Ukraine doesn't spill over into NATO countries.
Bradley Bowman, senior director of the Center on Military and Political Power at the Washington-based Foundation for Defense of Democracies think tank told the Washington Times last week that the U.S. troop build-up in Europe could come at the expense of U.S. readiness in other parts of the world, like the Indo-Pacific region where Chinese forces have expanded their presence.
So that's what's going on overseas, let's shift back to the home front, where I've got to ask you… are you happy with your job? Because if not, I want to tell you about RedBalloon!
Redballoon
Not so long ago, the American dream was alive and well. Employees who worked hard were rewarded, and employers looked for people who could do the job, not for people who had the right political views. RedBalloon.work is a job site designed to get us back to what made American businesses successful: free speech, hard work, and having fun. If you are a free speech employer who wants to hire employees who focus on their work and not identity politics, then post a job on RedBalloon. If you are an employee who is being censored at work or is being forced to comply with the current zeitgeist, post your resume on RedBalloon and look for a new job. redballoon.work, the job site where free speech is still alive!
https://thepostmillennial.com/pro-abortion-activist-arrested-for-allegedly-attacking-police-with-flamethrower?utm_campaign=64487
Suspect accused of using flamethrower in attack at Los Angeles Antifa riot charged with attempted murder
Pro-abortion activist Michael Ortiz was arrested on June 26th after allegedly attacking police with a makeshift flamethrower during a violent riot over the reversal of Roe v. Wade.
As the New York Post reports, several others were arrested during the Los Angeles riot, including 23-year-old Juliana Bernardo who allegedly tried to steal a police officer's baton amid skirmishes with law enforcement. The pro-abortion protestors shut down the LA freeway, harassed and attacked drivers, broke building windows, and lobbed a firework explosive at police.
Video posted by The Post Millennial's Andy Ngo shows Ortiz discharging the makeshift weapon while hiding behind a black bloc militant who was holding an umbrella. Ortiz allegedly fired the flames around 8:20 pm amidst a progressively violent riot.
LAPD Police Chief Michel Moore said in a statement that, "Individuals participating in such criminal activity are not exercising their 1st Amendment rights in protest of the Supreme Court decision. Rather, they are acting as criminals. The Department will vigorously pursue prosecution of these individuals."
The violence comes after radical pro-abortion groups have called for nationwide protests including one group, Jane's Revenge, promising a "Night of Rage" to protest the Supreme Court overturning Roe v Wade.
Now let's end with some good news, and the topic that I love… sports!
https://www.foxnews.com/politics/high-school-football-coach-scores-big-win-supreme-court-post-game-prayer
High school football coach scores big win at Supreme Court over post-game prayer
The Supreme Court handed a big win to a former Washington high school football coach who lost his job over reciting a prayer on the 50-yard line after games.
At issue was whether a public school employee praying alone but in view of students was engaging in unprotected "government speech," and if it is not government speech, does it still pose a problem under the First Amendment's Establishment Clause.
The Supreme Court ruled Monday in a 6-3 decision that the answer to both questions is no.
"Here, a government entity sought to punish an individual for engaging in a brief, quiet, personal religious observance doubly protected by the Free Exercise and Free Speech Clauses of the First Amendment. And the only meaningful justification the government offered for its reprisal rested on a mistaken view that it had a duty to ferret out and suppress," Justice Neil Gorsuch wrote in the Court's opinion. "Religious observances even as it allows comparable secular speech. The Constitution neither mandates nor tolerates that kind of discrimination."
Joe Kennedy was a junior varsity head coach and varsity assistant coach with the Bremerton School District in Washington from 2008 to 2015. He began the practice of reciting a post-game prayer by himself, but eventually students started joining him. According to court documents, this evolved into motivational speeches that included religious themes. After an opposing coach brought it to the principal's attention, the school district told Kennedy to stop. He did, temporarily, then notified the school that he would resume the practice.
The situation garnered media attention, and when Kennedy announced that he would go back to praying on the field, it raised security concerns. When he did pray after the game, a number of people stormed the field in support.
The school district then offered to let Kennedy pray in other locations before and after games, or for him to pray on the 50-yard line after everyone else had left the premises, but he refused, insisting that he would continue his regular practice. After continuing the prayers at two more games, the school district placed Kennedy on leave.
"That reasoning was misguided," the majority opinion said. "Both the Free Exercise and Free Speech Clauses of the First Amendment protect expressions like Mr. Kennedy's. Nor does a proper understanding of the Amendment's Establishment Clause require the government to single out private religious speech for special disfavor. "
Gorsuch stated that not just the Constitution, but "the best of our traditions" call for "mutual respect and tolerance, not censorship and suppression, for religious and nonreligious views alike."
The Court's ruling also stated that there is a distinct reason for why speech like Kennedy's is protected by both the Free Speech and Free Exercise Clauses.
"That the First Amendment doubly protects religious speech is no accident. It is a natural outgrowth of the framers' distrust of government attempts to regulate religion and suppress dissent," Gorsuch wrote.
Another win, by the Supreme Court… Keep our Supreme Court Justices in your prayers, as they will undoubtedly be a target.
This has been your CrossPolitic Daily News Brief… If you liked the show, why don't you go ahead and hit that share button? If you want to sign up for a club membership, our conference, or our magazine, all of that can be found over at flfnetwork.com, and as always, if you want to become a corporate partner of CrossPolitc, let's talk… email me, at garrison@fightlaughfeast.com.
For CrossPolitic News, I'm Garrison Hardie. Have a great day, and Lord bless.