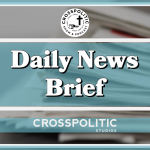 https://pjmedia.com/culture/athena-thorne/2022/06/05/yes-real-men-still-exist-watch-them-stand-up-for-children-being-dragged-into-dallas-grooming-event-n1603310
https://twitter.com/i/status/1533119833377734657 -Play 0:40-1:09
Strong masculine men still do exist, and more on this episode of the CrossPolitic Daily News Brief… here's what you missed over the weekend! The audio you just heard was from Youtuber and political commentator John Doyle, as he confronted parents (child abusers), who were taking their children to an event called "Drag the kids to Pride."
Whenever I see a child who has clearly been corrupted by adults with LGBTQ agendas, I get angry at the kid's father. Did he abandon his children to the full-time attentions of a deranged mother? Is he present but too whipped to be a strong father? What man would allow such a thing to be done to his son or daughter? Yes, the mother enrages me as well, but a society in which real men exist would never allow the over-the-top grooming and wholesale destruction of childhood innocence that goes on these days.
A recent example of real men in action occurred at a disgusting grooming party in a gay bar called Mr. Misster (get it??) in Dallas, Texas. The bar held an event called "DRAG THE KIDS TO PRIDE – A Family Friendly Drag Show" on Saturday. While most of us understand that a drag show fundamentally cannot be a family-friendly event, Mr. Misster thinks it's just fine:
Mr. Misster's Drag The Kids To Pride Drag Show provides the ultimate family friendly pride experience. This signature event is a family friendly spin off of our famed Champagne Drag Brunch, with our resident DJ Charlie Phresh playing some of your favorite hits while host Nicole O'Hara Munro brings together some of the best drag entertainers around! Our under 21 guests can enjoy a special Mr. Misster Mocktails while the moms and dads can sip on one of our classic Mr. Misster Mimosa Towers. Do you want to hit the stage with the queens? We have FIVE limited spots for young performers to take the stage solo, or with a queen of their choosing! Come hangout with the Queens and enjoy this unique pride experience, fit for guests of all ages!
The show was just as horrible and inappropriate for children as you would imagine. Men cross-dressed in sexually charged costumes and danced inappropriately for children, whose parents encouraged them to hand the performers money — just like at an adult strip bar!
Then the children were made part of the act. First, they were brought on stage to play a game of musical chairs while a dragged-out emcee called the shots and the audience whooped and cheered:
Once the children were comfortable being the center of attention, it was time for the next step in the groomy progression. Kids were invited on stage to catwalk with the performers. "Who wants to be a diva for the day?" asked a drag queen, as several kids joined him.
All of this occurred in front of a large neon sign that read, "IT'S NOT GONNA LICK ITSELF."
Watch Texas-based YouTuber and political commenter John Doyle, flanked by a diverse group of manly men, as he confronts the deranged adults dragging their kids into (emotional disorders) pride… now I'll also warn you, there is some language from a woman wearing a "love is love" shirt coming…
https://twitter.com/i/status/1533119833377734657 – Play whole video
I find it ironic when that screaming banshee says "you're scaring the children!" Then proceeds to carpet bomb the heroic men with F-Bombs…
Club Membership Plug:
Stuff like this, is why we need to stop and take a moment to talk about Fight Laugh Feast Club membership. By joining the Fight Laugh Feast Army, not only will you be aiding in our fight to take down secular & legacy media; but you'll also get access to content placed in our Club Portal, such as past shows, all of our conference talks, and EXCLUSIVE content for club members that you won't be able to find anywhere else. Lastly, you'll also get discounts for our conferences… so if you've got $10 bucks a month to kick over our way, you can sign up now at flfnetwork.com/product/fightlaughfestclub
Moving on…
https://www.nfpa.org/News-and-Research/Publications-and-media/NFPA-Journal/2022/Summer-2022/News-and-Analysis/Dispatches/Food-Processing-Fires
Experts say there's no credence to recent internet rumors that a number of fires at food processing plants across the country are suspicious or in some way linked.
"It's not unexpected to see fires in these kinds of structures," said Birgitte Messerschmidt, director of the NFPA Research division. "Fires are not a rare occurrence. We had 490,000 structure fires in 2020 in the United States. We see a lot of fires every year."
Last month, rumors began to circulate on social media that a string of fires and other destructive incidents, including a plane crash, at food processing plants throughout the United States appeared suspicious—despite no law enforcement officials saying that was the case. Conspiracy theorists implied the blazes were connected in some way and even that the federal government could have something to do with them.
The rumors came to a head on April 22, when Fox News host Tucker Carlson stoked the conspiracy theorists' flames, asking his viewers, "What's going on here?"
https://twitter.com/i/status/1517341372851703808 -Play Video
According to NFPA.org, The truth, however, is that nothing is unusual about any of the fires that have occurred in food processing plants over the first few months of the year. Although no data is kept on fires that occur strictly at food processing facilities, the National Fire Incident Reporting System tracks fires within broader categories like manufacturing, refrigerated storage, and agricultural facilities. In 2019, the number of fires at all manufacturing or processing plants in the country topped 5,300—nearly 15 a day. Additionally, more than 2,000 fires occurred in agricultural, grain and livestock, and refrigerated storage facilities, which could all include food processing operations.
Okay so maybe it is a conspiracy theory, but I'm just saying, conspiracy theorists have been proved right a lot lately.
Democratic congressman proposes 1,000% tax on certain firearms
https://www.foxbusiness.com/politics/democratic-congressman-proposes-tax-firearms
A U.S. House Democrat is proposing a federal 1,000% excise tax on assault weapons, and wants to pass it through reconciliation.
Rep. Donald Beyer, D-Va., is introducing the bill which would tax all AR-15-style weapons at 1,000%, according to Business Insider.
Beyer, a member of the House Ways and Means Committee and chairman of the Joint Economic Committee, told Business Insider that the measure is "sensible gun control."
"What it's intended to do is provide another creative pathway to actually make some sensible gun control happen," Beyer said. "We think that a 1,000% fee on assault weapons is just the kind of restrictive measure that creates enough fiscal impact to qualify for reconciliation."
A 1,000% tax on AR-15 style guns could add as much as $5,000 to $20,000 to the sale price, as the price for them is typically from $500 to over $2,000.
The report states that several details of the bill aren't finalized yet, according to the report.
Under the legislation which Beyer will propose, bullets would not be included in the 1,000% tax, but high-capacity magazines that have the ability to carry more than 10 rounds of ammunition would be included.
He told Business Insider that he's open to discussing the high-percentage tax.
"There's nothing magical about that thousand percent number. It's severe enough to actually inhibit and restrict sales. But also successful enough that it's not seen as an absolute ban."
That bill just screams freedom doesn't it? But hey, if you live in a state where your freedoms have been taken, it may be time for a change of scenery. What about the Palouse? Well I'd point you to Story Real Estate.
Story Real Estate:
Home. It's where you build your legacy. Where traditions are started, seeds are planted, meals are shared, and stories are told. Home is where you prepare to go out into the world. Finding the home that's perfect for your family is a big job.
Story Real Estate is Moscow's top real estate team. They give people real estate advice all over the country. Family homes, investments, land, new construction, or commercial— they know real estate.
If you've thought about a move to Moscow or anywhere in the country, reach out to get connected with a Story Real Estate agent. Wherever you're going, they can help guide you Home. Visit storyrealestate.com.
https://thepostmillennial.com/gas-costs-more-than-double-since-biden-took-office?utm_campaign=64487
In other news, A Chevron station in the coastal village of Mendocino about 175 miles north of San Francisco was charging $9.60 a gallon for regular on Friday afternoon.
US gas averaged $2.39 per gallon the day of President Biden's inauguration. It's since risen dramatically to $4.82 per gallon.
Amid rising prices, the White House's official position has been to blame Russian President Vladimir Putin. Following Russia's invasion in Ukraine, the global economy largely sanctioned Russian oil.
Meanwhile, President Biden claims he is largely helpless to stem the skyrocketing gasoline prices, as well as those of food items.
"There's a lot going on right now, but the idea we're gonna be able to, you know, click a switch, bring down the cost of gasoline is not likely in the near term, nor is it with regard to food," he said during a recent speech.
Biden's critics say the president's policies are largely responsible for runaway national inflation.
For example, Biden famously stopped construction of the Keystone XL pipeline, a project that could have solved America's energy crisis.
Now it's time for the topic I love… sports! Some good news out of Tampa Bay…
Several Rays players break from organization's Pride Night logos, citing religious reasons
https://www.foxnews.com/sports/rays-players-break-pride-night-logos-religious
The Rays have been celebrating Pride Night 16 years, but that hasn't stopped Some Tampa Bay Rays players from reportedly breaking from the organization's support of the LGBTQ+ community Saturday during the team's Pride Night against the Chicago White Sox.
Most Rays players were wearing rainbow logos on their caps and sleeves. But the Tampa Bay Times noted that pitchers Jason Adam, Jalen Beeks, Brooks Raley, Jeffrey Springs and Ryan Thompson were among those who didn't wear the logos of support.
Adam made a statement on behalf of the players who opted out and cited religious beliefs.
"A lot of it comes down to faith, to like a faith-based decision. So it's a hard decision. Because, ultimately, we all said what we want is them to know that all are welcome and loved here," he said, via the Tampa Bay Times.
"But when we put it on our bodies, I think a lot of guys decided that it's just a lifestyle that maybe — not that they look down on anybody or think differently — it's just that maybe we don't want to encourage it if we believe in Jesus, who's encouraged us to live a lifestyle that would abstain from that behavior. Just like (Jesus) encourages me as a heterosexual male to abstain from sex outside of the confines of marriage. It's no different.
"It's not judgmental. It's not looking down. It's just what we believe the lifestyle he's encouraged us to live, for our good, not to withhold. But, again, we love these men and women, we care about them and we want them to feel safe and welcome here."
According to the newspaper, the Rays wanted full participation from all players but gave the option to "opt in."
Wrapping up sports, last night, game 2 of the NBA Finals took place in San Francisco California… The Boston Celtics shocked many, myself included in game 1 of the finals, as they defeated the Warriors 120-108. The Celtics had a chance to do the unthinkable last night… going up 2-0 at Golden State… well, there's a reason it's unthinkable, because it didn't happen. Golden State took game 2 by a score of 107-88. Throughout the first half it was close, with the Celtics' defense really stifling the Warriors' offense. However, in the third quarter, the Warriors blew the doors off of the C's, winning the quarter 35-14. Steph Curry lead the way for the Warriors with 29 points, while Jordan Poole, the third splash brother added 17. On the Celtics' side, Jayson Tatum showed up with 28 points, but had an ugly second half, while Jaylen Brown added 17 points. Game 3 takes place in Boston, at 9PM ET.
Before we go, how about a little history… I noticed Google had a little gif in honor of Angelo Moriondo of Turin Italy. Apparently he's the inventor of the Espresso Machine, and it's his 171st birthday! Moriondo presented his invention at the General Expo of Turin in 1884, where it was awarded the bronze medal. The patent was awarded for a period of six years on 16 May 1884 under the title of "New steam machinery for the economic and instantaneous confection of coffee beverage, method 'A. Moriondo'." The machine was built by a mechanic named Martina, working under the direct supervision of the inventor.
It was successively updated with a patent on 20 November 1884, Vol 34, No, 381.The invention was then confirmed by international patent application after being registered in Paris on 23 October 1885. In the following years, Moriondo continued to improve his invention drastically, each improvement being patented
Moriondo never took the invention to industrial-scale production. He limited himself to the construction of a few hand-built machines, which he jealously conserved in his establishments, convinced that this was a significant advertisement for them.
Ian Bersten, a historian chronicling the history of coffee, describes the device as "the first Italian bar machine that controlled the supply of steam and water separately through the coffee" and Moriondo as "one of the earliest discoverers of the espresso machine".[8] Unlike true espresso machines, it was a bulk brewer, and did not brew coffee for the individual customer.
This has been your CrossPolitic Daily News Brief, and what you missed over the weekend. If you enjoyed the show, share it, as sharing it is like currency for us! And as always, if you'd like to partner with CrossPolitic, you can email me at garrison@fightlaughfeast.com. For CrossPolitic News, I'm Garrison Hardie. Have a great day, and Lord bless.