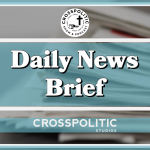 Good Monday! This the Chocolate Knox with your CrossPolitic Daily News Brief for Monday, June 7, 2021…Don't forget about you buddy's over here and send us news stories to news@crosspolitic.com
Supreme Court punts on including women in the draft, cites 'deference to Congress'
Kavanaugh, Breyer, Sotomayor said Supreme Court should let Congress decide whether to draft women into military
https://www.foxnews.com/politics/supreme-court-women-in-draft-deference-congress
The Supreme Court on Monday punted on a case that could have required women to be included in the Selective Service System – the military draft
The court denied a petition from the National Coalition for Men to hear the case on the system that currently requires all men from 18 to 25 to register for potential military service in a national crisis.
The group said that the continued integration of women into the military and the reversal of the ban on women in combat removed the basis of the 1981 case that upheld the selection of only men for the draft.
The Selective Service System, opposing a change that would mandate women register for the draft, emphasized that the court previously "deferred to Congress's judgment" on the Selective Service System.
Justices Sonia Sotomayor agreed with that argument in a statement also signed by Justices Stephen Breyer and Brett Kavanaugh.
In the precedent that upheld the men-only draft, Sotomayor wrote, "this Court upheld the Act's gender-based registration requirement against an equal protection challenge, citing the fact that women were 'excluded from combat' roles and hence 'would not be needed in the event of a draft.'"
"The role of women in the military has changed dramatically since then. Beginning in 1991, thousands of women have served with distinction in a wide range of combat roles, from operating military aircraft and naval vessels to participating in boots-on-the-ground infantry missions," Sotomayor continued. "Women have passed the military's demanding tests to become U. S. Army Rangers, Navy SEALs, and Green Berets… As of 2015, there are no longer any positions in the United States Armed Forces closed to women."
But Sotomayor continued to note that Congress created a commission to study whether women should be included in the draft, which released a report last year saying that they should. And in recent months, she said, senators including Armed Services Committee Chairman Jack Reed, D-R.I., said he wants the upcoming defense bill to include a provision requiring women to register for the Selective Service System.
It is not clear that effort will succeed, but nevertheless the Supreme Court should give Congress space to act before weighing in, Sotomayor said.
"[A]t least for now, the Court's longstanding deference to Congress on matters of national defense and military affairs cautions against granting review while Congress actively weighs the issue," Sotomayor said.
Clip from:
On April 25, 2019, the Commission hosted Selective Service Hearing: Should Registration be Expanded to All Americans? – Arguments against Expansion. This hearing addressed the case for continuing to restrict registration to men only and the challenges in achieving compliance with the current system.
Panelists:
– Dr. Mark Coppenger, Professor of Christian Philosophy and Ethics, Southern Baptist Theological Seminary
– Ms. Jude Eden, US Marine Corps Iraq veteran and freelance writer
– Mr. Edward Hasbrouck, Editor and publisher, Resisters.info
– Ms. Ashley McGuire, Author of Sex Scandal: The Drive to Abolish Male and Female
– Ms. Diane Randall, Executive Secretary, Friends Committee on National Legislation
Coppenger clip
Jude Eden open
Eden question
July 4th where are you gonna be at?
Well, if you are a fight laugh feast club member you're invited to the Liberty Bash at Gabe's house. It's one of the ways we want to say thank you to you for all of your support.
Come hang out with us and 200 other FLF club members and enjoy illegal fireworks free food and fellowship and a live show. Go to FLFnetwork.com and sign up now.
https://www.theguardian.com/business/2021/jun/07/mcdonalds-chicken-nugget-among-us-ebay-sale
Belive it or not you live in a world where a chicken nugget jus sold for almost 100k
And I know, I know what you're thinking… was it made of platinum? Nope… Gold? Nope…
Did it happen to come from my rich uncles diamond mine in africa where I keepo geting email updates… eh uh… it sold for 100k because it was shaped like an Among Us character.
Among Us is, an online, multiplayer video game that gained massive popularity during the Covid-19 pandemic, with almost 500 million monthly users at one point. Even congresswoman Alexandria Ocasio-Cortez has even played the game on Twitch.
According to bidding records of the 184 placed bids, the nugget was first listed for only $0.99 by user polizna on 28 May. After receiving no bids for two days, the nugget received an initial bid of $14,969, kicking off a bidding frenzy among other users. Bidding ended last Thursday after the chicken nugget reached a final bid of $99,997. The final auction winner will receive the sole nugget, frozen and air sealed to "ensure freshness", as noted by the item description.
It is unclear whether users' interest in the nugget is because of its resemblance to an Among Us crew member, the nugget formerly being included in the McDonald's BTS meal, or both.

www.washingtontimes.com /news/2021/jun/7/donald-trump-conduct-history-tour-his-presidency-t/
Donald Trump to conduct 'history tour' of his presidency for ticket holders in December
Dave Boyer4-5 minutes 6/7/2021
---
Former President Donald Trump announced Monday that he will go on a "history tour" to discuss his presidency for paying customers at arenas in Florida and Texas in December.
Mr. Trump will attend four events with former Fox News host Bill O'Reilly in a series of live discussions to address "exactly how things were accomplished, as well as challenges, both good and bad," the former president said in a statement.
"These will be wonderful but hard-hitting sessions where we'll talk about the real problems happening in the U.S., those that the fake news media never mention," Mr. Trump said. "I will be focusing on greatness for our Country, something seldom discussed in political dialogue.
He said: "If we don't make our country great again, we will soon no longer have a country! It will be fun, fun, fun, for everyone who attends!"
Tickets will go on sale to the general public on Monday via Ticketmaster and at one of the arenas. The dates include Dec. 11 at the BB&T Center in Sunrise, Florida; Dec. 18 in Houston; and Dec. 19 in Dallas.
"My job as a historian/journalist is to get important things on the record in a fact-based way," Mr. O'Reilly said in a statement. "These conversations with the 45th President will not be boring."
Public School Teacher Confiscates Second Grader's Bible
Todd Starnes
The opinions expressed by columnists are their own and do not necessarily represent the views of Townhall.com.
https://townhall.com/columnists/toddstarnes/2021/06/07/public-school-teacher-confiscates-second-graders-bible-n2590574
An Illinois school district is under fire after they confiscated a little girl's Bible while she was reading during recess, the American Center for Law and Justice alleges.
The ACLJ did not release much information about the incident in Illinois. They declined to provide the name of the school or the city where it happened.
The second grader, named Gabrielle, liked to bring her Bible to school and read it during recess.
Sometimes she reads it aloud, and sometimes other kids listen in and talk with her about what she's reading," the ACLJ said. "Constitutional crisis? It shouldn't be; but little Gabrielle had her Bible taken away by a teacher and was told, 'You just can't be doing that.'"
The school reportedly contacted Gabrielle's parents and told them that their daughter was not allowed to read the Good Book during recess.
"When the parents pushed back, the school backed off a bit – she could read it during outside recess but not during inside recess," the ACLJ reported. "The school confirmed that no student nor any parent of any student had complained about Gabrielle's reading or even mentioned it."
It was a simple case of public school officials' hypersensitivity to the specter of a threat from the ACLU or some similar spreader of long-debunked propaganda about "separation of Church and State."
Instead of threatening the school district with a lawsuit, ACLJ fired off a letter reminding them of a very important Supreme Court case, Tinker v. Des Moines Independent School District.
That ruling held that students do not "shed their constitutional rights to freedom of speech or expression at the schoolhouse gates."
A student may not be prohibited from expressing his or her views on politics or religion unless the school has reason to believe that the speech or expression will "materially and substantially disrupt the work and discipline of the school," the ACLJ noted.
"We're happy to report that after reviewing our letter, the school thanked us for educating them and removed all restrictions on Gabrielle's reading," the ACLJ reported.
https://www.washingtonexaminer.com/politics/migration-study-shows-big-cities-continue-losing-population-during-first-quarter
Migration study shows big cities continue losing population during first quarter
Americans in the first quarter of 2021 continued their 2020 pattern of moving from expensive, densely populated areas to warmer, more tax-affordable states, according to a new study from Updater Technologies.
Out of roughly 300,000 household moves during the first quarter, only 16 states had a greater percentage of inbound moves than outbound: Nevada, South Carolina, Tennessee, Arizona, Florida, Texas, North Carolina, Colorado, Georgia and Maine.
Half of those states are considered to be year-round warm weather states. In addition, four of them – Nevada, Florida, Tennessee and Texas – do not levy a state income tax.
Densely populated New York had the second-highest percentage of outbound moves during the first quarter of 2021 at 61%, up from 58% during the first quarter of last year.
The 10 states with the highest percentage of outbound moves were Ohio, Louisiana, North Dakota, Wyoming, Iowa, South Dakota, Vermont, Alaska, New York and Nebraska.
In looking at Metropolitan Statistical Areas, seven of the top 20 that saw a higher percentage of inbound moves compared to outbound were in Florida, up from four during the first quarter of last year.
MSAs with the greatest percentage of outbound moves were primarily highly populated urban areas in the Midwest and Northeast, including Milwaukee, Cleveland, New York City, Boston, Detroit, Chicago and Philadelphia.
The Los Angeles, San Francisco and San Diego MSAs were also in the top 20 for outbound moves.