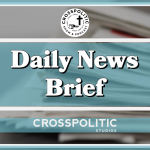 Good Monday, this is the Chocolate Knox with your crosspolitic Daily News Brief for Monday March 22nd 2021.
Don't forget to send news stories and articles to News@CROSSPOLITIC.COM
Idaho Senate Committee Passes Bill to Ban Abortions When Unborn Baby's Heart Begins Beating…
Columbia University is planning to hold six additional graduation ceremonies for students according to their race and other aspects of how they identify.
https://nypost.com/2021/03/16/columbia-university-hosting-6-separate-graduation-ceremonies-on-race-ethnicities/amp/
School year end is in sight. Homeschoolers, and private school students know finals are coming. Math and science can be the toughest subjects for students and their parents. Instead of running to resources that don't share your worldview, how about hiring a reformed, Bible-believing, Creationist who does, and who can help with your child's science and math needs as well. Mr. Klunick Tutoring (pronounced Kloo-nick) assists parents in their God-given responsibility to educate their children according to His word in every area of their lives by delivering science teaching built on the Bible. Visit mrklunicktutoring.com. (spell the dot com out, pronounced Kloo-nick)
https://www.conservativereview.com/his-reign-of-abusive-power-will-end-soon-ny-assemblyman-ron-kim-criticizes-cuomo-in-nursing-home-memorial-speech-2651172206.html
Democratic assemblyman Ron Kim of New York said Gov. Andrew Cuomo will be held accountable for his "abusive power" at the "We Care Memorial Wall" which commemorated deceased nursing home residents Sunday.
https://www.conservativereview.com/krispy-kreme-offers-free-donuts-for-all-of-2021-to-people-who-show-vaccination-card-2651171328.html
officials at Krispy Kreme announced that they will be generously giving away their famous original glazed donuts for free to people who get the COVID vaccine.
The offer isn't just a one-time deal. At participating locations, you can keep coming back for more for the whole rest of the year 2021, as long as you bring that vaccination card with you. Stickers don't count for this special offer.
"We all want to get COVID-19 behind us as fast as possible and we want to support everyone doing their part to make the country safe by getting vaccinated as soon as the vaccine is available to them."Krispy Kreme also stated in an official press release that it will also be actively delivering free donuts to vaccination centers nationwide in the near future, so that frontline workers and volunteers will also be able to share in the sweetness without shelling out.
Hey! Are you coming to the FLF Rally in SD? The only state to stay open and follow the constitution. You should! Come join us as we support Chrtsitine Noem as the only gov. Not to caveon the constitution and most importantly encourage you! Love GOd, Sing Psalms and defy tyrants. This April 29-May 1st…Steve Deace, Doug WIlson, Toby Sumpter, Sherif Wheelier, Joe boot is being smuggled in from Canada…and we can finally say NATE WILSON is going to be there too! Sign up now flfnetwork.com/rally…repeat. If you are a clubmemeber you get $100 off the conference.
https://www.wsj.com/articles/why-some-landlords-dont-want-any-of-the-50-billion-in-rent-assistance-11616155203
Why Some Landlords are figuring it out faster than most christian colleges not to take that government check.A federal program designed to help people avoid eviction by paying their rent is running into an unexpected hurdle: Some landlords are turning down the payment, saying it comes with too many conditions.