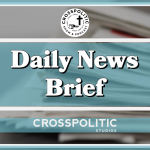 New York Launches First COVID-19 Vaccination, Test Result App For Events
https://www.npr.org/sections/coronavirus-live-updates/2021/03/26/981695884/new-york-launches-first-covid-19-vaccination-test-result-app-for-event-attendanc
Do you have a guitar at home that's calling out to you?
Do you long to discover or rediscover your voice as a guitarist?
Maybe you're overwhelmed and you don't know where to start. Well, you need to check out GuitarSuccess4U. GuitarSuccess4U is a unique, online membership, founded by David Harsh, a fellow Cross Politic listener who has been touring nationally as a Christian artist, worship leader and guitar workshop clinician for the last 20 years. He knows his stuff!
You can learn guitar at your own pace, from anywhere, alongside a community of guitarists. Through a fun, inspiring approach to the guitar, David shares from his decades of experience, and takes you step-by-step towards becoming the musician you want to be. Learn more and join at GuitarSuccess4U.com. That's Guitar Success, the number "4" and the letter "U," dot com.
WHILE NY IS USING VACCINE PASSPORTS NASSCAR IS USING COIVID SNIFFING DOGS
https://www.wfae.org/health/2021-03-25/could-covid-sniffing-dogs-make-in-person-events-safer
Oxford ditching music sheets?
https://www.theblaze.com/news/oxford-ditch-sheet-music-colonialist
Stem Cells use do make vaccine
https://www.theguardian.com/us-news/2021/mar/29/johnson-and-johnson-covid-vaccine-stem-cells-michigan-law
Coates is back
This is Chocolate Knox with Crosspolitic News. You can find this and all of our shows at Crosspolitic.com or on our app, which you can download at your favorite app store, just search "Fight Laugh Feast". Support Rowdy Christian media, and share this show or become a Fight Laugh Feast Club Member. Remember to sign up for the Fight Laugh Feast Rally. Go to flfnetwork dot com slash rally. Have a great day.