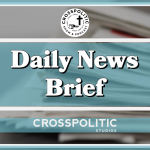 This is the Chocolate Knox with your CrossPolitic Daily News Brief for Monday, May 10th, 2021
Immunabands! I'm sorry what? Immunabands!
Gov. Andrew M. Cuomo of New York…
Wait…He's still governor right? He is? Ok…
https://themodelhealthshow.com/maskfacts/
https://www.nytimes.com/2021/05/10/us/politics/gas-pipeline-hack.html#click=https://t.co/BNt9EKqlly
The F.B.I. just today confirmed that DarkSide, a hacking group, was responsible for the ransomware attack that closed a U.S. pipeline that provides the East Coast with nearly half of its gasoline and jet fuel.
The confirmation of the hack, which prompted emergency White House meetings over the weekend, comes as the Biden administration in the coming days is expected to announce an executive order to strengthen America's cyberdefense infrastructure…Pessimist knox " Perfect timing, coinkydink?…
Colonial Pipeline, the operator of the system, issued a statement on Monday saying that restoring service "takes time." They added that while this situation "remains fluid and continues to evolve" the company will restore service incrementally, with the goal of "substantially" restoring service by the end of the week.
Late Friday, Colonial said in a vaguely worded statement that it had shut down its 5,500 miles of pipeline, which it says carries 45 percent of the East Coast's fuel supplies, in an effort to contain the breach. Earlier in the day, there had been disruptions along the pipeline, but it was not clear at the time whether that was a direct result of the attack or of the company's moves to proactively halt it.
Energy analysts warned that a prolonged suspension of an oil pipeline could raise prices at the pump along the East Coast and leave some smaller airports scrambling for jet fuel.
New cover up, *ehem* data… New Data rolling out that fill in the details on Biden's election win
https://news.yahoo.com/massive-turnout-voters-color-data-100040348.html?guccounter=1
High turnout among voters of color, increased support among white voters with college degrees, and a stop — or a least a pause — in declining support for Democrats among white voters without degrees: President Biden needed all of that for his victory in November and he, or some other Democrat, will probably need those factors to align again in 2024.
The release of census data on who voted last year, as well as a new analysis of the results from a leading Democratic data firm, has filled in many of the details of Biden's victory, providing numbers to fuel the continuing debate within the party about who
This is the Chocolate Knox with Crosspolitic News. Support Rowdy Christian media by joining our club at fightlaughfeast.com, downloading our App, and head to our annual Fight Laugh Feast Conference next fall. With your partnership, together we will fight outdated and compromised media, engage news and politics with the gospel, and replace lies and darkness with truth and light. Go to fightlaughfeast.com and get you own immunaband…wait. No. become a club member!
Have a great day. Lord bless