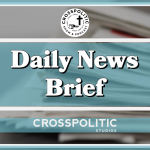 Daily News Brief for Monday, May 17th, 2021
88% of children covered by monthly payments starting in July
https://abcnews.go.com/Business/wireStory/88-children-qualify-monthly-payments-july-77732717
The Treasury Department said Today that 39 million families are set to receive monthly child payments beginning on July 15.
The payments are part of Uncle touch too much Joe Biden's $1.9 trillion coronavirus relief package, which expanded the child tax credit for one year and made it possible to pre-pay the benefits on a monthly basis. Nearly 88% of children are set to receive the benefits without their parents needing to take any additional action.
Qualified families will receive a payment of up to $300 per month for each child under 6 and up to $250 per month for children between the ages of 6 and 17. The child tax credit was previously capped at $2,000 and only paid out to families with income tax obligations after they filed with the IRS.
But for this year, couples earning $150,000 or less can receive the full payments on the 15th of each month, in most cases by direct deposit.
The benefits total $3,600 annually for children under 6 and $3,000 for those who are older. The IRS will determine eligibility based on the 2019 and 2020 tax years, but people will also be able to update their status through an online portal. The administration is also setting up another online portal for non-filers who might be eligible for the child tax credit.
The Uncle Touch too mucha has proposed an extension of the increased child tax credit through 2025 as part of his $1.8 trillion families plan. Outside analysts estimate that the payments could essentially halve child poverty. You like welfare…
The expanded credits could cost roughly $100 billion a year.
Stoning is making a come back South Carolina, kinda..
news.yahoo.com /firing-squad-death-penalty-reintroduced-125952779.html
South Carolina governor Republican Henry McMaster has signed a bill into law that forces death row inmates to choose between a firing squad and the electric chair.
Mr McMaster signed the bill on Friday, two days after the state Senate agreed to changes made to the bill by the statehouse.
The new law comes after conservatives pushed for the legislation earlier this year, responding to hesitancy by drug companies to provide products to states looking to use them during lethal injections.
This reluctance from drug companies has meant that South Carolina has not been able to get the drugs needed to perform a lethal injection in several years…So those poor victims and their families…
According to The State, the previous state law meant that lethal injection was the default version of execution in the state, and if an inmate selected that method, an execution could not be done in another way. This led three inmates to receive stays of execution.
The new law dictates that an inmate must choose between firing squad, the electric chair, or lethal injection. But if the drugs necessary for the injection are unavailable, the inmate would be forced to choose between the other two methods. If no choice is made, electrocution would be the method used.
The South Carolina Department of Corrections is currently ready to perform an execution using the electric chair, but still need to figure out how firing squad executions would work in the state, according to the department's director of communications Chrysti Shain.
Ms Shain said the department "continually trains to perform these duties," in relation to the electric chair, making checks on a regular basis to ensure it's ready for use.
The method of firing squad, on the other hand, has never been used before in the state and no system is in place for how it would work.
But now that the bill has been signed into law by the governor, the Department of Corrections will create a policy for how this method of execution will be used.
Speaking to MSNBC, South Carolina state rep Justin Bamberg, a Democrat,: "It blows my mind to see my state heading backwards. We started the death penalty using the electric chair back in 1912. Since that time, unfortunately, out of the 282 executions that this state has had, a majority of them, almost 74 per cent, have been African American males, even though African Americans only make up 37 per cent of the population in this state."
"Inmates have a choice… but not really, there's no humane way to kill a human being. I don't view the firing squad any better than the electric chair, lethal injection or otherwise. The firing squad is something they do in North Korea, think about that," Mr Bamberg added.
ADDITIONAL INFORMATION
Number of Executions Since 1976: 43

Current Death Row Population: 39

Number of Innocent People Freed From Death Row: 2

Population: 5,million

Murder Rate (per 100,000 population): 7.8

| | |
| --- | --- |
| Annual murders: 464 | Rape:…2,460 |
Deut 22:23 Death penalty
The Supreme Court agreed today to to hear arguments in a major abortion case from Mississippi that could roll back limits on abortion restrictions included in the landmark reproductive rights case Roe v. Wade.