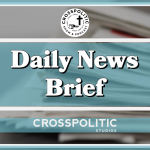 This is Garrison Hardie with your CrossPolitic Daily News Brief for Monday, May 23rd. 2022. We're finally back after a week in the Valley of the Sun, also known as Phoenix Arizona… We were down filming a TV show with our corporate sponsors Aromored Republic, as well as wrapping up our CrossPolitic Liberty Tour, where we discussed the five stones of true liberty… because we have giants to slay in our land. You can find the show on our app, as it was our Sunday Special… and with guys like Jeff Durbin, Delano Squires, and Dr. James White on the stage, you'll want to check it out.
So here's what you guys missed over the weekend… First, have you guys heard there's this scary new virus on the loose? The WHO, or World Health Organization seems to think we should be terrified of it. Well according to CNBC, the Monkey Pox is spreading primarily through sex… but not just any sex…. It's primarily spreading through homosexuals… That's right folks, monkey pox is here, and we've rolled out the rainbow carpet for it… Biden says everyone needs to be concerned…
https://www.cnbc.com/2022/05/23/monkeypox-outbreak-is-primarily-spreading-through-sex-who-officials-say.html
Monkeypox: 'Everybody should be concerned,' says Joe Biden Play whole clip.
Well you heard it there, Biden says everyone should be concerned about it, therefore, it's probably nothing to be concerned about… the article from CNBC reads, An outbreak of the monkeypox virus in North America and Europe is primarily spreading through sex among men with about 200 confirmed and suspected cases across at least a dozen countries, World Health Organization officials said Monday.
The outbreak has quickly advanced across Europe and North America over the last week and is expected to be far more widespread as more doctors look for the signs and symptoms. Two confirmed and one suspected case of monkeypox in the U.K. were reported to the WHO just 10 days ago, the first cases this year outside of Africa where the virus has generally circulated at low levels over the last 40 years, the organization said.
European nations have confirmed dozens of cases in what's become the largest outbreak of monkeypox ever on the continent, according to the German military. The U.S. and has confirmed at least two cases and Canada has confirmed at least five so far. Belgium just introduced a mandatory 21-day quarantine for monkeypox patients. While we're on it, Belgium recently hosted a gay-fetish festival called The Darklands Festival… Well, organizers of a fetish festival in Belgium are warning attendees of possible exposure to monkeypox after public health officials linked three cases to the event that recently concluded in Antwerp.
The Darklands Festival posted the notice on its website on Friday, the same day Belgian public health officials confirmed cases of the rare viral disease. The announcement comes amid growing concern from scientists about the spread of monkeypox, which is commonly found in tropical rainforests in Central and West Africa, and is now being reported in Europe.
Darklands is a four-day event catered toward gay men that includes a daytime festival, several nighttime parties, as well as education and shopping that features "an extraordinary selection for fetish retailers at the gear market," according to its website. The festival concluded on May 9. I won't go into details on this festival, but you can imagine that numerous forms of debauchery and lust, were taking place…
Portugal has 21 known cases, most of them were linked to the festival. Spain was also linked to the Monkey Pox with 21 confirmed cases, most of them, linked with a gay sauna… also known as a sauna…
Sky News recently released some fear porn of their own, and spoke on the higher chance of gay men getting the virus.
Monkeypox: What you need to know Play 1:57-2:54
Ah yes, it has to be balanced with the stigma, of accurate science…
The WHO convened an emergency meeting this weekend via video conference to look at the virus, identify those most at risk and study its transmission. The organization will hold a second global meeting on monkeypox next week to more thoroughly study the risks and treatments available to fight the virus.
While the virus itself is not a sexually transmitted infection, the most recent surge in cases appears to have been spread among men who have sex with other men, WHO officials said, emphasizing that anyone can contract monkeypox.
The virus is spread through close contact with people, animals or material infected with the virus. It enters the body through broken skin, the respiratory tract, the eyes, nose and mouth. Though human-to-human transmission is believed to occur through respiratory droplets as well, that method requires prolonged face-to-face contact because the droplets cannot travel more than a few feet, according to the CDC. It should also be noted, that this particular strain of monkey pox, has a mortality rate, of less than 1%… and by the way, there was an outbreak of monkey pox before! Back in 2003, there were 47 confirmed cases in the U.S., and it was the first time monkey pox was found outside of Africa. The more you know! By the way, the New York Department of Health, is suggesting that masks can help protect from monkey pox… who could've seen this coming? I won't get into it on this show, but you can find the link in the show notes.
https://www.independent.co.uk/news/world/americas/monkeypox-new-york-city-virus-masks-b2084287.html
Changing topics here… Did you know that more than 75% of those raised in evangelical, Presbyterian, and Reformed churches don't pursue any kind of Christian higher education? Surprising isn't it. Cornerstone Work & Worldview Institute is seeking to provide a new, exciting, and affordable option for Christians.
Their mission is to build Kingdom culture in the workplace by equipping their students in a Trinitarian worldview and vocational competencies. Their low-cost full-time program offers integrative course modules, internships, and mentoring so their students can finish debt-free with vocational preparation, a robust faith, and financial potential to build strong godly families and homes rooted in their communities and churches long-term.
Visit their website at www.cornerstonework.org to find out more about enrolling.
Alright, back to the former vice president Joe Biden, Biden says US will 'militarily' defend Taiwan against China if they invade.
Whoa… according to the Post Millenial, President Joe Biden stated unequivocally that the US would intervene militarily on behalf of Taiwan should China invade its territory. Biden was speaking in Tokyo at a conference with Prime Minister Fumio Kishida.
Noting that the US didn't want to "get involved in the Ukraine conflict militarily for obvious reasons," a reporter asked "are you willing to get involved militarily to defend Taiwan if it comes to that?"
Here's how he responded: Biden: US would defend Taiwan militarily Play full clip:
Past presidents have offered what The New York Times calls "strategic ambiguity" when confronted with questions about a military response to a potential Chinese invasion of Taiwan.
Apparently Biden's staff was also surprised with the outright admission that the US would offer more than aid to Taiwan, as has been done in Ukraine, but actual military assistance further than arms and resources.
The US had been walking a fine line up to this point, with statements about support for Taiwan, without saying exactly what that support would entail. This statement from Biden represents a departure in message from the White House.
A statement from the White House sought to backtrack the President's comments, in a move that the press has become accustomed to over the past year and a half since Biden took office.
Well hey, if there's one thing that Taiwan can trust, it's the words from our government. I mean, look at Afghanistan, or Ukraine… the U.S. never goes back on its word…
It was in August that, after a similar statement by Biden that the US "would respond" if there were an attack against Taiwan, staff claimed that Biden was not changing the policy of the US. He had said then that the US has a "commitment" to defend Taiwan.
If China were to invade Taiwan while the US were still supplying weapons to Ukraine to fight off their Russian aggressors, the US would be engaged in conflict against their greatest global rivals, Russia and China, at the same time, on two continents.
Taiwan was pleased with Biden's remarks. Taiwan's Foreign Ministry expressed "gratitude" for the statement, the Times reported, for Biden's "rock-solid commitment to Taiwan." It was in October that they asked for help, saying that it was preparing for war against China. This was after the Chinese military sent a total of 52 aircraft into Taiwanese air space.
In July 2021, Chinese state media published their "three-stage" plan for an invasion of Taiwan. That plan involved ballistic missiles, fighter jet attacks, and amphibious landings on Taiwan's beaches.
Japan would perhaps join the US in defending Taiwan should the need arise, though leaders from that nation made no statement so bold as Biden's. The US Congress approved $40 billion in aid and weapons to Ukraine last week, and the Pentagon approved an additional $100 million in arms.
This year our national conference is in Knoxville, TN October 6th-8th. The theme of this year's conference is Lies, Propaganda, Storytelling and the Serrated Edge. Satan is the father of lies, and the mother of those lies is a government who has rejected God. We have especially been lied to these last two years, and the COVIDpanic has been one of the central mechanisms that our government has used to lie to us and to grab more power. Because Christians have not been reading their bibles, we are susceptible to lies and weak in our ability to fight these lies. God has given us His word to fight Satan and his lies, and we need to recover all of God's word, its serrated edge and all. Mark your calendars for October 6th-8th, as we fight, laugh and feast with fellowship, beer and Psalms, our amazing lineup of speakers, hanging with our awesome vendors, meeting new friends, and more. Early bird tickets sale now!.
San Francisco Archbishop bars Nancy Pelosi from Communion over abortion stance
https://nypost.com/2022/05/20/san-francisco-archbishop-bars-pelosi-from-communion-over-abortion/?fbclid=IwAR0D804Pqq8W9u8YChrUfOxVPX7rJ2LcRmr7Kv48rjyO78XhUDeVhMaSnW0
San Francisco's Roman Catholic archbishop has banned House Speaker Nancy Pelosi (D-Calif.) from receiving Holy Communion during Mass until she repents of her public pro-abortion stance.
"A Catholic legislator who supports procured abortion, after knowing the teaching of the Church, commits a manifestly grave sin which is a cause of most serious scandal to others," Ssalvatore Cordileone wrote in a public notification Friday. "Therefore, universal Church law provides that such persons 'are not to be admitted to Holy Communion.'"
"I am hereby notifying you that you are not to present yourself for Holy Communion and, should you do so, you are not to be admitted to Holy Communion, until such time as you publically repudiate your advocacy for the legitimacy of abortion and confess and receive absolution of this grave sin in the sacrament of Penance," the 65-year-old clergyman wrote.
Cordileone noted that while he and Pelosi had discussed the issue in the past, the archbishop has "not received such an accommodation to my many requests" to speak again following the September passage of a controversial Texas abortion law which bans abortions after a heart beat is detected – usually at six weeks.
At that time, Pelosi vowed to codify the Supreme Court's landmark Roe v. Wade ruling into federal law.
In recent weeks, Pelosi has doubled down on that stance in light of a leaked Supreme Court draft opinion that indicated Roe will be overturned later this year.
The archbishop noted that he will "continue to offer up prayer and fasting" for the Speaker in the coming weeks.
Pelosi's office did not immediately respond to The Post's request for comment.
Federal judge strikes down Tennessee's transgender bathroom sign law
https://www.nbcnews.com/nbc-out/out-politics-and-policy/judge-strikes-tennessees-transgender-bathroom-sign-law-rcna29267
Let's take a dip back into the pool of gender insanity shall we? According to NBC News, A federal judge struck down a Tennessee law Tuesday that would have required businesses in the state to post warning notices on their public restrooms if they have policies allowing transgender patrons to use the facilities that match their gender identities.
The American Civil Liberties Union challenged the law in June on behalf of two business owners — the owner of Sanctuary, a performing arts and community center in Chattanooga, and the owner of Fido, a restaurant in Nashville, among other businesses.
The law went into effect on July 1, but U.S. District Judge Aleta A. Trauger issued a preliminary injunction against it a week later. Then on Tuesday, Trauger permanently blocked the law by granting the ACLU's motion for summary judgment, which asks a court to decide a case without a full trial.
She wrote in a 40-page decision that the law violates the First Amendment of the Constitution because it compels speech that is controversial and with which the plaintiffs disagree.
The law required business owners with even informal policies that allow people to use whichever bathroom they want to post a sign that reads, "This facility maintains a policy of allowing the use of restrooms by either biological sex regardless of the designation on the restroom," at the entrances of single-sex public restrooms, locker rooms, dressing areas or other facilities that are "designated for a specific biological sex … where a person would have a reasonable expectation of privacy."
The law said the sign must be at least 8 inches wide and 6 inches tall and use the colors red and yellow, with a boldface typeface, among other requirements.
Representatives for the state argued that the law is a "content-neutral" rule meant to clarify restroom signage and is not meant to be an endorsement of how gender identity should be understood, according to the opinion. The ACLU's clients, they argued, have "imagined an idiosyncratic, hidden undertone to the [required] signage."
Trauger, who was appointed to the court by President Bill Clinton, disagreed, noting that the government's preferred view of how gender works — that it is dictated by "biological sex," which is assigned at birth and is limited to male or female — is contested.
This has been your CrossPolitic Daily News Brief… if you liked the show, share it far and wide, as that helps us as a show grow! You could also sign up as a club member, and join the Fight Laugh Feast army! And as always, if you're a business owner, or CEO who wants to talk about partnering with CrossPolitic, let's talk… email me at garrison@fightlaughfeast.com. For CrossPolitic News, I'm Garrison Hardie. Have a great rest of your day, and Lord bless.