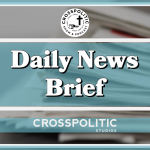 Well you know what they say, a broken clock is right twice a day, I'm looking at you Trevor Noah…Good Monday everyone, this is Garrison Hardie with your CrossPolitic Daily News Brief for Monday, May 2nd, 2022. Yes, it's already May, and that means, we're 17 days away from the last stop of our CrossPolitic Liberty Tour in Phoenix, Arizona. So I need you to start making plans to meet us in Phoenix, as on May 19th, we'll be joined by Pastor Jeff Durbin of Apologia Church, and Political analyst Delano Squires, who's made appearances on the Blaze, and the Tucker Carlson show. Tickets are only $20, and we'll be talking about the Five Stones of True Liberty. Sign up now at crosspolitic.com/libertytour.
https://www.dailywire.com/news/gas-prices-up-nearly-80-since-biden-took-office
Gas Prices Up Nearly 80% Since Biden Took Office
When Biden moved into the White House on January 20, 2021, a gallon of regular gasoline cost an average of $2.37, according to gasbuddy.com. In early March, the national average rose to as high as $4.34. Today it's nearly $4.20, the American Automobile Association (AAA) reported Monday.
A chart compiled by gasbuddy.com shows that less than two months after Biden took office, the average price had jumped from $2.37 to about $2.85. A gallon topped $3 in May 2021, then soared to $3.25 by October. At the end of 2021, with the price nearing $3.50, Biden announced the U.S. Department of Energy would release 50 million barrels of crude oil from the Strategic Petroleum Reserve (SPR).
One website, DC Business Daily, has been keeping a "Gasoline Misery Index," which "tracks how much more (or less) the average American consumer is paying for gasoline on an annualized basis."
The site reads, "According to the U.S. Energy Information Administration (EIA), in January 2021 the national average price per gallon of gasoline was $2.33. It has increased nearly 79% when compared to Friday's national average price of $4.16. With a number that gasolinemiseryindex.com calls the Biden Misery Index, Americans are spending an average of $961 more per year on gasoline today since the president entered office in January."
Gas isn't the only commodity that has gone up price wise… as the USDA says, Food prices are increasing at their fastest rates in 40 years. According to the USDA's March report, grocery and restaurant prices will continue to rise between 4.5-5.5% in 2022, with food-away-from-home prices expected to be impacted the most, between 5.5 and 6.5%. Food-at-home prices are expected to increase by 3-4%.
https://www.nrn.com/news/food-prices-are-increasing-fastest-rates-40-years-says-usda
From February 2021 to February 2022, food prices increased by 7.9%, which was the largest price jump in one year since July 1981.
According to the USDA, prices in all food categories are expected to go up throughout the rest of 2022, and at least half of all categories will experience double-digit inflation. Food prices were adjusted upward in this report in all categories except for fruits and vegetables. All of the double-digit categories include:
Beef and veal: +16.2%
Pork: +14%
Poultry: +12.5%
Fresh vegetables: +4.3%
But hey, while we're on the subject of buying things… Dime Payments is a Christian owned processing payment business. Every business needs a payment process system, so please go to https://dimepayments.com/flf and sign your business up. Working with them supports us. They wont cancel you, like Stripe canceled President Trump. They wont cancel you, like Mailchimp canceled the Babylon Bee. Check them out. At least have a phone call and tell them that CrossPolitic sent you. Go to dimepayments.com/flf.
Apple employees claim it's RACIST to force them to return to a physical office
https://thepostmillennial.com/apple-employees-write-open-letter-to-executive-team-claiming-a-return-to-the-office-is-racist?utm_campaign=64487
According to the Postmillennial, over 200 employees at Apple Inc. have signed and published an open letter to the technology giant's executive team on Friday, arguing that a return to in-person work isn't in the best interest of the company because it's racist.
"Our vision of the future of work is growing further and further apart from that of the executive team," the letter reads.
The employees go on to argue, a move away from the current work-from-home setup would make Apple's workforce younger, whiter, male-dominated, and less diverse because in-person work exacerbates a set of privileges.
The letter comes amid Apple's soft launch return to the office that would require employees to come in Monday, Tuesday, and Thursday. Employees can work from home for the remainder of the week and workers can take four weeks out of the year to work from any location they desire.
The letter also adds, "Privileges like 'being born in the right place so you don't have to relocate,' or 'being young enough to start a new life in a new city/country' or 'having a stay-at-home spouse who will move with you."
The signatories hope Apple will scrap the hybrid program entirely and allow employees to work from their residences in perpetuity—or, as they put it, allow employees to make that decision for themselves.
In addition to objections based on diversity and privilege, the letter also outlines five other reasons: serendipity, collaboration, flexibility, commute, and a chance to prove the effectiveness of remote-work technologies.
At the end of the letter, employees call on Apple Executives to show an increased level of flexibility.
Apple's leadership has yet to respond to the letter, though I have a feeling they'll capitulate given the current cultural climate… and given the current cultural climate, don't you want to read something that speaks the truth? Well…
Our Fight Laugh Feast Magazine is a quarterly issue that packs a punch like a 21 year Balvenie, no ice. We don't water down our scotch, why would we water down our theology? Order a yearly subscription for yourself and then send a couple yearly subscriptions to your friends who have been drinking luke-warm evangelical cool-aid. Every quarter we promise quality food for the soul, wine for the heart, and some Red Bull for turning over tables. Our magazine will include cultural commentary, a Psalm of the quarter, recipes for feasting, laughter sprinkled through out the glossy pages, and more. Sign up today at flfnetwork.com/product/fight-laugh-feast-magazine
https://www.foxnews.com/politics/doj-sues-alabama-law-transgender-treatments-for-children
DOJ sues Alabama over law making transgender treatments for children a felony
Yes, how dare you take away our right to mame and destroy our children's future of in some cases, having families of their own…
According to Fox News, The Justice Department filed a complaint Friday challenging Alabama's Senate Bill 184, which bans transgender treatments for children.
The DOJ asserts that criminalizing the sexual transition of children is a violation of the Fourteenth Amendment on the grounds of equal protection.
Alabama Gov. Kay Ivey signed legislation this month to outlaw puberty blocking medications for minors. The bill makes it a felony, punishable by up to 10 years in prison, to prescribe puberty blockers or hormones to transgender children to help in their gender transition.
Ivey signed the anti-puberty blocker legislation a day after state lawmakers passed the bill. Groups immediately vowed to challenge the law in court.
Alabama is the second state to impose a ban on gender-affirming care for minors and the first to impose criminal penalties. A similar measure in Arkansas, which would have banned doctors from prescribing the medications, was blocked by a federal judge.
The parents of two Alabama children who identify as transgender joined with two medical doctors in suing Alabama Gov. Kay Ivey and other state officials in an attempt to block the state's new law banning cross-sex hormones and so-called "puberty-blocking" drugs for minors. To those parents, the Lord's judgement is coming for you… that's all I can say on that.
The parents and doctors – represented by a bevy of left-leaning law firms including the American Civil Liberties Union (ACLU), the Southern Poverty Law Center (SPLC), and the Human Rights Campaign, among others – claim that S.B. 184, which Ivey signed Friday, violates federal non-discrimination law, including a provision of the Affordable Care Act, also known as ObamaCare.
So, that clip we played at the beginning of this news brief was from the White House Correspondence Dinner, where many a terrible joke was told to the tone-deaf audience, but that clip was about the only joke that had truth in it… As Trevor Noah wrapped up his routine, he had this to say: WATCH: Trevor Noah roasts lawmakers, media in return of White House press corps' gala -Play 24:48-26:06
Oh, I'm sorry, I must have missed the part where a SITTING PRESIDENT WAS BANNED FROM SOCIAL MEDIA. Now I'll grant Trevor one thing, we don't have it as bad as some places, and we certainly need to be thankful to God for that, but the kind of "freedom" Trevor is mentioning, is complying with the current narrative, or bowing to the next idol that Lord Nebuchadnezzar decrees we bow to. We all know, that coloring outside of the lines, gets you labeled a conspiracry theorist, a bigot, a science denier… I could keep going, but you get the point. We here at CrossPolitic are still banned on Youtube by the way, and you better believe we'll probably get banned again at some point. This is why it's so important to support Christian media. I implore you to sign up as a club member. Come out to our conference. Sign up for our magazine. The left just sunk $300 million into CNN+, and just because that failed, you better believe they're going to keep spending money. It's time that we as Christians put our money where our mouth is, and build out our own ventures.
Thanks for tuning into this CrossPolitic Daily News Brief. If you liked the show, share it far and wide. If you want to come out to our national conference in Knoxville TN, sign up today and get that early bird pricing, at flfnetwork.com/knoxville2022, and as always, if you want to advertise on CrossPolitic, let's talk. Email me, at garrison@fightlaughfeast.com… for CrossPolitic News, I'm Garrison Hardie. Have a great rest of your day, and Lord bless.