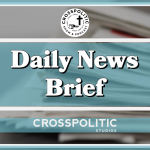 Ladies and gentleman, this is Garrison Hardie with your CrossPolitic Daily News Brief for Monday, May 30th, 2022. Hey, it's May 30th… the first day of CrossPolitic going to a Daily Show! Pray for us as we work hard to produce content for you on a daily basis, and if you really want to support us, you could sign up to be a club member at. flfnetwork.com/membership/… we now live stream al of our content inside of our app and club portal… so sign up today! Again that's flfnetwork.com/membership/.
So… here's what you guys missed over the weekend:
https://www.nbcnews.com/news/us-news/federal-agents-entered-uvalde-school-kill-gunman-local-police-initiall-rcna30941
Federal agents entered Uvalde school to kill gunman despite local police initially asking them to wait
Federal agents who went to Robb Elementary School in Uvalde, Texas, on Tuesday to confront a gunman who killed 19 children were told by local police to wait and not enter the school — and then decided after about half an hour to ignore that initial guidance and find the shooter, say two senior federal law enforcement officials.
According to the officials, agents from BORTAC, the Customs and Border Protection tactical unit, and ICE's Homeland Security Investigations (HSI) arrived on the scene between noon and 12:15 p.m. on Tuesday. Local law enforcement asked them to wait, and then instructed HSI agents to help pull children out of the windows.
The BORTAC team, armed with tactical gear, at first did not move toward the gunman. After approximately 30 minutes passed, however, the federal agents opted of their own volition to lead the "stack" of officers inside the school and take down the shooter.
Steven McCraw, the director of the Texas Department of Public Safety, said Friday that Peter Arredondo, the chief of police for the Uvalde Consolidated Independent School District, had stopped at least 19 officers from breaking into the school as the gunman opened fire for at least an hour.
Arredondo believed that the shooter had barricaded himself and that the children were not under an active threat, said McCraw at a news conference.
Tragic… Keep that community in your prayers during this time.
https://www.foxnews.com/politics/oklahoma-gov-stitt-signs-transgender-bathroom-bill-biological-sex
We now shift our eyes north to Oklahoma… Oklahoma has been in the news a lot lately as Governor Stitt recently signed the strongest abortion bill into law in the entire U.S. to date… The more recent news states:
Oklahoma Gov. Stitt signs bill requiring students to use bathrooms aligned with their biological sex at birth
This needs to be a law?
Oklahoma Republican Gov. Kevin Stitt says the measure he signed into law on Wednesday that requires students in schools across the state to use restrooms that align with their biological sex at birth is "common sense" and that it is "kind of crazy" that the law had to be passed in the first place.
The legislation, Senate Bill 615, now applies to students in pre-K to 12th grade at public and public charter schools in the state. In addition to bathrooms, the new law also requires students to use locker rooms that align with their biological sex at birth.
The bill, which successfully passed through the Oklahoma state legislature last week, calls for schools to "provide a reasonable accommodation to any individual who does not wish to comply" with the new law. That accommodation, according to the measure, is "access to a single-occupancy restroom or changing room."
"It's common sense," Stitt told Fox News Digital as he described the law during an interview on Thursday. "It's kind of crazy that we have to pass laws like this nowadays, but it just simply says we're gonna protect girls. Girls are going to go to girls bathrooms, boys are going to go to boys bathrooms, and that's gonna be law for children K through 12 in Oklahoma. We'll have a third, single-use, single-person bathroom for anyone who maybe doesn't, you know, wanna use any one of those bathrooms — which is fine."
"We've heard from parents, we've heard from families, we've heard from little girls, they're not going to be comfortable sharing a bathroom with boys throughout school," he added.
Asked about what safety this provides for those who have raised concern about sharing bathrooms with transgender students, Stitt reiterated that it is "common sense" and insisted that during his tenure as governor he will not allow boys to expose themselves to little girls in school bathrooms or locker rooms.
Discussing potential backlash he may receive over the new law, Stitt said those who are opposed to the law can "argue with me and we can have a disagreement."
Gold River Trading Co.
Are you tired of buying sugary drinks and coffee from large woke corporations? Throw a tea party!
Gold River Trading Co. is an American company that offers premium alternatives for Americans who enjoy a delicious cup of tea. Start your day with Gold River's invigorating American Breakfast Blend, cool down with a pitcher of crisp & refreshing Iced Tea, or unwind with Chamomile Herbal tea. Explore a variety of high-quality blends and enjoy a healthy, flavorful alternative from an American company that shares your values.
Go to goldriverco.com and save 10% off all orders using discount code CROSSPOLITIC at checkout.
https://www.foxnews.com/us/north-carolina-preschool-pregnant-man
North Carolina preschool uses LGBT flashcards depicting a pregnant man to teach kids colors
A North Carolina preschool used flash cards featuring LGBTQ themes to teach kids colors, including one card depicting a pregnant man.
"Schools should only be using age-appropriate materials, and these flashcards clearly do not meet that standard for a pre-school classroom," Republican State Rep. Erin Paré said in a statement after being alerted to the cards by a constituent, according to North Carolina Speaker of the House Tim Moore.
Paré said a concerned constituent emailed her about the cards that were being used to teach preschoolers colors at Ballentine Elementary School in Wake County, NC. Paré then contacted the principal of the elementary school in an attempt to verify the use of the cards in class, with the principal taking "swift action" to investigate the constituents claims.
The principal was able to locate the cards in the preschool classroom and verify with the teacher that they had been used to teach colors, which the principal said was approved curriculum at the school. The principal took possession of the cards and alerted the district superintendent and human resources about the incident, which she said she was unaware of until being alerted to the situation by Paré.
The incident comes amid an effort in the North Carolina General Assembly to pass legislation aimed at giving parents more control over what their children are taught in school, including giving them the option to opt out of what they consider "age-inappropriate classroom materials."
In the meantime, Paré said the situation schools across the state should use the response of Ballentine Elementary as an example.
We're in the last few days of May! Meaning, we're just 5 months away from our Fight Laugh Feast Conferfence. This year our national conference is in Knoxville, TN October 6th-8th. The theme of this year's conference is Lies, Propaganda, Storytelling and the Serrated Edge. Satan is the father of lies, and the mother of those lies is a government who has rejected God. We have especially been lied to these last two years, and the COVIDpanic has been one of the central mechanisms that our government has used to lie to us and to grab more power. Because Christians have not been reading their bibles, we are susceptible to lies and weak in our ability to fight these lies. God has given us His word to fight Satan and his lies, and we need to recover all of God's word, its serrated edge and all. Mark your calendars for October 6th-8th, as we fight, laugh and feast with fellowship, beer and Psalms, our amazing lineup of speakers, hanging with our awesome vendors, meeting new friends, and more. Early bird tickets sale now!.
https://www.foxnews.com/sports/detroit-tigers-money-trans-surgeries-kids
Now it's time for the topic that I love. SPORTS! Though, once again this topic just shows the disgusting underbelly of what our culture has soured into.
So… do we have any Detroit Tigers' fans in our audience? Well, you should take note of where the club is spending your money…
Detroit Tigers funneling money for trans surgeries for kids
The money that Detroit Tigers fans regularly give to the organization through ticket sales may not have yielded a quality on-field product in years, but some of it will now benefit local LGBTQ groups which support irreversible trans surgeries for children.
Nate Hochman of National Review recently explained that those who purchase tickets for "Pride Night" this year have the option to support groups such as the Trans Sistas of Color Project and the Ruth Ellis Center, which both directly or indirectly provide "gender-affirming surgery" to those under 18.
The Trans Sistas of Color Project website refers to "Trans Minor Rights" and boasts that its funding recipients perform "chest reconstruction and/or genital reassignment surgery," while the Ruth Ellis Center offers "transition care for transgender youth," including surgery.
The Center further claims that there "are a lot of barriers — especially for people under 18 — that still exist for accessing puberty blockers and gender-affirming hormones. This is a huge problem."
There is indeed "a huge problem" here, but it's not the one they claim. The problem is the genital mutilation of children, but the Tigers don't seem to care about that.
Unlike previous "Pride" days at Comerica Park, which began in 2018, those who purchase tickets for "Pride Night" on June 1 this year have the option of donating to organizations such as the Trans Sistas of Color Project, the Ruth Ellis Center and others.
I used to love sports across the board… but the rot of our godless culture has seeped into the fibers of every sport, whether it be baseball, the NFL, the NBA, you get the picture… Heck even nascar has buckled with the likes of Bubba Wallace. Hockey, and MMA seem to be the last bastions of just focusing on sports, as opposed to politics.
Okay, last thing…
Happy Memorial Day, especially to those who have served… Here's some history on the subject. Memorial Day is an American holiday, observed on the last Monday of May, honoring the men and women who died while serving in the U.S. military. Memorial Day 2022 will occur on Monday, May 30.
Originally known as Decoration Day, it originated in the years following the Civil War and became an official federal holiday in 1971. Many Americans observe Memorial Day by visiting cemeteries or memorials, holding family gatherings and participating in parades. Unofficially, it marks the beginning of the summer season.
It is unclear where exactly this tradition originated; numerous different communities may have independently initiated the memorial gatherings. And some records show that one of the earliest Memorial Day commemorations was organized by a group of formerly enslaved people in Charleston, South Carolina less than a month after the Confederacy surrendered in 1865. Nevertheless, in 1966 the federal government declared Waterloo, New York, the official birthplace of Memorial Day.
I want to take a moment to thank all of those in our audience, and across the U.S. who have fought for this country. All gave some, but some gave all. We owe you our gratitude.
Thank you for listening to this CrossPolitic Daily News Brief. If you liked the show, share it far and wide. And as always, if you'd like to partner with CrossPolitic Studios, email me, at garrison@fightlaughfeast.com. For CrossPolitic News, I'm Garrison Hardie. Have a great Memorial Day, and Lord bless.