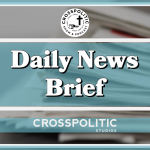 This is Garrison Hardie with your CrossPolitic Daily Newsbrief for Tuesday, November 15th, 2022. Just a heads up ladies and gentleman, I will be out of the country and into Canada with Gabe the Waterboy the 16th-21st, so we will only have a newsbrief today, and Wednesday morning, but not to worry, I'll be back next week to bring you the news…
Redballoon
Not so long ago, the American dream was alive and well. Employees who worked hard were rewarded, and employers looked for people who could do the job, not for people who had the right political views. RedBalloon.work is a job site designed to get us back to what made American businesses successful: free speech, hard work, and having fun. If you are a free speech employer who wants to hire employees who focus on their work and not identity politics, then post a job on RedBalloon. If you are an employee who is being censored at work or is being forced to comply with the current zeitgeist, post your resume on RedBalloon and look for a new job. redballoon.work, the job site where free speech is still alive!
https://thepostmillennial.com/maricopa-election-officials-launched-pac-in-2021-to-stop-maga-candidates?utm_campaign=64487
Maricopa election officials launched PAC in 2021 to stop MAGA candidates
It has been revealed that embattled Arizona's Maricopa County Recorder Stephen Richer and Supervisor Chairman Bill Gates in 2021 started a political action committee to stop MAGA candidates.
On November 17, 2021, Meg Cunningham from the Kansas City Beacon tweeted that Richer, "the Maricopa County recorder, is launching a PAC to support Rs running for non-federal AZ offices who 'acknowledge the validity of the 2020 election and condemn the events of Jan. 6, 2021, as a terrible result of the lies told about the November election.'"
Richer retweeted her saying, "Thanks to a few generous donors this is now launching. Join me if you care about traditional Republican 'stuff' (free people, free markets, rule of law), but also don't believe in conspiracies about the 2020 election or that Jan 6 was a tourist event."
The PAC called Pro Democracy Republicans of Arizona claims on their website that they are "fighting to keep our democratic institutions alive."
The website is sparse on details aside from how to donate but does have a few sentences on their mission. "The Arizona election wasn't stolen. We Republicans simply had a presidential candidate who lost, while we had many other candidates who won. It's time we Republicans accept and acknowledge that fact."
"Candidates come and go. But our democratic institutions are long-lasting, and peaceful transitions of power are a hallmark of the United States. We should not abandon this history in favor of conspiracy theorists and demagoguery."
"To that end, we are launching this PAC to support pro-democracy Arizona Republicans."
Political pundits, candidates, and others have continued to slam Arizona's Maricopa County Elections Department for ongoing failures in their election system. Almost a week after election day, the county, as well as the state, are some of the last to not have candidates declared as winners, as votes continue to be counted.
As Secretary of State, gubernatorial Democratic candidate Katie Hobbs was in charge of overseeing the election after failing to recuse herself.
https://twitter.com/i/status/1590526914019864577 – Play Video 0:00-2:12
On Wednesday night, Republican gubernatorial nominee and Trump-endorsed candidate Kari Lake called out her opponent and Maricopa County Richer as "incompetent."
The results of Arizona's gubernatorial race between Hobbs and Lake are still pending as is the senatorial race between Democrat Sen. Mark Kelly and Republican challenger Blake Masters.
https://www.theepochtimes.com/another-court-rules-against-biden-administrations-student-loan-forgiveness-program_4862341.html?utm_source=partner&utm_campaign=BonginoReport
Appeals Court Rules Against Biden Administration's Student Loan Forgiveness Program
A federal appeals court on Nov. 14 entered a ruling against the student loan forgiveness program announced by President Joe Biden's administration earlier this year.
Erasing student loan debt would be "irreversible," a panel of the St. Louis-based U.S. Court of Appeals for the 8th Circuit ruled, entering an injunction against the administration pending an appeal.
The panel consisted of U.S. Circuit Judges Bobby Shepherd, a George W. Bush appointee; Ralph Erickson, a Donald Trump appointee; and Steven Grasz, another Trump appointee.
They sided with Missouri and five other Republican-led states that had sued Biden and Education Secretary Miguel Cardona after the announcement of the program, alleging that it was illegal for the executive branch to enact such widespread loan relief.
Biden administration officials have said that the Higher Education Relief Opportunities for Students Act of 2003 grants the authority for the relief, which is expected to cost about $400 billion and apply to tens of millions of Americans.
The appeals court ruling came after U.S. District Judge Henry Edward Autrey, a George W. Bush appointee, rejected the states' suit, finding that they lacked standing to sue on behalf of the Missouri Higher Education Loan Authority (MOHELA).
The three appeals judges disagreed, finding that MOHELA is effectively an arm of the state of Missouri and even if it wasn't, the financial effect of the administration's debt discharge still threatens Missouri because it would affect the state's Lewis and Clark Discovery Fund, a capital fund that can support projects at colleges. The fund receives money from MOHELA.
The ruling follows a separate appeals court decision to temporarily block the program and U.S. District Judge Mark Pittman, a Trump appointee, finding it unconstitutional and vacating it.
After Pittman's ruling, dated Nov. 8—the same day as the midterm elections—the administration stopped accepting applications for the program.
Administration lawyers have already appealed that ruling and the government will hold onto information from the 26 million borrowers, including the 16 million who have already been approved for relief, "so it can quickly process their relief once we prevail in court," White House press secretary Karine Jean-Pierre said.
https://hotair.com/jazz-shaw/2022/11/14/oregon-leftists-bragging-about-new-gun-control-law-n510693
Oregon leftists bragging about new gun control law
The red wave in Oregon didn't happen for the most part, though Republicans took a House seat here and there and performed well in the more rural, western part of the state as usual. The hype surrounding the possibility that Democrat Tina Kotek could be defeated, turning the Governor's Mansion red, fizzled in the end. Another piece of bad news turned up in a ballot measure that didn't draw all that much attention on the national level. Measure 114 passed on election day, ushering in a new round of gun control restrictions and requirements. NBC News launched into a celebration of this "victory" in which they bemoaned the rising number of deaths involving firearms in recent years while claiming (without evidence) that this new law in Oregon would do something about it.
In this climate, voters in Oregon have fought back. Heading into the midterm elections, voters took it upon themselves to strengthen gun laws by proposing Measure 114, a ballot initiative that requires a background check, a license and safety training to buy firearms in the state. The measure also prohibits large-capacity magazines that hold more than 10 rounds of ammunition.
Oregon's measure is particularly important because Congress, the courts and many state legislatures have done so little to contain the violence. Meanwhile, the number of gun deaths in the United States has skyrocketed — in fact, our analysis of the data shows that guns drove a recent spike in homicides and suicides…
Given the Supreme Court's expansion of Americans' right to own guns, it can be frustrating to consider what preventive steps are possible. The Oregon referendum, however, is an example of how laws can prevent gun violence. Firearm purchaser licensing, as contained in the ballot measure, is one of the most effective policies at reducing gun deaths.
First of all, there's nothing really unique or groundbreaking about this measure when compared to similar proposals in other liberal states. They are requiring all purchasers of firearms to complete a background check (which everyone already had to do anyway) and complete mandatory gun safety training before being able to obtain a license to own a gun. It also limits the size of magazines to ten rounds of ammunition.
What Measure 114 really does is make it more time-consuming, expensive, and laborious for lawful residents to legally obtain a firearm. NBC goes to great lengths to document how many gun-related deaths have been recorded in the country of late, concluding that Oregon's law will impact those statistics in a positive way.
As usual, what's entirely missing in this liberal "analysis" is any sort of context or even a nod to the reality of gun crime in the United States. Yes, more people are getting shot. That's only one facet of the rising violent crime rates we've been seeing, primarily in urban areas. And the NBC report conveniently ignores the fact that the vast, vast majority of the people being shot are the victims of criminals who could never pass a background check and get their guns on the black or gray markets.
Also ignored in this report is the reality that lower-income minority citizens are disproportionately the victims of these gun crimes. And by making it harder for the law-abiding to obtain a firearm, you're making it hard for them to defend themselves if such a thing happens to them.
https://thepostmillennial.com/report-ftx-ceo-detained-by-authorities-in-bahamas?utm_campaign=64487
FTX CEO detained by authorities in Bahamas
Sam Bankman-Fried, the former CEO of the collapsing cryptocurrency company FTX, along with two others associated with the company, director of engineering Nishad Singh and co-founder Gary Wang, are "under supervision" in the Bahamas after the trio reportedly were planning on fleeing to Dubai.
According to Cointelegraph, "Right now three of them, Sam, Gary, and Nishad are under supervision in the Bahamas, which means it will be hard for them to leave."
Dubai is a city in the United Arab Emirates that prior to February 24, 2022, had no extradition treaty with the United States. However, as of that date, the two countries signed a mutual legal assistance treaty which does permit extradition.
The multi-billion dollar cryptocurrency company FTX, run by CEO Sam Bankman-Fried, the second biggest Democrat donor right after George Soros, collapsed last week as details emerged regarding their financial practices, which led to a run by customers on FTX.
FTX did not have the funds to pay out.
"FTX is under investigation by the US Securities and Exchange Commission (SEC) regarding the management and handling of client funds. With this latest development, FTX has more questions to answer as scrutiny builds around the SEC investigation," Cryptoslate reported.
Roughly $5 billion was withdrawn from FTX on Sunday. The trouble began for FTX last week when rival crypto company Binance said they were selling off their holdings of FTT, the proprietary coin of FTX. After Binance's comments, FTX was in financial trouble and essentially sought a bailout from other firms, Binance among them.
The New York Post reports that FTX's implosion followed revelations "that co-founder Sam Bankman-Fried had been funneling money to a sister trading company run by his girlfriend." That company, Alameda Research, is run by Bankman-Fried's girlfriend, Caroline Ellison, and is also based in the Bahamas.
Binance announced that they would buy the company, then pulled out of the deal, saying that after some due diligence, they decided it would not be a good investment. Part of the issue for Binance is that Alameda Research, helmed by Bankman-Fried's girlfriend, holds a great deal of their assets in FTT, and FTX had invested their customers' funds into Alameda through a "back door," without oversight.
Details have emerged that FTX had partnered with Ukraine to process donations to their war efforts within days of Joe Biden pledging billions of American taxpayer dollars to the country.
Story Real Estate:
Home. It's where you build your legacy. Where traditions are started, seeds are planted, meals are shared, and stories are told. Home is where you prepare to go out into the world. Finding the home that's perfect for your family is a big job.
Story Real Estate is Moscow's top real estate team. They give people real estate advice all over the country. Family homes, investments, land, new construction, or commercial— they know real estate.
If you've thought about a move to Moscow or anywhere in the country, reach out to get connected with a Story Real Estate agent. Wherever you're going, they can help guide you Home. Visit storyrealestate.com.
Now it;s time for my favorite topic… sports!
This one hits close to home for our producer Neil, as this was his first ever favorite fighter when it came to MMA…
https://www.mmafighting.com/2022/11/13/23456635/two-time-ufc-title-challenger-anthony-rumble-johnson-dead-at-38
Two-time UFC title challenger Anthony 'Rumble' Johnson dead at 38
Anthony Johnson, a Bellator fighter and two-time UFC title challenger, has died.
He was 38 years old.
MMA Fighting has confirmed the news with sources with knowledge of the situation, following an outpouring of messages on social media regarding Johnson's death.
The cause of death has yet to be announced.
Johnson is best remembered for a pair of UFC stints from 2007-2012 and 2014-2017. His first run with the promotion saw him emerge as an intriguing welterweight prospect with unmatched knockout power, while his second run occurred as a light heavyweight. It was during Johnson's second UFC run that he defeated the likes of Glover Teixeira, Ryan Bader, Alexander Gustafsson, and Phil Davis, and earned two cracks at the light heavyweight championship.
He announced his retirement after a 2017 title fight loss to Daniel Cormier, but returned to competition in 2021 and fought once for Bellator, defeating Jose Augusto by second-round knockout. In October 2021, Johnson was to fight Bellator light heavyweight champion Vadim Nemkov as part of a grand prix tournament, but was forced to withdraw from that contest due to an undisclosed illness.
Johnson's pro MMA record was 23-6 with 17 wins coming by way of KO/TKO.