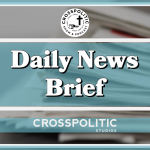 Driver Plows Into Wisconsin Holiday Parade, Killing 5: Live Updates
Police have a person of interest in custody, but a motive is unclear. Among those injured were 18 children, including three sets of siblings.
https://www.nytimes.com/live/2021/11/22/us/waukesha-parade-crash
Driver Strikes Dozens of People at Wisconsin Holiday Parade
At least five people were killed and more than 40 others were injured, after the driver of a red S.U.V. plowed through the Christmas parade Waukesha, Wis. The police said a person of interest was in custody.
Waukesha Parade Suspect With Lengthy Criminal Record Released On Bail Just Days Before Tragedy <https://thefederalist.com/2021/11/22/waukesha-parade-suspect-with-released-on-bail-just-days-before-deadly-tragedy/>
Colorado State Board Drops 'Sex Offender' Term Calling It A Negative Label – CBS Denver
Support Rowdy Christian media by joining our club at fightlaughfeast.com, downloading our App, With your partnership, together we will fight outdated and compromised media, engage news and politics with the gospel, and replace lies and darkness with truth and light. Go to fightlaughfeast.com to take all these actions. Have a great day. Lord bless