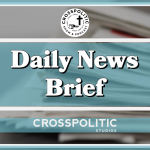 "Next, I want to tell our homeschool listeners about Classy Artist Box. It is a company created by a Christian art teacher who sends you everything you need to create four art projects each month. You can use their written instructions and video lessons to help guide you through each project. In addition to the four new projects each month, you'll also have access to two and a half years worth of video lessons to enjoy as a member. Each type of subscription will cover a range of art media throughout the year, which means you have your art curricular needs covered. For 30% off of your first subscription order, use code CROSS30. To see more, check out www.ClassyArtistBox.com.
Best and Worst States for Entrepreneurs
"In this analysis, AdvisorSmith examined over 20 indicators of the health of the business environment in states across the nation using data from numerous sources, including the U.S. Bureau of Labor Statistics and the Small Business Administration. Some of the factors we considered included personal and corporate tax policies, rates of business formation and hiring for new businesses, funding availability, and business survival rates. We ranked all 50 states and the District of Columbia based upon an aggregated score considering all these factors."
The Postal Service said it is changing estimated delivery times for first-class mail as part of it's 10-year strategic plan for improving service.
https://www.krem.com/article/news/nation-world/usps-shipping-standards-change-october-1/417-79eb3fc6-9a5d-4f11-a2d7-28e2858317eb
"The USPS is changing the standard on how fast you get your mail, with a slowdown that starts Oct. 1.
The Postal Service is creating new service standards, which will mean longer first-class mail delivery times and cuts to post office hours.
Starting Friday, first class mail may take as long as 5 days to reach destinations in the contiguous US. That's a change from the previous standard of 3 days.
USPS said that standard led to an over-reliance on air travel, which is more costly that ground transportation. The Postal Service will increase time‐in‐transit expectations by 1 or 2 days for certain mail that needs to travel longer distances.
If you're shipping something within 139 miles, you can expect it to take 2 days. For anything traveling up to 930 miles, expect 3-day shipping. Times go up to 4 or 5 days for anything over 930 miles traveled.
Officials say most mail will be unaffected, but they recommend planning ahead and sending first class mail early, if it has to travel far distances."
Leave it to the government to define "improving service" as actually lowering standards of service.
CWWI:
Did you know that more than 75% of those raised in evangelical, Presbyterian, and Reformed churches don't pursue any kind of Christian higher education? Surprising isn't it. Cornerstone Work & Worldview Institute is seeking to provide a new, exciting, and affordable option for Christians. Our mission is to build Kingdom culture in the workplace by equipping our students in a Trinitarian worldview and vocational competencies. Our low-cost full-time program offers integrative course modules, internships, and mentoring so our students can finish debt-free with vocational preparation, a robust faith, and financial potential to build strong godly families and homes rooted in their communities and churches long-term.
Our program is offered face-to-face in beautiful Southern Illinois or remotely, anywhere you are.
Visit our website at www.cornerstonework.org to find out more about enrolling.
Fauci on Face the Nation: Can we gather for Christmas?
Play Clip:
Crazy Aussie Bureaucrat:
Play Clip:
Virus surge hits New England despite high vaccination rates
https://apnews.com/article/coronavirus-pandemic-health-pandemics-vermont-d25aae90b2dda65b3d1c2c0d5d00156c?utm_source=Twitter&utm_medium=AP&utm_campaign=SocialFlow
"Despite having the highest vaccination rates in the country, there are constant reminders for most New England states of just how vicious the delta variant of COVID-19 is.
Hospitals across the region are seeing full intensive care units and staff shortages are starting to affect care. Public officials are pleading with the unvaccinated to get the shots. Health care workers are coping with pent-up demand for other kinds of care that had been delayed by the pandemic.
"I think it's clearly frustrating for all of us," said Michael Pieciak, the commissioner of the Vermont Department of Financial Regulation who monitors COVID-19 statistics for the state. "We want kids to be safe in school, we want parents not to have to worry about their child's education and health."
Even though parts of New England are seeing record case counts, hospitalizations and deaths that rival pre-vaccine peaks, largely among the unvaccinated, the region hasn't seen the impact the delta variant wave has wrought on other parts of the country.
According to statistics from The Associated Press, the five states with the highest percentage of a fully vaccinated population are all in New England, with Vermont leading, followed by Connecticut, Maine, Rhode Island and Massachusetts. New Hampshire is 10th.
According to the AP data, full vaccination rates across the six New England states range from a high of 69.4% in Vermont to 61.5% in New Hampshire.
Despite the relatively high vaccination rates — the U.S. as a whole is averaging 55.5% — there are still hundreds of thousands of people across the region who, for one reason or another, remain unvaccinated and vulnerable to infection.
Now, a Rhode Island official said he didn't think the 70% vaccination goal, once touted as the level that would help end the pandemic in the state, is enough.
"What we've learned with delta and looking beyond delta, is because that's where our focus is as well, to really reach those levels of vaccination, to give you that true population level protection, you need to be in excess of 90%," said Tom McCarthy, the executive director of the Rhode Island Department of Health COVID Response Unit."
Note what the AP article goes on to say:
"Head of UMass Memorial Health, the largest health system in central Massachusetts, said recently that regional hospitals were seeing nearly 20 times more COVID-19 patients than in June and there isn't an ICU bed to spare.
Case counts in Vermont, which has continually boasted about high vaccination and low hospitalization and death rates, are the highest during the pandemic. Hospitalizations are approaching the pandemic peak from last winter and September was Vermont's second-deadliest month during the pandemic.
On Sept. 22, Maine had nearly 90 people in intensive care units, a pandemic peak for the state. Maine also recently passed 1,000 deaths since the start of the pandemic."
Closing
This is Gabriel Rench with Crosspolitic News. Support Rowdy Christian media by joining our club at fightlaughfeast.com, downloading our App, and head to our annual Fight Laugh Feast Conference next fall. With your partnership, together we will fight outdated and compromised media, engage news and politics with the gospel, and replace lies and darkness with truth and light. Go to fightlaughfeast.com to take all these actions. Have a great day. Lord bless