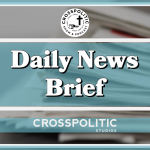 Democrats Fundraising at Record-Breaking Pace Ahead of Midterms
https://www.bloomberg.com/news/articles/2021-09-20/democrats-fundraising-at-record-breaking-pace-ahead-of-midterms
Picking Embryos With Best Health Odds Sparks New DNA Debate
https://www.bnnbloomberg.ca/picking-embryos-with-best-health-odds-sparks-new-dna-debate-1.1653639
Ad:
Darkness resides not only in the heart of man, but physical darkness is a daily reality. Recently an off duty officer shot someone he thought was an intruder — it was actually his adult son. Most mistaken shootings happen in the dark; we are legally and morally required to identify our targets. This is why Shan and his team at Werkz specialize in concealed carry holsters for pistols with lights. They believe every defensive pistol should have a light and a holster. They currently offer holsters for 1,274 pistol and light combinations, plus can help outfit your pistol with a light. Use their holster finder at Werkz.com/CrossPolitic <http://werkz.com/CrossPolitic> and be prepared to defend day and night.
Study: COVID recovery gave Israelis longer-lasting Delta defense than vaccines
The variant was 27 times more likely to break through Pfizer protection from January-February and cause symptoms than it was to penetrate natural immunity from the same period
https://www.timesofisrael.com/study-covid-recovery-gave-israelis-longer-lasting-delta-defense-than-vaccines/
Biden Pursues New Regulation To Protect Workers From Extreme Heat
Employers would be obligated to follow the rule from the Occupational Safety and Health Administration under the threat of fine.
https://www.huffpost.com/entry/white-house-pursues-new-regulation-to-protect-workers-from-extreme-heat_n_61489c70e4b0efa77f83203b
Classy Artist Box:
"Next, I want to tell our homeschool listeners about Classy Artist Box. It is a company created by a Christian art teacher who sends you everything you need to create four art projects each month. You can use their written instructions and video lessons to help guide you through each project. In addition to the four new projects each month, you'll also have access to two and a half years worth of video lessons to enjoy as a member. Each type of subscription will cover a range of art media throughout the year, which means you have your art curricular needs covered. For 30% off of your first subscription order, use code CROSS30. To see more, check out www.ClassyArtistBox.com <http://www.classyartistbox.com/>.
Your credit score may soon depend on your web history
https://www.yahoo.com/now/credit-score-may-soon-depend-130000431.html