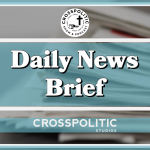 This is Garrison Hardie with your CrossPolitic Daily News Brief for Thursday, October 26th, 2022.
Boniface Woodworking LLC:
Boniface Woodworking exists for those who enjoy shopping with integrity; who want to buy handmade wooden furniture, gifts, and heirloom items that will last for generations. From dining tables and church pulpits to cigar humidors and everything in between; quality pieces that you can give your children's children, tie them to their roots, and transcend the basic function of whatever they are!
So, start voting with your dollars, and stop buying cheap crap from people who hate you! Visit www.bonifacewoodworking.com to see our gallery, learn our story, and submit your order for heirloom quality wood items.
https://thepostmillennial.com/hundreds-of-employees-leave-twitter-for-jobs-with-meta-google-as-musk-deal-approaches?utm_campaign=64487
Hundreds of employees leave Twitter for jobs with Meta, Google as Musk deal approaches
Twitter employees are leaving at rates not seen before as a result of Tesla and Space X CEO Elon Musk's takeover, Business Insider reports.
Several hundred employees have left the media giant in 2022, with 530 leaving in the last three months. Many have left to competitors such as Meta and Google, the outlet reports
This may not be bad news for Musk, however, as the multibillionaire reportedly has intentions of cutting staff by up to 75 percent, according to a report. Musk is set to close the deal on Friday.
Musk offered to buy Twitter in April but then sought to end the acquisition a few months later, which resulted in a legal battle between him and the company.
Earlier this month, Musk announced he would go through with the original offer.
The Delaware Court of Chancery has given Musk until Oct. 28 to close the deal, otherwise, the matter will go to trial in November.
According to Fox News, on Tesla's earnings call last week, Musk said he was "excited about the Twitter situation."
https://www.reuters.com/markets/us/us-mortgage-interest-rates-jump-716-highest-since-2001-2022-10-26/
U.S. mortgage interest rates jump to 7.16%, highest since 2001
The average interest rate on the most popular U.S. home loan rose to its highest level since 2001 as tightening financial conditions weigh on the housing sector, data from the Mortgage Bankers Association (MBA) showed on Wednesday.
The average contract rate on a 30-year fixed-rate mortgage rose by 22 basis points to 7.16% for the week ended Oct. 21 while the MBA's Market Composite Index, a measure of mortgage loan application volume, fell 1.7% from a week earlier. Mortgage application activity is at its slowest pace since 1997.
Mortgage rates have more than doubled since the beginning of the year, as the Federal Reserve pursues an aggressive path of interest rate hikes to rein in stubbornly high inflation.
The central bank is expected to raise rates by 75 basis points for a fourth straight time at the conclusion of its next policy meeting on Nov. 1-2.
Those actions, designed to cool the economy sufficiently to curb price pressures, have weighed heavily on the interest-rate-sensitive housing sector as expectations for Fed tightening have led to a surge in Treasury yields.
The yield on the 10-year note acts as a benchmark for mortgage rates.
https://www.foxnews.com/politics/biden-warns-most-covid-related-deaths-this-year-result-people-not-being-updated-their-vaccines
Biden warns most COVID-related deaths this year will be result of people not being updated on their vaccines
President Biden on Tuesday warned the American people that nearly every COVID-related death this year will be because people have not received the updated vaccine.
Biden also called on Congress to provide the billions of dollars the administration has requested to buy additional vaccines, tests and treatments.
The president's comments come ahead of the holiday season when the weather is colder and more people are spending time indoors and contagious viruses are more likely to spread.
Biden pointed to new variants in the U.S. and a rise in hospitalizations in Europe and urged people to get the latest vaccine and the flu shot.
A study from the Centers for Disease Control and Prevention (CDC) earlier this year found that more than 75% of COVID-19 deaths in fully vaccinated people had occurred among those with at least four comorbidities.
Biden twice tested positive for COVID-19 in July, despite being fully vaccinated and twice boosted. His physician said the president's rare "rebound" positivity followed treatment with PAXLOVID.
Later in the press conference, Biden rolled up his sleeve and got his updated COVID-19 booster shot from a member of the White House medical unit. He had to delay getting his booster, in accordance with federal health guidance, because of his infection over the summer.
More than 20 million people, including nearly 1 in 5 older adults, have gotten the updated COVID-19 booster, the White House said. The vaccine has been reformulated to target the BA.4 and BA.5 subvariants of omicron, the most dominant strains in the United States.
https://thepostmillennial.com/breaking-darrell-brooks-found-guilty-of-intentional-homicide?utm_campaign=64487
Darrell Brooks found guilty of intentional homicide
On Wednesday morning, the jury found Darrell Brooks guilty of six counts of intentional homicide, 61 counts of reckless endangerment, six counts of hit and run, two counts of bail jumping, and one count of battery in connection to the Waukesha Christmas parade last year, where Brooks drove his SUV through the crowd.
Brooks was found guilty of all charges. A hearing regarding sentencing will begin on Monday.
While waiting for the jury to be brought out, Brooks once again stated that he "does not consent" to be called his legal name, and brought up "subject matter jurisdiction," stating that it has not been addressed.
Brooks continued on to list of a number of requests, which Dorow acknowledged, but denied.
Amidst the nearly month-long trial, Brooks has argued with Dorow on a multitude of points, causing interruptions which in many cases resulted in Brooks being moved to a neighboring courtroom to listen in.
On November 21, 2021, Brooks drove through the Waukesha Christmas parade, killing six people, including members of the Dancing Grannies group which were marching in the parade, as well as children. More than 60 people were injured in the incident.
Brooks was soon after identified as the suspect in the parade attack, after police discovered the red Ford Explorer seen plowing into the parade parked not far from the scene of the crime with damage to the front end of the vehicle.
In addition to the Reddit post, Brooks has attempted to have the charges against him thrown out because of a reported recall on his model year of vehicle regarding the throttle body. Brooks said that a class action lawsuit has been filed alleging that the vehicle can speed up without warning due to a malfunction.
Brooks brought up this point during the last days of his trial, with Dorow dismissing Brook's requests, stating, "I've made my decision. I expect that you respect the decision at least as we are not going to debate it further."
Brooks has also attempted to state that he is a "sovereign citizen," therefore not subject to the jurisdiction of the government.
Dorow called Brooks' declaration of being a sovereign citizen an "obstructionist tactic."
So again, Brooks was found guilty of all charges. A hearing regarding sentencing will begin on Monday.
Redballoon
Not so long ago, the American dream was alive and well. Employees who worked hard were rewarded, and employers looked for people who could do the job, not for people who had the right political views. RedBalloon.work is a job site designed to get us back to what made American businesses successful: free speech, hard work, and having fun. If you are a free speech employer who wants to hire employees who focus on their work and not identity politics, then post a job on RedBalloon. If you are an employee who is being censored at work or is being forced to comply with the current zeitgeist, post your resume on RedBalloon and look for a new job. redballoon.work, the job site where free speech is still alive!
https://www.foxnews.com/politics/rubio-canvasser-attack-2nd-suspect-arrested-police-say-he-confronted-victim-being-republican
Rubio canvasser attack: 2nd suspect arrested, police say he confronted victim for being Republican
Police in Hialeah, Florida, have arrested a second suspect for an alleged assault on a canvasser for Sen. Marco Rubio, R-Fla., that took place Sunday night.
According to an arrest affidavit obtained by Fox News Digital, Jonathan Alexander Casanova joined Javier Lopez in attacking the canvasser. The document also noted that the canvasser told police that Casanova told him he could not pass through the area because he was a Republican.
"After tirelessly working to bring justice to the victim, Hialeah Police Detectives have arrested and charged Jonathan Alexander Casanova for the attack which occurred on Sunday, October 23, 2022," Sgt. Jose Torres said in a statement to Fox News Digital.
The arrest affidavit says that the victim – who has since been identified by local media as Chris Monzon – was walking in the neighborhood handing out fliers for Rubio and Gov. Ron DeSantis when Casanova and Lopez were blocking the sidewalk. Following an argument, the affidavit says, Lopez "rushed the victim and threw him on the ground," and then Casanova "began to kick the victim on the head as he was on the ground." While Casanova kicked him, Lopez punched Monzon in the head, police said.
The affidavit says a witness then pulled Casanova off of Monzon, and then Casanova released two German shepherds from his car and walked with them over to Monzon, who was on the ground, and "began to give commands to the dogs to attack and bite" him.
The police document says neighbors eventually separated everyone involved, but Casanova fled before officers arrived at the scene.
The affidavit says that Lopez identified Casanova to police and that Monzon later identified Casanova via a photo line-up. Monzon also provided a sworn statement on video, which is when he said Casanova told him he could not pass because he is a Republican and threatened to have his dogs attack him.
Monzon said in the statement that he tried to walk around Casanova and Lopez but that Casanova then told him he was not allowed to walk around the neighborhood and threatened to shoot him if he continued. Monzon then said he was on public property.
Rubio's tweet also said that the alleged attackers said Republicans were not allowed in their neighborhood. Initially, police said they had not determined if the attack was politically motivated, and Lopez's arrest affidavit did not mention any remarks about political parties.
Guys, I don't really have much in sports for you today… maybe who do you guys have in the world series this year? The Astros are coming into the series with a perfect 7-0 record in the post season, so they've looked pretty good… I don't know! Y'all should check in with our resident baseball expert Mark Dewey. Go check his show out, In The Bullpen to go get your baseball fix! But I'll be covering the series as it unfolds. The first game is this Friday, so stay tuned.