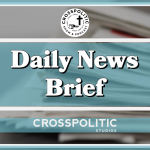 This is Toby Sumpter with your CrossPolitic Daily News Brief for Thursday, April 1, 2021.
The housing market is bonkers, Wisconsin Supreme court strikes down mask mandate, President Biden gets Four Pinnochios from Glenn Kessler at the Washington Post, and Dana Carvey has a pretty good impression of Joe Biden.
Happy Opening Day of Major League Baseball to Everyone
https://www.mlb.com/video/make-it-major
Play Audio: 0:00-0:36
Have you registered for the Fight Laugh Feast Rally in Rapid City, South Dakota, April 29, 30, May 1? Excited to see many of you as we learn to Love God, Sing Psalms, Defy Tyrants. Come hear talks from Pastor Doug Wilson, Ben Merkle, Steve Deace, Sheriff Daryl Wheeler from Bonner County, Idaho, myself – Pastor Joe Boot, and now the very latest: Mr. Nate "N.D." Wilson. Gather with likeminded Christians who love freedom, confess Jesus Christ is Lord over all, and be equipped to stand firm in these insane days. Go to flfnetwork dot com forward slash rally and register today.
But wait – there's more. Did you hear about our Pre-Conference? Warriors in the Garden: A Practical Theology of Violence, Protection, and Self-Defense. Come to Rapid City, South Dakota 2 days early for a 2 day intensive with Nathan Spearing. Nathan Spearing is a highly decorated combat veteran with 14 years and 12 deployments in Army Special Operations. Nathan has a broad range of experiences domestically and overseas and has spent his entire professional life walking out a theology of violence as a Christian in war. Sessions will include Ballistics, Rifle and Long Range Marksmanship, Close Quarter Tactics, Concealed Carry Fundamentals, Combat Medicine, and a Top Shot Competition on the last day. There are only 11 spots available to join Gabe, Knox, and myself with Nathan for this 2 day intensive before the Fight Laugh Feast Rally in South Dakota. If you are interested, send an email to contact at fight laugh feast dot com today.
Housing Market Bonkers
https://www.wsj.com/articles/the-pandemic-ignited-a-housing-boombut-its-different-from-the-last-one-11615824558?mod=e2tw
Nicole Friedman at the WSJ writes: The residential real-estate market is on its biggest tear since 2006, just before the housing bubble burst and set off a global recession. Back in 2004, Home buyers were trading up to bigger, more expensive houses after barely a year, he said. Many buyers paid small down payments, or none at all. When housing prices stopped rising, the market collapsed.

Today, people are putting down $500,000 on $1 million purchases.
In 2020, sales of previously owned U.S. homes surged to their highest level in 14 years, and many economists forecast sales to rise again this year.
Most real-estate analysts agree that the pandemic helped ignite the current boom as some urbanites looked to leave crowded cities like New York and San Francisco for cheaper cities or for more space in the suburbs while working from home [riots? Joe Biden?]. When lockdowns began lifting last year, home sales took off: June sales surged nearly 21% over the prior month, the biggest monthly increase on record going back to 1968. That milestone lasted only a month, when July sales rose almost 25% from June.
At the same time, the market is critically undersupplied. New-home construction hasn't kept up with household demand, and homeowners are holding on to their houses longer. Buyers are competing fiercely for a limited number of homes.
The biggest winners in today's boom are people who already own homes, who gained a collective $1.5 trillion in equity in 2020 from a year earlier, according to CoreLogic. They have also saved money by refinancing their mortgages at record low rates. Many have started renovation projects or bought vacation homes.

Real-estate brokers, home builders and mortgage lenders are also riding the wave. The S&P Homebuilders Select Industry index is up 96% over the past year, outpacing the S&P 500's 59% gain. Between July and December, eight of the 30 largest U.S. mortgage lenders announced plans to go public.
Those trying to break into the market for the first time have rarely found it more difficult. U.S. house prices soared 10.8% in the fourth quarter from a year earlier on a seasonally adjusted basis, the biggest annual increase in data going back to 1992, according to the Federal Housing Finance Agency. The median home purchase price climbed above $300,000 last year for the first time. Nearly one in four home buyers between April and June bought houses priced at $500,000 or more.

Less-expensive homes became harder to find. Sales of homes priced at $250,000 and below declined in 2020 from a year earlier, according to NAR.
The housing market's biggest near-term concern is rising mortgage interest rates, which recently hit their highest level since July and cooled the market slightly. With bond yields rising as investors anticipate a post-Covid rebound, many economists expect mortgage rates to continue creeping upward this year.
Federal Reserve Chairman Jerome Powell said this month that the central bank will maintain ultralow interest rates until its employment and inflation goals have been met, which he said were "still a long way" away.
AD
Do you have a guitar at home that's calling out to you? Do you long to discover or rediscover your voice as a guitarist? Maybe you're overwhelmed and you don't know where to start. Well, you need to check out GuitarSuccess4U. GuitarSuccess4U is a unique, online membership, founded by David Harsh, a fellow Cross Politic listener who has been touring nationally as a Christian artist, worship leader and guitar workshop clinician for the last 20 years. He knows his stuff!

You can learn guitar at your own pace, from anywhere, alongside a community of guitarists. Through a fun, inspiring approach to the guitar, David shares from his decades of experience, and takes you step-by-step towards becoming the musician you want to be. Learn more and join at GuitarSuccess4U.com. That's Guitar Success, the number "4" and the letter "U," dot com.
And if you or your business would like to advertise with CrossPolitic, send inquiries to ads @ fightlaughfeast dot com.
NCAA Final Four Update
NCAA Mens' Basketball brackets, 11th Ranked UCLA beat top-ranked Michigan Tuesday 51-49 and Gonzaga trounced USC 85-66, Baylor took Arkansas 81-71, and Houston squeezed out Oregon 67-61, setting up the final four on Saturday: UCLA at Gonzaga and Houston at Baylor. The winners of those games will face off on Monday in the National Championship Game.
Kessler Gives Biden Four Pinocchio's at First Press Conference
https://www.washingtonpost.com/politics/2021/03/30/biden-falsely-claims-new-georgia-law-ends-voting-hours-early/
"What I'm worried about is how un-American this whole initiative is. It's sick. It's sick … deciding that you're going to end voting at five o'clock when working people are just getting off work."
— President Biden, in remarks at a news conference, March 25
"Among the outrageous parts of this new state law, it ends voting hours early so working people can't cast their vote after their shift is over."
— Biden, in a statement "on the attack on the right to vote in Georgia," March 26
Biden framed his complaint in terms of a slap at working people. The law would "end voting at five o'clock when working people are just getting off work" or "ends voting hours early so working people can't cast their vote after their shift is over."
Many listeners might assume he was talking about voting on Election Day, not early voting. But Election Day hours were not changed.
As for early voting, the law made a modest change, replacing a vague "normal business hours" — presumed to be 9 a.m. to 5 p.m. — to a more specific 9 a.m. to 5 p.m. time period. But that's the minimum. Under the new law, counties have the option to extend the voting hours so voters can start casting ballots as early as 7 a.m. and as late as 7 p.m. — the same as Election Day in Georgia. Moreover, an additional mandatory day of early voting on Saturday was added and two days of early voting on Sunday were codified as an option for counties.
One could understand a flub in a news conference. But then this same claim popped up in an official presidential statement [the following day]. Not a single expert we consulted who has studied the law understood why Biden made this claim, as this was the section of law that expanded early voting for many Georgians.
Somehow Biden managed to turn that expansion into a restriction aimed at working people, calling it "among the outrageous parts" of the law. There's no evidence that is the case. The president earns Four Pinocchios.
Dana Carvey Was on the Late Show with Steven Colbert and Gave His Joe Biden Impression
Play Audio 0:10-1:11
Wisconsin Supreme Court Struck Down Mask Mandate
https://www.wsj.com/livecoverage/covid-2021-03-31/card/F2OMdS551xcAAzuexwXc
A divided Wisconsin Supreme Court on Wednesday struck down the statewide mask mandate, ruling that Democratic Gov. Tony Evers unlawfully exercised his emergency powers during the pandemic without legislative authority.
The 4-3 decision marked a defeat for the governor in his long feud with the Republican-led legislature and conservative activists over his exercise of emergency powers in response to the Covid-19 crisis.
State law authorizes the Wisconsin governor to exercise emergency powers during a disaster by declaring a state of emergency. The statute bars the governor from extending his declared powers beyond 60 days during a single public-health emergency without legislative approval.
For more than a year, Mr. Evers has declared a half-dozen new states of emergency, repeatedly resetting the 60-day clock. His most recent declaration in early February came the same day the legislature passed a joint resolution revoking his powers.
Mr. Evers used those powers to issue executive orders, including requiring residents to wear facial coverings in indoor spaces outside of their homes, with limited exceptions. The ruling nullifies his most recent mask order, which was set to expire April 5, and prevents him from issuing a new one.
The governor argued that the changing conditions of the Covid-19 crisis gave him the right to declare new emergencies to control the spread of infection. The state's highest court disagreed.
"The question in this case is not whether the Governor acted wisely; it is whether he acted lawfully. We conclude he did not," wrote Justice Brian Hagedorn for the majority. "The governor may not deploy his emergency powers by issuing new states of emergency for the same statutory occurrence."
The petition challenging the orders was led by Jeré Fabick, a Republican businessman from Wisconsin affiliated with the Heartland Institute, a conservative think tank. The court said he had standing to sue as a taxpayer contesting "governmental actions leading to an illegal expenditure of taxpayer funds."
Justice Ann Walsh Bradley wrote a dissenting opinion that argued that Mr. Fabick lacked standing to sue and attacked the decision as a "roadblock to an effective governmental response to Covid-19."
In a statement Wednesday, Mr. Fabick said he had von "a victory for the rule of law and the separation of powers."
In response to the ruling, Mr. Evers said that he had "trusted the science and public-health experts to guide our decision-making" and urged "Wisconsinites to mask up so we can beat this virus and bounce back from this pandemic."
State Senate Majority Leader Devin LeMahieu commended the ruling, tweeting that the decision "upholds the separation of powers & the rule of law" and that the governor's "repeated abuse of emergency powers and pervasive violation of law had to be stopped."
Throughout the pandemic, federal and state courts have been reluctant to second-guess governors, upholding widespread restrictions on travel, gatherings and commerce. But in a handful of cases, including in Wisconsin and Michigan, plaintiffs have prevailed with arguments that governors overstepped their authority.
The number of newly confirmed Covid-19 cases in Wisconsin has hovered around 500 a day in recent weeks, rising slightly in March but still a sharp drop-off from the infection levels reached last fall when the state was reporting upward of more than 7,000 daily new cases.
About three-quarters of the state's population aged 65 years and older have received at least one dose of a Covid-19 vaccine, according to state figures.

Remember: If you have a news story you think we might need to cover, please send articles and links to news at crosspolitic dot com. And check out DEFT WIRE dot com, our news aggregator.
Psalm of the Day: 76
Play Audio: 0:00-1:06
You can listen to the whole setting in the album Psalms from the Trinity Psalter Vol. 1 on. Spotify.
There He broke the bow and arrows, made the sword and shield be still – Thou has spoiled the valiant-hearted, wrapped in sleep of death are they. Mighty men have lost their cunning; none are ready for the fray. When God rises up, He brings low the pride of princes and parliaments, and kings and presidents tremble at His frown. Do not lose heart. Christ is King. He will save us.

This is Toby Sumpter with Crosspolitic News. You can find this and all of our shows at Crosspolitic.com or on our app, which you can download at your favorite app store, just search "Fight Laugh Feast". Support Rowdy Christian media, and share this show or become a Fight Laugh Feast Club Member. Remember to sign up for the Fight Laugh Feast Rally. Go to flfnetwork dot com slash rally. Have a great day.