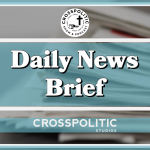 This is Garrison Hardie with your CrossPolitic Daily News Brief for Thursday, April 13th, 2023.
Fight Laugh Feast Conference – Ark Encounter
This year, our Fight Laugh Feast Conference is at the Ark Encounter in Kentucky on The Politics of Six Day Creation. The politics of six day creation is the difference between a fixed standard of justice and a careening standard of justice, the difference between the corrosive relativism that creates mobs and anarchy and the freedom of objectivity, truth, and due process. The politics of six day creation establishes the authority and sufficiency of God's Word for all of life: from what is a man or a woman, when does human life begin, and how is human society best organized?
Come hear Ken Ham, Pastor Doug Wilson, Dr. Ben Merkle, Dr. Gordon Wilson, me and more, and of course a live CrossPolitic show! Mark your calendars for October 11th-14th, as we fight, laugh, and feast, with beer & psalms, our amazing lineup of speakers, our Rowdy Christian Merch, and a Sabbath Feast to wrap up the occasion. Maybe an infant baptism while we're at it! Visit fightlaughfeast.com for more information!
Now ladies and gentleman… I have some audio for you to listen to. Listen to this exchange between Elon Musk, and a BBC reporter. A warning… Elon slaughters this "journalist". Seeing as this is audio, just know I use air quotes when I say journalist.
'You Just Lied': Elon Musk Slaughters BBC Reporter In Live Interview-Play Video
That ladies and gentleman, is the state of journalism these days.
Now, let's get to the news:
https://www.foxnews.com/politics/farmers-score-victory-biden-admin-judge-pauses-controversial-eco-rules
Farmers score victory over Biden admin as judge pauses controversial eco rules
A federal judge granted a request Wednesday from a coalition of 24 states and several industry groups to block environmental regulations redefining how water sources are protected.
Judge Daniel Hovland of the U.S. District Court for the District of North Dakota ruled that the so-called Waters of the United States (WOTUS) rule announced by the Environmental Protection Agency (EPA) in late December poses "great" risks to states. The judge also ruled that the federal government should wait until the Supreme Court soon rules on a related case pending before it.
On Dec. 30, the final working day of 2022, the EPA and the U.S. Army Corps of Engineers quietly announced they had approved the WOTUS regulation and that it would be implemented in March. After announcing it, EPA Administrator Michael Regan said the rule "safeguards our nation's waters."
The rule ultimately opens the door for the federal government to regulate wetlands, lakes, ponds, streams and "relatively permanent" waterways, largely mimicking a pre-2015 environmental rule set during the Obama administration which implemented the changes in an effort to curb water pollution. The regulation is a broad interpretation of which water sources require protection under the Clean Water Act.
However, in its lawsuit filed in February, the 24-state coalition — led by West Virginia, Georgia, Iowa and North Dakota — argued the regulations were an example of federal overreach and an attack on their sovereign authority regulating bodies of water and surrounding land.
A series of industry groups — including the American Farm Bureau Federation, American Petroleum Institute, National Association of Realtors, National Cattlemen's Beef Association, National Corn Growers Association and National Mining Association — also entered the lawsuit as intervenor-plaintiffs.
Meanwhile, the Senate and House both passed a bipartisan resolution earlier this year overturning the WOTUS regulation. President Biden vetoed the bill on April 6.
https://www.theepochtimes.com/biden-admin-unveils-rule-to-force-67-percent-of-cars-sold-to-be-electric-by-2032_5189758.html?utm_source=partner&utm_campaign=BonginoReport
US Unveils Toughest-Ever Car Emissions Rule in Bid to Force Surge in EV Purchases
President Joe Biden further accelerated the nation's switch to electric vehicles by announcing two proposed federal rule changes aimed at reducing greenhouse gases and other pollutants in motor vehicle emissions.
The changes, announced on April 12, would affect virtually all gasoline-powered vehicles on U.S. highways, save consumers an estimated $12,000 in fuel and maintenance costs over the life of a vehicle, and avoid almost 10 billion tons of carbon dioxide emissions through 2055, according to the Environmental Protection Agency (EPA).
The move aims to further the president's goal of having 50 percent of all new cars and light trucks and 30 percent of new medium- and heavy-duty trucks sold in 2030 be zero-emission vehicles. Electric vehicles (EVs) are considered zero-emission vehicles.
The EPA estimates that approval of these rules would result in 67 percent of new passenger vehicles and light trucks being EVs by 2032, along with 50 percent of buses, 35 percent of short-haul freight tractors, and 25 percent of long-haul freight tractors.
Critics have claimed that the move, which will increase the price of new cars, was made without consideration of the ability of the nation's supply chain to meet the demand.
The Biden administration has spent roughly $31 billion on the development of so-called clean transportation over the past two years, including the development of a network of EV charging stations, improving the supply chain for materials needed to produce EV batteries, and making loans to companies that manufacture EVs and EV components in the United States.
General Motors, Ford, and Stellantis—the maker of Chrysler, Fiat, Ram, and Jeep brands—stated in 2021 that they would aim to reach EV sales of at least 40 percent of all their new vehicle sales by 2030.
The rule change comes 10 months after six major automakers pledged to stop selling gas and diesel-powered cars worldwide by 2040.
Speaking of hemoraging money…
https://thepoliticalinsider.com/federal-government-borrowing-astronomical-6-billion-per-day/
Federal Government Borrowing Astronomical $6 Billion Per Day
The U.S. Congressional Budget Office said Monday the federal government has accumulated more than a trillion dollars in debt only six months into the fiscal year.
The Committee for a Responsible Federal Budget released a report pointing out that those figures amount to an average of $6 billion per day so far in fiscal year 2023.
The data figures come as Republicans and Democrats approach a deadline to raise the debt ceiling or face defaulting on the national debt, an unprecedented event that would have huge ramifications for the U.S. and global economy.
Republicans have pointed to those figures as proof of the need for spending cuts.
President Joe Biden, though, has shown no interest in negotiating. Democrats argue the fiscal deadline is too risky to play with in negotiations.
The CRFB said if nothing changes, the annual deficit will hit $3 trillion by the end of this decade.
Down to Florida we go…
https://www.dailyfetched.com/florida-lawmakers-prepare-to-pass-measure-to-permit-death-penalty-for-pedophiles/
Florida Lawmakers Prepare to Pass Measure to Permit DEATH PENALTY for Pedophiles
The House will consider its version of the bill (HB 1297) after (SB 1342) was cleared on Tuesday by the Rules Committee, as it readies for the bill to be presented to the full Senate.
For decades, the U.S. Supreme Court and Florida Supreme Court rulings have prohibited the execution of child rapists and sexual abuse cases.
The last time someone was executed for a non-murder offense in the U.S. was 1964, according to a Senate staff analysis.
However, the House and Senate bills argue that a Florida Supreme Court case in1981 and a U.S. Supreme Court case in 2008 were both "wrongly decided."
The Senate version declared the cases represent an "egregious infringement of the state's power to punish the most heinous of crimes."
The bill's sponsor, former prosecutor turned Republican state senator Jonathan Martin, said the legislation would allow for "constitutional boundaries by providing a sentencing procedure for those heinous crimes."
"If an individual rapes an 11-year-old, a 10-year-old, a 2-year-old or a 5-year-old, they should be subject to the death penalty," Martin said Tuesday.
As Red State reports:
The legislation inevitably has drawn criticism, with Aaron Wyat of the Florida Association of Criminal Defense Lawyers pointing out that although people want "vengeance" against pedophiles, the death penalty would represent an overturning of decades of legal precedent.
"This bill invites a longer, costlier (legal) process for the victim and their family that they will endure," Wayt said.
"While this crime, anyone convicted of it is vile, heinous, the Constitution itself, the case law, the Supreme Court demands a maximum of life in prison. And so while it's not the vengeance we all want, it's the justice that the Constitution demands," Wayt added.
Meanwhile, left-leaning Slate Magazine argued a "sentence of life without parole is a harsh and severe punishment," even for pedophiles.
Despite the media pushback, the bill has attracted support from some Democrats, including Senate Minority Leader Lauren Book, who suffered sexual abuse as a child and founded the advocacy organization Lauren's Kids.
Gov. Ron DeSantis is expected to sign off on this legislation after voicing support for the death penalty for pedophiles.
https://www.foxnews.com/politics/trump-sues-michael-cohen-for-500-million
Trump sues former attorney Michael Cohen for $500 million
Former President Donald Trump is suing his ex-lawyer Michael Cohen for more than $500 million, alleging a breach of his attorney-client relationship, unjust enrichment, and more, Fox News Digital has learned.
Trump's legal team filed the more-than 30-page federal lawsuit in U.S. District Court for the Southern District of Florida on Wednesday.
The lawsuit alleges Cohen breached his attorney-client relationship by "spreading falsehoods" about Trump that were "likely to be embarrassing or detrimental, and partook in other misconduct," while also breaching contractual terms of a confidentiality agreement he signed as a condition of employment with Trump.
The lawsuit alleges Cohen spread falsehoods about Trump "with malicious intent and to wholly self-serving ends."
The lawsuit details Cohen's "myriad of public statements, including the publication of two books, a podcast series, and innumerable mainstream media appearances," while ignoring "cease and desist" orders.
It claims Cohen has, in recent months, "increased the frequency and hostility of the illicit acts" and "appears to have become emboldened and repeatedly continues to make wrongful and false statements" about Trump through various platforms.
The lawsuit comes a week after the former president pleaded not guilty in Manhattan court to 34 felony counts of falsifying business records in New York, related to alleged hush money payments made ahead of the 2016 presidential election.
https://www.breitbart.com/sports/2023/04/11/nc-state-senator-moves-to-ban-participation-trophies/
NC State Senator Moves to Ban Participation Trophies
Coffee is for closers, and if a state senator in North Carolina has his way, trophies at state-sponsored events will be for winners and winners only.
North Carolina State Senator Timothy Moffitt (R) introduced the "Eliminate Participation Trophies Act" on Thursday, known in the legislature as SB 430.
If passed, the bill would ban the awarding of trophies to children at state-sponsored athletic events simply for participating in the event.
"Youth sports or other youth recreation activities operated under the authority of a local government shall not include awards for participants based solely on their participation in the sport or other activity," the proposed law states. "Awards provided in connection with the activity, if any, shall be based on identified performance achievements."
Moffitt and the bill's co-sponsors, Republican Senators Bobby Hanig and Eddie Settle say the bill will apply only to state-sponsored youth events. Though, no ages are listed explicitly in the bill.
Many argue that participation trophies aren't that big of a deal. After all, awarding trophies for merely showing up tends to fade out once kids progress past pee-wees and enter the junior high ranks. However, proponents of laws such as Moffitt's will point to things like the Colts' 2014 AFC Finalist Banner:
Clearly, the participation trophy culture has made its way past pee-wees. Is it worth passing a law? The North Carolina legislature will soon decide.