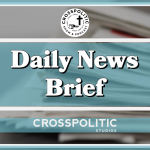 Good Thursday this is the chocolate Knox with your cross politic daily news brief for Thursday April 14th 2022
CDC to extend federal transportation mask mandate for additional 15 days
https://www.cnn.com/2022/04/13/politics/mask-mandate-extension/index.html
The CDC plans to extend the federal transportation mask mandate for another 15 days to early May, according to a Biden administration.
The mandate is now set to expire on May 3.
"Since early April, there have been increases in the 7-day moving average of cases in the US. In order to assess the potential impact, the rise of cases has on severe disease, including hospitalizations and deaths, and health care system capacity, CDC is recommending that TSA extend the security directive to enforce mask use on public transportation and transportation hubs for 15 days, through May 3, 2022," An official told CNN.
The official added, "This will give additional time for the CDC to learn more about BA.2 and make a best-informed decision."
<PAPERBALL>
When you are not bold enough to keep your state free and you want to curry favor with you base you do something like this…
https://www.foxnews.com/politics/texas-migrant-bus-arrives-washington-d-c
If this is the best that we have to offer as a solution to the problem we are doomed.
<PAPERBALL>
Patrisse Cullors one of the founding members of BLACK LIVES MATTER said while speaking at an event at Vashon Center for the Arts that anytime she hears about IRS Form 990, which requires charities to disclose their financial activities, she gets triggered.
https://dailycaller.com/2022/04/13/patrisse-cullors-black-lives-matter-financial-disclosure-laws-unsafe-triggering/
Remember that the BLM Global Network Foundation spent $6 million of the charity's money on a massive Southern California mansion in October 2020, New York Magazine reported. Dyane Pascall, the financial manager of an LLC run by Cullors and her spouse, purchased the mansion and transferred ownership to a Delaware-based LLC, preventing public knowledge of the foundation's ownership, according to the report. The BLMGNF allegedly tried to keep the purchase a secret.
Cullors said several activists have expressed fear to her that they will be hounded with requests from outlets about their 990 forms, which charities are required to disclose upon public request.
<CLIP>
Well, no one would know better than a trained marxist.
An internal memo from the organization obtained by New York Magazine listed possible reasons for owning the house, such as a studio for producing content and a safe house for leaders with security concerns.
Cullors stepped down as the organization's executive director in 2021 after the Daily Caller News Foundation (DCNF) reported she used her position as the charity's leader to funnel business to an art company led by the father of her only child.
<PAPERBALL>
Redballoon
Not so long ago, the American dream was alive and well. Employees who worked hard were rewarded, and employers looked for people who could do the job, not for people who had the right political views. RedBalloon.work (www.redballoon.work/flf/) is a job site designed to get us back to what made American businesses successful: free speech, hard work, and having fun. If you are a free speech employer who wants to hire employees who focus on their work and not identity politics, then post a job on RedBalloon. If you are an employee who is being censored at work or is being forced to comply with the current zeitgeist, post your resume on RedBalloon and look for a new job. www.redballoon.work/flf/, the job site where free speech is still alive!
<PAPERBALL>
Government school Fifth-graders in New Jersey could be taught that puberty blockers are an acceptable way to 'manage' adolescence and masturbating 'a few times a day' is a healthy way to relieve stress.
The new sample lesson plans, some of which are accompanied by animated videos, are part of a broader, K-12 health and sex education curriculum adopted by the New Jersey Board of Education. The plans, which were first reported by Fox News, are now being reviewed by individual school districts in the state.
In one proposed lesson plan aimed at fifth graders entitled 'It's All about the Hormones,' students are instructed to watch a video containing animation called 'Puberty and Transgender Youth.' I've attached a lkuink to the video in the notes which are only available if you have the app…
'Whether you identify as male, female, gender queer or something else, you're perfectly normal, and there are lots of ways to manage puberty so that it can be a fun, exciting time rather than a scary or stressful one,' the video states. This is pure queer theory.
Democratic New Jersey Gov. Murphy told Fox News on Monday that while he believes parents should have a say in the education of their children, 'some are using this as an opportunity to score political points and to further divide us – us vs. them – and I say that on behalf of the LGBTQIA+ communities.'
He also pointed out that such standards on gender identity were voted on two years ago by the state's board of education.
The governor said that he was open to hearing from people that believe the standards 'need to be adjusted or altered.'
<PAPPERBALL>
You're not imagining it. Everything is getting more expensive. Rising costs on products from Oreos to PlayStation5 consoles can be linked back to the supply chain crisis, container port bottlenecks and global shortages on labor and computer chips.
Bureau of Labor Statistics data shows prices have risen 7.5% over the past 12 months. This is the fasted prices have increased in the past 40 years.
Many of your favorite products have been hit by rising inflation, including toilet paper, streaming-service subscriptions, snack foods, groceries, kitchen gadgets and more. Keep reading to see what products are going to cost you more this year — and how to spend less when it comes time to buy them.
Procter & Gamble announced to investors that it has plans to increase prices by the end of February 2022. The company owns the laundry-care brands Tide, Downy and Gain, plus Bounty paper towels, Charmin toilet paper, and several feminine-care brands including Always, Tampax and L.
P&G executives have said the company's price increases are to offset higher costs, including labor, transportation of goods and the rising cost of raw materials such as fuel, resin and pulp.
Mondelez International, owner of Oreo, Ritz, Cadbury and Sour Patch Kids, announced a 7% price increase by January. Kraft Heinz, owner of Oscar Mayer and maker of Heinz ketchup and Kraft macaroni and cheese, announced that some product prices would increase by 20%.
The U.S. Bureau of Labor Statistics recorded that grocery-store prices increased by 6.5% over the course of 2021. The bureau found that the cost of meats, poultry, fish and eggs increased the most, rising 12.5% over the year. As of Jan. 25, 2022, the U.S. Bureau of Labor Statistics predicts that prices will continue to rise.
Amazon will charge sellers a 5% fuel and inflation surcharge on fulfillment fees starting April 28th so expect everything you purchase from Amazon to go up in price as well.
<PAPERBALL>
According to WHO, every year in the world there are an
estimated 40-50 million abortions. This corresponds to
approximately 125,000 abortions per day.
In the USA, where nearly half of pregnancies are unintended
and four in 10 of these are terminated by abortion [1] , there are
over 3,000 abortions per day. Twenty-two percent of all
pregnancies in the USA (excluding miscarriages) end in
abortion.
Abortions
worldwide this year:
11,985,629
<PAPERBALL>
Lies, Propaganda, Story Telling, and the Serrated Edge DNB:
This year our national conference is in Knoxville, TN October 6th-8th. The theme of this year's conference is Lies, Propaganda, Storytelling and the Serrated Edge. Satan is the father of lies, and the mother of those lies is a government who has rejected God. We have especially been lied to these last two years, and the COVIDpanic has been one of the central mechanisms that our government has used to lie to us and to grab more power. Because Christians have not been reading their bibles, we are susceptible to lies and weak in our ability to fight these lies. God has given us His word to fight Satan and his lies, and we need to recover all of God's word, its serrated edge and all. Mark your calendars for October 6th-8th, as we fight, laugh and feast with fellowship, beer and Psalms, our amazing lineup of speakers, hanging with our awesome vendors, meeting new friends, and more. Early bird tickets will be available starting in the middle of March.