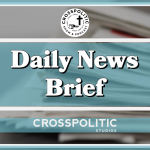 Good Thursday, This is the Chocolate Knox WIth you Crosspolitic Daily News Brief for Thursday April 15th 2021
Officer who fatally shot Daunte Wright charged with second-degree manslaughter
---
We are just days away from the FLF Rally in Rapid City South Dakota and I'm getting those excited butterflies. First to meet so many of you that listen to CrossPolitic and support the network but also to hear the amazing Speaker line up, Joe Boot From Canada, Toby, Doug WIlson, Steve Dace from the blaze Sheriff Wheelier, Nate WIlson…Did we mention there's going to be stand up comedy? John Brnyan who is also coming onto the flf network Love God Sing Psalms Defy tyrants. Come and joining with us as we for the liberty that is in christ. Sign up noq flfnetwork.com/rally…
https://www.conservativereview.com/psaki-insists-taxpayer-funds-for-abortion-clinics-cant-be-used-for-abortions-2652583442.html
White House press secretary recently had a very interesting question possessed to her…
www.washingtonexaminer.com /news/coca-cola-says-time-find-common-ground-voting-measures-pressure-from-right
Coca-Cola says it's 'time to find common ground' on voting measures after pressure from the Right
Coca-Cola, whose CEO denounced the Georgia voting bill, is now striking a conciliatory tone after coming under pressure from conservatives.
"We believe the best way to make progress now is for everyone to come together to listen, respectfully share concerns and collaborate on a path forward. We remain open to productive conversations with advocacy groups and lawmakers who may have differing views," the company said. "It's time to find common ground. In the end, we all want the same thing – free and fair elections, the cornerstone of our democracy."
Coca-Cola's Wednesday remarks are notably less confrontational than its previous statements on the Georgia voting law.
Liberal activists had pushed the company to condemn the legislation, with protesters holding a " die-in" at Atlanta's World of Coca-Cola last month in Atlanta. Some demonstrators, including a bishop at an African Methodist Episcopal Church, even advocated for a boycott. The company soon came out swinging against the law.
"We want to be crystal clear and state unambiguously that we are disappointed in the outcome of the Georgia voting legislation," said Coca-Cola CEO James Quincey in a statement earlier this month. "Throughout Georgia's legislative session we provided feedback to members of both legislative chambers and political parties, opposing measures in the bills that would diminish or deter access to voting."
Quincey was even more vociferous in censuring the voting law during an appearance on CNBC where he called the legislation "unacceptable" and a "step backwards."
After Coca-Cola's denunciation, the pendulum swung back the other way, and the company became a target for those on the Right who were upset about Coca-Cola's stance on the bill.
Former President Donald Trump called on his supporters to boycott the soft drink manufacturer, among other companies, as did Republican Sen. Rand Paul of Kentucky. "Don't go back to their products until they relent. We can play the game better than them," Trump said in an April 3 statement.
California is reopening! June 15…
www.politico.com /news/2021/04/06/california-aims-to-fully-reopen-economy-by-june-15-479399
California will fully reopen its economy June 15 as long as vaccinations remain widely available and hospitalization continues to be stable, the governor and public health officials said Tuesday.