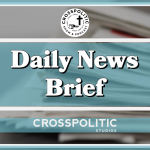 This is Garrison Hardie with your CrossPolitic Daily News Brief for Thursday, April 20th, 2023.
Fight Laugh Feast Conference – Ark Encounter
This year, our Fight Laugh Feast Conference is at the Ark Encounter in Kentucky on The Politics of Six Day Creation. The politics of six day creation is the difference between a fixed standard of justice and a careening standard of justice, the difference between the corrosive relativism that creates mobs and anarchy and the freedom of objectivity, truth, and due process. The politics of six day creation establishes the authority and sufficiency of God's Word for all of life: from what is a man or a woman, when does human life begin, and how is human society best organized?
Come hear Ken Ham, Pastor Doug Wilson, Dr. Ben Merkle, Dr. Gordon Wilson, me and more, and of course a live CrossPolitic show! Mark your calendars for October 11th-14th, as we fight, laugh, and feast, with beer & psalms, our amazing lineup of speakers, our Rowdy Christian Merch, and a Sabbath Feast to wrap up the occasion. Maybe an infant baptism while we're at it! Visit fightlaughfeast.com for more information!
We start this off with some somber news coming out of Alabama.
https://www.foxnews.com/us/two-teens-charged-dadeville-alabama-mass-shooting-sweet-16-birthday-party
Two teens charged in Dadeville, Alabama, mass shooting at Sweet 16 birthday party
Alabama authorities announced Wednesday that two teenagers have been arrested and charged in the Dadeville mass shooting at a Sweet 16 birthday party last weekend.
Four people were killed, and another 32 people were injured when gunfire erupted at approximately 10:34 p.m. Saturday at the Mahogany Masterpiece dance studio, located in the 200 Block of Broadnax Street in Dadeville, a sleepy town of just 3,200 people in Tallapoosa County, about 62 miles northeast of the state capital of Montgomery.
Days later, the Alabama Law Enforcement Agency announced Ty Reik McCullough, 17, and Travis McCullough, 16, were both formally charged with four counts of reckless murder.
The teens from Tuskegee were arrested by Special Agents with the Alabama Law Enforcement Agency's (ALEA) State Bureau of Investigation (SBI).
"These individuals have been charged after a complex and thorough investigation was conducted with assistance from a multitude of law enforcement agencies," the ALEA said in a statement.
At a press conference Wednesday, District Attorney Mike Segrest said the pair would be charged as adults and that prosecutors would ask a judge to hold them without bail. A bond hearing must be held by Friday under Alabama law. He said four people remain in the hospital in critical condition and that more charges would be coming.
The gunfire broke out Saturday at a 16th birthday party for Alexis Dowdell, which was being held at the dance studio just off the town's courthouse square. Witnesses have said multiple people began shooting some time after Dowdell's mother paused the celebration to ask people with guns to leave.
The birthday girl's brother, Philstavious "Phil" Dowdell, reportedly died in his sister's arms.
Besides Phil Dowdell, a star wide receiver with plans to play college football at Jacksonville State this fall, those killed were fellow Dadeville High senior Shaunkivia Nicole "KeKe" Smith, 17, an athlete-turned-team manager; 2022 Opelika High School graduate Marsiah Emmanuel "Siah" Collins, 19, an aspiring singer who planned to start college this fall; and 2018 Dadeville High graduate Corbin Dahmontrey Holston, 23, another former athlete at the school.
Holston had gone to the party to check on a younger family member who feared trouble, Holston's mother Janett Heard told AL.com. Relatives told the news outlet that the shooting began shortly after Holston arrived, and that he pulled his younger relative to safety.
https://nypost.com/2023/04/18/chinese-police-stations-allegedly-spying-on-nyc-la-more/
After FBI busts Chinese 'police station' in NYC, six more exposed in US
The FBI helped shut down a clandestine Chinese "police station" in Manhattan after the arrest of two alleged operatives earlier this week — but The Post is told that there are several more of these illegal organizations scattered across the US.
In addition to the Chinese police station above a noodle restaurant in Manhattan's Chinatown, there is another station at an undisclosed address in New York City, as well as an outpost in Los Angeles, according to a new report by Safeguard Defenders.
The Madrid-based human rights group initially published a report last year detailing 100 clandestine Chinese police stations around the world.
In addition to Los Angeles and New York, the nonprofit has found so-called "overseas service stations" in San Francisco and Houston as well as in cities in Nebraska and Minnesota.
These law enforcement organizations, operated by the Chinese Communist Party, are tasked with spying on Chinese nationals around the world.
UFWD is an acronym for United Front Work Department, a Chinese government agency that controls overseas ethnic and religious affairs.
Often, the police stations — whose operatives allegedly spy on dissidents and others — hide behind nonprofits and community associations, according to Safeguard Defenders' reports.
In Chinatown, the police station was run by the America ChangLe Association NY Inc., which owns the building at 107 East Broadway where the operation was located, The Post revealed in October.
The nonprofit, which listed its charitable mission as a "social gathering place for Fujianese people," paid $1.3 million in 2016 for the suite of offices that houses the Fuzhou Police Overseas Chinese Affairs bureau at the East Broadway location, filings show.
Last year, the group held its annual gala dinner, featuring New York City Mayor Eric Adams as the guest of honor — an event that was not disclosed on the mayor's official agenda.
On Monday, federal agents arrested "Harry" Lu Jianwang, 61, of the Bronx, and Chen Jinping, 59, of Manhattan for allegedly establishing the East Broadway station, known as the Fuzhou branch of the Ministry of Public Security in China.
The men allegedly shut down the station last year when they became aware of a federal investigation, according to a statement from the Department of Justice.
According to the criminal complaint, Lu also helped track down dissidents who were living in the city. Chinese officials also requested that he participate in demonstrations against Falun Gong, a religious movement subject to crackdown across the globe by the Chinese Communist Party, the complaint said.
Lu and Chen also tried to obstruct the DOJ's investigation by deleting their communications with an official of MPS after finding out about the FBI investigation, federal prosecutors said.
The criminal complaint against Lu and Chen was unsealed Monday at the same time that 44 other defendants were charged, in two separate complaints in Brooklyn federal court, for various crimes related to illegally acting on behalf of China in the US.
Speaking of China, "PrayforChina.us is a nationwide initiative helping Christians pray more strategically for China by matching up every state (and eventually every county) with their own Chinese province (and county) to adopt for prayer! Learn more at Pray for China dot us."
https://www.cnbc.com/2023/04/19/meta-started-latest-round-of-layoffs-focusing-on-technical-employees.html
Meta has started its latest round of layoffs, focusing on technical employees
As part of Meta's latest round of job cuts announced in March, the company on Wednesday started laying off employees in technical roles.
Employees with technical backgrounds like user experience, software engineering, graphics programming and other roles announced on LinkedIn that they had been let go by the company on Wednesday morning. A Meta spokesperson confirmed to CNBC the cuts had started.
One employee impacted by the moves told CNBC that Wednesday's layoffs also hit product-facing teams and that Meta plans to cut business-facing roles, such as finance, legal and HR, beginning in May. The employee, who discussed the layoffs under condition of a-nuh-ni-muh-tee to speak freely, said Meta suggested tech teams who weren't impacted by Wednesday's cuts may also be included in layoffs next month.
LinkedIn posts indicated that multiple people who worked as gameplay programmers were also affected by the layoffs. Gameplay engineers work on virtual and augmented reality products, according to a Meta job listing.
With ad revenue slumping last year and its stock price in free-fall, Facebook's parent announced its first round of layoffs in November, affecting some 11,000 workers. Meta CEO Mark Zuckerberg then declared 2023 the "year of efficiency," and proceeded with a plan of an additional 10,000 job cuts in March, resulting in restructuring costs of between $3 billion and $5 billion.
As Zuckerberg said at the time, the new round of April layoffs targets technical workers. He said cuts in the business groups would take place in late May.
Wall Street has applauded the downsizing. Meta shares have soared 81% this year after losing about two-thirds of their value last year. Revenue has declined for three straight quarters, and analysts are projecting another quarterly sales drop when Meta reports its first-quarter earnings next week. The company's previous guidance called for sales of between $26 billion and $28.5 billion, which means the streak of revenue declines could end if Meta reaches the top end of the range.
https://www.breitbart.com/immigration/2023/04/18/bidens-border-roughly-180000-more-migrants-in-march/
Biden's Border Flood: 180,000 More Migrants in March
President Joe Biden's deputies accepted roughly 180,000 more illegal migrants in March to take jobs and homes that would otherwise go to better-paid Americans.
The March inflow brings Biden's total southern inflow to roughly 4.3 million — or more than one migrant for every American born in 2022. That massive inflow spikes Wall Street by cutting Americans' wages, inflating housing prices, and shifting new jobs and wealth to the coastal states.
The two leading GOP candidates for 2024 — Donald Trump and Florida Gov. Ron DeSantis — are promising to end the illegal migrant inflow.
Federal data released on April 17 shows that 162,317 illegal migrants were arrested at the border in March by the border agents.
Biden's deputies rejected 90,000 of the migrants under the Title 42 border barrier, which is due to expire on May 11. They allowed 104,238 migrants into the United States to take jobs while they plead for asylum.
The 104,238 accepted migrants include roughly 80,000 people admitted after they were arrested along the borders, plus 26,583 people who used the agency's "CBP One" to get an appointment inside the United States for the catch-and-release process.
But federal officials also allowed in another 30,000 migrants via quasi-legal loopholes cut by Biden's pro-migration, Cuban-born border chief, Alejandro Mayorkas. These Cuban, Haitian, Venezuelan, and Nicaraguan migrants fly into the United States by aircraft and are not recorded in the border arrest data.
This legal trick allows Mayorkas to claim that he is managing the border chaos created by Biden's welcome for migrants, despite a judge's order barring the process.
But the monthly data also excludes the so-called "gotaways" who sneak past the half-built wall, decommissioned sensor networks, and diminished border patrol.
This "gotaway" population added roughly 50,000 more job-seeking illegal migrants in March.
These gotaways are quasi-legal because Mayorkas has announced he will not deport them unless they commit a violent crime.
So the total inflow in March was about 180,000 — 104,238 let through the border, 30,000 lets in via Mayorkas' pathway, plus 50,000 gotaways.
Biden's policies have allowed entry by roughly 4.3 million illegal migrants since January 2021 — or roughly one migrant for every two births in the United States during his tenure.
In their press release on the monthly numbers, GOP leaders touted the bigger number of migrants who arrived at the border, not the smaller number of migrants who were actually admitted by Mayorkas.
Donor-backed GOP officials rarely mention the huge economic impact of Biden's migration on voters — or even on swing voters.
Roughly 75 percent of the welcomed migrants in March are working-age job-seekers who need to pay their high-interest smuggling debts by working even tough jobs at low wages. That makes them attractive hires for U.S. employers who do not want to hire the roughly six million Americans who have been sidelined by age, criminal records, drugs, laziness, obesity, disability, or reluctance to take jobs for wages below what they have been paid before.
The federal government annually admits about 1 million temporary workers — many of whom never go home — plus about 1 million legal immigrants. Those numbers were largely set by Congress in 1990.
All told the combination of legal and illegal immigrants delivers roughly one migrant for every American birth each year.
And now this!
Florida Gov. Ron DeSantis released a parody of the old Bud Light "Real Men of Genius" commercials taking aim at transgender female athletes, including Lia Thomas and CeCé Telfer among others.
Instead of Bud Light, which has been involved in a massive controversy over the brand's partnership with Dylan Mulvaney, the ad introduces Freedom Heavy and "real men of women's sports."
https://twitter.com/i/status/16481268 78207680513 – Play Video 0:00-0:30