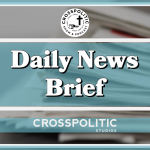 Good Thursday! This is the Chocolate Knox with your cross politic daily news brief for thursday April 21st 2022
https://www.christiantoday.com/article/the.family.sex.show.is.cancelled.after.backlash/138480.htm
A controversial theatre show aimed at children and families and featuring full-frontal adult nudity has been cancelled following a backlash over its content.
Burger King
https://www.christianpost.com/news/burger-king-apologizes-for-ads-using-jesus-words-at-last-supper.html
https://www.nbcnews.com/politics/white-house/biden-administration-scrambles-steps-travel-mask-mandate-rcna24978
Tensions run high as Biden administration gets earful from some panicked lawmakers over Title 42
https://www.cnn.com/2022/04/20/politics/title-42-lawmakers-biden-admin/index.html
https://www.nbcnews.com/politics/politics-news/florida-senate-passes-bill-strip-disney-special-self-governing-status-rcna25219
WASHINGTON — The Florida Senate on Wednesday passed a bill that would dissolve the special taxing district that allows the Walt Disney Co. to self-govern in its theme-park area.
Lawmakers in the Republican-controlled chamber backed the measure in a 23-16 vote. It now requires a vote in the state House before going to the desk of Republican Gov. Ron DeSantis, who called on the Legislature to support the bill during the special session this week.