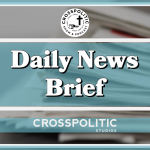 This is Toby Sumpter with your CrossPolitic Daily News Brief for Thursday, April 22, 2021.
7 Days to the Rally in Rapid City, South Dakota: April 29, 30, May 1? Excited to see and meet many of you as we learn to Love God, Sing Psalms, Defy Tyrants. Come hear talks from Pastor Doug Wilson, Ben Merkle, Steve Deace, Sheriff Daryl Wheeler from Bonner County, Idaho, myself – Pastor Joe Boot, and Mr. Nate "N.D." Wilson – as well as beer and Psalms Thursday night with and afterparty sponsored by Darren Doane, concluding with a family style Sabbath dinner Thursday night, with comedian John Branyan bringing the laughs. Gather with like minded Christians who love freedom, confess Jesus Christ is Lord over all, and be equipped to stand firm in these insane days. Go to FLFNetwork.com/Rally and register today. And remember if you can't make it, all the talks will be live streamed and archived for Fight Laugh Feast Club Members in the club portal. Become a club member today so you don't miss any of them. 
House Minority Leader Kevin McCarthy Says He's Never Talked to President Biden
Play Audio
Head of Elite School in New York Admits that Anti-Racism Ideology is Demonizing White Kids
Newly released audio appears to show the head of an elite New York City school admitting to a whistleblower teacher that the institution is, in fact, engaged in the systematic indoctrination of its students.
Paul Rossi, a math teacher at Grace Church School in Manhattan, recently slammed his employer in an open letter published by former New York Times opinion editor Bari Weiss, in which he denounced the institution's "indoctrination" of students through harmful "antiracist" training and teaching.
In the letter, Rossi acknowledged that by speaking out he risked his employment at the school, which prides itself on being at the forefront of implementing woke ideology and critical race theory into its classrooms. Earlier this year, the school made headlines after issuing an "inclusive language" guide that warned staff, students, and parents not to assume someone's gender or use offensive terms such as "mom and dad" and "Merry Christmas."
Rossi's fears were proven right only days later when in an email to faculty and staff, the head of school, George Davison, announced that he had relieved Rossi of his teaching duties and barred him from entry into the school building.
Rossi fired back with an open email that claimed that his views were shared by Davison. When Davison denied that, the audio from an alleged conversation surfaced:
Play Audio
AD: Have you always wanted to play guitar but thought it was too late to start? Maybe you are in a season of your life where taking in-person lessons wouldn't fit your schedule. For less than the cost of 1 private lesson a month, you could be a part of the community of guitarists at GuitarSuccess4U and learn guitar at your own pace, from the comfort of home. Through video lessons, worksheets, expert interviews, and a proven path to success, fellow Cross Politic listener David Harsh will share with you some of the most relevant tools from his almost 30 years of teaching, touring, writing and leading worship on guitar, to help you become the musician you were made to be. Learn more and join now at www.GuitarSuccess4U.com. That's Guitar Success, the number "4" and the letter "U," dot com. What are you waiting for?
Another Face Mask Study Says They Don't Work
A new peer-reviewed study on facemasks done by Stanford University:
The study concludes: The existing scientific evidence[s] challenge the safety and efficacy of wearing facemask as preventive intervention for COVID-19. The data suggest that both medical and non-medical facemasks are ineffective to block human-to-human transmission of viral and infectious disease such SARS-CoV-2 and COVID-19, supporting against the usage of facemasks. Wearing facemasks has been demonstrated to have substantial adverse physiological and psychological effects. These include hypoxia, hypercapnia, shortness of breath, increased acidity and toxicity, activation of fear and stress response, rise in stress hormones, immunosuppression, fatigue, headaches, decline in cognitive performance, predisposition for viral and infectious illnesses, chronic stress, anxiety and depression. Long-term consequences of wearing facemask can cause health deterioration, developing and progression of chronic diseases and premature death. Governments, policy makers and health organizations should utilize [a] proper and scientific evidence-based approach with respect to wearing facemasks, when the latter is considered as preventive intervention for public health.
LeBron James Weighs in on Ma'Khia Bryant Shooting
https://www.foxnews.com/sports/lebron-james-ohio-police-shooting-tweeting-photo-officer-youre-next
As the jury was deliberating Tuesday the fate of ex-Minneapolis police officer Derek Chauvin, another police-involved shooting was taking place in Columbus, Ohio.
Body camera footage showed the shooting victim, 16-year-old Ma'Khia Bryant, charging at another female armed with what appears to be a knife. An officer shot Bryant four times before she collapsed to the ground. She died at the hospital after being taken there in critical condition.
Los Angeles Lakers superstar LeBron James reacted to the news on Twitter, in a now-deleted tweet, by sharing an image of the officer involved in the fatal shooting of Bryant, and wrote "YOU'RE NEXT" while hashtagging "ACCOUNTABILITY".
Police were called to the scene around 4:30 p.m. on Tuesday on a report of an attempted stabbing.
The bodycam video shows that as soon as police pulled up, a young female tackles another female to the ground, holding what appeared to be a knife in her hand. The girl is then seen charging at another female while raising the apparent knife in the air, at which point the officer fired multiple shots.
George Floyd's family's attorney, Ben Crump, referred to Bryant as "unarmed" in a tweet.
"As we breathed a collective sigh of relief today, a community in Columbus felt the sting of another police shooting as @ColumbusPolice killed an unarmed 15 [year old] Black girl named Makiyah Bryant. Another child lost! Another hashtag," Crump wrote on Twitter.
I wonder what the family of the girl that was saved thinks…
Biden demanding Christian doctors perform body mutilations
The Biden administration is demanding that a court order Christian physicians and faith-based hospitals to do body mutilations, also called transgender surgeries, on patients when they are told to.
Physicians and hospitals were protected from those requirements most recently by a federal judge's ruling in North Dakota. In that decision, U.S. District Judge Peter Welte granted, in a case brought by the Religious Sisters of Mercy, Catholic Benefits Association and others, a request to prevent U.S. Department of Health and Human Services, as well as the Equal Employment Opportunity Commission, from enforcing the Obamacare requirement.
Biden's appeal is in support of Barack Obama's mandate in 2016 that required doctors and hospitals to do transgender surgeries upon a mental health professional's referral.
Obama provided no conscience or religious exemptions.
The demand also had been struck down by a federal court in Wichita Falls, Texas, earlier.
The surgeries are intended to "change" a person's sex, although the concept is a misnomer to begin with, since being male or female is embedded in the human body down to the DNA level.
The appeal puts Xavier Becerra, the new Health and Human Services secretary and a huge promoter of abortion under any circumstance, against the Sisters and CBA. Becerra earlier fought against the Little Sisters of the Poor in his demands to have them pay for abortion.
"This is bad for patients, doctors, and religious liberty," Becket senior counsel Luke Goodrich said in the foundation report of the Biden appeal.
The foundation report noted, "Biden, Vice President Kamala Harris, and Becerra have all stood against the Catholic Little Sisters of the Poor in their battle with the Supreme Court to avoid paying for employees' birth control against their religious beliefs."
Psalm of the Day: Psalm 1
Play audio 0:00-0:52
This is Toby Sumpter with Crosspolitic News. You can find this and all of our shows at CrossPolitic.com  or on our app, which you can download at your favorite app store, just search "Fight Laugh Feast". Support Rowdy Christian media, and share this show or become a Fight Laugh Feast Club Member. Remember if you can't make it to the Fight Laugh Feast Rally, you club members will have access to all the talks. Go to FLFNetwork.com/Rally. Have a great day.