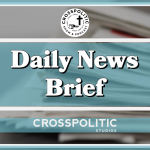 This is Garrison Hardie with your CrossPolitic Daily News Brief for Thursday, April 27th, 2023.
https://theconversation.com/ukraine-war-pentagon-leaks-paint-gloomy-picture-of-long-war-that-cant-be-won-but-must-not-be-lost-203698
Ukraine war: Pentagon leaks paint gloomy picture of long war that can't be won but must not be lost
Classified Pentagon documents leaked last week paint a grim picture of the trajectory of the war in Ukraine. While it may well be the most significant national security breach since the Snowden leaks of US National Security Agency material a decade ago, the fact that the leak occurred is almost certainly more significant than what was revealed about Ukraine.
The leak reveals how apparently easy it was for a low-level employee on a US military base to obtain and then share highly sensitive US government information. By comparison, the contents of the documents on Ukraine leaked are far less explosive in nature – they mostly confirm existing battlefield assessments that cast doubt, in the eyes of US intelligence officials, on any major breakthroughs in a widely expected Ukrainian spring offensive.
The key shortfalls on the Ukrainian side – artillery pieces and munitions, as well as air defences – have been well known for some time. What has also been obvious for some time, and was reconfirmed in some of the leaked documents, is that Ukraine has been mostly relying on Soviet-era artillery equipment and stocks of ammunition have begun to run dry.
At the same time, western equipment has been slow to be delivered and training of Ukrainian forces has taken time. And the western capacity to produce shells in excess of current Ukrainian consumption has yet to be built.
Add to that delays in training and equipping the troops needed for a counter-offensive and the likelihood of well-entrenched Russian defences. The low expectations of at best modest territorial gains in a Ukrainian spring offensive do not come as a surprise.
The equally limited gains that Russia has made over the past several months of its offensive, including around the still contested city of Bakhmut should serve as an indication of what is and is not possible after more than a year of war. Similarly, the protracted battle over Soledar back in January this year already gave a glimpse at how costly even minimal and strategically insignificant gains in this war have become.
The flipside of the US assessment that any Ukrainian counter-offensive is unlikely to constitute a turning point in the war is that the fighting is likely to continue beyond this year. In some estimates it could last well beyond that.
There are no signs that either side is willing to give up. US estimates of casualties – among the leaks from the Pentagon – indicate more than 40,000 Russian soldiers killed in action over the past year and an additional 180,000 wounded. On the Ukrainian side, the figures are lower – with 17,500 likely dead and 113,500 wounded troops – but still significant. Both countries now have tightened conscription rules and procedures in another sign that they are readying themselves for intensifying battles.
Equally important from a Ukrainian perspective is continuing support from its western partners. Despite the logistical difficulties of ramping up defence industry outputs and deliveries to Ukraine, there is no indication that supplies will fall critically short and expose Ukraine to the risk of major battlefield defeats. This is partly because Moscow also cannot muster the superior military capabilities that would be needed for inflicting such defeats on Kyiv.
Ultimately, both sides are likely to match each other's increases in capability over time and the current stalemate will continue, albeit at a higher level of mutual attrition. And each increase in capability, however slight, will boost the conviction that this war remains winnable.
The Pentagon leaks have cast doubt on such assumptions, but also confirmed that neither Washington nor Kyiv are contemplating losing the war on the battlefield or the negotiation table. Time will tell whether this is a sustainable objective – and at what cost.
https://www.washingtonexaminer.com/policy/courts/disney-sues-desantis-alleged-campaign-weaponize-government-power-against-company
Disney sues DeSantis over alleged 'campaign to weaponize government power' against company
Disney has filed a lawsuit against Gov. Ron DeSantis (R-FL) and members of the new Central Florida Tourism Oversight District alleging government power has been weaponized against them.
In the lawsuit filed in the U.S. District Court for the Northern District of Florida, the company alleges a "relentless campaign to weaponize government power against Disney in retaliation for expressing a political viewpoint unpopular with certain State officials."
Disney argues the state and DeSantis have violated its First Amendment right to speech by working to strip control of the special taxing district encompassing the Walt Disney World Resort from the company after Disney spoke out against Florida's Parental Rights in Education bill.
The lawsuit was filed shortly after the Central Florida Tourism Oversight District unanimously approved a resolution to declare an agreement designed to undercut the new board's power as void. Disney cites the action as the "latest strike" in the state's string of "retaliatory" and "unconstitutional" actions.
The lawsuit also argues the state violated the contract clause in the U.S. Constitution by working to void an agreement Disney made with the previous board, which undercut the power of the new DeSantis-appointed district board. Lawyers for Disney also say the state violated the takings clause in the U.S. Constitution by allegedly taking property rights from the company "without payment of just compensation."
The fifth cause of action Disney makes in the lawsuit accuses the state of violating the due process clause of the 14th Amendment by arbitrating "the Contracts without any rational basis and for only impermissible reasons."
The board had cited violations of necessary procedures outlined in the state's sunshine laws as reason to declare the agreement as void.
Disney is seeking to have the two laws restructuring the former Reedy Creek Improvement District declared as "unlawful and unenforceable," along with legally upholding the agreement between Disney and the former district made on Feb. 8, which stripped the new district of most of its power.
The entertainment giant had maintained full autonomy over the district since its creation in 1967, but legislation signed into law in February gave the state power over the district.
https://justthenews.com/politics-policy/nebraska-becomes-27th-state-pass-constitutional-carry
Nebraska becomes 27th state to pass constitutional carry
Nebraska Gov. Jim Pillen signed constitutional carry into law on Tuesday, making it the 27th state to add to the constitutional carry majority.
The law allows law-abiding Nebraskans who are 21 and up to be able to carry a concealed handgun without a permit.
It will go into effect 90 days after the end of the legislative session, which is scheduled for June 9.
The bill is backed by the NRA.
"Today, Nebraska joined 26 other states whose constituents and leaders recognize that law-abiding Americans should not have to ask for special government permission and pay additional fees in order to exercise their rights outside of the home," Randy Kozuch, executive director of the NRA's legislative lobby arm told Fox News in a statement.
https://www.dailyfetched.com/satanic-church-founder-sentenced-to-18-months-in-prison-for-operating-unlicensed-money-transmitting-business/
Satanic Church Founder Sentenced to 18 Months in Prison for Operating Unlicensed Money-Transmitting Business
Self-described satanist Aria DiMezzo, 35, was also ordered to pay a fine of $5,000 and to forfeit more than $14,000 along with 1.93 bitcoins.
According to investigators, between June 2020 and January 2021, DiMezzo charged a fee to exchange mostly U.S. dollars for Bitcoin, recruiting customers on websites.
Customers sent DiMezzo money through bank accounts to the Reformed Satanic Church.
DiMezzo sold more than $3 million worth of virtual currency but did not register the operation as a money-transmitting business, failing to comply with mandatory regulations.
According to investigators, DiMezzo failed to file currency transaction reports for exchanges of over $10,000 or suspicious activity reports for transactions over $2,000.
Prosecutors said DiMezzo worked with a man named Ian Freeman to sell virtual currency to customers, paying Freeman a percentage of the profits.
Freeman was found guilty of operating an unlicensed money-transmitting business, laundering over $10 million in proceeds of romance scams, and tax evasion.
In 2020, Republicans in one New Hampshire county nominated DiMezzo for sheriff, whose campaign slogan disparaged the police.
At the time, DiMezzo said, as law enforcement, any of his deputies "would be fired on the spot, and perhaps charged with crimes, for any brutality or misconduct."
DiMezzo serves as the high priest and founder of the Reformed Satanic Church.
The church doesn't believe Satan exists, DiMezzo claimed, but instead "stands for individualism and voluntarism, and opposes the god of the day," which he described as the state.
https://www.theblaze.com/news/let-s-go-lawsuit-students-sue-after-school-forces-them-to-remove-let-s-go-brandon-sweatshirts
'Let's go, lawsuit': Students sue after school forces them to remove 'Let's Go Brandon' sweatshirts
Two students are suing a Michigan school district for viewpoint discrimination after school employees forbade them wearing sweatshirts opposing President Biden, the students' legal team announced in a statement Tuesday.
"These students should not only be allowed to express their political beliefs, but should be encouraged to do so," FIRE attorney Harrison Rosenthal said in the statement.
"America's students must be free to exercise their constitutional rights, not just learn about them."
The case stems from multiple incidents in February 2022 and May 2022 at Tri County Middle School in Howard City, Michigan. School employees ordered two students to "remove 'Let's Go Brandon' sweatshirts despite allowing students to wear apparel with other political and social messages," the complaint alleges.
FIRE attorneys representing the students say the incidents are "part of a pattern of political favoritism by the school district." They add that during a field day, an administrator ordered a student to stop wearing a Trump flag as a cape, but permitted students to wear gay pride flags in the same manner.
Though the phrase originated as a means for mimicking a "f*** Joe Biden" chant, the phrase "let's go Brandon" contains no profane language. Therefore, FIRE attorneys reason, the school's dress code barring profane clothing does not apply.
Howard City is in west central Michigan about 35 miles from Grand Rapids. It has a population of approximately 1,967.