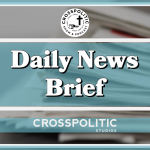 WATCH: U.S. 'out of the pandemic phase,' Fauci says
Well folks you heard our COVID Over-Lord, we're out of the pandemic. I'm sure that means the coast is 100% clear! Happy Thursday everyone, today's News Brief is for Thursday, April 28th, 2022. Just so you guys know, you still have an opportunity to sign up for our last stop in the CrossPolitic Liberty Tour, as we'll be in Phoenix Arizona, on May 19th, and we'll be joined by Pastor Jeff Durbin of Apologia Church, and Political analyst Delano Squires, who has made appearances on the Blaze, and the Tucker Carlson show. For only $20, you could be in the audience, as we talk about the five stones, of true liberty! Something our country really needs to be thinking about, as I'm sure our government would love to snatch that away from us given the chance.
https://fox2now.com/news/national/fauci-says-us-is-out-of-the-pandemic-stage/
Anyways, back to that Fauci guy. Fauci says US is 'out of the pandemic phase'. The nation's top immunologist said Tuesday that the country has finally moved past the pandemic stage after more than two years, pointing to the U.S. population's current rates of infection, hospitalization and death from COVID-19.
But what does that mean going forward? Well, Fauci warned, that vaccines, which in his words are — one of the most effective tools against infection and serious illness — are still essential for keeping the country from backsliding, but he couldn't say how often Americas would need to be boostered.
He threw out, that might be every year, that might be longer, in order to keep that level low… I'm reminded of a talk that a friend of our show, Steve Deace gave, at our Fight Laugh Feast Rally in South Dakota. In that talk, he mentioned how this was not a one-time event… this was a harvest. I'll play some of this clip where he talks about his book, Faucian Bargain.
https://flfnetwork.com/fight-laugh-feast-rally-in-sd-2021-archive/ -Play 8:38-10:30
It ain't about a virus… you can watch the rest of Steve's talk in our club portal by the way… so if you're not a club member, sign up flfnetwork.com/membership.
By the way, if you want to come to our conference this year, our national conference is in Knoxville, TN October 6th-8th. The theme of this year's conference is Lies, Propaganda, Storytelling and the Serrated Edge. Mark your calendars for October 6th-8th, as we fight, laugh and feast with fellowship, beer and Psalms, our amazing lineup of speakers, hanging with our awesome vendors, meeting new friends, and more. Early bird tickets will be available starting in the middle of March. Head to Fight Laugh Feast dot com to sign up!
https://redstate.com/alexparker/2022/04/27/report-harvard-cancels-feminists-speech-on-poetry-because-she-opposes-males-in-womens-prisons-n556758
Feminist Devin Buckley isn't so happy with Harvard. Well what do you mean? Aren't feminists champions of this day and age? Well according to RedState, Miss Buckley was scheduled to speak at the iconic institution about British Romanticism. But though her appearance was centered on poetry and philosophy, someone at the school discovered online information regarding her and transgenderism.
Fast forward to her talk getting 86'd.
As noted by The Post Millennial, Devin's a board member for the Women's Liberation Front (WoLF). Wolf in sheep's clothing maybe? Per its website, the group boasts a gender-related mission: To abolish regressive gender roles and the epidemic of male violence using legal arguments, policy advocacy, and public education.
In service to said abolition, WoLF has a plan:
Their website reads, To Facilitate a cultural shift away from gender roles and sex-stereotypes. Defend sex-segregation of domestic violence shelters and prisons, which affects the most consistently vulnerable, impoverished, and abused women. Support the needs of lesbian and bisexual women. Speak out against targeted censorship and defend free speech for women. Well great, so far so good, this keeps up with the current zeitgeist.
Now prepare for the problematic:
Defend sex-segregation of women's sports, bathrooms, and locker rooms.
Support detransitioners in their struggle to be healed and heard.
Uh oh…now you've really kicked the hornet's nest…
On April 18th, Devin reportedly received an email from an English department employee:
I have some bad news. As we were preparing the application for next year's funding, my co-coordinator looked you up on Google to include the correct details about you on the application.
Controversy was uncovered:
She was surprised to find that your public profile is largely rooted in controversial issues regarding trans identity and that you're on the board of an organization that takes a public stance regarding trans people as dangerous and deceptive. Since you're mostly engaging in the public sphere as more of a polemicist than Romanticist, this puts the…department and myself in an uneasy position.
By the way, according to Merriam Webster, polemicist is defined as:an aggressive attack on or refutation of the opinions or principles of another.
The email continued: Really, it's not so much because of your own personal conviction regarding trans identity. It's more about the public stance you've taken and how you've recently crafted a professional presence around these issues.
I'm so sorry we can't extend the formal invitation I promised you. You get the idea… Well Devin's none too impressed. She replied:
"This is a case of Harvard deplatforming me for political reasons entirely unrelated to my scholarship, if it is unacceptable for me to speak at Harvard on British poetry and philosophy because I am a feminist, then I invite Harvard to purge its libraries and museums of all those who hold views unacceptable to Harvard.
If I am to be silenced, then why do the tomes and treatises of history's innumerable sexist, racist, homophobes still sit on Harvard's hallowed shelves and continue to be cited with reverence? Harvard should cleanse them all and leave nothing but the purity of empty space.
Very interesting… it appears that we're getting to a place where all the toxic ideologies out there are going to start gobbling up one another, and I for one, can't wait to watch it.
And hey, as the bullets get ready to fly, you better get some protection! Well I've got just the company for you… The Mission of Armored Republic is to Honor Christ by equipping Free Men with Tools of Liberty necessary to preserve God-given rights. In the Armored Republic there is no King but Christ. We are Free Craftsmen. Body Armor is a Tool of Liberty. We create Tools of Liberty. Free men must remain ever vigilant against tyranny wherever it appears. God has given us the tools of liberty needed to defend the rights He bestowed to us. Armored Republic is honored to offer you those Tools. Visit them, at ar500armor.com
How'd you like that segway? Anyways, now it's time to talk about the topic I love. SPORTS!
Novak Djokovic allowed to defend Wimbledon title as vaccine isn't required
https://nypost.com/2022/04/26/novak-djokovic-can-play-in-wimbledon-as-vaccine-isnt-required/
According to the New York Post, Novak Djokovic will be allowed to defend his title at Wimbledon, despite not being vaccinated against COVID-19, because the shots are not required to enter Britain, All England Club chief executive Sally Bolton said Tuesday.
Djokovic, a 34-year-old Serb who is ranked No. 1, missed the Australian Open in January after being deported from that country because he was not vaccinated against the illness.
During the annual spring briefing ahead of Wimbledon, which starts on June 27, Bolton said that "whilst, of course, it is encouraged" that all players get vaccinated, "it will not be a condition of entry to compete" at the grass-court Grand Slam tournament this year.
Djokovic, in addition to being unable to defend his championship at Melbourne Park after an 11-day legal saga over whether he could remain in Australia, had to sit out tournaments at Indian Wells and Miami because he couldn't travel to the United States as a foreigner who is unvaccinated.
I grew to respect athletes like Novak Djokovic, Aaron Rodgers, Kyrie Irving, and Jonathan Isaac, a whole lot more after their refusal to bend the knee to our COVID overlords… In Novak's case, he made the right call, as I mentioned in my news brief last week, where numerous competitors collapsed in the Miami Open Tournament.
The U.S. Tennis Association has said that it will follow whatever governmental rules are in place regarding COVID-19 vaccination status when the U.S. Open is held starting in late August.
Djokovic — who has said he got COVID-19 twice, once each in 2020 and 2021 — owns 20 Grand Slam singles titles, tied with Roger Federer for the second-most for a man. They trail Rafael Nadal, who won his 21st at the Australian Open.
Six of Djokovic's trophies came at Wimbledon, including victories each of the past three times the tournament was held — in 2018, 2019 and 2021. It was not held in 2020 because of the pandemic.
After what happened in Australia, Djokovic said he would be willing to sit out other Grand Slam tournaments if getting vaccinated were a requirement to compete. The next major event is the French Open, which begins on May 22, and the tournament director said last month there was nothing preventing Djokovic from defending his 2021 title in Paris.
Good on you Novak, good on you.
Lastly, how about a little on this day in history?
https://www.history.com/this-day-in-history/muhammad-ali-refuses-army-induction#:~:text=On%20April%2028%2C%201967%2C%20with,from%20boxing%20for%20three%20years.
On April 28, 1967, with the United States at war in Vietnam, Ali refused to be inducted into the armed forces, saying "I ain't got no quarrel with those Vietcong." On June 20, 1967, Ali was convicted of draft evasion, sentenced to five years in prison, fined $10,000 and banned from boxing for three years. He stayed out of prison as his case was appealed and returned to the ring on October 26, 1970, knocking out Jerry Quarry in Atlanta in the third round. On March 8, 1971, Ali fought Joe Frazier in the "Fight of the Century" and lost after 15 rounds, the first loss of his professional boxing career. On June 28 of that same year, the U.S. Supreme Court overturned his conviction for evading the draft.
At a January 24, 1974, rematch at New York City's Madison Square Garden, Ali defeated Frazier by decision in 12 rounds. On October 30 of that same year, an underdog Ali bested George Foreman and reclaimed his heavyweight champion belt.
Thanks for tuning into this CrossPolitic Daily News Brief. If you liked the show, share it far and wide. If you want to sign up for our conference taking place in October, you can sign up at flfnetwork.com/knoxville2022. And as always if you want to talk advertising, let's talk. Email me, at garrison@fightlaughfeast.com. For CrossPoltiic News, I'm Garrison Hardie. Have a great day, and Lord bless.