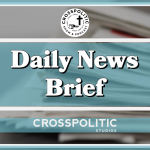 Hi, this is Garrison Hardie with your CrossPolitic Daily News Brief for Thursday, April 7th, 2022. Today, we'll be talking about a potential food crisis in Germany… is this a sign of things to come? The always trustworthy CDC says that there is a steep decline with teens' mental health… I wonder why that is… Border chief Alejandro Mayorkas is directing that economic migrants get every opportunity to stay once the Title 42 barrier is removed — regardless of the huge damage he inflicts on ordinary Americans, and finally, Black Lives Matter took $6 million and dropped it on a 6,500-square-foot mansion… for black lives I'm sure.
But first, Our Fight Laugh Feast Magazine is a quarterly issue that packs a punch like a 21 year Balvenie, no ice. We don't water down our scotch, why would we water down our theology? Order a yearly subscription for yourself and then send a couple yearly subscriptions to your friends who have been drinking luke-warm evangelical cool-aid. Every quarter we promise quality food for the soul, wine for the heart, and some Red Bull for turning over tables. Our magazine will include cultural commentary, a Psalm of the quarter, recipes for feasting, laughter sprinkled through out the glossy pages, and more. Subscribe today, at flfnetwork.com/product/fight-laugh-feast-magazine/.
Germany on the Brink of Food Crisis as Prices Increase by 20–50%
https://neonnettle.com/news/18731-germany-on-the-brink-of-food-crisis-as-prices-increase-by-20-50-
Germany is steeping toward the return of the dreaded Weimar hyperinflation as consumers brace themselves for massive price hikes for everyday goods and groceries at a whopping 20 to 50% rise.Even before the war in Ukraine, prices soared by five percent "across the product range" due to increased energy prices, HDE President Josef Sanktjohanser warned on Friday.Russia's invasion is now pummeling economies and the supply chain as more price increases are on the horizon."The second wave of price increases is coming, and it will certainly be in double figures," Sanktjohanser warned.
The first retail chains have already started to raise their prices in Germany, and the rest will likely follow, according to the president of the trade association.
Popular retail chains such as Aldi, Edeka, and Globus, announced they would raise their prices.From today, meat and butter will be "significantly more expensive" at Aldi due to price hikes from suppliers.
Earlier this year, it was announced that Germany's cost of living rose at the highest level since reunification, with everyday goods increasing by an average of 7.3%.According to the federal statistics agency Destatis, the jump from January's figure of 5.1 percent to February's 7.3 percent reflected the impact of Russia's invasion of Ukraine, which made oil and gas prices soaring.According to a recently published survey by the Ifo Institute, almost all companies in Germany's food retail sector are planning price increases.
CDC warns of a steep decline in teen mental health
https://www.washingtonpost.com/education/2022/03/31/student-mental-health-decline-cdc/
This from the Washington Post, The Centers for Disease Control and Prevention is warning of an accelerating mental health crisis among adolescents, with more than 4 in 10 teens reporting that they feel "persistently sad or hopeless," and 1 in 5 saying they have contemplated suicide, according to the results of a survey published Thursday.
"These data echo a cry for help," said Debra Houry, a deputy director at the CDC.She also added that the COVID-19 pandemic has created traumatic stressors that have the potential to further erode students' mental well-being… yes I'm sure that it doesn't have anything to do with the numerous mandates or shut downs that you imposed Debra… The findings draw on a survey of a nationally representative sample of 7,700 teens conducted in the first six months of 2021, when they were in the midst of their first full pandemic school year. They were questioned on a range of topics, including their mental health, alcohol and drug use, and whether they had encountered violence at home or at school. They were also asked about whether they had encountered racism.
Although young people were spared the brunt of the virus — falling ill and dying at much lower rates than older people — they might still pay a steep price for the pandemic, having come of age while weathering isolation, uncertainty, economic turmoil and, for many, grief.
The article then goes on to talk about race and LGBTQ students because we HAVE to force feed kids sex and racial identity politics right? Folks… get your kids out of government-run schools. End of story.
Border Chrief Alejandro Mayorkas' Leaked Title 42 Plan: Ensure Migrants Get 'Any' Way to Stay
https://www.breitbart.com/economy/2022/04/05/mayorkas-title-42-strategy-ensure-migrants-get-any-way-to-stay/
This is from Breibart, Border chief Alejandro Mayorkas is directing that economic migrants get every opportunity to stay once the Title 42 barrier is removed — regardless of the huge damage he inflicts on ordinary Americans.
Mayorkjas' intentions are described in his February strategy, which was leaked to Breitbart on April 4. The February strategy is titled "DHS Southwest Border Mass Irregular Migration Contingency Plan," and it says on page 16: Titled: Secretary's Intent.
USE PICTURE:
The purpose of this plan is to describe a proactive approach that humanely prevents and responds to surges in irregular migration across the U.S. [southern border]. This will be done while ensuring that migrants can apply for any form of relief or protection [emphasis added] for which they may be eligible, including asylum, withholding of removal, and protection from removal under the regulations implementing United States obligations under the Convention Against Torture.
To maximize benefits for migrants, Mayorkas minimizes the detention and deportation of migrants — even though federal law generally denies the entry of foreign workers and economic migrants into Americans' homeland. His plan sketches ways for border officials to squeeze many migrants through small doorways in the nation's border:
Former immigration judge Andrew Arthur, told Breibart News in an interview, that the parole side-door "is a very limited authority that Congress has given for exceptional situations," such as a sick airline passenger. It "is very narrowly written [for small numbers of people], but the administration has blown right past the limitations," he said.
In February, up to 165,000 migrants arrived at the border, and Mayorkas admitted 74,000 under various legal claims. Very few of the arrivals were detained, and few prior arrivals were deported, despite the federal law.
On April 26, the Supreme Court will consider a judgment by federal judges that seeks to make Mayorkas comply with federal law.
The Cuban-born Mayorkas is a pro-migration zealot who argued in 2013 that Americans' homeland "always has been, and forever will remain a nation of immigrants." Only about one-third of Americans accept the "nation of immigrants" narrative, according to a survey by a pro-migration group.
His plan ignores the reasonable and rational economic concerns of roughly at least 100 million citizens of the United States.
Let's take a moment to talk tech… The world in which we live is moving towards total techno tyranny at an incredible rate. This tyranny includes spying, censorship, data theft all through electronic means. Iron Apples is a small cybersecurity consultancy firm seeking to give churches, organizations, businesses, schools and individuals the education, resources and tools needed to be able to circumvent techno tyranny. Over the next year, Iron Apples will be hosting a series of virtual meetings to inform, educate and equip attendees with actual solutions to the problem we find ourselves in. Visit ironapples.com, and click events, in the bottom right corner of their site, to sign up today! That's ironapples.com.
Black Lives Matter took $6 million and dropped it on a 6,500-square-foot mansion and tried to cover it up using a shell corporation
https://notthebee.com/article/black-lives-matter-took-6-million-of-the-groups-money-and-dropped-it-on-a-6500-square-foot-mansion-and-then-tried-to-cover-it-up-using-a-shell-corporation?fbclid=IwAR1VNFuJTOOpbWOz8kEXeaziqSUUttVyhKgMc1uGVDrNWEjkUCfirPNF9NE
This is from our friends at Not the Bee… It's far from a box, with more than 6,500 square feet, more than half a dozen bedrooms and bathrooms, several fireplaces, a soundstage, a pool and bungalow, and parking for more than 20 cars, according to real-estate listings. The California property was purchased for nearly $6 million in cash in October 2020 with money that had been donated to [Black Lives Matter Global Network Foundation].
The transaction has not been previously reported, and Black Lives Matter's leadership had hoped to keep the house's existence a secret. Documents, emails, and other communications I've seen about the luxury property's purchase and day-to-day operation suggest that it has been handled in ways that blur, or cross, boundaries between the charity and private companies owned by some of its leaders. It creates the impression that money donated to the cause of racial justice has been spent in ways that benefit the leaders of Black Lives Matter personally.
On top of this… they tried to cover it all up!
[A] man named Dyane Pascall purchased the seven-bedroom house that would become known as Campus. According to California business-registration documents, Pascall is the financial manager for Janaya and Patrisse Consulting, an LLC run by Cullors and her spouse, Janaya Khan; Pascall is also the chief financial officer for Trap Heals, a nonprofit led by Damon Turner, the father of Cullors's only child.
Within a week, Pascall transferred ownership of the house to an LLC established in Delaware by the law firm Perkins Coie. The maneuver ensured that the ultimate identity of the property's new owner was not disclosed to the public…
https://nypost.com/2022/04/05/the-6-million-mansion-blm-reportedly-bought-with-donated-funds/ -Show photos from the NY Post
Here are some photos of the property provided by the NY Post… Nothing puts a varnish on your nominal civil rights nonprofit like buying a place where Marilyn Monroe and Humphrey Bogart once slept.
Before we wrap up here, I wanted to start something new here with the Daily News Brief, and my co-hosts can use it in their briefs if they want, but I wanted to do an "On This Day in History" segment!
So, without further adieu, on this day in history, April 7, 1969, the internet was born! Here's a live look: https://www.youtube.com/watch?v=Q6ctb-Pb3lc – Play video
The publication of the first "request for comments," or RFC, documents paves the way for the birth of the internet.
April 7 is often cited as a symbolic birth date of the net because the RFC memoranda contain research, proposals and methodologies applicable to internet technology. RFC documents provide a way for engineers and others to kick around new ideas in a public forum; sometimes, these ideas are adopted as new standards by the Internet Engineering Task Force.
One interesting aspect of the RFC is that each document is issued a unique serial number. An individual paper cannot be overwritten; rather, updates or corrections are submitted on a separate RFC. The result is an ongoing historical record of the evolution of internet standards.
When it comes to the birth of the net, Jan. 1, 1983, also has its supporters. On that date, the National Science Foundation's university network backbone, a precursor to the World Wide Web, became operational. So maybe April 7th is just a precursor… I'll leave that for you to decide.
Thanks for tuning in for this CrossPolitic Daily News Brief. If you liked the show, share it. If you want to come to our conference in Knoxville Tennessee October 6-8, you can sign up now at flfnetwork.com/knoxville2022, and if you aren't a club member, you should sign up now, because if you're a club member, you'll get $100 off of your conference ticket! Plus you really already should be a club member… and as always, if you're a business owner or CEO, and want to become a corporate partner, email me, at garrison@fightlaughfeast.com. Thanks for tuning in, and have a great rest of your day. Lord bless.