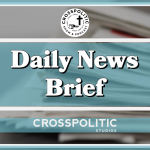 This is Toby Sumpter with your CrossPolitic Daily News Brief for Thursday, April 8, 2021.
GraceLife Church seized by government tyrants, AD Robles can't even, new Guinness World Record, United Airlines is woker than thou, Idaho Gov. trying to show fight.
Are you a Fight Laugh Feast Club Member? For as little as $5 a month you can support Rowdy Christian Media like this and allow us to expand our reach and influence. For $10 and above club members we have tons of club content, exclusive behind-the-scenes interviews and master classes with Gary Demar on God and Government and Eschatology, Voddie Baucham on cultural marxism, Doug and Nancy Wilson on parenting, and more on biblical counseling, film making, pastors and politics, Proverbs with Pastor Toby, plus all the footage from our East Coast Tour where we talked with Erick Erickson, David French, Sho Baraka, Maj Toure, and Walter Williams – plus all the talks from our Fight Laugh Feast Conference last October. Go to flfnetwork.com/membership, become a Fight Laugh Feast Club Member today and get your very own Fight Laugh Feast T-shirt. 
Remember: If you have a news story you think we might need to cover, please send articles and links to News@CrossPolitic.com. And check out DeftWire.com, our news aggregator.
GraceLife Church Has Been Seized by Albertan Government
https://www.facebook.com/TheAngryAlbertan/videos/1745575002291043/
6:42-7:17
GraceLife Church in Edmonton, Alberta was raided by Canadian authorities on Wednesday after the church had refused to comply with senseless COVID-19 edicts that trample upon the rights of Christians to worship.
They also fenced off the property in an attempt to keep Christians from being able to venerate Jesus as their savior. The church is led by Pastor James Coates, who has already served 35 days in jail because of his defiant stand against public health tyrants.
Canadian authorities are making it clear that they are not finished punishing Coates and his flock. Like the Chinese Communist Party, these Canadian authorities want to send a message to Christians across the country that their master is the state, not Christ.
And you want to know why?
A.D. Robles Just Can't Even While Watching a Revoice Session
3:57-4:20, 1:07-1:20, 1:37-1:55, 2:23-2:35
Art Pereira is a Youth Pastor at a PCA Church called Hope Church in New Jersey.
Don't miss what he said – he said they are forming a household. People this is not only about sexual immorality – sure, that's a massive concern. But there is also destruction of the household going on. Hebrews requires that the marriage bed be honored by all, both those who are married and those who are not. This Art fellow is very confused, but more seriously, he is dishonoring the marriage covenant. You don't just get to make up what a family or household are.
Households are God's engine of society, the basic building blocks of society. A man, his wife, and their children. Yes, there can be additional relatives and friends from time to time that need help or friendship, but in those situations it is clear who the head of the household is. The household has a vision, a mission, and they are following that leadership. Pornography and sexual immorality have always been aimed at destroying the power and influence of the household. And this side-B gay Christianity is just another angle. But a man who is faithful to his wife and has believing and loyal children and grandchildren has more influence than corporations and states.
A New Guinness Book of World Records
https://www.facebook.com/GuinnessWorldRecords/videos/463951568262255
0:15-0:30
Longest melody played by a model train – from Miniature Wonderland in Hamburg, Germany.
FLF Rally
Have you registered for the Fight Laugh Feast Rally in Rapid City, South Dakota, April 29, 30, May 1? Excited to see many of you as we learn to Love God, Sing Psalms, Defy Tyrants. Come hear talks from Pastor Doug Wilson, Ben Merkle, Steve Deace, Sheriff Daryl Wheeler from Bonner County, Idaho, myself – Pastor Joe Boot, and now the very latest: Mr. Nate "N.D." Wilson. Gather with likeminded Christians who love freedom, confess Jesus Christ is Lord over all, and be equipped to stand firm in these insane days. Go to FLFNetwork.com/Rally and register today. 
United Airlines More Concerned with Diversity Than Safety
https://www.facebook.com/photo?fbid=10225780383200154&set=a.1868845084718
United Airlines tweeted: "Our flight deck should reflect the diverse group of people on board our planes every day. That's why we plan for 50% of the 5,000 pilots we train in the next decade to be women or people of color."
Idaho Gov. Brad Little Comes Signs Executive Order
https://gov.idaho.gov/wp-content/uploads/sites/74/2021/04/eo-2021-04.pdf?fbclid=IwAR2FSpaWClOzQ4p_IquRYNdBgrcw4_OMKJ8VO1K8C5iXoSGI8HNbdcbLeQ8
Psalm of the Day: 68
https://open.spotify.com/track/76jK9gxosqyec3OfX2IApZ?si=Md0cdJzdQA-ItWqrvPw1sg
0:00-0:58
1:42-2:24
Let God arise in all His might,
And put the troops of hell to flight;
As smoke that sought to cloud the skies
Before the rising tempest flies.

He comes arrayed in burning flames,
Justice and Vengeance are His names;
Behold His fainting foes expire,
Like melting wax before the fire.
He breaks the captive's heavy chain,
And prisoners see the light again;
But rebels that dispute His will
Shall dwell in chains and darkness still.

Kingdoms and thrones to God belong;
Crown Him, ye nations, in your song:
His wondrous names and powers rehearse;
His honors shall enrich your verse.
This is Toby Sumpter with Crosspolitic News. You can find this and all of our shows at Crosspolitic.com or on our app, which you can download at your favorite app store, just search "Fight Laugh Feast". Support Rowdy Christian media, and share this show or become a Fight Laugh Feast Club Member. Remember to sign up for the Fight Laugh Feast Rally. Go to FLFNetwork.com/Rally. Have a great day.