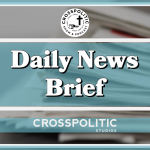 This is Garrison Hardie with your CrossPolitic Daily News Brief for Thursday, August 10th, 2023.
Bohnet Music Academy
Isn't it about time to take action on how you're going to give your children and grandchildren a good music education? Moses, David, and all the Saints of the church have worshiped God with musical might, so let's be confidently found doing the same.
Bohnet Music Academy instructs children and adults in how to be musically literate. That's everything you need to know and do as the musician God made you to be. Lessons are available locally in Moscow, ID and online. What's great is that in addition to getting vocal training, you can also study the piano, guitar, violin, cello, drums, or the trumpet.
Visit Bohnetma.com/crosspolitic for more information on how to equip your family to serve God's musical commands. B-O-H-N-E-T MA.com/crosspolitic
https://www.cnbc.com/2023/08/09/fbi-shoots-and-kills-utah-man-wanted-for-biden-threats.html
FBI shoots and kills Utah man wanted for threats against Biden, New York prosecutor
The FBI shot and killed a Utah man on Wednesday while trying to arrest him for threatening to murder President Joe Biden and the New York district attorney who is prosecuting President Donald Trump in connection with hush money payments.
Many other politicians were also allegedly threatened in social media posts by the man, Provo resident Craig Deleeuw Robertson, who was accused in court documents of vowing to retaliate against the FBI during an investigation.
Court documents say the FBI described Robertson as a white man "approximately 70-75 years old" who was surveilled "wearing a dark suit (later observed as having an AR-15 style rifle lapel pin attached), a white shirt, a red tie, and a multi-colored (possibly camouflage) hat bearing the word "TRUMP" on the front."
Robertson was also found to be the owner of a sniper rifle and numerous other firearms.
Robertson was fatally shot by at least one FBI agent at 6:15 a.m. in Provo, about 12 hours before Biden was due to visit the state in Salt Lake City. No agents were injured.
"The incident began when special agents attempted to serve arrest and search warrants at a residence,"
the FBI said in a statement. "The subject is deceased."
The shooting is under review by the FBI's Inspection Division.
A senior administration official told NBC News that Biden was briefed on the FBI raid this morning, ahead of scheduled events in New Mexico.
The U.S. Secret Service, which provides protection for Biden, said in a statement, "The Secret Service is aware of the FBI investigation involving an individual in Utah who has exhibited threats towards a protectee."
"While we always remain in close coordination with our law enforcement partners, this is an FBI-led effort and we would refer any related questions to the FBI," the Secret Service said.
Robertson allegedly had made a threat naming Biden on Monday, and also threatened in a social media post in March to shoot Manhattan District Attorney Alvin Bragg Jr. during a visit to New York.
A felony complaint against Robertson filed in U.S. District Court in Utah charged him with making threats against the president, making interstate threats, and influencing, impeding, and retaliating against federal law enforcement officers by threat.
Bragg charged Trump earlier this year with falsifying business records related to a 2016 payment to porn star Stormy Daniels to keep her quiet about her alleged sexual tryst with Trump a decade earlier.
Trump denies having sex with Daniels, and has pleaded not guilty in the case, which is scheduled to go to trial next year.
https://www.foxnews.com/politics/images-show-men-armed-rifles-body-armor-coming-southern-border
Images show men armed with rifles, body armor coming across southern border
Fox News has obtained images that show suspected cartel gunmen coming across the U.S. southern border in Texas toting body armor and rifles – the latest instance of armed men believed to be cartel members at the border.
Law enforcement sources tell Fox that the three men were spotted on Saturday evening by cameras in the Fronton area and were seen carrying rifles and wearing body armor as they move through the brush.
Border Patrol agents, including the agency's BORTAC tactical unit, were deployed to the area but found nothing. It is the same area where law enforcement arrested five suspected members of the Northeast Cartel in June.
The latest incident came just days after Texas Department of Public Safety (DPS) drone operators in Eagle Pass spotted an armed smuggler in Eagle Pass carrying a long gun and guiding a group of illegal immigrants across the Rio Grande.
In that instance the man made it back to Mexico, authorities said.
While the overwhelming majority of migrants coming across the border do not have criminal records, the large numbers of people coming across has raised concerns – particularly from Republicans – about who may be among the hundreds of thousands of people who are able to evade Border Patrol agents. The head of Border Patrol announced last week that agents nabbed four sex offenders – some with convictions of crimes against children – at the border coming into the U.S. within a single day.
The border has seen record-high migrant encounters since 2021, but numbers began to trend down after the end of Title 42 on May 11. There were 144,000 migrant encounters in June, down from over 200,000 in May. However, recently there are signs numbers have gone up in July, with the Washington Post reporting that initial numbers are up by 30%.
The Biden administration has touted moves it is taking to reduce the reliance on smugglers, who control large parts of the Mexican side of the border and who migrants often need to deal with in order to be able to access the U.S. The administration has expanded a number of lawful pathways for migrants to enter the U.S. – and has touted an anti-smuggling campaign last year which led to thousands of arrests.
The Pentagon has authorized 400 troops to remain at the border until the end of August beyond their 90-day mission, as 1,100 return to their home base. Meanwhile, Fox News Digital reported last week that ICE is increasing the number of its special agents at the border and that DHS is calling for more agency volunteers to help with processing at the border in the event of a surge in numbers.
https://americanmilitarynews.com/2023/08/chinese-using-new-smuggling-route-to-enter-us-illegally-report/
Chinese using new smuggling route to enter US illegally
An internal federal intelligence report indicates that U.S. authorities are concerned with a new Chinese migrant route that migrants are using to illegally cross into the United States through Florida.
According to an internal federal intelligence report obtained by The Daily Caller, Chinese migrants are taking boats from the Bahamas to illegally enter the United States through Florida.
The Daily Caller reported that the intelligence report lists gaps in intelligence, including where Chinese migrants are located in the Bahamas, who is coordinating the illegal immigration effort between the Bahamas and the state of Florida, and why Chinese migrants are engaging in "self-smuggle" operations from the Bahamas.
The report indicates five incidents of Chinese migrants attempting to smuggle themselves into the United States from the Bahamas. A recent smuggling attempt reportedly occurred on July 16, involving six Chinese migrants.
"The Chinese purchased a Bahamian registered vessel in GBI and tested the capabilities before leaving and being interdicted in Palm Beach," the report stated. "All 6 Chinese migrants were repatriated to the Bahamas."
U.S. officials and experts have expressed concerns regarding the identity of the migrants and the possible dangers they could pose to the national security of the United States..
U.S. Customs and Border Protection data indicates that Florida's Border Patrol agents have experienced a major increase in illegal Chinese migrant arrests According to the data, Border Patrol agents arrested 27 illegal Chinese migrants from October of 2022 to June of this year, representing a significant increase from 5 total Chinese migrant arrests in the fiscal year of 2022.
According to The Daily Caller, the intelligence report does not indicate how many of the Chinese migrants utilized the smuggling route between the Bahamas and Florida.
The U.S. Customs and Border Protection data also reveals that Border Patrol agents caught over 14,000 illegal Chinese migrants at the southern border from October of 2022 to June of this year.
"Right now in China there's extreme pessimism, especially among people in their 20s about the future of their country, so it's understandable that they're leaving and they're trying to get into the United States,"
https://www.newsmax.com/politics/fannie-mae-homebuying-money/2023/08/08/id/1130062/
Homebuying Confidence at an All-Time Low
More than 80% of Americans think it is a "bad" time to buy a home, a new Fannie Mae National Housing Survey finds.
The survey, released Monday, found 82% believe it is a "bad time" to buy a house in July compared to 78% in June.
The monthly survey, launched in 2010, tracks attitudes on home ownership and renting, according to the organization.
It is conducted by telephone with around 1,000 American adults who make financial decisions in households during the first three weeks of the month and is usually released around the 7th of the following month and has a margin of error of around plus or minus 0.4 or fewer percentage points.
Even though those surveyed expressed optimism in their personal financial outlook, rising home prices, and interest rates have kept them sour on entering the housing market.
"While consumers are reporting confidence in the components related to their personal financial situations, it's unlikely we'll see housing sentiment catch up to other broader economic confidence measures until there is meaningful improvement to home purchase affordability," Doug Duncan, Fannie Mae senior vice president, and chief economist said in a press release announcing the findings Monday.
"In July, a significant majority of consumers indicated that their jobs are stable and that their incomes are the same or better than they were 12 months ago. However, homebuying sentiment once again matched its all-time low, with only 18% telling us that it's a good time to buy a home."
The survey also found 36% of current homeowners are less likely to sell in the current market, unchanged from the results in June's survey.
"Unsurprisingly, consumers continue to attribute the challenging conditions to high home prices and unfavorable mortgage rates," Duncan said. "Further, the share of consumers expecting home prices to continue to rise has also been on a steady climb since March, which may only add to perceptions of unaffordability. Additionally, we have not seen much movement in the 'good time to sell' component over the last few months, an indication that the current low levels of existing homes for sale will likely continue to persist in the near term, as also reflected in our latest forecast."
The survey found 41% believe that home prices will continue to rise, compared to 36% in June, with decreases in both those who say prices will stay the same, 37% to 34%, and prices will drop from 26% to 24% compared to the June results.