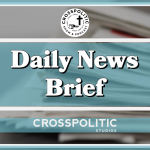 This is Garrison Hardie with your CrossPolitic Daily News Brief for Thursday, August 11th, 2022.
FLF Magazine:
We are on a mission to make magazines great again. So, subscribe to our Fight Laugh Feast magazine. This is a quarterly mini-book like experience, packed full of a variety of authors that includes theologically-driven cultural commentary, a Psalm of the quarter, recipes for feasting, laughter sprinkled throughout the glossy pages, and more. Sign your church up, sign your grumpy uncle up, and while you are at it…sign up the Pope, Elon Musks, and Russel Moore.
Disclaimer: This magazine will guarantee various responses and CrossPolitic is not held liable for any of them. Reading the whole magazine may cause theological maturation, possibly encourage your kids to take the Lord's Supper with you, and will likely cause you to randomly chuckle in joy at God's wondrous world. Sign up today! Four issues and $60 per year, that is it. Go to fightlaughfeast.com right now to sign up!.
https://nypost.com/2022/08/10/fired-up-trump-has-made-up-mind-about-2024-run/
Trump 'fired up' despite FBI raid, has 'made up mind' about 2024 run
Trump says he made up his mind about running in 2024 during 'Hannity' exclusive – Play 0:25-2:59
Former President Donald Trump remains "very upbeat" and "fired up" despite the FBI's raid on Mar-a-Lago — and has "made up his mind" about running in 2024, according to a Republican lawmaker who met him late Tuesday.
Rep. Jim Banks was one of nearly a dozen members of the House Republican Study Committee who met Trump, 76, just a day after the shocking raid on his Florida estate.
"He didn't seem defeated in the least bit — he was very fired up, very upbeat," Banks told Fox News of the " great three-hour-long" chat at Trump's New Jersey golf club, Bedminister.
"He said we are going to like his decision and it is only a matter of time before he will make that decision known," Banks told Fox News of Trump, who hours earlier released a campaign-style video promising that "the best is yet to come."
https://www.theepochtimes.com/trump-suggests-fbi-may-have-planted-evidence-during-mar-a-lago-raid_4655282.html?utm_source=partner&utm_campaign=BonginoReport
Since we're already talking about Trump, how about this: Trump Suggests FBI May Have 'Planted' Evidence During Mar-a-Lago Raid
Former President Donald Trump suggested the FBI may have planted evidence during the bureau's raid at his Mar-a-Lago home because members of his team were blocked from watching the agents.
In a Truth Social post on Wednesday, the former president wrote that "the FBI and others from the Federal Government would not let anyone, including my lawyers, be anywhere near the areas that were rummaged and otherwise looked at during the raid on Mar-a-Lago."
"Everyone was asked to leave the premises, they wanted to be left alone, without any witnesses to see what they were doing, taking or, hopefully not, 'planting.' Why did they STRONGLY insist on having nobody watching them, everybody out?" said Trump.
FBI agents spent about 10 hours scouring his private office on Monday and broke into his safe, according to Trump and members of his family.
Bruce Reinhart, a Florida federal magistrate judge, signed off on a warrant to search the former president's Florida property.
Reinhart worked as a federal prosecutor until 2008 when he became a defense attorney representing employees of convicted sex trafficker and wealthy financier Jeffrey Epstein. Employees included Epstein's pilots, a scheduler, and others.
The Epoch Times contacted the FBI for comment. Neither the bureau nor Attorney General Merrick Garland have offered public comments about the raid, drawing even questions and condemnation from Democrat politicians.
Hey, speaking of those Jan. 6th hearings…
https://www.newsmax.com/newsfront/jan-6-hearings-public/2022/08/09/id/1082365/
Monmouth Poll: Jan. 6 Hearings Having Little Impact on Public
The House Jan. 6 Select Committee hearings have done little to change people's opinions surrounding the 2021 Capitol attack, a new poll found.
Regarding former President Donald Trump's culpability in the assault and claims of election fraud, public opinion stands pretty much as it was before testimony of former presidential aides during the last three public hearings, the latest Monmouth University poll found.
Not only that, Trump's favorability rating is nearly identical to where it was immediately after the 2020 election. Also, 4 in 10 Americans would lean toward backing a comeback bid in 2024, according to the Monmouth Poll.
Overall, just 8% of Americans said the hearings have changed their minds about the Capitol incident — basically unchanged from 6% who said the same in June.
"When we released our June poll, I said the committee was preaching to the choir. These current results suggest they haven't recruited any new singers since then," said Patrick Murray, director of the independent Monmouth University Polling Institute.
The survey found that 38% of respondents believe Trump was responsible directly for what happened on Jan. 6. That number stood at 42% right before the testimony of former Trump White House aide Cassidy Hutchinson.
"The sensational revelations during the hearings do not seem to have moved the public opinion needle on Trump's culpability for either the riot or his spurious election fraud claims," Murray said.
Only 41% — including 73% of Democrats — favor charging Trump with crimes related to his involvement on Jan. 6. A total of 34% — including 66% of Republicans — were opposed, and another 25% were unsure.
A majority (61%) of Americans have at least a little trust the House committee is conducting a fair investigation, but there's a huge difference between Democrats (91%) and Republicans (35%).
You see how crazy our culture is? This is why we need to train our kids up on the solid rock… amd a good place to do that for your college aged kids, is NSA:
New Saint Andrews:
Today's culture shifts like sand. But New Saint Andrews College is established on Christ, the immovable rock. It is a premier institution that forges evangelical leaders who don't fear or hate the world. Guided by God's Word, they take the world back because they're equipped with the genius of classical liberal arts and God-honoring wisdom, thanks to a faculty dedicated to academic rigor and to God's kingdom.Find out more, at nsa.edu/
Some news on the Desantis front: https://freebeacon.com/democrats/top-desantis-challenger-paid-thousands-to-gen-z-liberal-activist-facing-campus-wide-allegations-of-sexual-assault/
Top DeSantis Challenger Paid Thousands to Gen Z Liberal Activist Facing 'Campus-Wide Allegations of Sexual Assault'
On July 8, Democrat Charlie Crist's gubernatorial campaign paid $2,250 to Politically Correct Strategies—a consulting company registered to Gen Z liberal activist and former Dartmouth student Jack Cocchiarella—for "digital consulting." Just weeks later, on July 28, the prestigious school's College Democrats chapter revealed it ousted Cocchiarella from the club "in late October 2021, following campus-wide allegations of sexual assault." Those allegations emerged publicly in a string of December 2021 Reddit posts, which accused Cocchiarella of using "his Twitter notoriety and left-wing credentials to position himself as an ally. Then, once people let their guards down, he rapes them."
Crist, who did not return repeated requests for comment, has remained silent on the accusations facing his campaign aide. By his own logic, that silence means he endorses Cocchiarella's alleged behavior—in a June 29 tweet, Crist pressed DeSantis to condemn the January 6 riots, writing, "Is it just me, or do you agree that his silence = endorsement?"
Crist is not the only prominent Democrat to hire Cocchiarella following the troubling allegations. Rep. Marjorie Taylor Greene's (R., Ga.) Democratic opponent, Marcus Flowers, has paid Cocchiarella's firm more than $40,000 since October 2021, when the activist announced his "new role" as Flowers's digital director.
Flowers has his own alleged issues with women. In July 2016, the Democrat attempted to dump his ex-wife—Russian national Svetlana Chudinova—at a local homeless shelter, court documents reported by the New Republic show. Flowers did not dispute the incident and instead defended his attempt to offload Chudinova, saying he "felt she had a personality disorder that was not previously disclosed." In turn, Chudinova accused Flowers of threatening to strike her.
Cocchiarella, whose Twitter account boasts more than 250,000 followers and includes a photo of the activist smiling alongside President Joe Biden, enrolled as a Dartmouth freshman during the 2021-22 school year. While it's unclear what specific "digital consulting" services he provided Crist, Cocchiarella publicly endorsed the former governor over fellow DeSantis challenger Nikki Fried (D.) just days after Crist's campaign paid him.
Flowers, meanwhile, routinely replies to Cocchiarella's tweets to solicit campaign contributions. In October 2021, he called the young activist "an outstanding young man." In addition to his work with Crist and Flowers, Cocchiarella has collaborated with the Lincoln Project, an anti-Republican super PAC founded by disgraced sexual predator John Weaver.
Cocchiarella during an Aug. 1 podcast appearance did, however, confirm his decision to transfer from Dartmouth to fellow Ivy League school Columbia. The activist did not discuss why he opted to leave Dartmouth after just one year at the college and is yet to publicly address the allegations leveled against him.
Cocchiarella, Dartmouth College Democrats, and Dartmouth's Title IX office did not return requests for comment.
Well isn't that just nice?
https://cbs6albany.com/news/local/legislation-to-change-the-term-inmate-for-those-in-the-prison-system
Let's shift our eyes back to the North East: Gov. Hochul signs legislation changing the term "inmate" for those in the prison system
The word "inmate" is out in New York State Law, and that decision is getting a lot of attention.
A top political analyst told me Tuesday that Governor Hochul's decision to substitute the term "incarcerated individuals" for inmates in state law is her way of trying to reconcile issues of justice with issues of safety. But Dr. Lee Miringoff says it's a delicate balancing act when her opponent Lee Zeldin is accusing her of not being tough enough on crime. Hochul's critics say she is once again putting the needs of the criminal ahead of the needs of the victim, while those who approve of the change say it gives the prison population a better chance at reintegrating into society.
Melanie Trimble of the New York Civil Liberties Union says you can attribute the rise in crime–if there is one–to many factors, like the pandemic and an increase in gun sales. She says the language change helps to dignify–and humanize–people who have done their time.
Dr. Miringoff of Marist College says the Governor has already chosen a clear path on the issue of crime by not bringing the legislature back to deal with bail reform, and he believes she's banking on this language change helping her with her base in November.
Trimble argues that using inclusive language that makes those returning to society after a stint in prison feel comfortable is not a heavy lift, and one that will make a real difference in peoples lives.
She said, "You know, we love to label people, and this is a community that is extremely vulnerable. We need to provide them with as many possibilities and hopeful futures as possible."
Let's shift things to the topic that I love… sports! Let's talk Baseball today: https://www.boundingintosports.com/2022/08/after-abandoning-their-heritage-and-name-the-cleveland-guardians-attendance-tanks/
This is for you Mark Dewey: After Abandoning Their Heritage And Name, The Cleveland Guardians' Attendance Tanks
Last year, in an attempt to appease woke liberals, the Cleveland Indians changed their name to the Cleveland Guardians after previously announcing their intent to drop the Indians name in 2020.
The team released a statement announcing their decision, "The Cleveland Indians today announced our decision to begin the process of changing from our team name 'Indians.'"
"Since July, we have conducted an extensive process to learn how our team name affected different constituencies and whether it aligned with our organizational values," the organization explained. "As a result of that process, we have decided to move forward with changing the current team name and determining a new, non-Native American based name for the franchise."
They further detailed, "In our statement in June 2020, we acknowledged the importance of taking a leadership role in diversity, equity, and inclusion efforts across the community and enhancing our support for underserved and under-represented groups. As part of that commitment, we heard from individuals and groups who shared a variety of views and opinions on the issue.
Their efforts to bring people together have apparently failed as they've brought about 6,000 fewer people together per game.
Average attendance has dropped to 15,636 fans a game this year according to Baseball Reference. A steep decline from their 21,465 average attendance in 2019, the most recent year not affected by Covid hysteria. Albeit attendance is up from 2021 where average attendance was only 13,758.
Tv ratings have also fallen by 30 percent according to Forbes. This is not the result of fans not showing up because the team is tanking like in Oakland. Cleveland is only a game back of the division lead, right in the middle of the playoff hunt.
Cleveland is a small market team that is already short on cash in comparison to bigger market teams like New York, LA, and Boston. The loss of revenue from lower ticket sales only exasperates this problem.
The team attempted to satisfy the demands of a group of people, woke liberals, that don't represent their fanbase and now they're paying the price. The Venn diagram of people offended by their previous name and fans of the team itself may as well be two distinct circles.
The Guardians are not the first team to come under attack for a politically incorrect name. In 2020 the Washington Redskins changed their name to the Washington Football Team before settling on the only slightly less generic "Washington Commanders" a year later.
Washington caved in the face of immense pressure by members of the media who claimed their 80 year old name was a racist slur. Interestingly enough, the Washington Post ran a poll about the term Redskin, and found that 9 out of 10 native Americans didn't find the term 'Redskin' offensive back in 2016… Huh!
Not every team felt compelled to give in to the demands of the woke mob. The Chicago Blackhawks of the NHL came under similar pressure to change their Native American themed name and logo.
Instead of throwing away decades of team history and tradition to switch to a soulless new moniker that their fans would have no connection to, they simply said no. Deciding instead to use the notoriety created by their use of the Blackhawk name to honor Native American culture.
"We celebrate Black Hawk's legacy by offering ongoing reverent examples of Native American culture, traditions and contributions, providing a platform for genuine dialogue with local and national Native American groups," the team continued. "As the team's popularity grew over the past decade, so did that platform and our work with these important organizations."
Hopefully, this latest iteration of the "get woke go broke" phenomenon will teach teams that the silent majority in America are the ones that pay their bills not the perpetually offended minority.
This has been your CrossPolitic Daily News Brief… if you liked the show, go ahead and hit that share button for me down below. If you want to become a club member, sign up for our conference, or sign up for our magazine, you can do that at fightlaughfeast.com… and as always, if you'd like to email me a news story, ask about our conference, or become a corporate partner of CrossPolitic, email me at garrison@fightlaughfeast.com… For CrossPolitic News, I'm Garrison Hardie. Have a great day, and Lord bless.