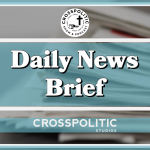 This is Garrison Hardie with your CrossPolitic Daily News Brief for Thursday, August 17th, 2023.
Bohnet Music Academy
Isn't it about time to take action on how you're going to give your children and grandchildren a good music education? Moses, David, and all the Saints of the church have worshiped God with musical might, so let's be confidently found doing the same.
Bohnet Music Academy instructs children and adults in how to be musically literate. That's everything you need to know and do as the musician God made you to be. Lessons are available locally in Moscow, ID and online. What's great is that in addition to getting vocal training, you can also study the piano, guitar, violin, cello, drums, or the trumpet.
Visit Bohnetma.com/crosspolitic for more information on how to equip your family to serve God's musical commands. B-O-H-N-E-T MA.com/crosspolitic
https://www.washingtonexaminer.com/news/house/aoc-owed-up-to-50k-student-loans-cancellation
AOC owed up to $50,000 in student loans while leading calls for debt cancellation
Rep. Alexandria Ocasio-Cortez (D-NY), one of Capitol Hill's leading voices on student loan forgiveness, owes the Department of Education up to $50,000 in student loans, according to the New Yorker's recent financial disclosure.
The filing, which was reviewed by the Washington Examiner, documented that the congresswoman owed the department between $15,000 and $50,000 for her student loans as of 2022. That same year, Ocasio-Cortez led the call for the Biden administration to cancel thousands of dollars in loans for each student.
"Now would be a great time to cancel student loan debt, take significant climate action, and pass voting rights," Ocasio-Cortez posted on X, the platform formerly known as Twitter, in May 2022 in response to a Marist poll that showed President Joe Biden had a low approval rating among young adults.
Ocasio-Cortez's student loan debt was already known, as the congresswoman's 2021 financial disclosure showed her holding up to $50,000 in liability.
Biden revealed his student loan forgiveness plan in August 2022 to forgive up to $20,000 worth of student loan debt for borrowers who make under $125,000 a year individually or $250,000 for married couples. Members of Congress earn an annual salary of $174,000. Although Ocasio-Cortez celebrated the plan, she called for more forgiveness for people who owed even more debt.
"It was YOUR pushing, YOUR pressure, YOUR organizing that got them to this point," Ocasio-Cortez posted on Instagram. "I am very grateful for this watershed moment of a first step — it is so encouraging, thrilling, and has already changed SO many people's lives. But I am also thinking about how this still leaves a question mark for those in the highest amounts of debt, who need the most amount of help. So let's celebrate and keep going."
Fellow "Squad" member Rep. Rashida Tlaib (D-MI) is among those who owe money, with Tlaib owing more than $100,000 to the Department of Education for her law degree. Tlaib pushed for the Biden administration to forgive at least $50,000 in student loan debt for individual borrowers last year.
More Trump news now…
https://www.breitbart.com/politics/2023/08/15/morning-consult-poll-trump-boasts-41-point-lead-one-week-ahead-republican-debate/
Trump Boasts 41-Point Lead One Week Ahead of Republican Debate
Former President Donald Trump is boasting a 41-point lead in the Republican primary roughly one week ahead of the first GOP debate, which will take place in Milwaukee, Wisconsin, on August 23.
The survey found Trump maintaining majority support, with 57 percent of potential Republican primary viewers choosing him as their candidate, despite ongoing legal troubles which have not had a negative effect on him.
Florida Gov. Ron DeSantis, who has attempted to revamp his campaign over the last few months — from laying off dozens of staffers to replacing his campaign manager — remains in a distant second place, 41 points behind Trump with 16 percent support.
Anti-woke businessman Vivek Ramaswamy comes in third place, just seven percent behind DeSantis with nine percent support.
Former Vice President Mike Pence came in fourth place with seven percent support, followed by South Carolina Sen. Tim Scott, former South Carolina Gov. Nikki Haley, and former New Jersey Gov. Chris Christie, who all saw three percent support. All others listed saw one percent support or less.
That portion of the survey was taken August 11-13, among 3,064 potential Republican primary voters and has a +/- 2 percent margin of error.
Again, the survey shows choices for a second-choice candidate diversifying, as 36 percent of Trump supporters choose DeSantis as their second choice, followed by nearly one-quarter, 23 percent, who chose Ramaswamy.
Another 11 percent said Pence, followed by five percent who said Haley and Scott, and 14 percent unsure.
Similarly, 37 percent of DeSantis supporters chose Trump as their second-choice candidate, followed by 21 percent who said Ramaswamy, 14 percent who said Pence, 12 percent who said Haley, eight percent who chose Scott, and three percent who remain unsure.
The survey coincides with the latest Kaplan Strategies poll, which shows Trump leading with 48 percent support, Ramaswamy moving to second place with 11 percent support, and DeSantis falling to third with ten percent.
https://www.breitbart.com/politics/2023/08/15/biden-promises-700-per-household-in-maui-less-than-what-is-spent-on-ukraine/
Biden Promises Maui Fire Survivors $700 Per Household — Less Than What Is Spent on Ukraine
President Joe Biden announced Monday that survivors of the Maui fires would receive "a one-time $700 payment per household," after he faced criticism for telling a reporter he had "no comment" on the rising death toll.
His account posted: "We're laser-focused on getting aid to survivors, including Critical Needs Assistance: a one-time $700 payment per household offering relief during an unimaginably difficult time."
The one-time payment of $700 per household is less than the estimated cost to each American household for the Ukraine War, according to a budget expert at the Heritage Foundation.
Richard Stern, director of The Heritage Foundation's Grover M. Hermann Center for the Federal Budget, calculated that the congressionally-approved aid to Ukraine of $113 billion amounts to roughly $900 per American household.
"The formal aid packages alone amount to a staggering $113 billion — roughly $900 per American household and almost 12 times the spending cuts promised by House leadership in the annual spending bills," Stern said in an email to The Daily Signal, Heritage's news outlet.
Furthermore, he said the $113 billion would cost more than $300 in interest costs per household over the decade.
On Thursday, as the Maui fires continued burning, Biden asked Congress for an additional $20 billion more in aid for Ukraine.
https://www.dailyfetched.com/us-homeless-population-balloons-as-biden-seeks-millions-to-house-illegal-migrants/
US Homeless Population Balloons as Biden Seeks Millions to House Illegal Migrants
The homeless population in the US is rapidly increasing at a record pace as Joe Biden seeks hundreds of millions of American taxpayer money to house illegal migrants across the country.
According to new data published by the Wall Street Journal, over 577,000 Americans are homeless today, representing an 11 percent increase compared to 2022.
The increase "would represent by far the biggest recorded increase since the government started tracking comparable numbers in 2007," the Journal notes/
"The next highest increase was a 2.7% jump in 2019, excluding an artificially high increase last year caused by pandemic counting interruptions," the outlet adds.
Out of the nearly 600,000 homeless Americans, 150,000 are considered chronically homeless because they have lived on the streets for over a year, with many suffering from mental illness.
Despite the homeless problem, Biden is asking Congress to approve hundreds of millions in American taxpayer dollars for a housing development project for illegal migrants.
As The Daily Fetched reported last week, Biden is asking for more funds as part of a $40 billion emergency funding request to Congress.
The request includes a whopping $2.7 billion for the Department of Homeland Security's various border efforts.
There are 57,300 migrants in the city, with an estimated 100,000 that will need services by June 2025.
Adams admitted that the massive increase in migrants could cost the city as much as $12 billion over the next three years.
As Breitbart noted:
"Much of the taxpayer money would end up in the hands of left-wing non-governmental organizations (NGOs) that have profited immensely from illegal immigration in recent years via federal contracts with DHS.
Border crossers and illegal aliens who would get to take advantage of the housing project would likely stay for an extended period of time, as a sample size of DHS data recently found that fewer than 2-in-10 are being placed into deportation proceedings after release into the U.S. interior."
Now in entertainment news… slash sports.
https://www.boundingintosports.com/2023/08/all-lies-retired-nfl-player-michael-oher-says-biographical-film-the-blind-side-mostly-made-up-was-never-adopted-by-the-tuohys/
All Lies: Retired NFL Player Michael Oher Says Biographical Film 'The Blind Side' Mostly Made Up, Was Never 'Adopted' By The Tuohys
Michael Oher, the retired NFL star depicted in the 2009 film The Blind Side, filed a petition Monday in Shelby County, Tennessee probate court challenging the portrayal of his "adoption" by the now-famous Tuohy family.
According to the 14-page petition, the Tuohys never formally adopted Oher. Instead, they allegedly had him sign conservatorship documents shortly after he turned 18 in 2004, giving them the authority to make business decisions on his behalf. Oher claims he was unaware of the specifics, believing all along that he had been adopted by the family.
Oher accuses the family of also profiting from the popular film about his story, which grossed over $300 million, while he received nothing. Oher stated that the Tuohy's wealth and notoriety "would not have existed without him."
Since the film came out in 2009, the Tuohys have continued to profit off of Oher using the, as Oher claims, false story to enrich themselves.
The Tuohy family did not immediately respond for comment when reached out to by ESPN. Oher's petition seeks an end to the conservatorship, prohibits the Tuohys from using his name and likeness, and demands an accounting of the profits they derived using his story.
In previous statements, the Tuohys claimed they shared their movie earnings with Oher. However, the NFL star's trust in the family eroded over time, especially due to the film's portrayal of him.
"The lie of Michael's adoption is one upon which Co-Conservators Leigh Anne Tuohy and Sean Tuohy have enriched themselves at the expense of their Ward, the undersigned Michael Oher," says Oher's official legal filing.
"Michael Oher discovered this lie to his chagrin and embarrassment in February of 2023, when he learned that the Conservatorship to which he consented on the basis that doing so would make him a member of the Tuohy family, in fact provided him no familial relationship with the Tuohys.
"Since at least August of 2004, Conservators have allowed Michael, specifically, and the public, generally, to believe that Conservators adopted Michael and have used that untruth to gain financial advantages for themselves and the foundations which they own or which they exercise control," the petition continues. "All monies made in said manner should in all conscience and equity be disgorged and paid over to the said ward, Michael Oher."
Legally, adoption would have made Oher a Tuohy family member with financial autonomy. However, under the conservatorship, the Tuohys had financial control. The petition claims the Tuohys negotiated the movie deal after the 2006 book "The Blind Side: Evolution of a Game," and received $225,000 each and 2.5% of the film's net proceeds.
The Blind Side grossed over $300 million and earned significant home video sales. It was nominated for Best Picture, and Sandra Bullock won Best Actress.
Oher went on to a very successful NFL career, which includes a Super Bowl victory with the Ravens in the "Harbaugh Bowl" of 2013, and later played in Super Bowl 50 for the Panthers, covering quarterback Cam Newton's blind side.