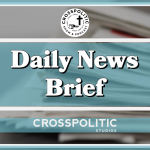 This is Garrison Hardie with your CrossPolitic Daily News Brief for Thursday, August 25th, 2022. Hope your week has been going well as we head in for yet another weekend, which means it's probably a good time to remind you, about our conference!
FLF Conference Plug:
Folks, our upcoming Fight Laugh Feast Conference is 6-weeks away from happening in Knoxville TN, October 6-8! Don't miss beer & psalms, our amazing lineup of speakers which includes George Gilder, Jared Longshore, Pastor Wilson, Dr. Ben Merkle, Pastor Toby, and we can't say yet…also dont miss our awesome vendors, meeting new friends, and stuff for the kids too…like jumpy castles and accidental infant baptisms! Also, did you know, you can save money, by signing up for a Club Membership. So, go to FightLaughFeast.com and sign up for a club membership and then register for the conference with that club discount. We can't wait to fellowship, sing Psalms, and celebrate God's goodness in Knoxville October 6-8.
https://thepostmillennial.com/breaking-biden-announces-plans-for-student-debt-relief?utm_campaign=64487
Biden announces plans for student debt relief
On Wednesday, President Joe Biden formally announced the cancellation of $10,000 of student loan debt per borrower, and stressed the importance of higher education despite skyrocketing tuition costs. He did not address lowering tuition costs, or that it may be unfair to borrowers who paid their loans despite difficulties, and without forgiveness.
https://rumble.com/v1h7d6v-biden-heres-what-my-administration-is-gonna-do-to-provide-more-breathing-ro.html – Play Video
Biden said that around 90 percent of those that would qualify for the relief make under $75,000 per year.
In addition to the initial $10,000, those that received Pell Grants would qualify to receive an additional $10,000 in cancellation debt, coming to a total of $20,000.
He stressed that 95 percent of borrowers would benefit from these actions. And of the 43 million borrowers that would have debt cancelled, roughly 60 percent of those, 27 million people, are Pell Grant borrowers.
Nearly 45 percent of people who took out federal student loans would be have the entirety of their federal student loans cancelled under this action.
In his third point, Biden said that his administration would be fixing the student loan program system itself.
Students would have their payments capped at 5 percent of their discretionary income for loan payments, down from 10 percent.
He also said that after 20 years, a borrower's payment obligation would be reached, and no further payment would be required.
Biden also said that his administration would be fixing the Public Service Loan Forgiveness Program, which encourages graduates to pursue public service in exchange for forgiven loans.
These fields include teaching, law enforcement, charity work, and military service, and those that serve in these positions and make loan payments for 10 years would have the remainder of their balance forgiven.
After concluding his speech, Biden only addressed one question from the press regarding whether he had advanced notice of the FBI raid of Mar-a-Lago. Questions regarding the fairness of the student loan debt cancellation for those who had repaid their loans already were not answered.
https://www.foxnews.com/politics/biden-lacks-authority-student-debt-handout-pelosi-warned-last-year
Biden lacks authority for student debt handout, Pelosi warned last year
last year, Pelosi poured cold water on the idea, saying that such a move was something reserved for an act of Congress, not the executive.
https://twitter.com/i/status/1420417022786261002 – Play Video
Her statements were in sharp contrast to those of Sen. Schumer, who claimed that the president could do such a sweeping move "with the flick of a pen."
Alright, enough about this debt forgiveness, let's head back to California!
https://justthenews.com/nation/states/report-california-likely-ban-sales-gas-powered-cars-2035?utm_source=sf&utm_medium=social&utm_campaign=twjs
California likely to ban sales of gas-powered cars by 2035
California this week is likely to enact a major rule to ban the sale of gas-powered cars in the state by 2035, multiple media outlets reported on Wednesday.
The regulation is expected to be handed down by the state's California Air Resources Board, which is set to vote on the matter on Thursday. Currently, 12 percent of cars sold in California are required to be fossil fuel-free.
Estimates put the number of fully electric cars on the road in the U.S. at just under one percent. California is estimated to have nearly 30,000,000 drivers registered within the state.
Supporters of the law praised its ambitious goals. "The climate crisis is solvable if we focus on the big, bold steps necessary to stem the tide of carbon pollution," Gov. Gavin Newsom told media in a statement.
Margo Oge, an electric vehicles expert who has worked with the EPA under multiple presidential administrations, told the New York Times that the development was "huge."
https://americanmilitarynews.com/2022/08/uvalde-families-to-file-27-billion-civil-lawsuit-against-police-gunmaker-over-school-shooting/
Uvalde families to file $27 billion civil lawsuit against police, gunmaker over school shooting
The families of the victims and survivors of the Robb Elementary School massacre in Uvalde, Texas, are preparing to file a massive lawsuit against the local and state police, the shop that sold gunman Salvador Ramos his weapon and the manufacturer who made the gun.
Attorney Charles Bonner announced Sunday that he is filing a $27 billion civil rights lawsuit against the Uvalde Consolidated Independent School District Police Department, school police chief Pete Arredondo, sheriff's offices, the Texas Rangers, the Texas Department of Public Safety, Border Patrol, the Uvalde Independent School District school board, the Uvalde City Council and the City of Uvalde.
Also listed in the lawsuit are gun manufacturer Daniel Defense and Oasis Outback, where Ramos bought the gun.
"People have a right to life under the 14th Amendment, and what we've seen here is that the law enforcement agencies have shown a deliberate conscious disregard of the life," Bonner told KSAT.
"Everyone in this world are hurting and bleeding about what is happening here in Uvalde. And it's up to us to make sure it doesn't happen again."
Nineteen students and two teachers were gunned down inside their classrooms on May 24 as hundreds of police officers poured into the school and stood by as Ramos laid waste to the school.
Arredondo, the on-scene commander, was placed on unpaid leave in late June and the school superintendent has recommended he be fired.
The 376 responding officers "failed to prioritize saving the lives of innocent victims over their own safety," according to the report.
Bonner said he is preparing the lawsuit to file in September.
Redballoon
Not so long ago, the American dream was alive and well. Employees who worked hard were rewarded, and employers looked for people who could do the job, not for people who had the right political views. RedBalloon.work is a job site designed to get us back to what made American businesses successful: free speech, hard work, and having fun. If you are a free speech employer who wants to hire employees who focus on their work and not identity politics, then post a job on RedBalloon. If you are an employee who is being censored at work or is being forced to comply with the current zeitgeist, post your resume on RedBalloon and look for a new job. redballoon.work, the job site where free speech is still alive!
www.redballoon.work
https://www.theepochtimes.com/federal-government-imposes-first-of-its-kind-fee-on-greenhouse-gas-emissions_4684606.html?utm_source=partner&utm_campaign=BonginoReport
Federal Government Imposes First-of-Its-Kind Fee on Greenhouse Gas Emissions
Hidden deep within the over 700 pages of the recently passed Inflation Reduction Act (IRA) is a brand-new provision intended to give the Environmental Protection Agency (EPA) power to cut greenhouse gas (GHG) emissions.
Specifically, the IRA establishes the "Methane Emission Reduction Program" under a new section in the Clean Air Act, allowing the EPA to impose a fee on certain "climate pollutions."
Importantly, this is the first time the federal government has ever imposed a fee on any GHG emission and is part of Congress' effort to bolster the EPA's power to address the "climate crisis."
In June, the U.S. Supreme Court ruled in West Virginia v. Environmental Protection Agency that the EPA didn't have the authority under the Clean Air Act or the Clean Power Plan to essentially force power plants to transition more towards wind and solar.
Moreover, SCOTUS determined that the interpretive question raised under the Clean Power Plan fell under the "major questions doctrine," which states that Congress must make a "clear statement" if it wants to delegate authority "of this breadth to regulate a fundamental sector of the economy."
Notably, the ruling expressly limited the EPA's ability to regulate carbon emissions from power plants, which President Joe Biden called "devastating."
Biden further added that he planned to "find ways that we can, under federal law, continue protecting Americans from harmful pollution, including pollution that causes climate change."
The IRA includes several tax credits, incentives, and grants, totaling $369 billion for "Energy Security and Climate Change investments."
And the above investments include over $1.5 billion to the EPA for "grants, rebates, contracts, loans" and "other activities" to reduce GHG emissions in the natural gas and oil sector.
Methane is the primary component of natural gas, and the EPA reports that methane emissions accounted for 11 percent of total U.S. GHG emissions in 2020. Carbon Dioxide (CO2) accounted for 79 percent.
Further, Biden made it clear that by 2030, he wants GHG emissions reduced by 40 percent compared to 2005 levels. And reduction levels of that amount require significant transformation.
The IRA's passage and its implementation of a methane charge put Biden's goals within reach.
Indeed, the Department of Energy reports that thanks to the IRA, the United States will not only meet the 40 percent reduction goal but exceed it as it now projects GHG emissions at 50-52 percent below 2005 levels.
Interestingly, according to the EPA, the primary source for methane emissions isn't natural gas or oil—it's livestock.
Before we go today, we gotta wrap up with sports right?
https://nypost.com/2022/08/23/kevin-durant-moving-forward-with-nets-after-trade-demand-saga/
Kevin Durant 'moving forward' with Nets after trade demand saga
Kevin Durant is staying put in Brooklyn. And the Nets aren't just running it back for a year — they're together for the long term.
Nets general manager Sean Marks said in a statement Tuesday that after a face-to-face to clear the air, the Nets and Durant — who'd first requested a trade, then the firing of Marks and coach Steve Nash in order to stay — are "moving forward" together to chase the franchise's first-ever NBA championship.
A highly placed Nets source amplified that this was not simply a case of cajoling Durant to stay for the upcoming season, to take a final all-or-nothing shot at a title with Kyrie Irving before trading him next summer. While Durant could always make another heel turn, all parties left that meeting at least expecting this to be a long-term marriage, albeit one with plenty to work through.
The Post had reported weeks ago that Durant was trending toward being present at training camp, which starts Sept. 27. But after this meeting the Nets expect Durant to fulfil the four-year, $198 million extension he signed last August that kicks in this upcoming season.
It remains to be seen how much reconciliation is needed between Durant and the men he tried to get fired. It should also be noted that he went from inking a deal without a no-trade clause or trade kicker a year ago to requesting a trade in June, from wanting his GM and coach fired two weeks ago to supposedly buying in now.
The drama brings to mind the summer 2007 episode when Kobe Bryant went on LA radio and requested a trade from the Lakers. But after testing the market and finding nothing to approximate the all-time great, the Lakers held onto him and reached the Finals that following season, with Bryant winning MVP
This has been your CrossPolitic Daily NewsBrief. If you liked the show, share it far and wide. If you'd like to sign up for a club membership, sign up for our conference in Knoxville, or sign up for our magazine, you can do all of that at fightlaughfeast.com. And as always, if you'd like to send me a news story, ask about our conference, or become a corporate partner of CrossPolitic, email me, at garrison@fightlaughfeast.com. For CrossPolitic News, I'm Garrison Hardie. Have a great day, and Lord bless.