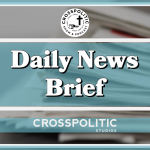 Daily News
New York's New Gov Adds 12K to State's COVID Death Count
https://www.conservativereview.com/new-yorks-new-gov-adds-12k-to-states-covid-death-count-2654792179.html
New York's incoming lieutenant governor supports the movement to defund police departments.
https://www.conservativereview.com/new-yorks-new-lieutenant-governor-supports-movement-to-defund-police-2654792672.html
"Next, I want to tell our homeschool listeners about Classy Artist Box. It is a company created by a Christian art teacher who sends you everything you need to create four art projects each month. You can use their written instructions and video lessons to help guide you through each project. In addition to the four new projects each month, you'll also have access to two and a half years worth of video lessons to enjoy as a member. Each type of subscription will cover a range of art media throughout the year, which means you have your art curricular needs covered. For 30% off of your first subscription order, use code CROSS30. To see more, check out www.ClassyArtistBox.com.
Democrat Gov. Kate Brown Proudly Drives Oregon Back To COVID Tyranny
Oregon Gov. Kate Brown just joined the ranks of Democrats proudly turning back to their old, tyrannical COVID-19 ways by mandating masks outdoors.
Dr. Facui was on
The Mehdi Hasan Show
SWISS Policy Research
Updated: August 2021
Published: July 2020
Contents: A) Published studies ⇓ B) Real-world evidence ⇓ C) N95/FFP2 masks ⇓ D) Additional aspects ⇓ E) The aerosol issue ⇓ F) Contrary evidence ⇓ G) Mask-related risks ⇓ H) Conclusion ⇓
Delta Air Lines jacks up health insurance premiums for unvaccinated employees
https://www.theblaze.com/news/delta-air-lines-unvaccinated-health-insurance-premiums
CIA, U.S. Troops Conduct Missions Outside Kabul Airport to Extract Americans
https://www.wsj.com/articles/cia-u-s-troops-conduct-missions-outside-kabul-airport-to-extract-americans-allies-11629915605
SHELF SHORTAGE Christmas 'could be cancelled' as UK food shortage crisis hits supermarkets
https://www.thesun.co.uk/money/15960414/co-op-boss-warns-food-shortages-worst-ever-seen/
Which chains are facing shortages?
A SHORTAGE of lorry drivers has wreaked havoc for fast food chains that have been running out of menu items. Here's a list of the firms that have been impacted so far…
KFC – The fried chicken chain warned earlier this month that some items were off the menu due to "weeks of disruption"
McDonald's – McDonald's is suffering from a nationwide shortage of milkshakes and bottled drinks
Nando's – The chicken restaurant was forced to close 50 sites due to a shortage of staff at its suppliers' factories. It reopened the branches at the end of last week after sending 70 members of staff to work in the factories
Greggs – High street bakery chain Greggs confirmed today that it is facing shortages. Photos show empty sandwich shelves at a store in Monument, Central London, while there have also been reports that it is running out of chicken bakes
Costa Coffee – The company is offering a reduced menu due to supplier issues. It said it hopes to resolve the problem as soon as possible