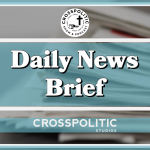 This is Garrison Hardie with your CrossPolitic Daily News Brief for Thursday, August 31st, 2023.
Fight Laugh Feast Conference – Ark Encounter
The annual Fight Laugh Feast Conference is a conference like no other… the festivities kick off every year, with beer & Psalms! The Fight Laugh Feast Conference is a gathering of rowdy Christians from all walks of life, and from all over the country, who want to glorify God and build God-honoring families, businesses, and churches. This one-of-a-kind event transcends traditional boundaries, blending faith, culture, and a zest for life into a vibrant tapestry of ideas and interactions. Attendees from all walks of life gather here to engage in spirited discussions, celebrate shared values, and forge connections. From thought-provoking talks to uproarious laughter and CrossPolitic live shows, the Fight Laugh Feast Conference is a celebration of King Jesus. So buckle up as we Fight, Laugh & Feast, with beer & Psalms, our amazing lineup of speakers, our awesome vendors, and of course, our CrossPolitic Live Shows this october 11-14th. Visit fightlaughfeast.com to sign up today. That's fightlaughfeast.com.
https://www.foxnews.com/us/hurricane-idalia-landfall-florida-big-bend-category-3-tens-thousands-without-power
Hurricane Idalia makes landfall over Florida's Big Bend as a Category 3, hundreds of thousands without power
Hurricane Idalia made landfall over Florida's Gulf Coast as a "catastrophic" Category 3 storm Wednesday at 7:45 a.m., leaving hundreds of thousands of residents without power, officials said. It has since been downgraded to a Category 1 storm.
Idalia produced storm surges that reached several feet in some areas and brought damaging winds that howled up to 130 miles per hour at one point, according to the National Hurricane Center. It also caused flooding that completely encompassed Floridian roadways when it passed the Apalachee Bay and made landfall over Florida's Big Bend region, where the peninsula merges into the Panhandle.
Florida Gov. Ron DeSantis said he had directed law enforcement to "protect people's property.
"We are not going to tolerate any looting in the aftermath of a natural disaster. I mean it's just ridiculous that you would try to do something like that on the heels of an almost Category 4 hurricane hitting this community," DeSantis said.
He warned would-be looters that they could very well be walking into the home of a Second Amendment advocate.
"I've seen signs in people's yards, and I would say it's probably here, 'You Loot, We Shoot.' You never know what's behind that door," DeSantis said.
President Biden said he had spoken with the governors of states most impacted by the storm and vowed all federal assistance, including 1,500 personnel and 900 Coast Guard personnel throughout the southeast.
"Federal teams on the ground are going to continue to work with the first responders in Florida, Georgia, South Carolina, North Carolina, to get people to safety," Biden said.
At least two people have died in vehicle accidents since the storm made landfall, according to the Florida Highway Patrol. In Pasco County, a 40-year-old male lost control of his Ford Ranger and collided into a tree after driving too fast for the weather conditions, while a 59-year-old male died in Alachua County after his Toyota Tacoma plunged into a ditch and crashed into a nearby tree line, officials said.
The storm has been impacting Gainesville, Jacksonville, Tallahassee, Dowling Park, Lake City, Cedar Key, Chiefland, Newberry, Cross City, Apalachicola, and Perry. Its impact will also be felt in Orlando, Spring Hill, Bradenton, Bartow, Ocala, Lake Placid, Tampa, Sarasota, and Fort Myers.
By 11 a.m. Wednesday, the storm was a Category 1, with sustained winds of 90 mph, and its impact was being felt in Georgia, according to the National Oceanic and Atmospheric Administration (NOAA). Authorities continue to urge caution as, despite the slight decline, the storm remains dangerous and potentially life-threatening.
More than 340,000 Americans were without power as Idalia continued to blast Florida, Alabama, Georgia, and the Carolina, according to Fox Weather.
Further outages are expected as the storm continues pummeling the state as Idalia continues its northeast path to Georgia, the Carolinas and then the Atlantic Ocean.
The National Weather Service in Tallahassee had called Idalia "an unprecedented event" as it rapidly intensified over the warm waters of the Gulf of Mexico, and obtained Category 4 status within 24 hours. It downgraded slightly, officially becoming a high-end Category 3 storm when it made landfall, before downgrading again.
The NWS also said "no one" has witnessed a storm strengthen to such magnitude in such a short time.
https://hotair.com/karen-townsend/2023/08/30/trump-raises-more-than-20-million-in-august-n574661#google_vignette'
Trump raises more than $20 million in August
Donald Trump has raised $20M in August, according to his campaign. Since he was processed in the Fulton County jail and had a mugshot taken, he has raised more than $9.4M.
Despite the multiple indictments and the first-ever presidential mugshot, his contributors continue to send in campaign contributions. The campaign knew the mugshot would be a money-maker and fundraising came swiftly as soon as it was released. The angry scowl seen around the world is marketed on various merchandise on Trump's website. Trump haters are buying up merchandise on other sites and displaying their purchases on social media like it is a badge of honor.
"Since the moment my mugshot was plastered all over the Internet in a vicious attempt to wrongfully turn me into a criminal, our movement has RAISED $9 MILLION from grassroots patriots like YOU," Trump said in a statement released by the Trump Save America Joint Fundraising Committee on Tuesday.
"In fact, our campaign recorded its SINGLE GREATEST FUNDRAISING DAY EVER," the 77-year-old said of his Georgia surrender bounty.
His fundraising numbers spiked once the mugshot was released – which it immediately was – with supporters particularly pleased with the "never surrender" slogan. Critics noted the irony since the mugshot was taken when he surrendered to authorities to be processed at the jail.
The merchandise sales are impressive so far. The totals reported include 36,000 T-shirts, 24,000 coffee mugs and 8,600 posters. One thing that people talk about is the amount of money Trump is spending on legal bills and how a lot of those bills are being paid by campaign donations. It's being reported that the mugshot merchandise money is being earmarked by the campaign for political and campaign activities and won't be used to cover legal expense. Trump has spent tens of millions of dollars on legal bills since the season of indictments began. Altogether, Trump is facing 91 counts in all four indictments.
Trump raised $5M in the first 48 hours after the indictment in Manhattan and $10M over five days. After the indictment over the mishandling of classified documents, his campaign said it raised $6.6M. Campaign spokesperson Steven Cheung said that last Friday was the biggest fundraising day for the Trump campaign so far, with $4.18M raised on the day alone. Trump's mugshot was taken on Thursday night.
https://nypost.com/2023/08/29/chicago-tv-news-reporter-on-assignment-to-cover-thefts-robbed-of-video-camera-at-gunpoint/
Chicago TV news reporter on assignment to cover thefts robbed of video camera at gunpoint
A pair of Chicago journalists were held up at gunpoint by three men wearing ski masks — while covering the spate of robberies and carjackings that plagued the Windy City over the weekend, according to local police and news outlets.
A Univision Chicago reporter and a cameraman were set to do a live shot in the upscale Wicker Park section at around 4:30 a.m. on Monday when a black SUV and a gray sedan pulled up alongside them, according to the news site CWBChicago.
The two male journalists — one 28 and the other 42 — were standing near the 1200 block of North Milwaukee Ave. when "three unknown male offenders exited the vehicles, wearing ski masks and displaying firearms," Chicago police officials told The Post on Tuesday.
The thugs made off with their video camera before fleeing, cops said.
No injuries were reported and none of the suspects were in custody as of Tuesday afternoon, police said.
The brazen attack was part of a spree that involved at least 30 others who were either robbed or carjacked in the crime-ravaged city on Sunday afternoon and Monday morning, according to local authorities.
Luis Godinez, the vice president of Univision Chicago, circulated an email to employees confirming that their colleagues were the ones who were robbed, according to the news site Block Club Chicago.
The fact that the news personnel were now part of the story is "total irony," the Univision reporter, who wished to remain anonymous, told the site.
"As a journalist, you never want to be the story, right?" the reporter told Block Club Chicago.
Earlier this month, a Chicago TV news videographer had two of his phones robbed while preparing to cover a news conference on the city's West Side.
Law enforcement officials have yet to make arrests in those cases, according to reports.
https://beckernews.com/99-of-fatalities-in-united-states-not-primarily-caused-by-covid-19-cdc-data-51670/
99% of Fatalities in United States Not Primarily Caused by Covid-19: CDC Data
Despite the rampant fear being spread in the U.S. media about new Covid subvariants, data from the Centers for Disease Control and Infection cast doubt on any cause for alarm.
CDC statistics reveal that only 1% of all weekly deaths across the United States are attributed to Covid-19. For the week ending on August 19, the CDC's Covid dashboard reports 324 Covid-related fatalities, constituting a mere 1.7% of all deaths during that period.
Although the percentage of deaths due to Covid for the week ending August 19 reflects a minor uptick from the prior week, it is substantially lower than the pandemic's apex, when the CDC cited Covid as the cause of nearly one in three deaths.
Data highlights that states such as Washington, Florida, Tennessee, North Carolina, Maryland, and New York are experiencing higher rates of Covid-induced deaths. Maryland and Florida lead with 3.4%, while Washington, Tennessee, North Carolina, and New York are around the 2% mark. In contrast, more than 24 states recorded between one and nine Covid-related deaths for the week ending August 19.
Additional data points out that the fatality rate is marginally higher among women than men, and is most elevated among individuals aged 75 and older.
This latest data may offer some comfort at a time when anxieties are escalating across the country due to the spread of highly transmissible new Covid variants, resulting in an increase in infections and hospitalizations, as well as the reintroduction of certain Covid mandates.
Recently detected variants like EG.5 (Eris) and BA.8.26 (Pirola) have emerged in multiple countries, including the United States. These variants have undergone extensive mutations, making them potentially more adept at dodging vaccine and natural immunity, and contributing to a rise in infections.
Despite the appearance of these variants, infections in the U.S. have doubled and hospital admissions have risen for the fifth consecutive week, but they remain near historical lows. Importantly, Covid-related deaths have not surged.
Last week's concerns over a Covid resurgence led Hollywood's Lionsgate studio to enforce mask mandates at its Santa Monica, California offices. This decision was later rescinded within days. Similarly, Rutgers University in New Jersey and Morris Brown College in Georgia both declared that face coverings will be mandatory for faculty and students.
Medical facilities like Kaiser Permanente Hospital in Santa Rosa, California, and Upstate Community Hospital in Syracuse, New York, have reinstated mask requirements for healthcare workers, patients, and visitors.
In Kentucky, the Lee County School District shut down classes less than two weeks after reopening, as nearly 20% of its student body fell ill with a 'tripledemic' of illnesses, including Covid, strep throat, and influenza.
President Biden indicated on Friday that his administration will "likely" recommend another Covid booster vaccine soon. He also signed a proposal asking Congress for additional funds to modify Covid vaccines to better counteract the new variants. Nevertheless, public interest in booster shots remains tepid, with only 18% of eligible Americans having received any form of booster.
As pointed out by the Mayo Clinic, about 81% of Covid-related deaths in the United States have been in people age 65 and older, adding that "risks are even higher for older people when they have other health conditions."
Even when accounting for the difficulty in assessing cause of death in a predominately elderly population with comorbidities, the Covid-19 pandemic nonetheless had a 99.7% survival rate in the United States.