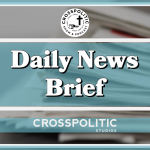 This is Garrison Hardie with your CrossPolitic Daily News Brief for Thursday, August 4th, 2022. Today in the news, a company is having to pay millions to employees over denying religious exemptions to COVID shots, big tech companies encourage their employees to do more than 15 minutes of real, actual work… Education Consulting Firm Seeks to Promote 'Queer Mathematics' in K-12 Schools, California to fund heroin injection sites in Los Angeles, Oakland, and San Francisco, and of course, my favorite topic… sports! All of this, on the Thursday edition of the Daily NewsBrief…
But first, FLF Conference Plug:
Folks, our upcoming Fight Laugh Feast Conference is just 2-months away from happening in Knoxville TN, October 6-8! Don't miss beer & psalms, our amazing lineup of speakers which includes George Gilder, Jared Longshore, Pastor Wilson, Dr. Ben Merkle, Pastor Toby, and we can't say yet…also dont miss our awesome vendors, meeting new friends, and stuff for the kids too…like jumpy castles and accidental infant baptisms! Also, did you know, you can save money, by signing up for a Club Membership. So, go to FightLaughFeast.com and sign up for a club membership and then register for the conference with that club discount. We can't wait to fellowship, sing Psalms, and celebrate God's goodness in Knoxville October 6-8.
https://www.washingtontimes.com/news/2022/aug/2/company-pay-millions-employees-over-denying-religi/
Company to pay millions to employees over denying religious exemptions to COVID-19 shots
A Chicago-area hospital system could pay more than $10 million for denying employees religious accommodations to the COVID-19 vaccine mandate, according to a proposed settlement negotiation pending before an Illinois federal court.
Lawyers for the plaintiffs claim this is the first class-action settlement over religious discrimination and the COVID-19 vaccines. A judge will hold a hearing to review the payout by NorthShore University HealthSystem later this month.
More than a dozen employees sued in October, alleging a violation of civil rights after the company refused to give religious accommodations to those seeking an opt-out from its COVID-19 vaccine mandate issued last year.
"Let this case be a warning to employers that violated Title VII. It is especially significant and gratifying that this first classwide COVID settlement protects health care workers. Health-care workers are heroes who daily give their lives to protect and treat their patients. They are needed now more than ever," said Mat Staver, founder of Liberty Counsel which represented the employees.
The class size, depending on the judge's decision to certify the class and approve the settlement, could be more than 500 employees who were either forced into taking the shot against their religious beliefs — or who refused to do so and were terminated.
More of this please!
https://nypost.com/2022/08/02/reality-bytes-coddled-tech-staffers-working-harder-is-job-no-1/
Reality 'bytes' coddled tech staffers: Working harder is job No. 1!
The world's tech titans are having panic attacks: It turns out that those Millennials and Gen-Z'ers who provide the infrastructure that make our Internet and social media work don't want to work too hard.
It's a rude awak­ening for the woke tech cognoscenti who long showered their beloved employees with lots of love — unlimited sick days, flexible work-from-home rules, ping-pong in the office, craft beers and the like.
When times were flush, it just wasn't that easy finding college grads who can write endless amounts of code and siphon all that user information from customer accounts that generated all those profits.
The tech gravy train is now suffering from a serious bout of recession-induced panic. Profits are falling and so are stock valuations of what was once the most valuable piece of Corporate America. The dudes who run our tech industry are looking for ways to make up the difference, discovering that those pampered brats are a pretty unproductive and increasingly unaffordable lot as times get tough.
That's why the normally flaccid Facebook founder and CEO Mark Zuckerberg showed a trace of testosterone-fueled anger during a company-wide town hall last month. An employee asked about extended vacation time as Face­book (now formally called Meta for reasons no one can fathom) was preparing to announce weak ads sales, lower earnings and cratering revenues.
"Realistically, there are probably a bunch of people at the company who shouldn't be here," Zuckerberg snapped.
Ouch.
Google CEO Sundar Pichai was a bit more diplomatic, in a techie and creative kind of way. He recently told employees he's creating a weird initiative called "Simplicity Sprint" to cut costs as Google suffers declines in profits and stock price. Employees are being asked how to make Google more productive because "it's clear we are facing a challenging macro environment with more uncertainty ahead," he said, according to CNBC.
It doesn't take much reading between the lines to conclude Pichai is basically asking employees how he and his team can weed out their unproductive colleagues.
Can't wait to hear their thoughts.
Man, it's almost like that's an ad for our friends over at RedBalloon… speaking of which! This ad is brought to you by… no not RedBalloon, they had an ad yesterday.
Boniface Woodworking LLC:
Boniface Woodworking exists for those who enjoy shopping with integrity; who want to buy handmade wooden furniture, gifts, and heirloom items that will last for generations. From dining tables and church pulpits to cigar humidors and everything in between; quality pieces that you can give your children's children, tie them to their roots, and transcend the basic function of whatever they are!
So, start voting with your dollars, and stop buying cheap crap from people who hate you! Visit www.bonifacewoodworking.com to see our gallery, learn our story, and submit your order for heirloom quality wood items.
https://www.breitbart.com/education/2022/08/02/education-consulting-firm-seeks-to-promote-queer-mathematics-in-k-12-schools/
Education Consulting Firm Seeks to Promote 'Queer Mathematics' in K-12 Schools
Brandie Waid, the director of The Queer Mathematics Teacher, laid out a plan for incorporating gender theory into math classes in a blog post on the Collaborative for Academic, Social, and Emotional Learning (CASEL) website. CASEL is sponsored by the Allstate Foundation.
The Queer Mathematics Teacher is an educational consulting firm that seeks to promote "queer mathematics" in American K-12 classrooms. The firm sells a book titled "Talking about LGBTQ+ Identity," which includes chapters titled "The Gender Unicorn," "How Do I Talk About LGBTQ+ Identity With My Students," and "What if I Receive Pushback?"
The firm also offers coaching services to teachers, which include curriculum design, district-wide audits, and professional development workshops. The site claims, "The ability to consider sexuality irrelevant in the mathematics context is a heteronormatively privileged position" and notes that some areas of expertise include "queer pedagogy," "teaching mathematics for social justice," "Fostering Students' Growth Mindset (While Advocating for Systemic Change)," and "humanizing Mathematics Education for LGBTQ+ Students."
Waid confesses in her article that math used to be a source of anxiety for her, which she links with her sexuality. She writes, "I associated mathematics with profound anxiety, intricately tied to my fears of confronting my queer identity."
The left-wing activist even goes so far as to suggest that activist educators should teach critical race theory and gender theory, even if it means breaking the law. Waid writes, "I implore my colleagues to ask: How can we work within (or outside) the confines of these laws to center Transformative SEL and student thriving in our teaching?"
One lesson, called "Progress Pride Flag," is intended for elementary school children. It showcases a pride flag featuring a triangle with black, brown, and other colors that represent the transgender movement and suggests that educator-activists ask students questions like "What does this symbol represent?"
Another lesson plan, intended for middle school students and titled "Gender Identity and Sexual Orientation by Generation," asks children to speculate as to why there has been an increase in LGBT self-identification among younger generations.
Well you heard it here first, Math is gay.
Moving on…
https://thepostmillennial.com/california-to-fund-heroin-injection-sites-in-los-angeles-oakland-and-san-francisco?utm_campaign=64487
California to fund heroin injection sites in Los Angeles, Oakland, and San Francisco
A bill passed Monday in the California legislature that would enable Los Angeles, Oakland, and San Francisco to open heroin injection sites for drug users is headed to Democrat Governor Gavin Newsom's desk for signature.
Senate Bill 57 by State Sen. Scott Wiener (D-San Francisco) passed in the Senate by a margin of 21-11. The bill had previously passed the Assembly in June on a 42-29 vote. Under the new legislation, the three cities would be allowed to establish the sites.
The legislature has previously approved legislation allowing safe heroin injection sites in 2018, but the bill was vetoed by then-Gov. Jerry Brown, a Democrat.
The bill would authorize cities and counties to establish "safe consumption sites" where addicts could use illegal narcotics under supervision. Those accessing the "hygienic space supervised by trained staff" could consume pre-obtained drugs. Program staff would be trained to administer an "opioid antagonist" in the event of an overdose.
Under federal law, it is currently a felony to operate a space to distribute or use a controlled substance. President Joe Biden co-authored the federal statute during his time as a senator.
https://twitter.com/i/status/1420619575599669248 – Play Video
Of course, now Biden is changing his tune on this topic… I wonder why? It couldn't have anything to do with his son could it?
If signed by Newsom, the pilot program would operate for five years, ending in 2028.
In a written statement, Wiener claimed the sites are needed due to rising "dramatic and preventable" fatal overdoses in San Francisco and across the country. 711 people died from overdoses in San Francisco in 2020, followed by another 640 deaths in 2021. California saw over 5,500 deaths related to opioid overdoses in 2020, almost a 70 percent increase from 2019.
Wiener said, "Safe consumption sites are a proven model to help people avoid overdose deaths, reduce HIV and hepatitis transmission, reduce syringe litter, and help people access treatment. This legislation isn't about whether we want people to use drugs. Rather, it's an acknowledgment that people are using drugs, and our choice is whether we want to make every effort to help them survive and get healthy."
However, according to recent studies and data, these sites do the opposite.
A 2020 study from the Alberta government on the province's Safe Consumption Sites (SCS) f0und sites result in increased calls to police, lack of response from police, increased needle debris on public and private property, increased crime, increased overdose deaths, and minimal amounts of users seeking treatment.
Last December, former New York City Democrat Mayor Bill de Blasio and the New York City Department of Health ignored federal law and announced the opening of legalized heroin injection sites.
In 2021, the Rhode Island General Assembly passed legislation aimed at opening the first heroin injection sites in the US.
Weiner has backed legislation to put biological males in women's prisons, reduce penalties for some sex offenders, and create a "gender identity" sanctuary for underage children across the country to seek medicalized gender treatment without parental consent.
This is the kind of evil we're dealing with in our government ladies and gentleman.
Now, it's time for the topic that I love, sports! Though, this isn't really sports related… this has to do with a former football player named Herschel Walker, who is running for the Georgia Senate! So sort of sports related…
https://thepoliticalinsider.com/herschel-walker-tells-msnbc-they-need-jesus-after-contributor-says-walker-is-what-gop-wants-from-their-negroes/?utm_source=home-featured
Herschel Walker Tells MSNBC They 'Need Jesus' After Contributor Says Walker is 'What GOP Wants From Their Negroes'
Georgia Senate candidate Herschel Walker slammed MSNBC and suggested they "need Jesus" after political pundit Elie Mystal called him "clearly unintelligent" and "what Republicans want from their negroes."
Mystal's comments came during a weekend segment on an edition of The Cross Connection on MSNBC, with host Tiffany Cross.
Elie Mystal: GOP Likes Herschel Walker Because He Does What He's Told! Mitch McConnell Pulls Strings– Play 0:00 – 2:23
Elie Mystal's racist diatribe against Herschel Walker is particularly ignorant when one considers his entire gimmick is to parrot DNC talking points on a pro-DNC network.
Ignorance and doing as he's expected is his entire game.
Walker responded to the comments by suggesting the network find Jesus.
https://twitter.com/i/status/1554169664313360385 – Play Video
Touchdown mr. Walker… Touchdown. I'll leave it at that.
Thanks for tuning into this episode of the CrossPolitic Daily News Brief. If you liked the show, hit that share button for me. If you want to sign up for our conference, a club membership, or our magazine, you can do all of that at fightlaughfeast.com. And as always, if you'd like to send me a news story, ask me about our conference, or about becoming a corporate sponsor of CrossPolitic, email me at garrison@fightlaughfeast.com. For CrossPolitic News, I'm Garrison Hardie. Have a great day, and Lord bless.