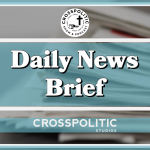 This is Garrison Hardie with your CrossPolitic Daily Newsbrief for Thursday, December 15th, 2022. Before we get to the news today… You guys know Christmas is a coming right? Maybe you should get someone you love a Fight Laugh Feast Club Membership!
Club Membership Plug:
Its Christmas, join our club. During December, the first 75 people to upgrade or join our Gold or Platinum club membership will get our 32OZ Kodiak Christmas water bottle and a free subscription to our Fight Laugh Feast Magazine. By joining the Fight Laugh Feast Army, not only will you be aiding in our fight to take down secular & legacy media; but you'll also get access to content placed in our Club Portal, such as past shows, all of our conference talks, and EXCLUSIVE content for club members that you won't be able to find anywhere else. Lastly, you'll also get discounts for our conferences… We don't have the big money of woke media, and so our club members are crucial in this fight. So, join the movement, join our army, and you can sign up now at fightlaughfeast.com.
https://www.cnbc.com/2022/12/14/fed-rate-decision-december-2022.html
Fed raises interest rates half a point to highest level in 15 years
The Federal Reserve on Wednesday raised its benchmark interest rate to the highest level in 15 years, indicating the fight against inflation is not over despite some promising signs lately.
Keeping with expectations, the rate-setting Federal Open Market Committee voted to boost the overnight borrowing rate half a percentage point, taking it to a targeted range between 4.25% and 4.5%. The increase broke a string of four straight three-quarter point hikes, the most aggressive policy moves since the early 1980s.
Along with the increase came an indication that officials expect to keep rates higher through next year, with no reductions until 2024. The expected "terminal rate," or point where officials expect to end the rate hikes, was put at 5.1%, according to the FOMC's "dot plot" of individual members' expectations.
Investors initially reacted negatively to the expectation that rates may stay higher for longer, and stocks gave up earlier gains. During a news conference, Chairman Jerome Powell said it was important to keep up the fight against inflation so that the expectation of higher prices does not become entrenched.
"Inflation data received so far for October and November show a welcome reduction in the monthly pace of price increases," the chair said at his post-meeting news conference. "But it will take substantially more evidence to have confidence that inflation is on a sustained downward" path.
The new level marks the highest the fed funds rate has been since December 2007, just ahead of the global financial crisis and as the Fed was loosening policy aggressively to combat what would turn into the worst economic downturn since the Great Depression.
This time around, the Fed is raising rates into what is expected to be a moribund economy in 2023.
Members penciled in increases for the funds rate until it hits a median level of 5.1% next year, equivalent to a target range of 5%-5.25. At that point, officials are likely to pause to allow the impact of monetary policy tightening to make its way through the economy.
The consensus then pointed to a full percentage point worth of rate cuts in 2024, taking the funds rate to 4.1% by the end of that year. That is followed by another percentage point of cuts in 2025 to a rate of 3.1%, before the benchmark settles into a longer-run neutral level of 2.5%.
However, there was a fairly wide dispersion in the outlook for future years, indicating that members are uncertain about what is ahead for an economy dealing with the worst inflation it has seen since the early 1980s.
The newest dot plot featured multiple members seeing rates heading considerably higher than the median point for 2023 and 2024. For 2023, seven of the 19 committee members – voters and nonvoters included – saw rates rising above 5.25%. Similarly, there were seven members who saw rates higher than the median 4.1% in 2024.
The FOMC policy statement, approved unanimously, was virtually unchanged from November's meeting. Some observers had expected the Fed to alter language that it sees "ongoing increases" ahead to something less committal, but that phrase remained in the statement.
Fed officials believe raising rates helps take money out the economy, reducing demand and ultimately pulling prices lower after inflation spiked to its highest level in more than 40 years.
After spending much of 2021 dismissing the price increases as "transitory," the Fed started raising interest rates in March of this year, first tentatively and then more aggressively, with the previous four increases in 0.75 percentage point increments. Prior to this year, the Fed had not raised rates more than a quarter point at a time in 22 years.
The Fed also has been engaged in "quantitative tightening," a process in which it is allowing proceeds from maturing bonds to roll off its balance sheet each month rather than reinvesting them.
A capped total of $95 billion is being allowed to run off each month, resulting in a $332 billion decline in the balance sheet since early June. The balance sheet now stands at $8.63 trillion.
https://www.kron4.com/news/bay-area/david-depape-in-court-today-live-updates/
David DePape case to move forward to trial, judge rules
David DePape's case will move forward to trial and the alleged Paul Pelosi attacker will be tried on all charges, a San Francisco Superior Court judge ruled on Wednesday. DePape, who appeared in court wearing an orange jumpsuit Wednesday, was arrested on Oct. 28 after allegedly attacking Speaker Nancy Pelosi's husband with a hammer inside their Pacific Heights home.
Superior Court Judge Stephen Murphy just ruled that the San Francisco District Attorney's Office has enough evidence against David DePape to move the case forward to trial on all charges.
DePape's defense attorney never disputed that his client was in fact the person who broke into the Pelosi's home and beat Paul Pelosi with a hammer. DePape made a full confession to police during interrogations and video of the interrogation was played in court.
The most serious charge is premeditated attempted murder.
Defense attorney Adam Lipson tried to argue that the attack was not premeditated, nor attempted murder.
The defense pointed to DePape's statements to Mr. Pelosi and police, in which he said he was targeting Nancy Pelosi, not Paul Pelosi, and intended to break Nancy's kneecaps – not kill her.
However, Judge Murphy disagreed with the defense.
San Francisco Police Department Lt. Carla Hurley said when she interrogated David DePape, he revealed that he had other political targets. DePape said he planned to kidnap Hunter Biden, who lives in Malibu, California, so he could talk to Hunter about "all the corruption" in Washington, Hurley testified.
DePape said he planned to travel to Los Angeles to confront Biden at home. (As the son of President Joe Biden, Hunter Biden is protected by Secret Service agents at his Malibu mansion.)
DePape also said he planned to target California Gov. Gavin Newsom, Hurley testified.
DePape told Hurley that he was on a "suicide mission" and would do whatever it took to stop Congress' "corruption and lies." Hurley said, in addition to Newsom and Hunter Biden, DePape also had two more targets:
Actor Tom Hanks
Feminist author Gale Breen
https://thepostmillennial.com/breaking-washington-post-announces-layoffs-in-early-2023?utm_campaign=64487
Washington Post announces layoffs in early 2023
The Washington Post will be making layoffs early in the coming year, said CEO Fred Ryan on Wednesday morning.
According to several staffers, Ryan announced at a company town hall that there will be layoffs at the paper early next year, reported Max Tani of Semafor.
https://rumble.com/v20nj6a-washington-post-announces-layoffs-in-early-2023.html – Play Video
As seen on video footage captured by a member of the town hall audience, the crowd became upset at their boss's announcement.
"What are you going to do to protect people's jobs? Are they going to be treated like the magazine staffers were?" one employee can be heard asking as Ryan began to make his exit while other personnel also attempted to get answers.
Last month, the Post ended their Sunday print magazine and laid off its employees, according to the Washingtonian.
The news of the downsizing comes as the Post faces backlash for the characterization of journalists Bari Weiss and Matt Taibbi as "conservative."
Taibbi, who previously worked for Rolling Stone, and Weiss, who was an editor at The New York Times, have both shared many left-leaning views in the past, however, they both are now under fire from the left for their documentation of the "Twitter Files," the internal documents shared by Twitter owner Elon Musk showing the tech giant taking massive steps to suppress and censor conservatives and politically-inconvenient news, such as the Hunter Biden laptop story.
In a now-edited article, The Post labeled the two as "conservative journalists" for reporting on the "Twitter Files," reports the Daily Caller.
https://thepostmillennial.com/pedophile-who-performed-sex-act-to-12-year-old-girl-online-spared-prison?utm_campaign=64487
Pedophile spared prison after judge says web chat with 12-year-old girl 'motivated by boredom'
A British man who engaged in a number of graphic online chats with a girl he believed to be 12 years old has been spared jail time, the Daily Mail reported.
The judge presiding over the case argued that the man was "motivated by boredom rather than sexual interest in children" and that his "shame and remorse seem genuine."
Andrew Teale, 43, began his chat innocently enough, but the conversation quickly turned sexual, with the married father eventually performing an act over Skype.
I won't read exactly what was said, as it is quite graphic in nature… but I'll just say it was giving me Chris Hanson with to catch a predator vibes.
Unbeknownst to Teale, he was saying all of these things to an undercover police officer, which ultimately resulted in his arrest in January.
He admitted to attempting to engage in sexual activity in the presence of a child and attempting to engage in sexual communications with a child.
The judge gave him a 12-month suspended jail sentence, meaning that he doesn't have to physically go to prison so long as certain requirements are met, including 150 hours of community service.
During the sentencing, his previous good character, job loss, as well as the overall impact on his family life were also noted, although these comments were criticized as being an "insult to injury" by a former head of the national online police child protection unit.
Formerly the Head of Innovation at British investment firm AJ Bell, Teale resigned from his position in July without informing the company of the criminal charges he was facing.
Teale's lawyer says that he put a stop to his behavior and sought help.
Dime Payments
Dime Payments is a Christian owned processing payment business. Every business needs a payment process system, so please go to https://dimepayments.com/flf and sign your business up. Working with them supports us. They wont cancel you, like Stripe canceled President Trump. They wont cancel you, like Mailchimp canceled the Babylon Bee. Check them out. At least have a phone call and tell them that CrossPolitic sent you. Go to https://dimepayments.com/flf.
Now finally, it's time for my favorite topic… sports!
https://www.breitbart.com/sports/2022/12/13/mississippi-state-football-coach-mike-leach-dies-at-61/
Mississippi State football Coach Mike Leach Dies at 61
Mike Leach, the gruff, pioneering and unfiltered college football coach who helped revolutionize the passing game with the Air Raid offense, has died following complications from a heart condition, Mississippi State said Tuesday. He was 61.
Leach, who was in his third season as head coach at Mississippi State, fell ill Sunday at his home in Starkville, Mississippi. He was treated at a local hospital before being airlifted to University of Mississippi Medical Center in Jackson, about 120 miles (200 kilometers) away.
"Mike was a giving and attentive husband, father and grandfather. He was able to participate in organ donation at UMMC as a final act of charity," the family said in a statement issued by Mississippi State. "We are supported and uplifted by the outpouring of love and prayers from family, friends, Mississippi State University, the hospital staff, and football fans around the world. Thank you for sharing in the joy of our beloved husband and father's life."
Leach fought through a bout with pneumonia late in this season, coughing uncontrollably at times during news conferences, but seemed to be improving, according to those who worked with him.
News of him falling gravely ill swept through college football the past few days and left many who knew him stunned, hoping and praying for Leach's recovery under grim circumstances.
His impact on college football over the last two decades runs deep and will continue for years to come.
Leach was known for his pass-happy offenses, wide-ranging interests — he wrote a book about Native American leader Geronimo, had a passion for pirates, a taught a class about insurgent warfare — and rambling, off-the-cuff news conferences.
Leach's teams were consistent winners at programs where success did not come easy. In 21 seasons as a head coach at Texas Tech, Washington State and Mississippi State, Leach went 158-107. And his quarterbacks put up massive passing statistics, running a relatively simple offense called the Air Raid that he did not invent but certainly mastered.
An interview with Leach was as likely to veer off into politics, wedding planning or hypothetical mascot fights as it was to stick to football. He considered Donald Trump a friend before the billionaire businessman ran for president and then campaigned for him in 2016.
He traveled all over the world and his curiosity knew no bounds. He most appreciated those who stepped outside of their expertise.
As much as Leach enjoyed digging into topics other than football, he was excellent at the Xs and Os.
Six of the 20 best passing seasons in major college football history were by quarterbacks who played for Leach, including four of the top six.
Calling plays from a folded piece of paper smaller than an index card, Leach turned passers such as B.J. Symons (448.7 yards per game), Graham Harrell (438.8), Connor Halliday (430.3) and Anthony Gordon (429.2) into record-setters and Heisman Trophy contenders.
I covered this one due to Mike Leach's time at WSU, where he spent 8 successful seasons at the helm of my father's alma mater. We shared great memories watching his cougars together. Rest in peace Leach, rest in peace.