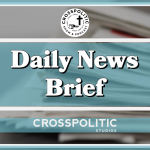 More Americans Left Religion During the Pandemic
Survey shows the percentage of Americans with no religious affiliation rose to 29%, while Christians declined to 63%
https://feedpress.me/link/20202/14951408/more-americans-left-religion-during-the-pandemic-11639494003
Wholesale prices measure rose 9.6% in November from a year ago, the fastest pace on record
https://www.cnbc.com/2021/12/14/wholesale-prices-measure-rises-9point6percent-in-november-from-a-year-ago-the-fastest-pace-on-record.html
World's Worst Bank Robber Is Apprehended
Suspect deposited stolen money in ATM outside branch, cops say
http://www.thesmokinggun.com/documents/stupid/delaware-bank-robber-402618
DNB AR500 Armor:
The Mission of Armored Republic is to Honor Christ by equipping Free Men with Tools of Liberty necessary to preserve God-given rights. In the Armored Republic there is no King but Christ. They are Free Craftsmen.
Body Armor is a Tool of Liberty.
THey create Tools of Liberty.
Free men must remain ever vigilant against tyranny wherever it appears. God has given us the tools of liberty needed to defend the rights He bestowed to us. Armored Republic is honored to offer you those Tools. Visit them at www.ar500armor.com.
Are Flamin' Hot Cheetos being discontinued?
https://www.the-sun.com/news/4265080/are-flamin-hot-cheetos-discontinued/
'Shameful': Auschwitz-Style Banner at Polish COVID Vaccine Protest Condemned
https://www.usnews.com/news/world/articles/2021-12-15/shameful-auschwitz-style-banner-at-polish-covid-vaccine-protest-condemned
Twitter to Penalize Users Who Claim Vaccinated People Can Spread Covid-19
DeSantis Unveils 'Stop W.O.K.E. Act'