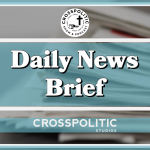 This is Garrison Hardie with your CrossPolitic Daily News Brief for Thursday, December 1st, 2022. Happy Friday Jr. everyone! Having a good week thus far I hope… hey, question for ya…
Dropwave
Do you have a podcast, or thinking about starting one? Does your church have a podcast feed for sermons? The Dropwave.io is for you. Cancel culture is like walking on a thin glass bridge over the Grand Canyon. Every step you take could get you killed, I mean canceled. Since the beginning CrossPolitic has been working on being antifragile, so no matter what happens, our content can still be delivered to your tv and to your podcast. This past year, the Waterboy and his friend Jeremi, have been working on building a podcast hosting solution for rowdy platforms like CrossPolitic, so that you can be confident your podcast will never fall through that glass bridge. Dropwave offers seamless onboarding for shows that have been around for years to easy to use solutions for starting your own podcast. Dropwave will track all your show's downloads by city, state, and country, and it offers network and enterprise packages for solutions like the Fight Laugh Feast Network. Free to speak, Free to podcast, free to start your journey now at www.Dropwave.io.
https://www.foxbusiness.com/politics/house-passes-biden-backed-bill-avert-rail-strike
House passes Biden-backed bill to avert rail strike
The U.S. House of Representatives passed legislation on Wednesday to avert a national railroad strike, but questions remain about whether the effort can clear the 50-50 Senate.
By an 290-137 vote, House lawmakers voted to pass legislation blocking nearly 100,000 railroad workers from striking in early December. Economists and the White House have warned that a railroad strike could paralyze the nation's economy ahead of the holiday season.
"We must act to prevent a catastrophic strike that would touch the lives of nearly every family," said House Speaker Nancy Pelosi, D-Calif.
The legislation gives unionized train engineers and conductors three unpaid sick days a year for medical appointments, provided employers are given at least 30 days' notice about the time off. It's based on an agreement that railroad companies and transportation unions agreed to in September. While eight unions have already adopted the agreement, four have not.
The standoff between the holdout unions and railroad companies has failed to resolve itself even as White House officials have become increasingly involved. President Biden said the failure to achieve a breakthrough forced him to ask Congress to intervene and prevent a strike.
Progressives have lambasted Biden's decision to ask Congress to intervene. Far-left lawmakers, like Sen. Bernie Sanders, I-Vt., say Biden's request for Congress to approve legislation blocking nearly 100,000 railroad workers from striking was inappropriate given the unions were still pushing for broader paid sick leave.
The House on Wednesday also passed a separate bill 221-207 giving railroad workers an additional seven days of sick leave. It remains to be seen if it will be included in the version the 50-50 divided Senate will take up.
Within the upper chamber, at least 10 Republican votes are needed for the legislation to overcome a filibuster, provided all 50 Democrats fall in line.
Let's keep it within the Biden administration shall we?
https://www.foxnews.com/politics/biden-non-binary-nuclear-official-charged-stealing-womans-luggage-airport
Non-binary Biden nuclear official charged with stealing woman's luggage at airport
Sam Brinton, a senior Energy Department (DOE) official, was charged with stealing a traveler's luggage in the Minneapolis airport in September, shortly before quietly taking a leave of absence.
Brinton — who serves as the DOE's deputy assistant secretary for spent fuel and waste disposition — allegedly took a Vera Bradley suitcase worth $2,325 from the luggage carousel at the Minneapolis St. Paul Airport (MSP) on Sept. 16, according to a criminal complaint filed on Oct. 26 in Minnesota state court and obtained by Fox News Digital. Brinton had traveled from Washington, D.C., to MSP that day.
After the suitcase's owner alerted police, officers reviewed video surveillance of the carousel and identified Brinton taking the luggage before removing its tag identifying the owner, the court filings stated. Law enforcement observed Brinton using the luggage during at least two other trips to Washington, D.C., on Sept. 18 and Oct. 9.
Then, on Oct. 9, Brinton denied stealing anything when a police officer called to discuss the incident. Brinton confirmed still possessing the suitcase.
"If I had taken the wrong bag, I am happy to return it, but I don't have any clothes for another individual," Brinton told the officer. "That was my clothes when I opened the bag."
Two hours after the phone call, Brinton called the officer back and apologized for not being "completely honest." But Brinton said it was a mistake and blamed being tired for taking the wrong bag at the carousel.
"DEFENDANT said when they opened the bag at the hotel, they realized it was not theirs," the court filings stated. "DEFENDANT got nervous people would think they stole the bag and did not know what to do. DEFENDANT stated they left the clothes from the bag inside the drawers in the hotel room."
Brinton was ultimately charged with felony theft of a movable property without consent, a charge that could result in a five-year sentence, $10,000 fine or both.
https://www.breitbart.com/politics/2022/11/28/watch-kanye-canceled-by-kanye-walks-out-of-tim-pool-interview-when-asked-to-defend-his-antisemitism/
Kanye Canceled — by Kanye; Walks Out of Tim Pool Interview When Asked to Defend His Antisemitism
Kanye West, the rapper and entrepreneur who has become infamous for his antisemitic views, walked out of an interview Monday evening with podcaster Tim Pool the moment the host mildly challenged his views on Jews.
https://twitter.com/i/status/1597401435549110272 – Play Video
The interview, which was streamed live on YouTube, included Holocaust denier Nick Fuentes and Milo Yiannopoulous, who has recently joined West's entourage and nascent 2024 presidential campaign.
Pool allowed West to express his views, largely uninterrupted, for the first fifteen minutes of the broadcast. He claimed that his recent, controversial dinner with former President Donald Trump had been scheduled last month — apparently before West began making antisemitic comments such as the infamous "death con" tweet. The dinner was postponed until after the midterm elections; West confirmed that Trump did not know Fuentes.
West claimed that it was "beautiful" that people could see how Jews — whom he referred to as "Zionists" at one stage — cancel people.
Luke Rudkowski, one of Pool's co-hosts, said that West said as he was leaving: "You don't believe in my truths."
https://twitter.com/i/status/1597406857185832961 – Play Video
News out of England…
https://www.newsmax.com/world/globaltalk/britain-census-religion/2022/11/29/id/1098318/
Census: Christians a Minority in England; Non-religious Grow
Fewer than half the people in England and Wales consider themselves Christian, according to the most recent census — the first time the country's official religion has been followed by a minority of the population.
Britain has become less religious — and less white — in the decade since the last census, figures from the 2021 census released Tuesday by the Office for National Statistics revealed.
Some 46.2% of the population of England and Wales described themselves as Christian on the day of the 2021 census, down from 59.3% a decade earlier. The Muslim population grew from 4.9% to 6.5% of the population, while 1.7% identified as Hindu, up from 1.5%.
More than 1 in 3 people — 37% — said they had no religion, up from 25% in 2011.
The other parts of the U.K., Scotland and Northern Ireland, report their census results separately.
Secularism campaigners said the shift should trigger a rethink of the way religion is entrenched in British society. The U.K. has state-funded Church of England schools, Anglican bishops sit in Parliament's upper chamber, and the monarch is "defender of the faith" and supreme governor of the church.
Andrew Copson, chief executive of the charity Humanists U.K., said "the dramatic growth of the non-religious" had made the U.K. "almost certainly one of the least religious countries on Earth."
Archbishop of York Stephen Cottrell, one of the most senior clerics in the Church of England, said the data was "not a great surprise," but was a challenge to Christians to work harder to promote their faith.
"We have left behind the era when many people almost automatically identified as Christian, but other surveys consistently show how the same people still seek spiritual truth and wisdom and a set of values to live by," he said.
Almost 82% of people in England and Wales identified as white in the census, down from 86% in 2011. Some 9% said they were Asian, 4% Black and 3% from "mixed or multiple" ethnic backgrounds, while 2% identified with another ethnic group.
Redballoon
Not so long ago, the American dream was alive and well. Employees who worked hard were rewarded, and employers looked for people who could do the job, not for people who had the right political views. RedBalloon.work is a job site designed to get us back to what made American businesses successful: free speech, hard work, and having fun. If you are a free speech employer who wants to hire employees who focus on their work and not identity politics, then post a job on RedBalloon. If you are an employee who is being censored at work or is being forced to comply with the current zeitgeist, post your resume on RedBalloon and look for a new job. redballoon.work, the job site where free speech is still alive!
https://www.boundingintosports.com/2022/11/espn-host-stephen-a-smith-apologizes-for-using-the-term-homosexual-while-discussing-profanity-laced-lamar-jackson-tweet/
ESPN Host Stephen A. Smith Apologizes For Using The Term "Homosexual" While Discussing Profanity-Laced Lamar Jackson Tweet
Jackson took offense at Twitter user CastleWillKill sharing his opinion that the Baltimore Ravens should let him walk rather than pay him $250 million.
CastleWillKill tweeted, "When someone is asking for over 250 mil guaranteed like Lamar Jackson … games like this should not come to Justin Tucker. Let Lamar walk and spend that money on a well rounded team."
Lamar Jackson responded with a profanity laced tweet, to which Stephen A. Smith responded to, like so:
https://youtu.be/CueNCRKO3hY – Play 4:40 – 5:23
As reported by Awful Announcing, Smith would later apologize for using the term "homosexual" while discussing Jackson's tweet.
https://streamable.com/5ez4yw – Play Video
There is absolutely no reason to apologize for using the term homosexual over gay. In fact, Smith should have used the word Sodomite instead.