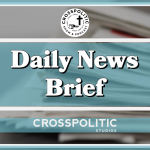 Dr. Anthony Fauci says we should do 8 things to deal with the Omicron variant
Dr. Anthony Fauci listed eight steps that people should take in their daily lives to address the Omicron variant.
https://news.yahoo.com/dr-anthony-fauci-says-8-203550053.html?guccounter=1
Mayor de Blasio Announces Nation's First Overdose Prevention Center Services to Open in New York Cit
https://www1.nyc.gov/office-of-the-mayor/news/793-21/mayor-de-blasio-nation-s-first-overdose-prevention-center-services-open-new-york
LeBron James will miss Tuesday's game against the Kings.
https://www.wsj.com/articles/lebron-james-covid-protocol-11638326350
In an effort to combat the spike in retail "smash-mob" robberies plaguing the Bay Area, the San Jose city council has approved spending a portion of federal COVID-19 relief money on license plate readers (LPRs).
The Supreme Court's conservatives sounded ready on Wednesday to severely restrict a woman's right to choose abortion and possibly overturn Roe vs. Wade entirely.