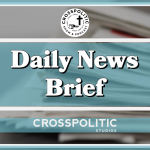 This is Garrison Hardie with your CrossPolitic Daily Newsbrief for Thursday, December 22nd, 2022. Before we get to the news today… a programming reminder, the wives show will take place this Friday! So stay tuned, it's a fun one.
You guys know Christmas is a coming right? Maybe you should get someone you love a Fight Laugh Feast Club Membership!
Club Membership Plug:
Its Christmas, join our club. During December, the first 75 people to upgrade or join our Gold or Platinum club membership will get our 32OZ Kodiak Christmas water bottle and a free subscription to our Fight Laugh Feast Magazine. By joining the Fight Laugh Feast Army, not only will you be aiding in our fight to take down secular & legacy media; but you'll also get access to content placed in our Club Portal, such as past shows, all of our conference talks, and EXCLUSIVE content for club members that you won't be able to find anywhere else. Lastly, you'll also get discounts for our conferences… We don't have the big money of woke media, and so our club members are crucial in this fight. So, join the movement, join our army, and you can sign up now at fightlaughfeast.com.
https://www.foxnews.com/politics/biden-admin-asks-supreme-court-end-title-42-short-delay-lifting-restrictions
Biden admin asks Supreme Court to end Title 42, but with short delay on lifting restrictions
The Biden administration on Tuesday asked the U.S. Supreme Court to let the pandemic-era policy Title 42 come to end, but requested a brief delay until at least after Christmas.
In a filing on Tuesday, the administration acknowledged to the Supreme Court that the end of Title 42 will likely lead to "disruption and a temporary increase in unlawful border crossings" but asked the court to reject efforts by a group of conservative-leaning states to keep Title 42 in place.
Migrants have been denied requests to seek asylum under U.S. and international law 2.5 million times since March 2020 on grounds of preventing the spread of COVID-19 under a public-health rule called Title 42.
https://www.foxnews.com/politics/texas-gov-abbott-polar-vortex-threatens-migrants-bidens-border-disaster
Texas Gov. Abbott warns polar vortex threatens migrants due to Biden's border 'disaster'
Texas Gov. Greg Abbott told President Joe Biden on Tuesday that his "disaster" immigration policy is putting lives at risk as a polar vortex expected this week will create bitter conditions for the thousands of illegal immigrants who continue to trek into the U.S.
"With cold temperatures gripping Texas, your inaction to secure the southern border is putting the lives of migrants at risk, particularly in the City of El Paso," the Republican governor told Biden in a letter. "Your policies will leave many people in the bitter, dangerous cold as a polar vortex moves into Texas."
"This terrible crisis for border communities in Texas is a catastrophe of your own making," Abbott wrote.
The governor said Biden has failed in his constitutional duty to protect the border, which disproportionately impacts Texas.
Abbott warned that the situation would only get worse if the Title 42 policy ends this week. That pandemic-era policy allows border agents to turn migrants away at the border, and ending it could lead to a surge of migrants at the southern border just as Texas faces some of its coldest temperatures.
The Title 42 policy was set to expire Wednesday, but an appeal is being heard by the Supreme Court, which could decide as early as Tuesday evening. The Department of Homeland Security projects between 9,000 and 15,000 migrant encounters a day once the policy ends, which would add to the already highest annual total of encounters in U.S. history.
White House press secretary Karine Jean-Pierre insisted an end to Title 42 would not mean the border is open. To suggest so, she said, is misinformation and "doing the work of these smugglers." Vice President Kamala Harris, who was tasked with identifying the root cause of mass migration to the southern border, has insisted in recent months that the border is secure.
Abbott said he would continue to work with state-based officials to stem the tide of illegal immigration.
https://www.foxnews.com/politics/white-house-confirms-zelenskyys-travel-us-ahead-massive-bill-funding-ukrainian-military
White House confirms Zelenskyy's travel to US ahead of massive bill funding Ukrainian military
The Biden administration confirmed early Wednesday morning Ukrainian President Volodymyr Zelenskyy is on his way to the U.S. to discuss more assistance for the country during its ongoing conflict with Russia.
In addition to meeting with President Biden, Zelenskyy is slated to address Congress Wednesday afternoon as lawmakers plan to shell out more money for Ukraine in its latest $1.7 trillion spending bill. The budget includes more than $45 billion in new military and humanitarian aid for his country.
A press statement from the Biden admin Wednesday morning said Zelenskyy's address to a joint meeting of Congress will demonstrate the "strong, bipartisan support for Ukraine."
In its official statement, the White House added President Biden has been rallying the world to support Ukraine since the Russian invasion in February.
"Three hundred days ago, Russia launched a brutal assault against Ukraine. In response, President Biden rallied the world to support the people of Ukraine as they defend their sovereignty and territorial integrity," the statement read. "During the visit, President Biden will announce a significant new package of security assistance to help Ukraine defend itself against Russian aggression."
Extensive security measures were already underway in the nation's capital early Wednesday morning as the District prepared for the high-profile visit.
As early as 4:30 a.m., Capitol Police cruisers could be seen lined up outside the Capitol building along with cement barricades blocking roads leading up to the building.
On behalf of bipartisan Congressional leaders, Speaker of the House Nancy Pelosi, D-Calif., sent a letter to Zelenskyy encouraging his visit to Washington, D.C., in a letter explaining the leaders' "immense respect and admiration" for the Ukrainian president.
The pending aid would be the U.S.' largest amount of financial assistance to Ukraine since the war started and is intended to support the fight against Russia for months to come, according to the Associated Press.
Congress is also expected to announce a major package of $1.8 billion in military aid on Wednesday, which will include a Patriot missile battery and precision guided bombs for Ukraine's fighter jets.
U.S. officials said the package will include about $1 billion in weapons from Pentagon stocks and $800 million in funding through the Ukraine Security Assistance Initiative, according to the AP.
Though the massive spending bill is expected to receive support from many Republicans in the House and Senate, not all are on board with the additional funding. Some GOP lawmakers argued the new round of aid, which will bring the U.S. commitment to the war to over $110 billion, is improper without greater accountability.
https://www.theepochtimes.com/us-senate-advances-1-66-trillion-government-funding-bill_4936469.html?utm_source=partner&utm_campaign=BonginoReport
US Senate Advances $1.66 Trillion Government-Funding Bill
A $1.66 trillion government spending bill drew overwhelming bipartisan support in the U.S. Senate on Tuesday as lawmakers steered it toward passage before a weekend deadline to avoid a partial shutdown of federal agencies.
Democratic and Republican negotiators agreed early Tuesday morning on the sweeping bill to fund the federal government through the end of its fiscal year on Sept. 30, raising funding from about $1.5 trillion in the last fiscal year.
The Senate voted 70-25 to proceed to debate of the bill, with some Republican senators hoping to offer amendments.
A handful of conservative Senate Republicans on Tuesday said they objected to the bill, but would not try to stop its passage.
The bill includes other measures agreed on by negotiators from both parties, including a ban on the use of TikTok on government-owned devices and clarification of Congress's role in certifying elections, an attempt to avoid a repeat of the U.S. Capitol breach on Jan. 6, 2021.
Senate and House leaders aim to pass the 4,155-page bill and send it to Democratic President Joe Biden for signing by the end of the week to ensure there are no interruptions to the government's activities.
The Tuesday vote was the first in a series of steps clearing the way for passage by Friday.
Failure to pass legislation in time could bring a partial government shutdown beginning Saturday, just before Christmas, and possibly lead into a months-long standoff after Republicans take control of the House on Jan. 3, breaking the grip of Biden's Democrats on both chambers of Congress.
Budget experts found fault with the bill's size.
Included in the bill is $44.9 billion in emergency assistance to Ukraine and NATO allies and $40.6 billion to assist communities across the United States recovering from natural disasters and other matters.
The Ukraine funds would be used for military training, equipment, logistics and intelligence support, as well as for replenishing U.S. equipment sent to Kyiv. It also includes funding to prepare for and respond to potential nuclear and radiological incidents in Ukraine. Russian President Vladimir Putin has not ruled out the use of nuclear weapons in the conflict with Ukraine.
Included in the Ukraine package is $13.4 billion in economic aid and $2.4 billion to help resettle Ukrainians in the United States.
The military aid would be on top of the record $858 billion in U.S. defense spending for the year, which is up from last year's $740 billion and also exceeds Biden's request.
U.S. lawmakers also included a proposal to bar federal employees from using the Chinese short-video app TikTok on government-owned devices. And they backed a proposal to lift a looming deadline imposing a new safety standard for modern cockpit alerts for two new versions of Boeing Co's 737 MAX aircraft.
https://nypost.com/2022/12/20/intruder-able-to-walk-into-uvalde-school-unchallenged-during-safety-audit/
'Intruder' able to walk into Uvalde school unchallenged as new report slams medical response
A Texas safety inspector posing as an intruder was recently able to stroll unchallenged into a Uvalde school — as a damning new investigation also blamed a "flawed medical response" for failing to save some of the 21 slaughtered in a mass shooting at Robb Elementary.
The inspector was even able to enter through a back door that did not latch, eerily similar to how 18-year-old madman Salvador Ramos got into Robb Elementary before killing 19 fourth-graders and two teachers.
The shocking breach was revealed at a Uvalde school board meeting Monday night, attended by at least a dozen family members of victims of the May shooting, the San Antonio Express-News said.
Grieving loved ones were furious that "somebody just walked right in" seven months after one of the deadliest school shootings in history, KSAT also said of the meeting.
As part of a state-mandated security audit, an inspector posing as an intruder attempted to gain access to three different schools in the grief-stricken area — strolling into one unchallenged, the meeting heard.
Interim district Superintendent Gary Patterson admitted the error, saying the ongoing security lapse "is really 100 percent my responsibility," telling the meeting: "We have got to secure those areas."
Berlinda Arreola, the grandmother of Uvalde victim Amerie Jo Garza, shared a picture of a school safety officer sitting and looking at his phone.
https://trendingpoliticsnews.com/breaking-kari-lake-trial-reveals-42-5-of-randomly-examined-ballots-were-improper/
Kari Lake Trial Reveals 42.5% of Randomly Examined Ballots Were Improper
According to Republican governor candidate Kari Lake's legal team, 42.5% of examined ballots in Maricopa County for the 2022 governor's race were illegitimate. Lake's trial began on Wednesday were she is attempting to prove that wide scale fraud took place in Maricopa County on election day.
The Lake War Room tweeted on Wednesday that 48 of the 113 ballots that were reviewed during examination were "19-inch ballots produced on 20-inch paper,"
In a separate tweet, the Lake War Room wrote, "This Is how they disenfranchised Maricopa County voters on Election Day. The ballots were designed to be unable to be read through the machines. This wasn't an error. It was malice. The process worked exactly as they intended it to."
One commenter on Twitter noted that there was no way the improper ballot size could have been because of "error."
"The expert testified there are only 2 ways for the 19 inch image to have bee projected onto the 20 in ballot which would cause tabulator errors. Both methods require an administrator to change. This could not have happened by chance or error. It was fraud."
https://twitter.com/i/status/1605620894994354176 – Play Video
The race between Hobbs and Lake was decided by less than 18,000 votes. The counts put forward by Lake's team contest her loss. Most counts were thrown out by Maricopa County Superior Court Judge Peter Thompson, with 8 being tossed while two counts were allowed to proceed. Those counts deal with alleged intentional misconduct.
Lake told Turning Point USA's AmericaFest on Tuesday that this marked a "huge win" for her legal team, saying, "we got great news. We're taking these b*stards to trial!" Adding that Hobbs would take the stand in the trial.
It was later announced by Lake's attorneys that they had withdrawn the subpoena for Hobbs to testify.
"Maricopa County wants you to believe that they are so incompetent that all of the problems on Election Day can be written off as mistakes.
New Saint Andrews:
Today's culture shifts like sand. But New Saint Andrews College is established on Christ, the immovable rock. It is a premier institution that forges evangelical leaders who don't fear or hate the world. Guided by God's Word, they take the world back because they're equipped with the genius of classical liberal arts and God-honoring wisdom, thanks to a faculty dedicated to academic rigor and to God's kingdom.Find out more, at nsa.edu/
https://thepostmillennial.com/airbnb-bans-the-listing-of-former-slave-plantations-and-slave-houses?utm_campaign=64487
Airbnb bans the listing of former slave plantations and slave houses
Airbnb has outlawed the listing of rental properties on its site where slaves have lived or worked, according to an update to their anti-discrimination policy.
The moves come after a TikTok video from July calling out the company for listing an "1830s slave cabin" went viral.
The online short-term rental marketplace immediately removed the listing, then sought out others like it, enlisting the help of historical experts.
Airbnb's "Work to fight Discrimination and Build Inclusion" now includes a section called "Prohibiting the Glorification and Marketing of Slavery," which states that in July 2022, the company "took a series of steps to address the listing of properties in the US that were known to include former slave houses," as they "have no place on Airbnb."
The three main policies, which only apply to the United States, prohibit "prohibiting the listing of any home or other structure on a former plantation where enslaved people lived or worked if structures that existed during the time of slavery are still present on the property," bar "any structure specifically designed only to house enslaved people and that did house enslaved people," and prohibit "the promotion of slavery-related features as a selling point of a stay."
Exceptions will be made for certain Experiences that "provide important educational context" led by "reputable partners and experts."
"Currently we have removed listings and experiences associated with roughly 30 properties that are violating our policies," an Airbnb spokesperson told BuzzFeed News.