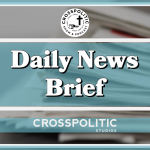 This is Garrison Hardie with your CrossPolitic Daily Newsbrief for Thursday, December 8th, 2022. Before we get to the news today…
Accountable2You
Is your smartphone a tool in the service of Christ, or a minefield of distractions and temptations?
With soul-killing seductions just a few taps away, our families and churches must embrace biblical accountability on our digital devices.
Accountable2You makes transparency easy on all your family's devices, by sharing app usage and detailed browsing history—including "Incognito" mode—with your spouse, parent, or chosen accountability partner.
Accountable2You helps your family to proactively guard against temptation, so you can live with integrity for God's glory! Learn more and try it for free at Accountable2You.com/FLF
https://www.foxnews.com/politics/democrats-pressure-banks-atone-slavery-era-activities-redress-past-wrongs
Democrats pressure banks to atone for slavery-era activities to 'redress past wrongs'
Banks should fund community development in Black communities, support the education of the next several generations of Black students and take other steps to atone for the role they played financing and supporting slavery in America, witnesses told a House committee hearing organized by Democrats on Wednesday.
The House Financial Services Committee held a hearing on "The Role of Financial Institutions in the Horrors of Slavery and the Need for Atonement," which could be the final hearing led by Chairwoman Maxine Waters, D-Calif., before Republicans take control of the House in January.
William Darity, a professor of public policy at Duke University, said the slave trade was a major contributor to the growth of the U.S. financial sector, and said slavery is why Black families are so far behind White families when it comes to household net worth. Darity said a 2020 study says the average White household net worth is $840,000 higher than net worth for Black families and said bridging that gap would be expensive.
"The collective amount required to close the disparity for approximately 40 million black American descendants of persons enslaved in the United States will come to at least $14 trillion," he said in his written testimony. "This is a sum that cannot be met reasonably by private donors or other levels of government."
Other witnesses offered ideas on how banks can atone for their participation in the slave trade, which Rep. Al Green, D-Texas, contributed to the vast wealth of U.S. financial institutions that was "built on the backs of enslaved people."
Dr. Sarah Federman, associate professor at the University of San Diego's Kroc School of Peace Studies, said financial institutions today still need to answer for their role in slavery.
education would be a "major contribution," along with supporting economic development in Black communities.
Dania Francis, assistant professor of economics at the University of Massachusetts in Boston, said after slavery ended, Black farmers lost farmland that is worth more than $300 billion today. She said financial institutions should fund studies examining the role they played and commit "funding and resources to community development activities in Black communities."
Lily Roberts, acting vice president of the Inclusive Economy Center for American Progress, said banks should eliminate wage disparities between Black and White workers and create "programs to redress past wrongs."
https://justthenews.com/government/state-houses/hawaii-activates-national-guard-mauna-loa-eruption-lava-overflows
Hawaii activates National Guard as Mauna Loa lava nears major highway, pockets of natural gas
The continuing flow of lava from the eruption roughly nine days ago from Hawaii's Mauna Loa volcano has now forced the island state to activate its National Guard.
The state's emergency management said Monday that 20 Hawaii National Guard service members were put on active duty to assist with traffic control and other roles in response to the Nov. 27 eruption.
The Interior Department said lava flow is now just roughly two miles away from a major highway known as Saddle Road.
"There continued to be several small overflows from main channels recorded over the past day," the federal agency said Monday.
Officials previously said the volcano would likely be confined.
Lava advanced Monday at a rate of about 20 feet per hour.
"Though the advance rate has slowed over the past several days, the lava flow remains active with a continuous supply," the federal department also said.
Lava advance rates "may be highly variable" over the next several weeks, according to officials.
Authorities warned that lava may flow into vegetated areas and create secondary fires or even cause methane explosions by igniting underground natural gas pockets.
Residents are urged to take precautions against volcanic glass fragments, which are being blown hundreds of meters away from the eruption.
https://thepostmillennial.com/breaking-aoc-is-under-house-ethics-investigation?utm_campaign=64487
AOC under investigation by House Ethics Committee
New York congresswoman Alexandria Ocasio Cortez is under a House Ethics investigation, a statement from the Ethics Committee revealed on Wednesday.
"The Acting Chairwoman and Acting Ranking Member of the Committee on Ethics have jointly decided to extend the matter regarding Representative Alexandria Ocasio- Cortez, which was transmitted to the Committee by the Office of Congressional Ethics on June 23, 2022," the letter states. The acting chairwoman is Democrat Susan Wild (D) and the acting Ranking member is Michael Guest (R).
It also states that the "fact of a referral or an extension and the mandatory disclosure of such an extension and the name of the subject of the matter, does not itself indicate that any violation has occurred, or reflect any judgment on behalf of the Committee."
The statement does not reveal why Ocasio Cortez is under investigation.
The New York congresswoman has faced ethics complaints with the Office of Congressional Ethics over allegations that she illegally funneled cash through a PAC to her boyfriend, the Washington Examiner reported.
"This Complaint alleges Representative Alexandria Ocasio-Cortez improperly converted U.S. House resources to her non-official, personal use by obtaining an official '@mail.house.gov' e-mail address for her boyfriend, despite the fact he was not employed by her congressional office," that complaint, from March of 2019, read. "Moreover, it appears she obtained the e-mail address for him by falsely designating him a 'staff' member."
AOC was also hit with an ethics complaint after she accepted a free ticket for the Met Gala in September of 2021.
The American Accountability Foundation's Thomas Jones wrote in an ethics complaint that AOC broke House rules by accepting "an impermissible gift"
https://thepostmillennial.com/glenn-youngkin-moves-to-reimburse-fines-for-violating-covid-lockdown-restrictions?utm_campaign=64487
Glenn Youngkin moves to reimburse fines for violating Covid lockdown restrictions
Republican Virginia Gov. Glenn Youngkin announced on Tuesday his plans to pay back the people and businesses who were fined by the state for violating Covid lockdown policies put in place by his predecessor, Democratic former Gov. Ralph Northam.
In an executive order, Youngkin commanded all state enforcement agencies, boards, and commissions, to report the fines and disciplinary actions they imposed upon those individuals and entities. According to an official statement, a reimbursement process is in the works for his upcoming budget proposal.
The governor also announced he will direct agencies to cease any further collection and enforcement of any lockdown-related fines, fees, or suspensions.
"I am today requiring a statewide review of Covid-19-related penalties imposed by the Northam administration. The fact that businesses are still dealing with Covid-19 related penalties and fines is infuriating. Livelihoods are on the line," said Youngkin. "In the previous administration, we saw our government shut down businesses, close our schools, and separate us from each other. While we can't undo the damage done during the Northam administration, we are taking action going forward to end COVID-era draconian overreach."
The governor's office statement added that the fine reimbursements will not apply to instances where the violation was in relation to practices "intended to protect the health and safety of individuals, patients, residents, and staff of hospitals, nursing homes, certified nursing facilities, hospices, or assisted living facilities."
Club Membership Plug:
Its Christmas, join our club. During December, the first 75 people to upgrade or join our Gold or Platinum club membership will get our 32OZ Kodiak Christmas water bottle and a free subscription to our Fight Laugh Feast Magazine. By joining the Fight Laugh Feast Army, not only will you be aiding in our fight to take down secular & legacy media; but you'll also get access to content placed in our Club Portal, such as past shows, all of our conference talks, and EXCLUSIVE content for club members that you won't be able to find anywhere else. Lastly, you'll also get discounts for our conferences… We don't have the big money of woke media, and so our club members are crucial in this fight. So, join the movement, join our army, and you can sign up now at fightlaughfeast.com.
https://thepostmillennial.com/shocking-philly-gas-station-hires-armed-guards-to-protect-against-theft?utm_campaign=64487
Philly gas station hires armed guards to protect against theft
The owner of a gas station in North Philadelphia got so fed up with the prevalence of violent crime in the city that he hired heavily armed security guards to protect his customers and store.
"We are tired of this nonsense," he says. "Robbery, drug trafficking, hanging around, gangs. They are forcing us to hire the security, high-level security, state level."
Following the theft of his ATM by a group of vandals, as well has the repeated vandalism of his car, Patel finally felt the need to hire security.
According to ABC7 News, crime in Philadelphia has risen quite significantly in the last few years, with firearm robberies at gas stations in particular having tripled.
Attorney David Thiruselvam, whose clients are primarily victims of crime, says that he currently has nine people suing gas station after being shot on their premises.
According to Pennsylvania law, owners are responsible for protecting customers from known dangers while on their property.
Regardless of the locals' opinions, the move worked.
Since hiring the security force three weeks ago, his business has not experienced any incidents of loitering or other crimes.
https://thepostmillennial.com/breaking-jack-dorsey-calls-on-elon-musk-to-make-everything-public-now?utm_campaign=64487
Jack Dorsey calls on Elon Musk to make 'everything public now'
Twitter cofounder and former CEO Jack Dorsey expressed to Elon Musk in a tweet on Wednesday that, for the sake of transparency, the Twitter Files be released to the public to "let people judge for themselves."
As of now, documents of what action took place to censor the Hunter Biden laptop story are in the hands of journalists Matt Taibbi and Bari Weiss. The first round of files were revealed on Friday, with Taibbi providing a "Supplemental" on Tuesday.
Dorsey said in his tweet: "If the goal is transparency to build trust, why not just release everything without filter and let people judge for themselves? Including all discussions around current and future actions? Make everything public now. #TwitterFiles"
Several revelations have been made so far, with several chat logs being made public. The names of key players have been revealed, including former Trust and Safety Chief Yoel Roth, the recently fired Deputy General Counsel Jim Baker, and former head of legal, policy, and trust Vijaya Gadde.
Taibbi's first thread on the Twitter files states explicitly that the vast amount of censorship was done "without the knowledge of CEO Jack Dorsey," and that situation was difficult to manage after Dorsey became involved.
In November, Musk revealed that Twitter has interfered with elections. It was in response to a report from Reuters about Twitter's move to free speech under Musk, he replied that "The obvious reality, as long-time users know, is that Twitter has failed in trust & safety for a very long time and has interfered in elections. Twitter 2.0 will be far more effective, transparent and even-handed."