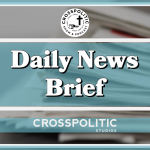 This is Toby Sumpter with your CrossPolitic Daily News Brief for Thursday, Feb. 11, 2021.
Today you will hear about Super Bowl Ratings, the Senate Impeachment trial, Ben Sasse says he hasn't changed, chest milk, Denzel Washington tells the truth, more details about the fatal helicopter crash that killed Kobe Bryant, and a psalm of the day. 
Two National Events: Fight Laugh Feast Rally in Rapid City, South Dakota, April 29, 30, May 1 & the Fight Laugh Feast Conference in Nashville, TN, October 14-16. Why a rally in South Dakota in April? Because we want to stand with Kristi Noem – the only Governor in the Union to not overstep her authority. And we also want to encourage you wherever you are. Many churches are not meeting, many Christians feel alone. But you're not alone. So the theme of the Rally in South Dakota is Love God, Sing Psalms, Defy Tyrants. Gather with likeminded Christians who love freedom, confess Jesus Christ is Lord over all, and be equipped to stand firm in these insane days. Go to FLFNetwork.com/Rally and register today. Remember if you're a Fight Laugh Feast Club Member, you get a $100 off your registration. Just send an email to [email protected] to get your discount code. 
Remember: If you have a news story you think we might need to cover, please send articles and links to [email protected] & DeftWire.com.
Mary Wilson of the Supremes Has Died 
https://open.spotify.com/track/5pGfZLAljV8ZMXrGNMAbFg?si=VfHtmdW7QDCpaVBriuhWcw
Play Audio: 1:30-1:43
Mary Wilson gained worldwide recognition as a founding member of The Supremes, the most successful Motown act of the 1960s and the best-charting female group in U.S. chart history,[2] as well as one of the best-selling girl groups of all-time. The group released twelve number-one hit singles on the Billboard Hot 100 which set the record at the time,[a] ten of which Wilson sang backing vocals on. Wilson was 76. 
SuperBowl 55 TV Ratings Plummet
https://lcvalley.dailyfly.com/Home/ArtMID/1352/ArticleID/58080/Super-Bowl-LV-Posts-Worst-Ratings-Since-1969-Least-Watched-Since-2006
The numbers are in for Super Bowl LV and they're not good. Super Bowl LV posted the worst ratings since 1969 and was the least watched Super Bowl since 2006. 
Viewership fell by an estimated nine percent: "CBS averaged 91.629 million TV-only viewers for the Buccaneers' blowout of the Chiefs in Super Bowl LV, the game's lowest TV viewership since '06 when Steelers-Seahawks averaged 90.75 million on ABC. That figure is down from just over 100 million TV-only viewers for Chiefs-49ers last year," Sports Business Daily reported.
That's not the end of it however. Sports Media Watch published ratings numbers for every Super Bowl to have been played, this year's rating of 38.2 are the lowest since 1969's rating of 36.0. Super Bowl LV is also the first game to fall below 40.0 ratings, since the 1990 Super Bowl between the 49ers and the Denver Broncos. 
Although, streaming was way up by over 60 percent this year, once again proving that there is a migration away from broadcast TV to streaming services. 
Sports Business Journal reporter John Ourand noted that Super Bowl 55's numbers are "hard to spin" into a "positive story."
"It's hard to spin these Super Bowl ratings into a positive story. The numbers are down despite a highly-touted matchup of star QBs, snowstorms in the Northeast, etc.," he tweeted Tuesday.
Ourand would later add that overall tv viewership is down by seven percent. 
Six Republicans Vote to Proceed with Trump Impeachment Trial
https://www.wsj.com/articles/second-trump-impeachment-trial-opens-with-debate-over-senates-power-11612866603?mod=trending_now_news_pos1
On Tuesday, Bill Cassidy of Louisiana joined the other five, Sens. Susan Collins (R., Maine), Mitt Romney (R., Utah), Ben Sasse (R., Neb.), Lisa Murkowski (R., Alaska) and Pat Toomey (R., Pa.), in saying the trial was within the bounds of the Constitution.
"The House managers were focused, they were organized," Mr. Cassidy told reporters. "President Trump's team were disorganized. They did everything they could but to talk about the question at hand."
"The first lawyer just rambled on and on and on and didn't really address the constitutional argument," Sen. John Cornyn (R., Texas) told reporters, referring to Mr. Castor's approach. "Finally the second lawyer got around to it, and I thought did an effective job."
The Senate has tried former officials in the past, the most prominent being William Belknap, who resigned as secretary of war shortly before the House impeached him on corruption charges in 1876. The Belknap case, Mr. Trump's lawyers argue, is of uncertain relevance because he was acquitted, possibly because some senators doubted they had jurisdiction over him.
Starting Wednesday, Mr. Trump's defense and the House managers will both get up to 16 hours per side for presentations over several days. Both sides will also have the option to call for a debate and vote on calling witnesses. Democrats last week asked Mr. Trump to testify, which the former president's lawyers shot down.
Senator Sasse Says Nebraskans Are Angry that He Won't Bow to Trump
https://www.facebook.com/sassefornebraska/videos/267941598053351
Facing the possibility of another censure from Nebraskan Republicans… Sasse posted a video answering them:
Play Audio 0:32 -1:40
Share Plug
Is CrossPolitic a blessing to you? One of the most significant ways you can help us (and we need a LOT of help!) is by sharing this news brief or your favorite show with someone you think would appreciate it. Tell someone about the Fight Laugh Feast App. And last of all, become a Fight Laugh Feast Club Member. We are building a platform that Lord-willing cannot be cancelled by big media. And your support is helping to make that possible. Thanks to all of you who have already shared our content and become club members. 
Denzel Washington Says it Starts in the Home 
https://www.facebook.com/725084465/videos/10161060501189466/
It starts with fathers.
ChestMilk?
https://www.dailywire.com/news/chestfeeding-hospitals-tell-midwives-to-change-language-to-accommodate-trans-community
In Great Britain, a group of hospitals has instructed midwives in their maternity departments to use different terms when treating transgender patients in order to be more "gender-inclusive," substituting "chestfeeding" for "breastfeeding" and replacing "breastmilk" with "human milk" or "breast/chestmilk" or "milk from the feeding mother or parent."
"Terms like 'chestfeeding' and 'human milk' are being introduced at an NHS trust in a bid to boost inclusivity," Bristol Live reports. "Staff have been asked to use gender-neutral language alongside – not instead of – traditional terms to ensure that all groups are represented."
Helicopter Pilot Ignored Training, Leading to Kobe Bryant's Death
https://www.theepochtimes.com/pilot-felt-pressure-to-fly-kobe-bryant-to-game-ntsb-report_3692218.html
LOS ANGELES—As helicopter pilot Ara Zobayan encountered a cloud bank and decided to try to climb out of it, he was likely worried about getting his star client, Kobe Bryant, his daughter, and six others to a girls basketball tournament, federal safety investigators said.
That decision cost them all their lives, the National Transportation Safety Board said Tuesday in releasing long-awaited findings of the Jan. 26, 2020 crash that killed all nine aboard.
The NTSB primarily blamed Zobayan for a series of poor decisions that led him to fly blindly into a wall of clouds where he became so disoriented he thought he was climbing when the craft was plunging toward a Southern California hillside.
Zobayan, an experienced pilot, ignored his training, violated flight rules by flying into conditions where he couldn't see, and failed to take alternate measures, such as landing or switching to auto-pilot, that would have averted the tragedy.
"Here is a case where a pilot who is well regarded apparently got into a very bad situation," Sumwalt said. "The scenario we believe happened he is flying along, he realizes that he's sort of getting boxed in with visibility and then he must have made the decision, 'You know what, I'm just going to punch up through these clouds and get on top.'"
When Zobayan decided to climb above the clouds, he entered a trap that has doomed many flights. Once a pilot loses visual cues by flying into fog or darkness, the inner ear can send erroneous signals to the brain that causes spatial disorientation. It's sometimes known as "the leans," causing pilots to believe they are flying aircraft straight and level when they are banking.
Zobayan radioed air traffic controllers that he was climbing when, in fact, he was banking and descending rapidly toward the steep hills near Calabasas, NTSB investigators concluded.
Flying under visual flight rules, Zobayan was required to be able to see where he was going. Flying into the cloud was a violation of that standard and probably led to his disorientation, the NTSB said.
Psalm of the Day: Psalm 128
https://www.youtube.com/watch?v=Rw9VcRRhEgA&feature=youtu.be
Play Audio: 0:08-1:18
The man who fears God and walks in His way will be blessed, blessed in his home, blessed in his family, blessed in the land. Do you want that blessing? Then fear the Lord. Sing the Psalms and obey God in everything. This is Toby Sumpter with Crosspolitic News. You can find this and all of our shows at Crosspolitic.com or on our app, which you can download at your favorite app store, just search "Fight Laugh Feast". Support Rowdy Christian media, and become a Fight Laugh Feast Club Member and get your very own Fight Laugh Feast t-shirt and access to all the talks at our first annual Fight Laugh Feast Conference as well as many exclusive behind the scenes interviews as well as our very own Worldview Shotgun Series. We still have a few Fight Laugh Feast tumblers left for club members at 25$ a month or more. Go to FightLaughFeast.com. Have a great day.