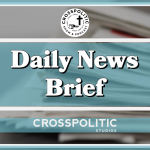 This is Toby Sumpter with your CrossPolitic Daily News Brief for Thursday, Feb. 18, 2021.
Today you will hear about Pastor Coates who remains in custody, Rush Limbaugh's passing, Gov. Cuomo's growing trouble, and a Psalm of the Day. 
Two National Events: Fight Laugh Feast Rally in Rapid City, South Dakota, April 29, 30, May 1 & the Fight Laugh Feast Conference in Nashville, TN, October 14-16. Why a rally in South Dakota in April? Because we want to stand with Kristi Noem – the only Governor in the Union to not overstep her authority. And we also want to encourage you wherever you are. Many churches are not meeting, many Christians feel alone. But you're not alone. So the theme of the Rally in South Dakota is Love God, Sing Psalms, Defy Tyrants. Gather with likeminded Christians who love freedom, confess Jesus Christ is Lord over all, and be equipped to stand firm in these insane days. Go to FLFNetwork.com/Rally and register today. Remember if you're a Fight Laugh Feast Club Member, you get a $100 off your registration. 
Remember: If you have a news story you think we might need to cover, please send articles and links to [email protected] and DeftWire.com 
Pastor James Coates Remains in Custody
https://www.todayville.com/gracelife-pastor-james-coates-remains-in-custody/
Parkland County, Alta. – James Coates remains in custody following charges, a bail hearing in front of a justice, and a court appearance in front of a judge this morning.
On Sunday, Feb. 14, 2021 the RCMP, with AHS, attended the GraceLife Church to assess compliance in relation to conditions issued to the Pastor on Feb. 7. Observations were made that James Coates was not complying with his Undertaking release conditions, and the church was not in compliance with the Public Health Order.
On Feb. 16, James Coates turned himself in to the Parkland Detachment. He was charged in contravention of the Public Health Act (x2), and charged for failing to comply with a condition of his Undertaking, under the Criminal Code. Following a bail hearing before a Justice of the Peace, Coates was to be released on conditions. He remained in custody overnight after refusing to agree to those conditions.
This morning in Stony Plain Provincial Court he continued to refuse to agree with those conditions and a Judge's Order was issued compelling him to attend court on Wednesday, Feb. 24, 2021.
"We've been consistent in our approach of escalated levels of enforcement with Pastor Coates, and we were hopeful to resolve this issue in a different manner" said Inspector Mike Lokken.  "The Pastor's actions, and the subsequent effects those actions could have on the health and safety of citizens, dictated our response in this situation."
Rush Limbaugh R.I.P.
https://redstate.com/scotthounsell/2021/02/17/breaking-conservative-talk-radio-icon-rush-limbaugh-dead-at-70-n328461
Rush was born in Missouri in 1951, and 20 years later, elbowed his way into the radio market, starting in Pennsylvania as a DJ on a Top 40 Station.  During the next 17 years, Rush had a rocky road to success, landing him in jobs in Kansas City, and later in Sacramento, where he began his current style of "political shock-jock" radio.  In 1988, Rush landed himself in New York with the current iteration of his show, which has run since that date.  In the early 2000s, Rush announced that he was struggling with his hearing, however was able to regain a great deal of the lost hearing from a cochlear implant.
In 1988, Rush launched his phenomenally successful radio broadcast, The Rush Limbaugh Show, into national syndication with 56 radio stations. Now, 32 years later, the show is heard on more than 600 stations by up to 27 million people each week and is the highest-rated national radio talk show in America. On February 5, 2020, at the State of the Union Address, President Donald Trump awarded Rush the Presidential Medal of Freedom, our nation's highest civilian honor. Rush has also received the Marconi Radio Award five times, and has been inducted into the Hall of Famous Missourians, the Radio Hall of Fame and the National Association of Broadcasters Hall of Fame.
Rush's brand of conservatism has molded the Republican Party for the last 30 years.  One could not ask what the direction of the Republican Party should be, without first asking Limbaugh.  Limbaugh has been the conscience of the party and a warrior against the liberal media.  Rush's radio program can be credited in large part with the Republican take-over of Congress in 1994, as well as the Tea Party movement in 2010.  His direction from behind the "Golden EIB Microphone" has been the go-to for many of us in the wake of political events as we wondered what the man himself had to say about it.
President Trump on Rush
https://www.youtube.com/watch?v=gfRgI5LryyM
1:35-2:33
Share Plug
Is CrossPolitic a blessing to you? One of the most significant ways you can help us (and we need a LOT of help!) is by sharing this news brief or your favorite show with someone you think would appreciate it. Tell someone about the Fight Laugh Feast App. And last of all, become a Fight Laugh Feast Club Member. We are building a platform that Lord-willing cannot be cancelled by big media. And your support is helping to make that possible. Thanks to all of you who have already shared our content and become club members. 
NY Assemblyman Accuses Gov. Cuomo of Threatening to Destroy Him
https://www.cnn.com/2021/02/17/politics/cuomo-ron-kim-nursing-home/index.html
New York Gov. Andrew Cuomo has been pleading with lawmakers for support and even threatening political retribution against Democrats who have criticized him in an aggressive effort to contain political fallout from revelations that his administration had concealed the full extent of nursing home-related deaths during the Covid pandemic.  
New York State Governor Andrew Cuomo, Assemblyman Ron Kim
Describing an alleged exchange with the governor that has not been previously reported, Democratic Assemblyman Ron Kim told CNN that he received a call on his cell phone from the governor last week as he was bathing his children at home.
"Gov. Cuomo called me directly on Thursday to threaten my career if I did not cover up for Melissa [DeRosa] and what she said. He tried to pressure me to issue a statement, and it was a very traumatizing experience," Kim said. Cuomo proceeded to tell the assemblyman that "we're in this business together and we don't cross certain lines and he said I hadn't seen his wrath and that he can destroy me," according to Kim.
DeRosa is a top aide to the governor who came under fire last week after she told state lawmakers in a private virtual meeting that the state had delayed sharing with the legislature the full scope of the Covid-related death toll of New York's nursing home residents because of concerns about a potential federal investigation by the Department of Justice. (The governor's office has since released a partial transcript of the call.) 
Kim, a progressive representing Queens who has been among the most vocal critics of Cuomo's handling of nursing homes during the pandemic and believes his own uncle died from a presumed case of Covid in a nursing home last year, participated in that virtual call. During the meeting, Kim said he called on the governor to apologize to family members of those who died in assisted living facilities. When the New York Post first reported on DeRosa's controversial comments, he was one of the participants quoted in the piece criticizing those remarks.
"No man has ever spoken to me like that in my entire life," Kim said of his phone call with Cuomo. "At some point he tried to humiliate me, asking: 'Are you a lawyer? I didn't think so. You're not a lawyer.' It almost felt like in retrospect he was trying to bait me and anger me and say something inappropriate. I'm glad I didn't."
Kim's wife told CNN that she had overheard parts of Kim's phone call with Cuomo last week, and described the governor as "loud" and "angry." She said she heard Cuomo say, "Who do you think you are?" as well as the words, "my wrath," and that immediately after the phone call, her husband told her: "The governor threatened to destroy my life."
Cuomo's efforts to reach Kim appeared to continue through the weekend. Kim said he received multiple calls from a "No Caller ID" number, followed by messages from Cuomo aides saying that the governor would like to speak with him again. Kim said he did not return the phone calls. He has since hired a lawyer, telling CNN that he believed this was necessary following Cuomo's first call which made him feel that the governor had asked him to lie about what had happened in last week's virtual call. He said he has informed the governor's office that any outreach should be made through his counsel.
 The FBI and the U.S. attorney's office in Brooklyn have launched an investigation that is examining, at least in part, the actions of Gov. Andrew M. Cuomo's coronavirus task force in its handling of nursing homes and other long-term care facilities during the pandemic, the Times Union has learned.
Psalm of the Day: Psalm 117
https://www.christkirk.com/wp-content/uploads/2016/08/Psalm117.mp3
0:33-1:20
Praise the Lord, All ye nations
Praise Him all ye people
For His merciful kindness is great toward us
And the truth of the Lord endureth forever.
Praise ye the Lord.
While will the nations all come and worship the Lord? Because is merciful kindness is great toward us and the truth of the Lord endures forever. This is what we have. We have His mercy and His truth. And it is great and it will endure forever. And this is what the nations long for. So they will come. 
You can listen to the whole recording and get the music here: https://www.christkirk.com/wp-content/uploads/2016/08/Psalm117.mp3
Finally, I will be in Wenatchee, Washington this Friday and Saturday February 19-20 speaking at King's Cross Church, Friday night for couples and Saturday morning for men. For more information you can reach out to the pastor Gene Helsel [email protected]
This is Toby Sumpter with Crosspolitic News. You can find this and all of our shows at CrossPolitic.com or on our app, which you can download at your favorite app store, just search "Fight Laugh Feast". Support Rowdy Christian media, and become a Fight Laugh Feast Club Member and get your very own Fight Laugh Feast t-shirt and access to all the talks at our first annual Fight Laugh Feast Conference as well as many exclusive behind the scenes interviews as well as our very own Worldview Shotgun Series. We still have a few Fight Laugh Feast tumblers left for club members at 25$ a month or more. Go to FightLaughFeast.com, have a great day.