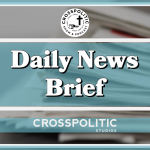 This is Toby Sumpter with your CrossPolitic Daily News Brief for Thursday, Feb. 25, 2021.
Today you will hear about sexual confusion among young adults, and sexual confusion in California department stores, and then more sexual confusion in a Michigan campground, and also some sexual confusion in the New York Statehouse, but in the end, we will celebrate sexual sanity and sexual glory with our psalm of the Day. 
Two National Events: Fight Laugh Feast Rally in Rapid City, South Dakota, April 29, 30, May 1 & the Fight Laugh Feast Conference in Nashville, TN, October 14-16. Why a rally in South Dakota in April? Because we want to stand with Kristi Noem – the only Governor in the Union to not overstep her authority. And we also want to encourage you wherever you are. Many churches are not meeting, many Christians feel alone. But you're not alone. So the theme of the Rally in South Dakota is Love God, Sing Psalms, Defy Tyrants. Gather with likeminded Christians who love freedom, confess Jesus Christ is Lord over all, and be equipped to stand firm in these insane days. Go to flfnetwork dot com forward slash rally and register today. Remember if you're a Fight Laugh Feast Club Member, you get a $100 off your registration. 
Remember: If you have a news story you think we might need to cover, please send articles and links to News@CrossPolitic.com and DeftWire.com
More Young People Say They are Sexually Confused
https://www.washingtonpost.com/dc-md-va/2021/02/24/gen-z-lgbt/?utm_campaign=ext_rweb&utm_medium=referral&utm_source=extension
Play Audio: 0:07-0:24
One in six adults in Generation Z identifies as [sexually confused], according to survey data released early Wednesday from Gallup, providing some of the most detailed and up-to-date estimates yet on the size and makeup of the nation's LGBT population.
Gallup's latest survey data, based on more than 15,000 interviews conducted throughout 2020 with Americans age 18 and older, found that 5.6 percent of U.S. adults identify as lesbian, gay, bisexual or transgender, up from 4.5 percent in Gallup's findings based on 2017 data. 
… A growing percentage of the U.S. population identifies as LGBT, Gallup's researchers said. What's less clear is why. Is it because of a real shift in sexual orientation and gender identity? Or is it because of a greater willingness among young people to identify as LGBT?
//Given all of the pressure the culture is putting on young people to experiment sexually, experts are not really sure why young people are more confused that they used to be. //
A New California Bill Requires Sexual Confusion in Department Stores
https://www.faithwire.com/2021/02/24/cali-bill-would-fine-retailers-1000-for-having-separate-sections-for-boys-girls/
Assembly members Evan Low and Cristina Garcia — both Democrats — introduced legislation last week to force retailers to offer their toys, clothing, and other kid-oriented items in a "gender-neutral" fashion, Politico reported.
Under the bill, retailers would still be allowed to sell the products they currently carry. However, they would be required to lump all the products together instead of separating them based on sex. California-based stores that sell products online would likewise be required to have pages on their websites offering the products in a collective "kids," "unisex," or "gender neutral" format.
Low, who serves as chair of the Legislative LGBT Caucus, told Politico he introduced the bill because he wants to make the shopping experience "more inclusive" for children. The idea, he said, came from a staffer whose young daughter asked why certain products she wanted were marketed for boys.
"This is an issue of children being able to express themselves without bias," he explained. 
//When asked where kids could buy guns, in order express their inner rage and go on shooting sprees, he said, no comment// 
The text of the bill states that "keeping similar items that are traditionally marketed either for girls or for boys separated makes it more difficult for the consumer to compare the products and incorrectly implies that their use by one gender is inappropriate."
//A separate bill being proposed in California would make it illegal for adults in California to be anywhere in public without wearing adult diapers.// The text of the bill reads, accidents can happen to anyone. And it says that it is incorrect to imply that only babies need diapers. 
Share Plug
Is CrossPolitic a blessing to you? One of the most significant ways you can help us (and we need a LOT of help!) is by sharing this news brief or your favorite show with someone you think would appreciate it. Tell someone about the Fight Laugh Feast App. And last of all, become a Fight Laugh Feast Club Member. We are building a platform that Lord-willing cannot be cancelled by big media. And your support is helping to make that possible. Thanks to all of you who have already shared our content and become club members. 
Sexual Anarchy Doesn't Play Nicely
https://www.dailywire.com/news/gay-campground-in-michigan-draws-accusations-of-transphobia-for-banning-trans-men
The owner of a private campground for gay men in Michigan is drawing the ire of some in the transgender community for barring people without male genitalia from his establishment.
Bryan Quinn, who is co-owner of Camp Boomerang RV Park and Campground in Orleans, Michigan, has not yet opened his campground, but he already stoked backlash over the weekend for posting on the camp's now-deleted Facebook that his camp is not interested in welcoming biological women, regardless of how they identify.
"Camp Boomerang is a private, membership-only rv park/campground that allows only 'guys,'" wrote Quinn. "A 'guy,' in terms of this discussion, is defined as a person with a penis, [who] presents himself as male and has a state-issued ID that says 'male.'"
"We understand this statement, unfortunately, may not make everyone happy, but feel it needs to be clarified," Quinn continued, defending the campground's decision, as it exists as a "private membership-only entity."
"It is our hope that everyone who visits Camp Boomerang enjoys a comfortable, safe, non-confrontational environment going forward," he said. "Being a 'private membership only' entity allows us the ability to build a like-minded atmosphere. We don't mean for this to come off as a 'like it or leave it' attitude, but we feel it's necessary for everyone to know exactly what our vision is for Camp Boomerang."
Camp Boomerang is now bracing to have this policy come flying back to hit them in the back of the head. Apparently Mr. Quinn didn't get the memo that all of those words and definitions are vestiges of the patriarchy. You cannot jump off the cliff of sexual insanity and arrange your preferred spot half down. Gravity doesn't work that way. If you start defining males with biology, you are in grave danger of meeting the Creator of that biology. 
Remember people, you cannot invoke the gods of chaos and not get chaos, but the good news is that the gods of chaos hate each other and frequently devour each other. Remember when God delivered Israel by having their enemies turn and destroy each other? God still runs that play today. Watch and see. The other thing to remember is that some of these folks will get tired of the chaos eventually, and they will see our lives of joy and fruitfulness and forgiveness, and we need to be ready to receive them when they come looking for shelter. 
Speaking of which, the gods have decided to destroy Gov. Cuomo
https://www.foxnews.com/politics/cuomo-ex-aide-accuses-scandal-plagued-ny-governor-of-pervasive-sexual-harassment-in-bombshell-essay
A former aide to Gov. Andrew Cuomo is accusing the embattled New York leader of sexually harassing her — including unwanted kissing and touching — and says his top female staffers "normalized" the behavior.
Lindsey Boylan, the former deputy secretary for economic development and special adviser to the governor, said Cuomo constantly sought her out and had staffers arrange meetings with her, where he made inappropriate comments. 
In her statement denying the claims, Cuomo's office also released a statement from individuals they said were also on the same flights — John Maggiore, Howard Zemsky, Dani Lever and Abbey Fashouer Collins. That statement said, "We were on each of these October flights and this conversation did not happen." 
Boylan first accused the governor of harassment last year but did not elaborate on her experiences at the time. 
Boylan wrote in her Wednesday essay that she expects "the Governor and his top aides will attempt to further disparage me, just as they've done with Assemblymember Kim" — who came forward in recent weeks with his own accusations against the governor of bullying and threatening him. 
Boylan did not immediately respond to Fox News' request for comment. 
Rep. Elise Stefanik, R-N.Y., immediately called for Cuomo to resign following Boylan's story, calling him the "Worst Governor in America" and a "criminal sexual predator." 
Stefanik had previously called for Boylan's allegations against Cuomo last year to be investigated further but it amounted to nothing. 

Psalm of the Day: Psalm 45
Psalm 45 is a wedding psalm, a song celebrating a royal wedding. Of course it points to Christ and the Church, and the Great Marriage Supper of the Lamb, but it is also call to nobility among the saints, to faithfulness in our marriages, to sexual sanity and sexual glory in the face of all the confusion and dishonor of the marriage bed. Christian, Don't be satisfied with merely being heterosexual and believing in male and female. What we're talking about is the difference between scraping dinner out of the bottom of a garbage can and filet mignon. Don't merely believe in marriage, celebrate it. Honor your wife, honor your husband, honor your parents, honor your kids. Are you children of the King? Are you baptized? Have you been given the inheritance of the Kingdom? Then live like royalty. If you are Christians, your marriage was a royal marriage, and your children are princes and princess. And your parents and grandparents are kings and queens. Talk and live and love like nobility. Because you are. 
https://www.christkirk.com/wp-content/uploads/2016/06/07-Psalm-45-My-Heart-Has-Found-A-R.mp3
Play Audio: 3:54-4:42
And she is ushered to the King in bright and glorious raiment
And all her bridesmaid follow her with gladness and rejoicing
And they shall come within the gates, the palace gates to see the King
So do not mourn or sorrow
To fill the place your fathers left, your children shall be princes,
And I will magnify your name forevermore. 
You belong to King. You are royalty. Live like it.
This is Toby Sumpter with Crosspolitic News. You can find this and all of our shows at CrossPolitic.com or on our app, which you can download at your favorite app store, just search "Fight Laugh Feast". Support Rowdy Christian media, and become a Fight Laugh Feast Club Member and get your very own Fight Laugh Feast t-shirt and access to all the talks at our first annual Fight Laugh Feast Conference as well as many exclusive behind the scenes interviews as well as our very own Worldview Shotgun Series. Remember to sign up for the Figh Laugh Feast Rally. Go to FLFNetwork.com/Rally Have a great day.