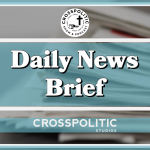 <iframe class="rumble" width="640″ height="360″ src="https://rumble.com/embed/vs0m8q/?pub=r3ulf" frameborder="0″ allowfullscreen></iframe>
When I lay down on the floor in the toy aisle and scream and kick my legs and get that truck I was demanding… I also feel like people are listening to me …and more on today's CrossPolitic Daily News Brief. This is Toby Sumpter. Today is Tuesday, February 8, 2022. Would please Like and share this show? Do it now so we can reach more people with the truth.
So you all remember that the assistant health secretary of the united states of America is a dude in a dress, right? He goes by the name Rachel Levine.
0:27-0:53
So just remember that: the assistant health secretary of these united states is a man pretending to be a woman pretending to give us health advice.
That's bad enough. This is our shame.
But the Biden administration is not done yet.
Sam Brinton will join the Department of Energy's nuclear power office as the agency's second-in-command of nuclear waste issues, the nuclear-waste policy expert and current global political director for Deep Isolation announced this week.
Sam Brinton is also a drag queen, an LGBTQ+ activist who has "lectured" on kink at college campuses and participated in interviews about fetish roleplay. In one interview, Sam Brinton even discusses having sex with animals.
https://twitter.com/MillerStream/status/1491857912502767621?s=20&t=a6ldsUs2fE4uwXLsv9m3LA
Play 0:00-0:10
Brinton led a "Kink 101" session at the University of Nebraska at Omaha. The photo shows Brinton in a dress, standing over three kneeling males with leather bondage-style dog masks on their heads.
https://twitter.com/libsoftiktok/status/1491875600306356235?s=20&t=a6ldsUs2fE4uwXLsv9m3LA
Brinton's own bio reveals that he often walks through government buildings in stilettos and goes by the Drag Queen alias: Rae Dee Oactive.
https://twitter.com/oboyle_kathleen/status/1491856723203833857?s=20&t=a6ldsUs2fE4uwXLsv9m3LA
Right. And we've got that guy helping with nuclear waste.
I mean it's like God is shouting at us. It's like he's saying: this is radio active. Literally. This is radio active. This kind of sexual debauchery is your pollution and it is defiling your land.
Ok, one more thing. This is actually old news, but I found it while preparing for this story.
https://victoryinstitute.org/programs/presidential-appointments-initiative/lgbtq-appointments-in-the-biden-harris-administration/
As of April 29, 2021 – the 100 Days mark of Joe Biden's presidency – over 200 known LGBTQ people have been appointed to his administration, the most in history at this point in any administration, according to the Victory Institute.
OK, one more thing: this is why you can't reason with these people. They have rejected nature. They have rejected facts and reason and logic. All sin is insanity, and this is why sin never really makes sense. But when you persist in that madness, God gives you over to it. And then we wonder why they don't care what the data says. It's all about manipulation. And this is why Christians must firmly and graciously resist this at every step.
The PCA is in the process of normalizing homorsexual identity in their denomination. But you cannot satisfy lust. You cannot reason with lust. You must graciously but firmly refuse to cooperate with those like Greg Johnson who are PCA pastors in good standing who identify as Gay Christians.
Speaking of crazy, Biden wants to hand out crack pipes.
https://www.foxnews.com/media/critics-mock-fact-checking-site-rating-reporting-biden-crack-pipe-funding-mostly-false
Snopes, a liberal fact-checking site, was mocked by critics this week for rating reporting on the Biden administration's alleged funding of crack pipe distribution to drug users as "mostly false," while also admitting that "safer smoking kits" were required to be distributed as part of a Department of Health and Human Services (HHS) grant.
In a Tuesday piece claiming news reports "grossly misrepresented" details about the substance abuse harm reduction program, Snopes stuck with its "mostly false" rating by arguing it was inaccurate to say that the distribution of the "smoking kits" was intended to "advance racial equity," but admitted that the pipes would be distributed with race as "a secondary consideration."
According to the Washington Free Beacon, the grant program, overseen by HHS, would help make drug use safer for addicts by providing funds to nonprofits and local governments. The grant includes funds for "smoking kits/supplies," and, according to a spokesman for the agency speaking with the Free Beacon, the kits "will provide pipes for users to smoke crack cocaine, crystal methamphetamine, and 'any illicit substance.'"
The Free Beacon added that, "Applicants for the grants are prioritized if they treat a majority of 'underserved communities,' including African Americans and 'LGBTQ+ persons,' as established under President Joe Biden's executive order on 'advancing racial equity.'"
"In 2022, a U.S. Department of Health and Human Services substance abuse harm reduction grant did require recipients to provide safer smoking kits to existing drug users. In distributing grants, priority would be given to applicants serving historically underserved communities," Snopes wrote in its fact-check.
"This was just one of around 20 components of the grant program and far from its most prominent or important one, despite being the primary focus of outraged news reports. The purpose of the program was to reduce harm and the risk of infection among drug users, not to advance racial equity, although that was a secondary consideration," it added, essentially disproving its own fact-check.
After being pilloried by critics, Snopes oddly updated its fact-check from "mostly false" to "outdated." It also updated the piece with an explanation to reflect the change.
"After a wave of grossly misleading news coverage in February 2022, the U.S. Department of Health and Human Services stipulated that federal funding would not be used to include pipes in safe smoking kits, as part of a substance abuse harm reduction grant program. This newly-stipulated detail was not originally available, meaning the assertions made in a first wave of coverage had become outdated," it adjusted its original fact-checking piece to read.
But of course none of that stopped this rapper from recording a song about it:
0:07-0:20
Finally, I want to tell you about Cornerstone Work & Worldview Institute. College is great! But it's not for everyone. Cornerstone Work & Worldview Institute seeks to fill that gap. Their mission is to build kingdom culture in the workplace through their integrative program of worldview instruction and on-the-job skills training under the guidance of mentors. They offer courses in Bible, theology, and economics as well as business, project management, and marketing and more. They also provide their students with internships with business partners so they can learn and gain practical skills. You are invited to join their mission to provide Christians another educational opportunity. Together you can help students grow confident in their faith and competent in their labor. Visit them today at cornerstonework.org to learn more, to enroll, or to become one of their partners.
Psalm of the Day: Psalm 10
https://open.spotify.com/track/1mDMBuadrohI5hRaWDcDQe?si=dc6a2d4887d742f1
The helpless can commit himself to you
You are the helper of the fatherless
Break the arms of brutal, wicked men
Search them out. Wickedness till you find none
The lord is king though all eternity
The gentile nations perish
0:28-1:24
Amen!
Remember you can always find the links to our news stories and these psalms at crosspolitic dot com – just click on the daily news brief and follow the links. Or find them on our App: just search "Fight Laugh Feast" in your favorite app store and never miss a show.
This is Toby Sumpter with Crosspolitic News. A reminder: Support Rowdy Christian media, and share this show or become a Fight Laugh Feast Club Member. What allows us to continuing growing to take on the Big Media Lie Fest is your monthly membership support. If you've already joined, a huge thanks to you, and if you haven't, please consider joining today and have a great day.