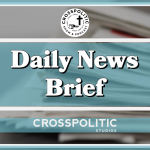 This is Garrison Hardie with your CrossPolitic Daily Newsbrief for Thursday, February 16th, 2023.
CrossPolination Ad
Did you guys know that you can sign up for a club membership, a magazine subscription, AND tickets to the Ark Encounter all in one place?! That's some crosspollination right there! Fightlaughfeast.com is your one-stop-shop for everything CrossPolitic. Here's what you should do. You should sign up for a club membership, then sign up for the Ark Encounter for a $100 discount off of your purchase, and then sign up for a magazine subscription. We've even got our own social media platform built into our website now for our club members… once you're a club member, you'll get access to exclusive content like a Bible Study series with Pastor Toby, a special series with New Saint Andrews President, Dr. ben Merkle, all of our back-stage content, and all of our conference talks, with more to come!
There really hasn't been a better time to be a CrossPolitic Club Member. Sign up today, at fightlaughfeast.com. That's fightlaughfeast.com.
https://thepostmillennial.com/breaking-buffalo-supermarket-shooter-sentenced-to-life-in-prison-without-parole?utm_campaign=64487
Buffalo supermarket shooter sentenced to life in prison without parole
Buffalo supermarket mass shooter Payton Gendron was sentenced to life in prison without parole on Wednesday after he pleaded guilty to first-degree murder and domestic terrorism, among other charges.
Gendron killed 10 people in a racially motivated massacre in Buffalo, New York last year. He pleaded guilty to all 15 counts brought by Buffalo prosecutors.
https://www.newsmax.com/newsfront/first-amendment-court-blocks/2023/02/15/id/1108781/
Federal Judge Blocks N.Y. Law Mandating Social Media 'Hateful Conduct' Policies
A federal judge has blocked New York's new law that prohibits hate speech on social media, ruling the measure violates the Constitution's protection of free speech.
U.S. District Judge Andrew L. Carter Jr. on Tuesday, in Volokh v. James, sided with the Volokh Conspiracy legal blog and Peter Thiel-backed video site Rumble Inc., which claimed the law will hurt online services and silence disfavored viewpoints.
New York Democrat Gov. Kathy Hochul in June signed a legislative package that included new regulations governing how social media platforms police what the law calls "hateful conduct."
The "Hateful Conduct Law" required that social media websites make it easy for users to report "incidents of hateful conduct," and to respond to complaints explaining how the matter is being handled.
Carter began his ruling by citing the Supreme Court's 2017 Matal v. Tam decision in which the justices unanimously ruled that a federal law prohibiting trademark names that disparage others was unconstitutional because "speech may not be banned on the grounds that it expresses ideas that offend."
After calling the law "well-intentioned," Carter explained his decision.
"Yet, the First Amendment protects from state regulation speech that may be deemed 'hateful' and generally disfavors regulation of speech based on its content unless it is narrowly tailored to serve a compelling governmental interest," Carter wrote in his decision.
"The Hateful Conduct Law both compels social media networks to speak about the contours of hate speech and chills the constitutionally protected speech of social media users, without articulating a compelling governmental interest or ensuring that the law is narrowly tailored to that goal.
"In the face of our national commitment to the free expression of speech, even where that speech is offensive or repugnant, Plaintiffs' motion for preliminary injunction, prohibiting enforcement of the law, is GRANTED."
Carter said the law overreached.
"The Hateful Conduct Law does not merely require that a social media network provide its users with a mechanism to complain about instances of 'hateful conduct,'" Carter wrote. "The law also requires that a social media network must make a 'policy' available on its website which details how the network will respond to a complaint of hateful content.
"In other words, the law requires that social media networks devise and implement a written policy — i.e., speech."
https://www.breitbart.com/politics/2023/02/14/exclusive-secret-china-donations-to-university-of-delaware-soared-after-the-opening-of-the-biden-institute/
Secret China Donations to University of Delaware Soared After the Opening of the Biden Institute
A second university has been found to have received more than $6.7 million in anonymous donations from China, including direct funding from the Chinese government, after Joe Biden set up a program there in his name, according to a Government Accountability Institute analysis. The revelation comes following reporting that anonymous China-linked funds flowing to the University of Pennsylvania almost tripled after the inauguration of the Penn-Biden Center, which illegally housed classified documents.
On March 13, 2017, less than seven weeks after concluding his second term as vice president, Joe Biden announced the founding of the Biden Institute at his home state's University of Delaware (UD). According to the announcement, part of Biden's "vision for the institute is an annual conference at UD, similar to the World Economic Forum or the Aspen Institute."
At the time of Biden's announcement at UD, multiple members of the Biden family were working on deals worth millions of dollars with foreign businessmen linked to the highest levels of Chinese intelligence. And Biden's other university program at the University of Pennsylvania was apparently housing classified documents from the Obama-Biden administration in an improper way.
Prior to hosting the Biden Institute, UD had never disclosed any funding from China. One year later (and just two months after the Penn Biden center opened its D.C. office), anonymous donations from China to UD skyrocketed. The first payment came in April 2018 in the amount of $3,204,070 from an anonymous donor in China. In December 2018, another anonymous donation from China arrived for $1,869,515. A third anonymous China-linked payment, for $624,904, arrived in December 2019.
In 2020, the year that Biden was campaigning for president, anonymous Chinese state-linked entities sent three more payments totaling $1,005,761 to UD, the bulk of which arrived after Biden had been declared the president-elect.
Three of these donations from China—with a combined total of $1,005,761—were reported as coming from a "Foreign Government Source," according to the U.S. Department of Education (DOE) records assembled from information reported to the DOE by the University of Delaware.
It should be noted that, according to the available records, none the donations from China to the University of Pennsylvania following the creation of the Penn Biden Center appear to have been reported to the DOE as coming from a "Foreign Government Source" — a fact which led at least one fact-checker to conclude that the Penn Biden Center was being unfairly labeled as "China-funded" because the influx of funding from China to UPenn following its establishment was not given this DOE identifier. However, three donations originating from China to the University of Delaware in the years following the launch of the Biden Institute clearly bear the "Foreign Government Source" identifier.
The actual DOE record field for this identifier asks, "Is this funding from a government?" For these three donations, the answer supplied by the University of Delaware is "Yes," as seen in the three images below taken from the DOE website (highlight added for emphasis).
Neither the Biden Institute nor the UD have responded to requests to identify the Chinese donors or explain why the Chinese government decided to fund UD after the Biden Institute was created.
Perhaps the most mysterious aspect of the Biden Institute is how it was conceived.
The initial idea for Biden Institute at UD was apparently hatched by Joe's son, Hunter Biden, while the elder Biden was still the vice president.
In March 2016, Hunter Biden met with UD's incoming president, Dr. Dennis Assanis, as Hunter and his business associates were making plans to create a "stage" to promote the "Biden brand," emails from Hunter's abandoned laptop show. Other emails on the laptop indicate that Hunter and his business associates were concerned about boosting Joe's "future earnings potential," while Joe was still the vice president.
New Saint Andrews:
Today's culture shifts like sand, but New Saint Andrews College is established on Christ, the immovable rock. The college is a premier institution that forges evangelical leaders who don't fear or hate the world. Guided by God's word, equipped with the genius of classical liberal arts and God-honoring wisdom, with a faculty dedicated to academic rigor and to God's kingdom, New Saint Andrews College offers an education that frees people.
Logic and language, hard work and joyful courage, old books and godly professors — New Saint Andrews Colleges provides time-tested resources that can equip your student for any vocation. To find out more, visit: nsa.edu
https://dailycaller.com/2023/02/14/south-dakota-bans-child-sex-changes-kristi-noem-transgender/
South Dakota Bans Child Sex Changes
Republican South Dakota Gov. Kristi Noem signed legislation Monday banning both surgical and nonsurgical sex change procedures for minors.
The "Help Not Harm" bill bars health care providers from prescribing minors puberty blockers or cross-sex hormones or performing cross-sex surgeries on minors. Doctors found violating the law will have their medical licenses revoked. The move comes amid a broader push from red states to crack down on the procedures.
Patients harmed by violations of the new law have three years, or until they turn 25, to seek civil damages; whichever date is later, according to the bill. The legislation takes effect July 1, and health care professionals may keep patients on cross-sex drug regimens through the end of the year if they determine it's necessary to gradually wean them off the drugs for the sake of their health.
While cross-sex genital surgeries are rare for minors, numerous clinics and hospitals offer puberty blockers, hormones and mastectomies to minors as part of the gender transition process; the procedures are still legal at the federal level and in most states.