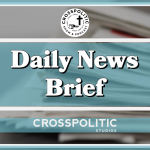 This is Garrison Hardie with your CrossPolitic Daily Newsbrief for Thursday, February 23rd, 2023.
Rowdy Christian Merch Plug:
If you're a fan of CrossPolitic, or the Fight Laugh Feast Network, then surely, you know we have a merch store right? Rowdy Christian Merch is your one-stop-shop for everything CrossPolitc merchandise. We've got T-Shirts, hoodies, hats, but we've also got specialty items like backpacks, mugs, coffee, even airpod cases! Visit Rowdy Christian Merch at rowdychristian.com, and buy that next gift, or a little something for yourself. Again, that's rowdychristian.com.
https://dailycaller.com/2023/02/21/biden-admin-religious-student-groups-protections-campus/
Biden Admin Looking To Remove Religious Student Groups' Protections On Campus
The Department of Education (DOE) announced a proposal Tuesday rescinding a Trump-era policy that prohibited universities from receiving federal funding if they restricted religious student group activities.
The 2020 policy, initially signed by former President Donald Trump as part of an executive order in 2019, was proposed to prevent universities from censoring the speech of religious students on campus, according to the Washington Post. The DEO's recent announcement indicates that President Joe Biden is looking to end the policy, claiming the protections caused an "unduly burdensome role" for the department.
"[T]he Department believes it is not necessary in order to protect the First Amendment right to free speech and free exercise of religion given existing legal protections, it has caused confusion about schools' nondiscrimination requirements, and it prescribed a novel and unduly burdensome role for the Department in investigating allegations regarding public institutions' treatment of religious student organizations," the announcement read. "We have not seen evidence that the regulation has provided meaningfully increased protection for religious student organizations beyond the robust First Amendment protections that already exist, much less that it has been necessary to ensure they are able to organize and operate on campus."
The announcement came from Nassar H. Paydar, Assistant Secretary of Postsecondary Education, who explained that since September 2021 the DOE had been looking into current policies regarding the First Amendment that "impose additional requirements on its higher education institutional grant recipients." Paydar noted that during that time, the DOE determined that the 2020 policy had placed a burden on the higher education system and did not provide any "meaningfully increased protection for religious student organizations."
In 2020, Former Education Secretary Betsy DeVos told the Washington Post that the rule protects religious students from being "forced to choose between their faith and their education" and would also protect religious universities from being turned away for federal funding because of their religious affiliation.
The public comment phase will begin on Wednesday, Feb. 22, and remain open for 30 days for anyone to comment and provide their thoughts on the proposal, according to the announcement.
https://www.newsweek.com/alaska-republican-touts-benefits-children-being-abused-death-1782972
Alegislature in Alaska caused outrage after questioning whether the death of child abuse victims could be "a cost savings," because it would mean they don't need "government services" later in life.
Republican David Eastman, who sits in the Alaska House of Representatives, made the comment on Monday during a House Judiciary Committee hearing.
The committee was meeting to discuss how children are impacted by physical or sexual abuse, as well as witnessing domestic violence within their family home.
Lawmakers were shown a study indicating each incident of fatal child abuse costs society $1.5 million, a figure reached by assessing the impact of trauma and the child's loss of earnings over a lifetime.
However, Eastman was unimpressed, and questioned whether fatal child abuse could be economically beneficial to wider society, an argument he claimed to have heard.
Eastman said: "It can be argued, periodically, that it's actually a cost savings because that child is not going to need any of those government services that they might otherwise be entitled to receive and need based on growing up in this type of environment."
The remark horrified Trevor Storrs, president of the Alaska Children's Trust (ACT), who hit back describing the loss of a child as "unmeasurable."
Democratic Representative Cliff Groh, who used to work as a prosecutor covering child abuse allegations, said he was "disturbed" by Easterman's comment.
Representative Sarah Vance, the Republican who claims the House Judiciary Committee, said Easterman, who doesn't serve on any committees, had been at the hearing "at my invitation."
Vance later suggested Eastman had been trying to make an argument against abortion, which some consider to be "child abuse."
Speaking with the Anchorage Daily News via text message, Eastman said: "I was pleased to hear ACT advocating against child abuse, but a child's value comes not from future productivity, but from the fact that every child is made in the image of God."
https://www.foxnews.com/media/seattle-police-defunding-crime-ravages-locals-huge-crisis
Seattle reverses course on defunding police as crime ravages locals: 'A huge crisis'
Seattle residents Victoria Beach, Eli Hoshor and Jonathan Choe said police shortages have left their city in dire straits in the aftermath of officials' anti-law enforcement rhetoric.
Homicides skyrocketed by 24% while motor vehicle thefts climbed by 30% in the city last year. Overall crime ticked up by 4%.
Mayor Bruce Harrell pushed for increased police presence to curb the issue Tuesday, saying, "We need immediate action and innovation to respond to our public safety issues… Seattle saw a 4% rise in reported crime last year… We need more officers to address our staffing crisis."
Still, some residents' outlook is less than optimistic.
Piro reported data from Seattle's city's budget office showing funding for law enforcement increased for the first time since a major slash was made in 2020.
Hoshor, a resident, says the uptick is not enough to reduce crime.
"The crime is just getting worse and worse," he said. "There's a homeless encampment that's right next to my son's school that's been there for over a year, and it's doubled and tripled in size.
Choe, a reporter from the area, slammed the "Defund the Police" movement for being behind the crime rise as well as the "woke" activist class who he said are perpetuating the problem.
He added that seeing how "Defund the Police" supporters respond to Harrell's push for more police and the uptick in funding for the department should be "interesting."
https://thepostmillennial.com/breaking-seattle-forced-to-pay-3-6-million-in-2020-autonomous-zone-damages-to-business-owners?utm_campaign=64487
Seattle forced to pay $3.6 MILLION in 2020 CHAZ damages to business owners
The city of Seattle has agreed to pay $3,650,000 in damages to business owners who brought suit after the deadly 2020 Capitol Hill Autonomous Zone (CHAZ) damaged their business, property, and violated their constitutional rights. The group had originally been seeking $2.9 million.
The city has until March 3 to pay the sum as part of a settlement revealed last week. According to court filings regarding the settlement, $600,000 will go toward attorney fees for the more than a dozen plaintiffs.
The settlement came just weeks after a federal judge imposed sanctions against the city for deleting thousands of text messages between Seattle officials including former Mayor Jenny Durkan, former police chief Carmen Best, and Fire Chief Harold Scoggins during the armed occupation by Antifa and BLM rioters of 6 square blocks of the Capitol Hill neighborhood.
The CHAZ, also known as the Capitol Hill Occupied Protest or CHOP, was established by activists on June 8, 2020, after Seattle police were ordered by police leadership to abandon the department's East Precinct during the riots that rocked the Emerald City in the wake of the death of George Floyd. Floyd died in police custody in Minneapolis, Minn. on May 25, 2020. Video of his death emerged, setting off months of riots in the midst of a pandemic.
https://twitter.com/i/status/1270925505190146048 – Play Video
Zone occupiers refused to allow police into the area. Rapes, robberies, and murders spiked 250 percent in the 6-block area during the occupation. The zone lasted 3 weeks before it was finally broken up by police on July 1, 2020, after two fatal shootings and rioters vandalized then Mayor Durkan's home.
https://twitter.com/i/status/1271249933765656578 – Play Video
According to court documents, business owners alleged that city officials' "unprecedented decision to abandon and close off" the 16-block section of the neighborhood "subjected businesses, employees, and residents to extensive property damage, public safety dangers, and an inability to use and access their properties."
It was revealed after the occupation that Seattle officials, including former Mayor Jenny Durkan, former police chief Carmen Best, and Fire Chief Harold Scoggins deleted thousands of text messages from their city-owned phones regarding the zone, including communications with the infamous "warlord" of the autonomous zone, Raz Simone.
US District Judge Thomas Zilly previously sanctioned the city and thereby allowed the jury to view the missing evidence as a strike against the city in the case. Zilly Wrote, "City officials deleted thousands of text messages from their city-owned phones in complete disregard of their legal obligation to preserve relevant evidence. Further, the city significantly delayed disclosing … that thousands of text messages had been deleted" and could not be reproduced or recovered."
https://www.hollywoodreporter.com/business/digital/npr-layoffs-10-percent-job-cuts-john-lansing-1235331693/
NPR to Cut Workforce by 10 Percent, as Advertising Slowdown Hits Public Media
"Our financial outlook has darkened considerably over recent weeks," Lansing wrote in a memo to staff Wednesday. "At a time when we are doing some of our most ambitious and essential work, the global economy remains uncertain. As a result, the ad industry has weakened and we are grappling with a sharp decline in our revenues from corporate sponsors. We had created a plan to address a $20M sponsorship revenue falloff for FY23 but we are now projecting at least a $30M shortfall. The cuts we have already made to our budget will not be enough."
So Lansing says that most of NPR's open jobs will be eliminated, and that it will be reducing its existing workforce by 10 percent. More than 700 employees work at the public media firm.
Lansing also suggested that the necessary job cuts will result in a more refined mission for NPR as an organization, writing that "some work will need to change or stop entirely," and that NPR's executive committee is figuring out where it needs to continue investing, and where it should pull back.
Some of NPR's most popular programs (on both terrestrial radio and in podcast form) include Fresh Air, Planet Money, Wait Wait… Don't Tell Me, and Up First. It also has a sizable news division that produces journalism that runs across its programming.
Accountable2You
Jesus is Lord. In public and in private, every area of life must be subject to his Lordship—and our use of technology is no exception. What captures our attention on the screen either glorifies or dishonors our Lord. That's why Accountable2You is committed to promoting biblical accountability in our families and churches. Their monitoring and reporting software makes transparency easy on all of your devices, so you can say with the Psalmist, "I will not set anything worthless before my eyes." Guard against temptation with Accountable2You, and live for God's glory! Learn more and try it for free at Accountable2You.com/FLF
https://www.boundingintosports.com/2023/02/former-nfl-player-eric-johnson-among-8-people-arrested-for-human-trafficking-gang-charges/
Former NFL Player Eric Johnson Among 8 People Arrested For Human Trafficking & Gang Charges
Johnson, 46, played in The League from 2000-2005 with the Oakland Raiders, Atlanta Falcons, and Arizona Cardinals. He's now part of an apparent trafficking ring that stands accused of multiple acts involving four adult women and one female minor.
Georgia Attorney General Chris Carr says the LOTTO Gang members – including Johnson – are facing charges of trafficking of persons for sexual servitude, violation of the street gang terrorism and prevention act, conspiracy to violate the RICO (Racketeer Influenced and Corrupt Organizations) Act, aggravated assault and kidnapping.
Eric Johnson, former Atlanta Falcon charged in human trafficking, racketeering case– Play Video
While he's certainly not a household name by any means, Eric Johnson is known for one significant moment in NFL history. He scored a touchdown in the Raiders' 48-21 loss to the Tampa Bay Buccaneers in Super Bowl XXXVII. He blocked a punt and then returned it for 13 yards for the score.