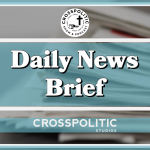 Good Thursday this is the chocolate knox with your cross politic daily news brief for thursday febuary 24 2022
If the sky is blue, and water is wet be sure to hit the share button, just saying… thank you.
Biden Extends US National Emergency Over COVID-19
https://www.zerohedge.com/political/biden-extends-us-national-emergency-over-covid-19
In a letter released on the White House website, Biden told House Speaker Nancy Pelosi (D-Calif.) that "there remains a need to continue this national emergency."
"The COVID-19 pandemic continues to cause significant risk to the public health and safety of the Nation. More than 900,000 people in this Nation have perished from the disease, and it is essential to continue to combat and respond to COVID-19 with the full capacity and capability of the Federal Government," he wrote, adding that his office has "determined that it is necessary to continue the national emergency declared" almost two years ago.
As of late last year, data from the U.S. Centers for Disease Control and Prevention (CDC) and Johns Hopkins University showed that there were 60,000 more COVID-19 deaths under the Biden administration than under the Trump administration.
President Donald Trump had declared a national emergency, which allowed the freeing up of about $50 billion in federal aid.
The emergency would have been automatically terminated unless, within 90 days prior to the anniversary date of its declaration, the president sent a notice to Congress stating it would continue beyond the anniversary date.
His decision to extend the emergency comes as several Democratic governors moved to rescind COVID-19 mandates, including mask rules, in recent days. The governors of New York and Massachusetts announced last week that they would end certain mask mandates in their states, following similar moves by New Jersey, California, Connecticut, Delaware, and Oregon.
Some critics have said, however, that Democratic leaders are turning away from COVID-19 rules because they fear losing control in either the House or Senate in the 2022 midterms.
A Jan. 31 Monmouth University Poll showed that about 70 percent of Americans agree with the statement, "It's time we accept that COVID is here to stay and we just need to get on with our lives."
PAPERBALL…
US court of appeals judge Ketanji Brown Jackson is said to be the frontrunner as Biden looks for a nominee to replace supreme court associate justice Stephen Breyer.
Joe Biden has interviewed at least three potential supreme court nominees and is expected to reveal his decision by the end of this month, according to multiple sources close to the president.
Ketanji Brown Jackson, Leondra Kruger and J. Michelle Childs – all Black women – were among the contenders who spoke with the president.
Jackson, who has widely been considered the frontrunner, currently sits on the US court of appeals for the DC circuit after replacing the attorney general, Merrick Garland, in June 2021.
Kruger is an associate justice of the California supreme court and has served as the acting principal deputy solicitor general under the Barack Obama administration.
Childs currently sits on the US district court for the district of South Carolina and was previously nominated by Biden for a seat on the DC circuit court of appeals.
On Sunday evening Cedric L Richmond, director of the White House office of public engagement, told members of the organization Win With Black Women that "we're close".
"We know what some of the attacks are going to be: not qualified, affirmative action pick… Well, it wasn't 'affirmative action pick' when we just picked friends, white friends of the president, for all these decades. You know, it was just patronage or whatever they wanted to call it," Richmond said, according to a source who has direct knowledge of the private conference call.
Biden has set the end of February as his deadline to pick a nominee. According to CNN, White House officials have reached out to liberal groups to inform them that Biden will not be shifting from his timeline and urged them to support "top tier" candidates against critics' attacks.
In a statement on Tuesday, Andrew Bates, a White House spokesperson, said Biden has not yet made a decision.
"The President has not yet chosen a nominee. He continues to evaluate eminently qualified individuals in the mold of Justice [Stephen] Breyer who have the strongest records, intellect, character, and dedication to the rule of law that anyone could ask for – and all of whom would be deserving of bipartisan support. He looks forward to announcing a nominee this month."
PAPER BALL…
Thousands of truckers are preparing to converge on Washington, D.C., in the coming days as an American Freedom Convoy plans to shut down the Capital Beltway.
https://www.conservativereview.com/lawmakers-request-national-guard-presence-as-american-truckers-prepare-to-protest-in-washington-dc-2656777104.html
Law enforcement agencies in the D.C. metropolitan area have called in support from the National Guard as they prepare for the American convoy to arrive in late February and stay in the area until late March.
Participants in the trucker protest requested a permit from the National Park Service to allow 1,000 to 3,000 people to gather in the nation's capital city. In response, members of the National Guard will be deployed in the area during the month of March.
Pentagon press secretary John Kirby said that the Department of Defense has received a request for assistance from the U.S. Capitol Police and the D.C. Homeland Security and Emergency Management Agency.
Kirby said, "Those agencies have asked for National Guard personnel to provide support at traffic control points in and around the District to help the USCP and DC government address potential challenges stemming from possible disruptions at key traffic arteries."
Bob Bolus, an organizer of the American trucker convoy, said that protesters are interested in shutting down the Capital Beltway as they stand in opposition against a multitude of policies such as vaccine mandates and disregard for immigration law.
PAPERBALL…
If you are headed to the Freedom convoy and you always wanted to play guitar but didn't know where to start? Well, Fight Laugh Feast member David Harsh has created a unique, online monthly membership, that has community, a clear success path, and it's super affordable. When you join this membership, you can learn at your own pace, from home, or a freedom convoy, alongside a community of guitarists including worship leaders, hobbyists, retirees, stay-at-home moms and more. Through video lessons, worksheets, and weekly Zoom calls, David will take you step-by-step towards becoming the musician you were made to be. GuitarSuccess4U is only $29 a month – that's less than a dollar a day, and a fraction of the cost of guitar lessons. Join today and get 5 instant bonuses to help accelerate your progress! Head on over to GuitarSuccess4U.com to start your guitar journey. That's Guitar Success, the number "4" and the letter "U," dot com.
PAPER BALL…
Progressive firebrand Rep. Rashida Tlaib of Michigan will be delivering a response to President Biden's State of the Union address next week.
Tlaib, a member of the so-called "Squad" of progressive and diverse Democratic lawmakers in Congress, will give her address on behalf of the left-wing Workers Families Party, the group announced on Wednesday.
Tlaib, a two-term lawmaker who made history as the first woman of Palestinian descent in Congress, represents a congressional district that includes parts of Detroit and its inner suburbs.
She is expected to praise the president's stimulus bill and argue that liberals have pushed hard to pass Biden's agenda. And she's sure to take aim at Republican lawmakers and some moderate Democrats for blocking the passage of the major spending package being pushed by the White House and most Democrats in Congress.
"Obstructionist Republicans and corporate Democrats have forced D.C. to a standstill while millions of kids are pushed into poverty and rising costs are making housing, healthcare, and childcare even more unaffordable," the Working Families Party tweeted in announcing Tlaib as their speaker.
The speech will likely spotlight the fissure in the Democratic Party between the progressive left and the more moderate wing of the party ahead of November's midterm elections, when the Democrats hope to hold onto their razor-thin majorities in the House of Representatives and the Senate.
GOP leaders in Congress announced on Tuesday that Iowa Gov. Kim Reynolds will deliver the Republican Party's rebuttal to the president's address.
The president's expected to deliver the State of the Union address on Tuesday, March 1, at 9 p.m. ET.
PAPER BALL…
Governor Ron DeSantis' backing of a Florida House Representatives measure to withhold $200 million from 12 school districts that defied the state's ban on mask mandates has sparked outrage from 11 Democratic members of Congress who are now calling for a probe.
In a letter addressed to U.S. Secretary of Education Miguel Cardona, the lawmakers argue that the funding reductions would "exacerbate an already strained school system" that they noted ranks 46 among states in per-pupil support, a measure that gages funding per student.
"This proposal is another attempt to punish these school districts that implemented universal masking policies during an ongoing global pandemic," the letter read. "We write to request (the Department of Education) consider investigating the recent proposal."
Under the proposal, the Orange County Public School District would lose $16.5 million worth of funding and the combined Miami-Dade, Broward, Palm Beach County school districts would lose $128 million worth of funds. Forbes reported that the money taken from these and other districts would be moved to the state's other 55 districts that did not defy the order.
He has been a vocal critic of COVID-19-related mandates since the onset of the virus.
DeSantis did not originally support the measure, which was introduced by state representative and House Education budget writer Randy Fine. However, last Tuesday the representative announced that he had garnered DeSantis' support on the measure.
"What he [DeSantis] has asked, and what we agree with, is that ensuring our proviso says these reductions in growth must come entirely from central offices…there can be no programmatical cuts in programs facing students. So, the governor is on board, now," Fine said in response to a question about why the proposal did not originally garner the governor's support, WFSU public radio station reported.
As it stands, COVID-19 cases in the state of Florida have dropped by 77 percent over the past two weeks and hospitalizations have fallen by 45 percent. These numbers stand above the national figures of a 66 percent decline in cases over the past two weeks and a 44 percent drop in hospitalizations.
PAPER BALL…
The Covid-19 pandemic kicked off a nationwide housing boom.
Home-price growth surged to a record in 2021, as low mortgage-interest rates prompted buyers to compete fiercely for a limited number of homes for sale.
The S&P CoreLogic Case-Shiller National Home Price Index, which measures average home prices in major metropolitan areas across the nation, rose 18.8% in the 12 months that ended in December, unchanged from the prior month. The calendar-year increase was the highest since the index began in 1987.
The Covid-19 pandemic kicked off a nationwide housing boom. Households took advantage of record-low rates and sought more space to work from home. Home sales climbed to a 15-year high in 2021.
A shortage of homes for sale led to bidding wars, pushing price growth to new highs. The low inventory has persisted into this year, with the number of homes for sale sliding to a record low in January, according to the National Association of Realtors.
First-time buyers are struggling to compete against cash buyers and investors. The share of first-time buyers in the market fell to 27% in January, down from 33% a year earlier, according to NAR.
Home-price growth has decelerated in recent months and is expected to slow further in 2022 as mortgage rates continue to increase. The average rate on a 30-year fixed-rate mortgage was 3.92% as of Thursday, said mortgage finance giant Freddie Mac, the highest level since May 2019.