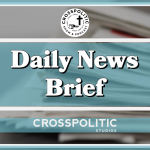 This is Garrison Hardie with your CrossPolitic Daily Newsbrief for Thursday, February 2nd, 2023. Happy Friday Jr. everyone… Again, just a reminder the signup for our upcoming Fight Laugh Feast Conference at the Ark Encounter is LIVE. So just to recap, if you're a club member, you get $100 off your ticket pricing, and if you sign up while we have early bird pricing, you'll get $100 off of that! What a deal! Head on over to fightlaughfeast.com, to get that club membership, and then sign up for our conference with that discount! Early bird pricing ends on May 1st, so again, sign up at fightlaughfeast.com.
https://www.theepochtimes.com/bipartisan-lawmakers-introduce-bill-to-ban-china-from-buying-us-farmland_5024703.html?utm_source=partner&utm_campaign=BonginoReport
Bipartisan Lawmakers Introduce Bill to Ban China from Buying US Farmland
Sens. Mike Rounds (R-S.D.) and John Tester (D-Mont.) on Feb. 1 introduced a bill to ban China, Russia, Iran, and North Korea from buying or leasing U.S. farmland and agricultural businesses.
The proposed legislation, named the PASS (Promoting Agriculture Safeguards and Security) Act of 2023, would require the president to report to Congress on any waiver granted to the prohibited countries. It would also make the secretary of agriculture a standing member of the Committee on Foreign Investment in the United States (CFIUS), a federal panel that reviews foreign acquisitions for national security risks, and specify agricultural investments as falling under CFIUS' jurisdiction.
While the legislation is the same as a version introduced last year, Rounds said that this year's bill has more bipartisan support in both chambers of Congress and support from stakeholders.
"The intent behind this particular legislation was to prohibit China, Russia, Iran and North Korea from establishing locations in the United States where they could monitor activity, specifically potential military activity," said Rounds in an emailed statement to The Epoch Times.
Rounds highlighted the value of farming and seed technology developed in the United States.
"China has an interest in taking some of our advancements and using them in their country without acknowledging the patents that may accompany that material, which is made easier if they have a base of operation in the United States in which to obtain the material in the first place," he added.
A third-generation Montana farmer, Tester said in a statement that he was proud to sponsor the bill to "ensure our farmers have a seat at the table when the government makes decisions impacting our national security." Tester added that he was not going to "sit back" and "let our foreign adversaries weaken our national security by buying up American farmland."
Agriculture is the lifeblood of South Dakota's economy, worth nearly $12 billion in 2021, according to the South Dakota Department of Agriculture & Natural Resources (pdf). As the state's largest industry, agriculture leads tourism—the second-largest industry, estimated at over $4 billion in 2021—by three times.
The South Dakota Farmers Union (SDFU) and South Dakota Sheep Growers Association (SDSGA) have endorsed the bill. Doug Sombke, president of SDFU, in a statement also encouraged other state farmers' unions to support the bill.
The legislation is cosponsored by Sen. Kevin Cramer (R-N.D.), John Hoeven (R-N.D.), and Cynthia Lummis (R-Wyo.). The House version, also introduced on Wednesday, is sponsored by Reps. Elise Stefanik (R-N.Y.), Jim Costa (D-Calif.), and Rick Crawford (R-Ark.).
Last month, CFIUS decided that it didn't have jurisdiction to review a land purchase related to a controversial Chinese corn mill project in Grand Forks, North Dakota. That project is located within 15 miles of the Grand Forks Air Force base, which houses sensitive drone, satellite, and surveillance technology, and has prompted significant pushback from Republican lawmakers and locals who say it threatens both national and economic security.
As of Dec. 31, 2020, China owned 325,686 acres of U.S. agricultural land, according to the Department of Agriculture. While the acreage under Chinese ownership is slightly less than 1 percent of all foreign-held agricultural land, it represents a 20-fold leap from 13,720 acres in 2010.
But the relatively low percentage of Chinese ownership does not diminish the severity of the threat, according to Rounds, who said that thwarting the trend is important.
https://www.lifenews.com/2023/02/01/satanic-temple-opens-new-abortion-clinic-to-kill-babies-in-ritualistic-abortions/
Satanic Temple Opens New Abortion Clinic to Kill Babies in Ritualistic Abortions
The Satanic Temple isn't just promoting the killing of unborn babies in abortions anymore. It's actually killing them through a new "religious" abortion practice in New Mexico.
On Wednesday, the satanic group launched a new "religious medical services arm," TST Health, to begin doing abortions. The Satanic Temple believes aborting unborn babies is a religious "ritual" and compares it to communion or baptism for Christians.
The name of its first "telehealth" abortion practice doubles as a covert death wish to U.S. Supreme Court Justice Samuel Alito, who wrote the decision that overturned Roe v. Wade last year.
The Samuel Alito's Mom's Satanic Abortion Clinic in New Mexico will offer abortion drugs to women ages 17 and up who are up to 11 weeks of pregnancy, according to Fox News. The FDA does not recommend abortion drugs after 10 weeks.
"In 1950, Samuel Alito's mother did not have options, and look what happened," said Malcolm Jarry, co-founder of The Satanic Temple, in a statement. "Prior to 1973, doctors who performed abortions could lose their licenses and go to jail. The clinic's name serves to remind people just how important it is to have the right to control one's body and the potential ramifications of losing that right."
According to a press release from the group, "anyone in New Mexico seeking to perform The Satanic Temple's abortion ritual will be able to receive free online medical services."
Licensed medical workers will screen patients during a virtual appointment, and then prescribe abortion drugs through pharmacies that will mail them in "a discreet package," the group said. Women will be charged a pharmacy fee of about $90, it continued. The satanic group also set up a 24-hour abortion hotline.
Eventually, The Satanic Temple leaders said they want to expand their new abortion practice to states that ban abortions. Their group has filed lawsuits in several states challenging their legal protections for unborn babies on religious grounds.
The satanic group claims killing unborn babies in abortions is a religious ritual, and restricting it violates its "fundamental tenets," according to an article on Glenn Beck's website. Its leaders also claim pro-life laws are rooted in "Christian nationalism" – even though people of all faiths and no faith believe basic human rights should apply to all human beings.
The supposed religion claims to have "seven fundamental tenets," including one that teaches, "One's body is inviolable, subject to one's own will alone." In its lawsuits, the group claims abortion restrictions and bans violate this teaching as well as an "abortion ritual" that its members perform.
It likens the "ritual" slaughter of unborn babies to communion or baptism for Christians. In 2020, it even raffled off an abortion to raise money for its lawsuits.
The Satanic Temple claims to have 700,000 members internationally, and it is a recognized religion by the IRS.
The group is deeply involved in abortion advocacy. Breitbart once described its work as a "pro-abortion crusade to come to the aid of America's largest abortion provider," Planned Parenthood.
Within the past decade, it has filed numerous lawsuits in different states to overturn pro-life laws, though its attempts thus far have failed. Other recent lawsuits include a challenge to the Texas heartbeat law, which pro-life advocates say has saved tens of thousands of unborn babies' lives thus far.
The Satanic Temple also is pushing its beliefs on young children. Recently, the group began opening clubs in elementary schools.
Increasingly, these satanic influences can be seen at pro-abortion rallies where abortion activists chant "Hail, Satan!" and the phrase "fight like hell" has become common among prominent pro-abortion politicians.
Then, earlier this month, New York City leaders erected a golden statue to abortion on top of a city courthouse. Many described the statue, a naked woman with horns, as demonic or satanic.
https://thepostmillennial.com/suspects-in-assassination-of-haitian-president-taken-into-us-custody?utm_campaign=64487
Suspects in assassination of Haitian president taken into US custody
On Tuesday, US officials announced that four suspects in custody for the assassination of Haitian President Jovenel Moïse on July 7, 2021 were transferred to the United States for their prosecution.
According to CBS News, "The defendants, James Solages, 37, Joseph Vincent, 57, Alejandro Riveria Garcia, 44, and Christian Sanon, 54, are currently being held in US custody. Solages and Vincent, both US citizens from Florida, were arrested in Haiti shortly after the assassination."
The 53-year-old Haitian president was shot 12 times and his wife wounded when his assassins entered his home located near Port-au-Prince, the capital of Haiti.
Suspects James Solage and Joseph Vincent, the two US citizens, were arrested first after Moïse's killing.
According to the New York Post, Christian Sanon, was " an elderly pastor, doctor, and failed businessman that authorities have identified as a key player. His associates have suggested he was duped by the real — and still unidentified — masterminds behind the assassination."
Alejandro García, the fourth suspect being moved to the US and a Colombian citizen, was a member of the Colombian, as "nearly two dozen former Colombian soldiers charged in the case."
After Moïse's death, Haiti's gang activity and related violence increased to historic levels. Judges and local officials grew fearful as they received death threats concerning the assassination trial which contributed to the case being stalled.
The Department of Justice said, Rivera, Solanges, and Vincent were charged with "conspiring to commit murder or kidnapping outside the US and providing material support and resources resulting in death."
Sanon was charged with "conspiring to smuggle goods from the US and providing unlawful export information," and allegedly moved 20 ballistic protective vests into Haiti.
Seven suspects in total are now in US federal custody awaiting trial for their part in the assassination. The four men recently moved to the US are set to appear in court in Miami on Wednesday.
As The Post Millennial reported, Solanges, unidentified at the time, said that the assassination attempt was a DEA operation in an effort to solicit compliance from Haitian security guarding the president.
Gravity Jack:
Gravity Jack is a full service digital agency specializing in the development of Virtual & Augmented Reality experiences, mobile apps, blockchain and Web3 projects. Founded in 2009 as the first American agency to offer augmented reality, they even patented it; Gravity Jack's digital experiences have been a source of innovation for small business, Fortune 500 Companies, and the US Military. Get your vision in motion at gravityjack.com
https://nypost.com/2023/01/30/stephen-and-ayesha-curry-object-to-new-housing-development/
Stephen and Ayesha Curry oppose multi-family development near their $30M home
Famed NBA marksman Stephen Curry appears more comfortable with 3-point daggers than 3-story developments.
Along with his influencer wife Ayesha, Curry has objected to the establishment of multi-family housing on a property next to his sprawling California mansion, according to reports.
In an email, the couple told officials in Atherton — one of the nation's most exclusive enclaves — that the three-story town houses would encroach on their privacy.
Routinely vocal on matters of social justice, the Bay Area power couple indicated that joining the well-heeled chorus of objection made them uneasy.
"We hesitate to add to the 'not in our backyard' (literally) rhetoric, but we wanted to send a note before today's meeting," they wrote on Jan. 18. "Safety and privacy for us and our kids continues to be our top priority and one of the biggest reasons we chose to live in Atherton."
Home to tech moguls, athletes and international business titans, Atherton officials will reluctantly submit a plan to the state this week outlining their efforts to increase housing density.
The parcel in question — which is nea the Curry residence — is set to be rezoned in order to accommodate several multi-family units sought by the owner.
"With the density being proposed for 23 Oakwood, there are major concerns in terms of both privacy and safety with three-story townhomes looming directly behind us," their email read.
The couple noted that the development would not add to low-income housing to the area, only increase density.
If their municipal buzzer beater falls short, the Currys asked the town to erect "considerably taller fencing and landscaping to block sight lines onto our family's property."
The couple recently sold their prior Atherton home for $31 million and bought their current 17,000 square foot spread for $30 million, according to reports.
Other local heavyweights — including billionaire investor Marc Andriessen — have previously lobbied against the introduction of more affordable housing into the area.
With a median home price of more than $7 million, Atherton ranked first on Forbes' priciest zip code list last year.