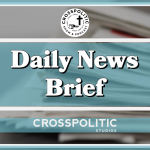 Jeff Zucker out at CNN after failing to disclose 'consensual relationship' with colleague: 'I was wrong'
https://www.cbsnews.com/news/jeff-zucker-resignation-cnn/
Whoopi Goldberg Suspended Over Holocaust Comments
https://www.theepochtimes.com/whoopi-goldberg-suspended-over-holocaust-comments_4251910.html
U.S. Army begins to discharge soldiers who refuse COVID-19 vaccination
https://www.npr.org/2022/02/02/1077625142/u-s-army-covid-vaccination
U.S. deploys troops to Eastern Europe; thousands more on standby
https://www.politico.com/news/2022/02/02/biden-troops-europe-ukraine-tensions-00004630
Quick Freedom Convoy update!
https://www.seattletimes.com/nation-world/protesters-block-u-s-canada-crossing-as-freedom-convoy-truckers-challenge-vaccine-mandates/
Ottawa police said Wednesday that a "significant element" from the United States has been involved in the participation, funding and organization of a self-described "Freedom Convoy" that has for several days jammed streets in the capital to protest public health measures and Prime Minister Justin Trudeau.
"They have converged in our city, and there are plans for more to come," said Ottawa Police Chief Peter Sloly. He said that the participants, who also include locals and other Canadians, are "putting our city and our residents, our partners and our officers at great risk."
The number of protesters has declined substantially from the thousands on Parliament Hill over the weekend. But a determined core group remains, officials say. With trucks noisily blocking streets, businesses shut down and residents frustrated for the sixth day, pressure has mounted on police to bring a resolution to the disruption.
"We are trying to be responsible, lawful, ethical and measured," Sloly said. "The longer this goes on, the more I am convinced there may not be a police solution in this demonstration."
Meanwhile, media reported that there had been a breakthrough in a blockade of a busy U.S.-Canada border crossing in southern Alberta, with protesters agreeing to open up one lane of traffic in each direction, citing lawyers working with the group.
Canadian officials had denounced the blockade as "unlawful." It has blocked traffic since Saturday, creating traffic chaos and disrupting the flow of goods and services in solidarity with the demonstrators in Ottawa.